A Modern Day Disney Fairy Tale...Michigan Fans Meet In ESPN Big Ten Comment Section, Get Married
MIDDLETON, Wis. — Meet Kate and Brandon. They're both Michigan football fans and Michigan alums. They got married Saturday on a date strategically timed with a Wolverines bye week. Brandon's best man is named Tom Brady. Really.
When they first crossed paths in 2012, they weren't Kate and Brandon to each other. They were bleu_girl_04 and AAWolv, regulars in the comment section of ESPN's Big Ten blog.
For those who forget, the blog's pre-Facebook comments section allowed users to post anonymously, identified only by handles of their choosing. Like most online forums, it was humanity's digital septic tank, a playground for the obnoxious, the juvenile and the fakest of tough guys (and, rarely, gals).
The thought that true love could sprout from this crass corner of the Internet seemed implausible. We were shocked at Kate's story when she told us back in April, much like most of the blog regulars who assumed she was simply catfishing Brandon. But Kate and Brandon are not only both real, after spending time with them during their wedding weekend, we can report that they seem quite normal.
Their story, however, is anything but normal.
…
Incredibly long article on ESPN but worth a read if all you commenters out there struggling to find love think it can't happen for you. Just look at Kate and Brandon. One second they're shitting on Bo Pelini and calling people fucktards behind anonymous user names, the next second they're standing under the altar exchanging vows. Disney used to make fairy tales about ladies and tramps, beauties and beasts, wicked stepmothers and magic slippers. In 2015 it's Bleu_Girl_04 and AAWolv trolling in a sports website comment section.
The origin story of the happy couple…a guy trolling from the basement he lives in and a girl who wouldn't stop complaining about Brady Hoke. Seriously.
Such a slap in the face to internet commenters trying to fight stereotypes.
Then they met up in person. You may recognize a story like this, you've probably seen it on the news 1 or 2 million times, where one of them ends up chopped up in tiny little pieces and stuffed in a crawl space.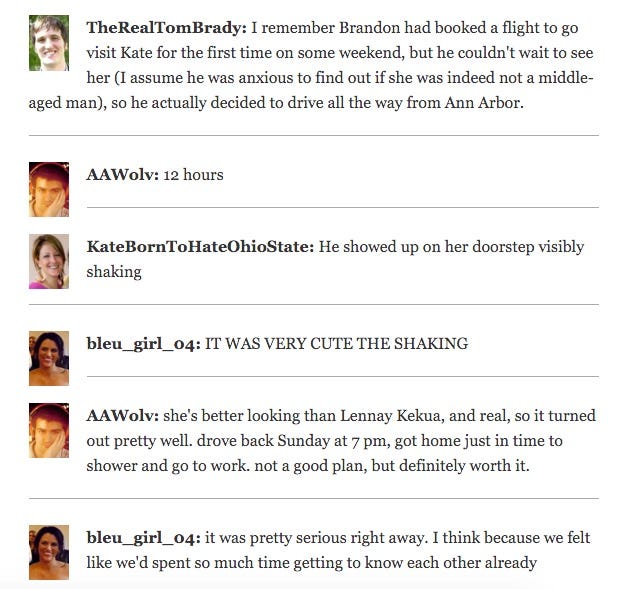 Long story short, they ended up getting married…exactly one week after this:
Exactly one week before their wedding, Michigan lost to Michigan State on a miraculous blocked punt returned for a touchdown. Brandon broke his iPhone during the final play while Kate hid in the kitchen. But better days were ahead.

The couple got married Saturday at First Lutheran Church, a small 149-year-old white chapel in Kate's hometown of Middleton, Wisconsin. The cover of their wedding program noted that they first talked on ESPN.com. The Rev. Joan Pape, who officiated the ceremony, told the story of how they met and how she had never heard anything like it before. The wedding was offbeat, including a reading from "William's Shakespeare's Star Wars." But the bridal party didn't wear khakis and the couple didn't walk down the aisle to "The Victors."
Hilarious.
Scheduling it on a bye week though…that's how you know these two mean business.
Hey I respect it. How can you not? Two die hard college football fans coming together over shared interests and making sure to schedule their fall wedding on the one bye week of the season. Congrats you two crazy kids/trolls.