Roger Goodell Pretends Not to Know Who Dave Portnoy is, But He Seems to Be Familiar With Kendra Lust's Body of Work
It's funny how it wasn't all that long ago that Roger Goodell committed the federal crime of lying to Congress when he pretended to not be aware of the existence of Barstool Sports, Dave Portnoy, the latter's banishment from his football games, or the First Amendment. But only funny in that cruel, fremdschamen way, which is defined as feeling embarrassed for someone who should be embarrassed for themselves, but is too stupid and un-selfaware to realize it. In this moment, Goodell was the dumbest kid in class who got called up to give a report on a book he clearly never even opened. He's just trying to fake his way through it, and can't wait to be told to just go back to his desk, take the zero, and resume picking his boogers.
So while it's funny that Ginger Satan's approach would be to deny any knowledge of a website that has debased and humiliated him, profited off his image, had employees get arrested exercising their right to peacefully protest outside his headquarters, and is owned by a man he personally had physically removed from a Super Bowl, it's even funnier that he does seem to know the Queen of MILF Porn. 
Kendra Lust is a native daughter of Michigan and a big Detroit Lions fan. From her SFW IMDb page:
Buxom and shapely 5'4" brunette knockout Kendra Lust was born on September 18, 1978 in Madison Heights, Michigan. Of Italian and French Canadian descent, Lust was a tomboy growing up who played both softball and basketball in high school. Kendra was a stripper for a year and a half while attending college. Lust worked as a registered nurse for several years prior to establishing herself in the adult industry with her own web-cam show. She first began performing in explicit hardcore movies at age 33 in March, 2012. Among the notable companies Kendra has appeared in X-rated features for are Evil Angel, Jules Jordan Video, Pure Play Media, and Overboard Video.
Which is a resume impressive enough to get her a field pass for the spectacular come from behind win over the Bears. And all the celebrity meet-and-greets that come with that kind of access. I don't want to screengrab Ms. Lust's social media photos, but check the third one in and tell Goodell doesn't recognize her. He certainly seems to be comfortable in her presence:
As confirmed in her replies: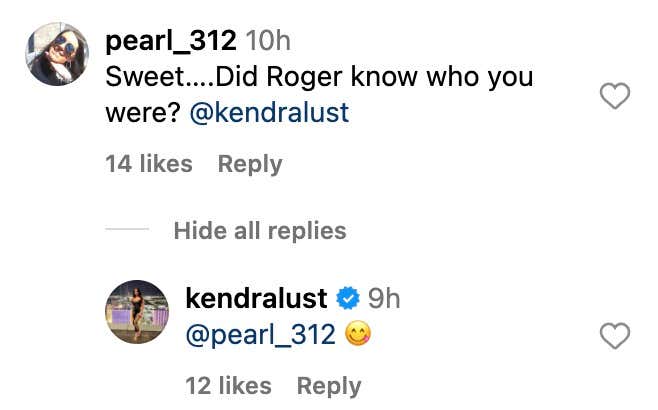 Keegan-Michael Key? Naturally. He's an accomplished entertainer, and so is Kendra. Roary the Lion? It makes. He rules the prideland and gets first pick of all the lionesses he wishes to mate with, and so does Kendra. Goodell? We can only assume he's familiar with her filmography. From The Booty Movie 6 to Tits R Us to Slutty Wife, Happy Life to of course the entire MILF Mayhem cinematic universe. Given what he said to the United States Senate, he can't claim to have first come across Kendra when she was appearing on this site:
And if that's the case, good for him. Pleasuring himself to Kendra Lust's signature brand of MILF content would be the most authentic, genuine thing he's done in his existence. It would practically make him flesh and blood. Instead of the bland, heartless, dead eyed, preprogrammed AI automaton he is, this would suggest there's an actual person behind that pseudo human we see trying to relate to the 1st round selections on draft night. That maybe somewhere in this thin-lipped android are actual feelings. Lust, if nothing else. Lust for Lust, as it were. 
Personally, I'd like to see a true artist like Kendra hanging around with a better class of person. More Keegan-Michael Key and mascots, and a lot less of Der Kommissar. She's got too many fans to be wasting time with him. But still, the fact her body of work was able to get a rise out of this feckless twit is a testament to her appeal. She truly is one of the greats.