Am I The Asshole For Telling My Dad To Stop Having Sex So Loud With Kids Around?
For those that can recall the glory days around here, one of Dave's recurring bits, which was a personal favorite of mine, and many og's, were his Boston.com Love Advice columns from Meredith "Hoss" Goldstein.
The fringes of the internet, and outrage police, would string him up if he dared write them today, but back in the day they were roll-on-the-fucking-floor funny.
A few of my favorites -
(Sidebar - if I ever get to go on one of the 1500 podcasts or shows around here I will elaborate more on this theory of mine, but I am pretty certain that the Dragon Pizza guy was the subject of one of Dave's "Love Letters" columns many years ago and that's where all of his hatred stems from. Dave probably told the guy's wife or girlfriend something she didn't want to hear, like that the Dragon Pizza guy was trading ZJ's on craigslist meetup forums for Star Wars collectibles or something. She saw the blog, came to her senses, and left his ass and he's been harboring mountains of resentment for Dave ever since. Just festering away. And the rest is history.)
So earlier today a buddy of mine sent this link to our group text thread and the idea for a blog came along.
Little did I know that when I clicked on the link, it took me to this reddit forum where there are hundreds of people a week writing in to strangers about really fucked up, asshole behavior that they are either personally guilty of, or are being subjected to, and asking "Am I The Asshole?"
It's basically a goldmine. 
So here is my first entry.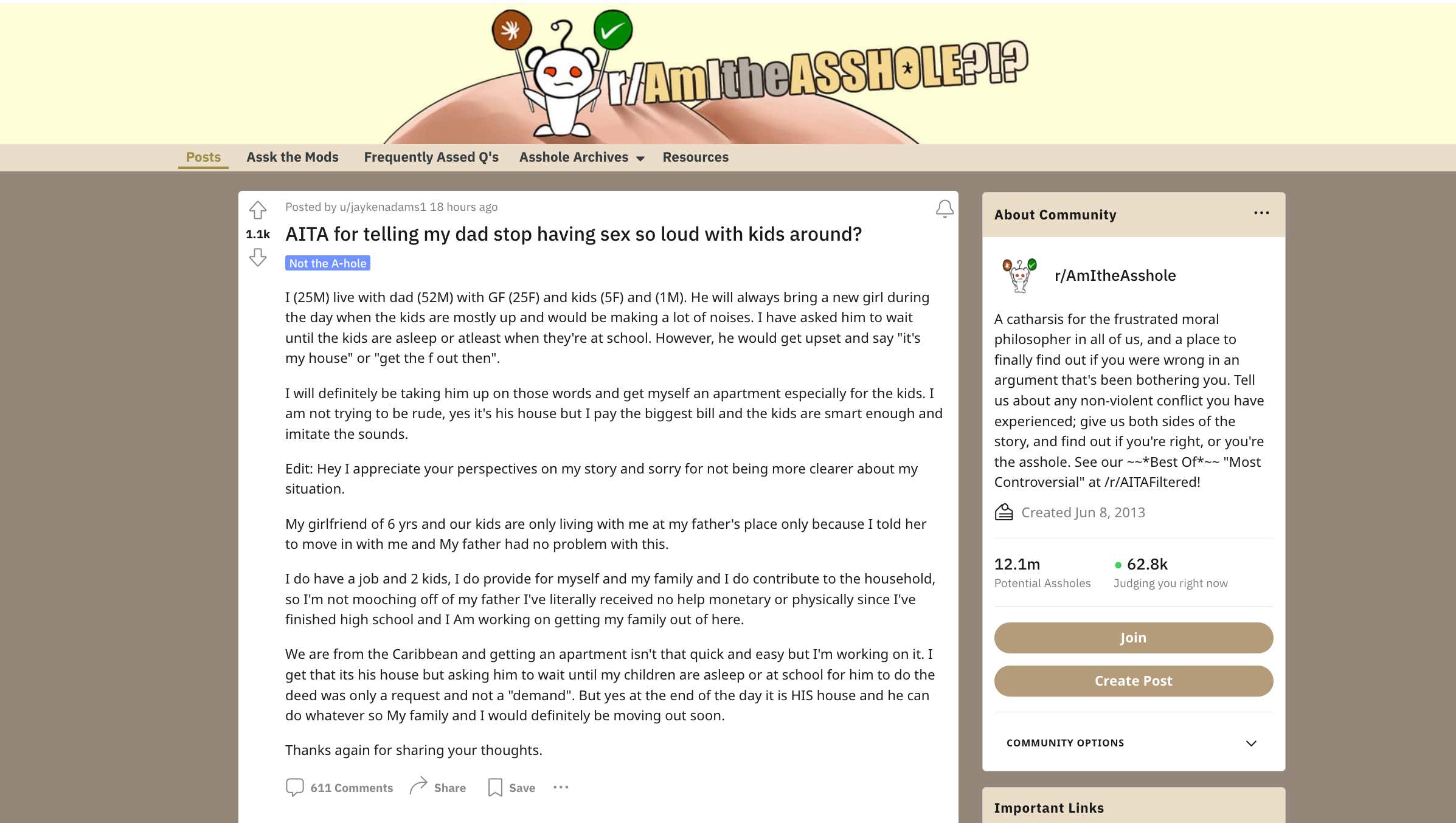 Reddit - I (25M) live with dad (52M) with GF (25F) and kids (5F) and (1M). He will always bring a new girl during the day when the kids are mostly up and would be making a lot of noises. I have asked him to wait until the kids are asleep or atleast when they're at school. However, he would get upset and say "it's my house" or "get the f out then".

I will definitely be taking him up on those words and get myself an apartment especially for the kids. I am not trying to be rude, yes it's his house but I pay the biggest bill and the kids are smart enough and imitate the sounds.

Edit: Hey I appreciate your perspectives on my story and sorry for not being more clearer about my situation.

My girlfriend of 6 yrs and our kids are only living with me at my father's place only because I told her to move in with me and My father had no problem with this.

I do have a job and 2 kids, I do provide for myself and my family and I do contribute to the household, so I'm not mooching off of my father I've literally received no help monetary or physically since I've finished high school and I Am working on getting my family out of here.

We are from the Caribbean and getting an apartment isn't that quick and easy but I'm working on it. I get that its his house but asking him to wait until my children are asleep or at school for him to do the deed was only a request and not a "demand". But yes at the end of the day it is HIS house and he can do whatever so My family and I would definitely be moving out soon.

Thanks again for sharing your thoughts.
Here's what these bozos with the top comments had to say.
Now I'm going to shoot this guy straight.
Buddy, (can I call you that?), you're gonna want to sit down for this one. 
First off, YES. Yes you are the asshole in this situation. And I'm going to tell you why.
Let me spell this out for you as politely as I can, in a way that allows you to connect the dots of the glaring red flags you're blatantly missing. 
First off, it's your dad's house. On what planet do you think you can  tell a grown man how to conduct himself under his own roof?
Secondly, your dad has some major dick game. Major. 
Seeing as you're from the islands that's no big surprise. All those guys do down there is drink Carib, smoke weed, cook amazing bbq, and fuck like crazy. You ever been to Jamaica? The roads are lined with those wooden sculptures of guys with 6-foot dicks everywhere you go. 
It's not his fault the ladies can't stay away from him. Good pipe is hard to find and chicks talk. They talk big time. Guarantee each new girl you see coming through that door every day is a friend of a past sex partner who got word your dad slings it and wanted to see for herself. They can't help it.
Especially once they become his age and stop worrying about being judged or characterized. They have no inhibitions and just want to get fucked good. Enter your dad.
The good news for you is that you have those genes. And you passed them down to your son(s) also. If sons are what you have, since you didn't mention. If they're at home witnessing the train of pussy coming in and out of the house on a daily basis, and overhearing the moans of pleasure coming from grandpa's room, they're getting a world-class masterclass in fucking. You should be thrilled. Unless you have daughters. Then you are doomed big time.
Which leads us to the bad news. 
Your dad is banging your girlfriend's lights out. 
Don't shoot the messenger here, I don't make the rules, I just call it how I see it.
Think about it. 
Who's the one complaining about all the fucking going on during day time hours? Her? 
No. It's you.
Who's the one slaving away working two jobs, while the other one stays at home with your sex-fiend father?
What's your dad's reply when you ask him to keep his snake in its cage? 
It's my fucking house, and then get the fuck out!
I don't know how it can be any clearer my friend. 
Your dad smashed your wife. Probably months ago. Probably the first week you moved in. And she got addicted to the dick. Now, everytime you leave the house for one of your jobs, he has to fight her off with a stick. He's probably sick of sharing pussy with his sex-adverse son, so he's going ham on any and every random he can find to get the point across to her and to get the point across to you. 
Get your shit and get the fuck out of his house.