Manny Machado Gave Dave Portnoy The Business Over The Weekend
Elsa. Getty Images.
Manny Machado is a 6x MLB All-Star and a 2x Gold Glover and he has had quite the resurgence in our fantasy league over the past couple weeks. This past weekend, he took on points leader Dave Portnoy and he teed off on him like he was Tyler Rogers.
With Christian McCaffrey on a bye and Travis Kelce having a game over 15 points below projection, he was vulnerable. Manny got a huge performance out of Taysom Hill and was able to pull out a win despite starting Brandin Cooks over both Najee Harris and Brian Robinson Jr. Manny has moved to 5-4, just like Dave and put himself in the playoff picture as of now.
Mike Trout continues to roll, moving to 8-1. He got a win this week over a playoff team in Joc Pederson, Alex Wood, and Austin Barnes.
He continues to get great performances out of Jalen Hurts, but was vulnerable with single digit performances from Ja'Marr Chase, Adam Thielen, and Isiah Pacheco, but the opposing trio couldn't squeeze enough out of Lamar Jackson, who if he had reached his projection, would've given them the win. Joc/Wood/Barnes fall to 5th place at 5-4 while Trout is the unquestioned #1 seed at the moment at 8-1.
Meanwhile, the former #1 overall seed has lost 4 straight. Mike Napoli is reeling despite getting his 1st round pick, Austin Ekeler back from injury.
Without David Montgomery, he's been rutterless and having to rely on a mix of D'Onta Foreman, Antonio Gibson, and others to fill a #2 RB role. Once Monty comes back, it should give him an added punch, but will it be too late? On the other end, Mike Moustakas has now reeled off three straight wins. Having a Joe Burrrow-like resurgence, the stack with Burrow and Tee Higgins is finally paying off. Next week he'll get Amon-Ra St. Brown and Evan Engram back, but will he actually bench Dalton Schultz?
Another guy getting a much needed win was Eric Hosmer. Hoz has the third most points in the league, but is barely treading water in 10th place. He came through in a big way this weekend knocking off the 2nd place duo of Jake Marisnick and Andrew Benintendi.
Hosmer got a huge game out of Buccaneers legend Rachaad White. If you've been paying attention to the tape, White has been outstanding now for two straight games. He's a buy candidate for fantasy leagues everywhere, especially PPR.
And he got just enough from Keenan Allen and Cameron Dicker the Kicker while Marisnick and Benintendi were let down by top guys Justin Herbert and Breece Hall in a Monday night collapse.
New guys JT Realmuto and Kyle Schwarber have certainly made an impression this year and they move into 4th place at 5-4 with a win that pushes former league champion Alex Bregnam and Brian McCann to the brink.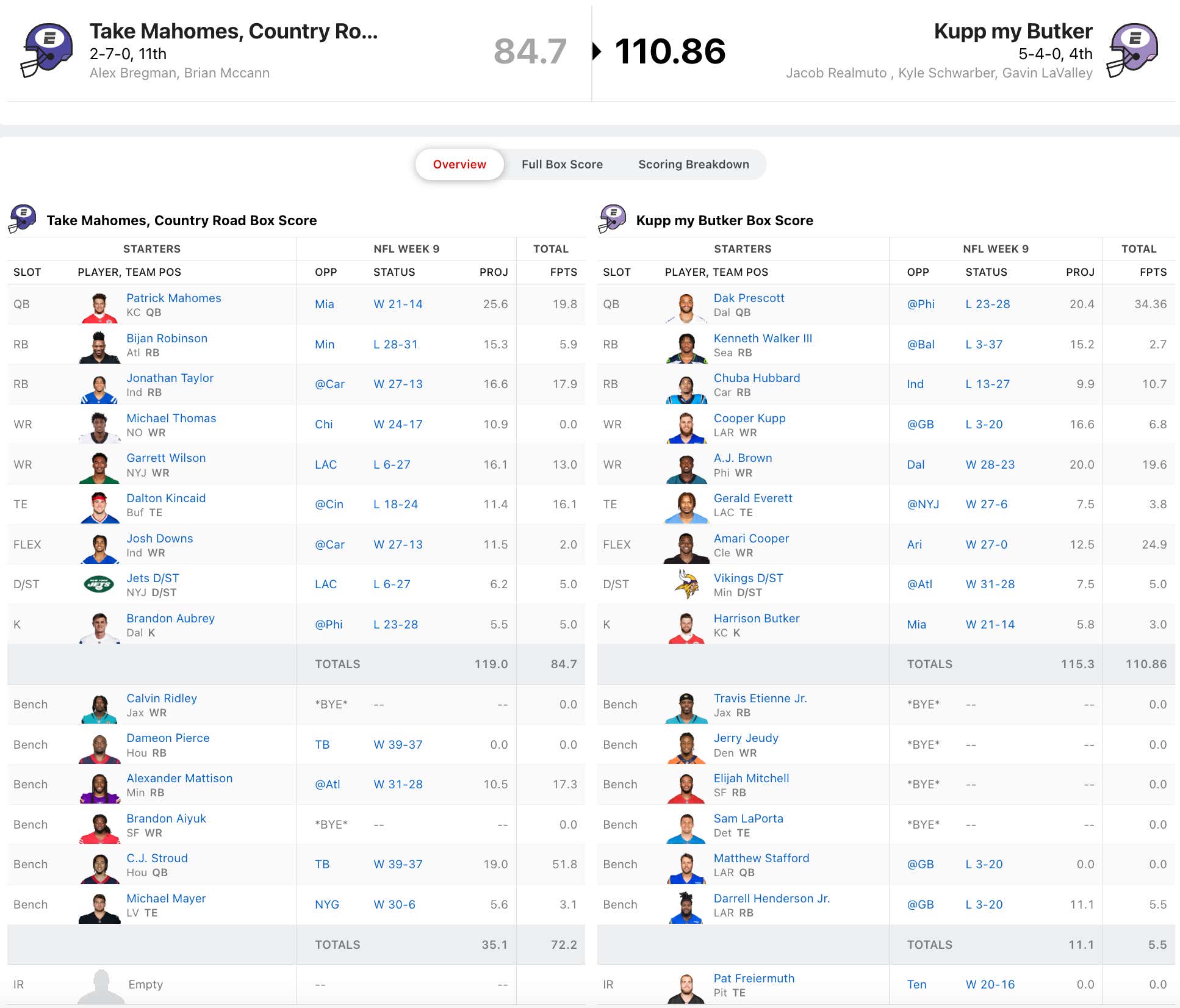 Realmuto and Schwarber got a huge performance from Dak Prescott and my guy Amari Cooper. On the other end, Bregman and McCann went Patrick Mahomes very early, in Round 2 of the Draft and he continues to struggle from a fantasy perspective. Additionally, Bijan Robinson hasn't been an asset the past few weeks and they are struggling. Couple that with a donut from Michael Thomas and that's a recipe for disaster. They move to 2-7 and are reeling.
Speaking of reeling, Wil Myers had a shot here. The RB duo he traded for: Joe Mixon and Rhamondre Stevenson had very good games, outdoing their projections by 10.7 points combined, but outside of Derek Carr, the rest of the team really struggled again. DK Metcalf was nowhere to be found, Chris Godwin had a disappointing performance and the rest of the team didn't step up. 
Meanwhile, the Shane Bieber/Austin Hedges duo won despite getting 2.68 points from their QB and Jake Ferguson leading the team in scoring. But resourceful waiver moves have put this team in a position to contend for the playoffs.
Here's where we stand with only five weeks remaining in the regular season: