The Saddest NFL Stats Of Week 9 You Didn't Know
Icon Sportswire. Getty Images.
Welcome to a special "fall back" edition of NFL sad stats of the week. The first week of November is always tough for sad teams as we have to endure an extra hour of misery in the only 25-hour day of the year. And while we were turning our clocks back (just kidding, what is this, 1998?), many teams who thought they might be turning a corner were put back in their spot by father time.
Here are your NFL sad stats for Week 9:
Sad Stat #1: The Cleveland Browns got their first shutout since 2007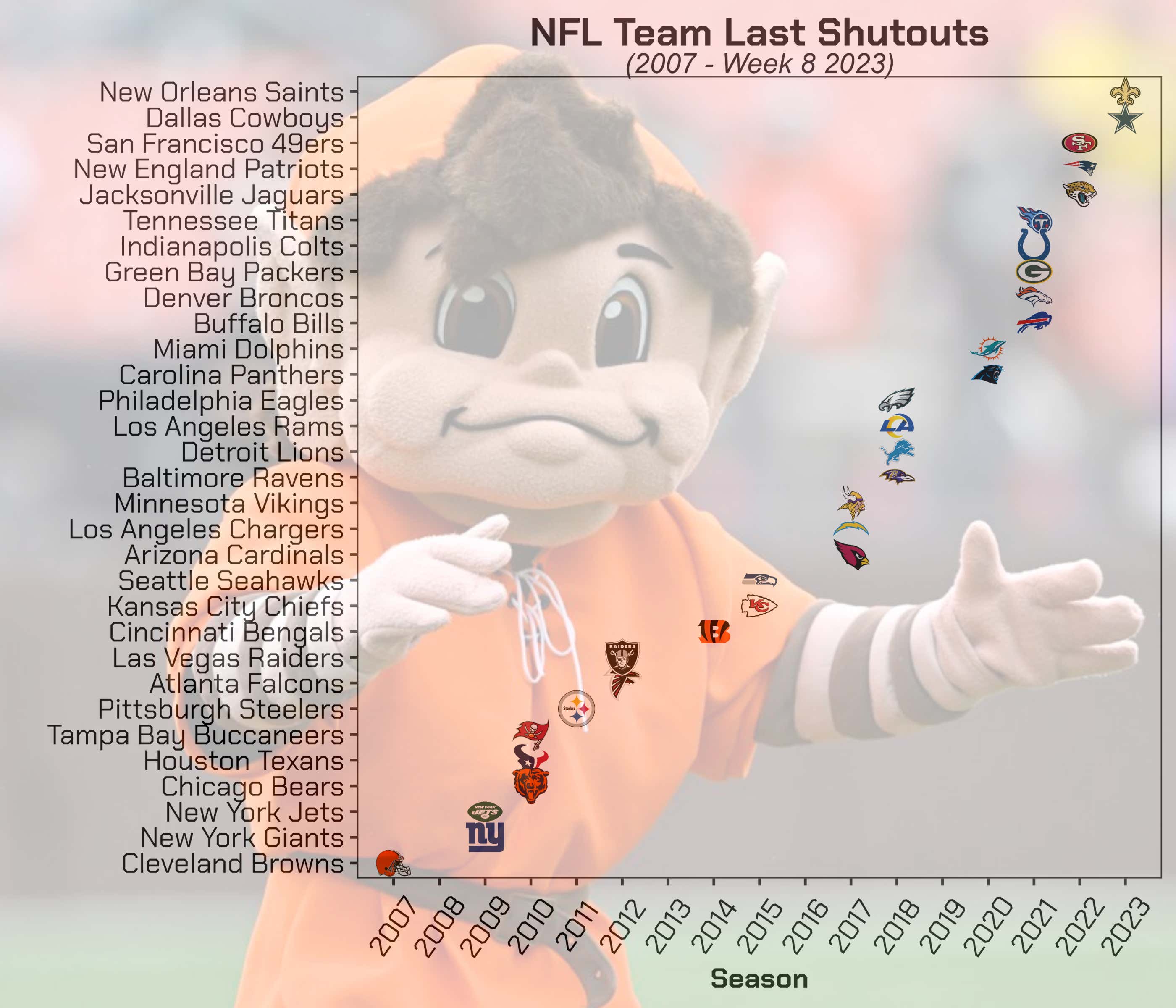 Wait a minute. That's not a sad stat. That's a happy stat. Stick with me here - I can spin out of this. The 27-0 drubbing of the hapless Cardinals took the Browns off the 253 game no shutout streak which as you can clearly see was dead last out of 31 active NFL teams. 
31? Wait, isn't there…
I have a question for Nate and PFT: what the fuck??? We were peeing our pants in kindergarten the last time this happened. 
Let this be a sad stat lesson. Just because the Commanders won in Week 9 doesn't mean they are absolved from making the blog. Also slow developing bladders are more common than you think. Seriously though, I had no idea this gem of a streak was a thing until researching the Browns last shutout and comparing it with every other team. But Sunday marked the Commanders 529th game without a shutout going back to their Super Bowl winning 1991 season. The Commanders franchise has literally won a Super Bowl before shutting out any team. 
The only way to save face here for Commies fans is to play the "well, they let other teams score just once in an on brand effort to redistribute the points" card. Typical DC Commie move. Let's call these "gentlemen's shutouts". I counted 30 such games since the last true shutout in which their opponent scored either 3, 7, or 8 points. For the record, they managed to lose two such "gentlemen shutouts".
Sad Stat #2: Clayton Tune averaged .63 yards per dropback
If NFL teams were given 16 downs to make a first, Tune's .63 yards per pass play would force the Cardinals to have to punt on 16th down. This is the worst yards per dropback (min 20 passes) this season and 13th worst since 1999. All hail Spergyn Wynn's -.85 in Week 14, 2000.
Since I'm about to have another kid any day now, here are some Clayton Tune dad jokes to keep my saw sharpened. 
- Clayton's middle name is actually "Out Of"
- More of a C. "flat" Tune than a C "sharp" but I'm not a musician 
- Was there a betting prop for Clayton Tune fumble and interception totals? Because I would have taken the Tuneover. 
Sad Stat #3: Tommy DeVito proved to the world that random people saying they could throw an NFL touchdown pass aren't wrong
Tommy DeVito was trusted in Week 8 vs the Jets to come in relief of the starting quarterback to throw seven passes for a combined -7 air yards. It was ghastly. Jimmy Hoffa wouldn't even deny this was the worst attrocity ever commited by an Italian in a New York Giants stadium. 
That makes the Giants giving him the nod again in Week 9 all the more confusing to everyone including presumably Tommy DeVito. 
Things would go about as expected. The Giants were blown out by the lowly Raiders but DeVito would at least have passing stats that looked like weren't from a wide receiver. Gotta start somewhere. You gotta think that's a wrap on any Goodfellas characters playing quarterback in the future, but I love that Tommy DeVito was able to get a touchdown pass on the board first.
As a football fan (and flag football quarterback sometimes when the good ones don't show up) who has always believed I could throw a touchdown pass in the NFL, Tommy DeVito just proved us all right. It was the most inspiring rookie quarterback performance of the day for that reason. Sure Stroud did some things, but did he make YOU believe you could throw an NFL touchdown pass? I don't think so. For the rest of time, if anyone says you can't, repeat these two little words in rebuttal: 
Tommy DeVito. 
Sad Stat #4: Three place kickers this season have missed field goals at or shorter than running back Dare Ogunbowale's 29-yarder
Riley Patterson from 26 in Week 8. Joey Slye from 27 in Week 7. And Blake Grupe from 29 in Week 6. In Slye's defense, it was blocked - but this is a bad look for these three. Not even Brett Maher showed up on this stat. 
Dare becomes the first running back to ever attempt or make a field goal since the merger. Meaning the entire position is 100% in making field goals. Tough look for the running backs don't matter crowd. The last non-kicker (place kicker or punter) to make a field goal was Wes Welker in 2004 and quarterback Chris Miller was next after that in 1989. 
Image the prop bet on this baby. One of those they'd never list so you'd have to call a higher up and say you're willing to throw down big money for them to take the action and then when it hits they cancel it proclaiming you somehow were in the know. What a thrill that all would be. 
Sad Stat #5: Josh Allen has lost his last three Fall Back Sunday games
This wouldn't be that alarming if it weren't for the fact that two of these teams were the Zach Wilson led 2022 Jets and the absolute clusterfuck Urban Meyer 2021 Jaguars that held Allen's Bills to six points. There's precedence here too as Aaron Rodgers is still sitting on a seven-game Fall Back Sunday losing streak which includes a loss to the Bears. That's how you know it's real.
That's it for Week 9. I'll be back for Week 10 - that's a promise. Expect an incredible amount of typos, but I'm commited to not miss a week of sad stats for any reason. That includes illness, death, or the even more encumbering reality I'm facing -  the acquisition of a new tax credit. 
- Jeffro
Got a sad stat tip? DM me @statholesports
Catch up on last Weeks NFL Sad Stats Week 8: