It Has Only Been A Week But It Is Very Clear That Kristaps Porzingis Is Already Changing Jaylen Brown's Basketball Life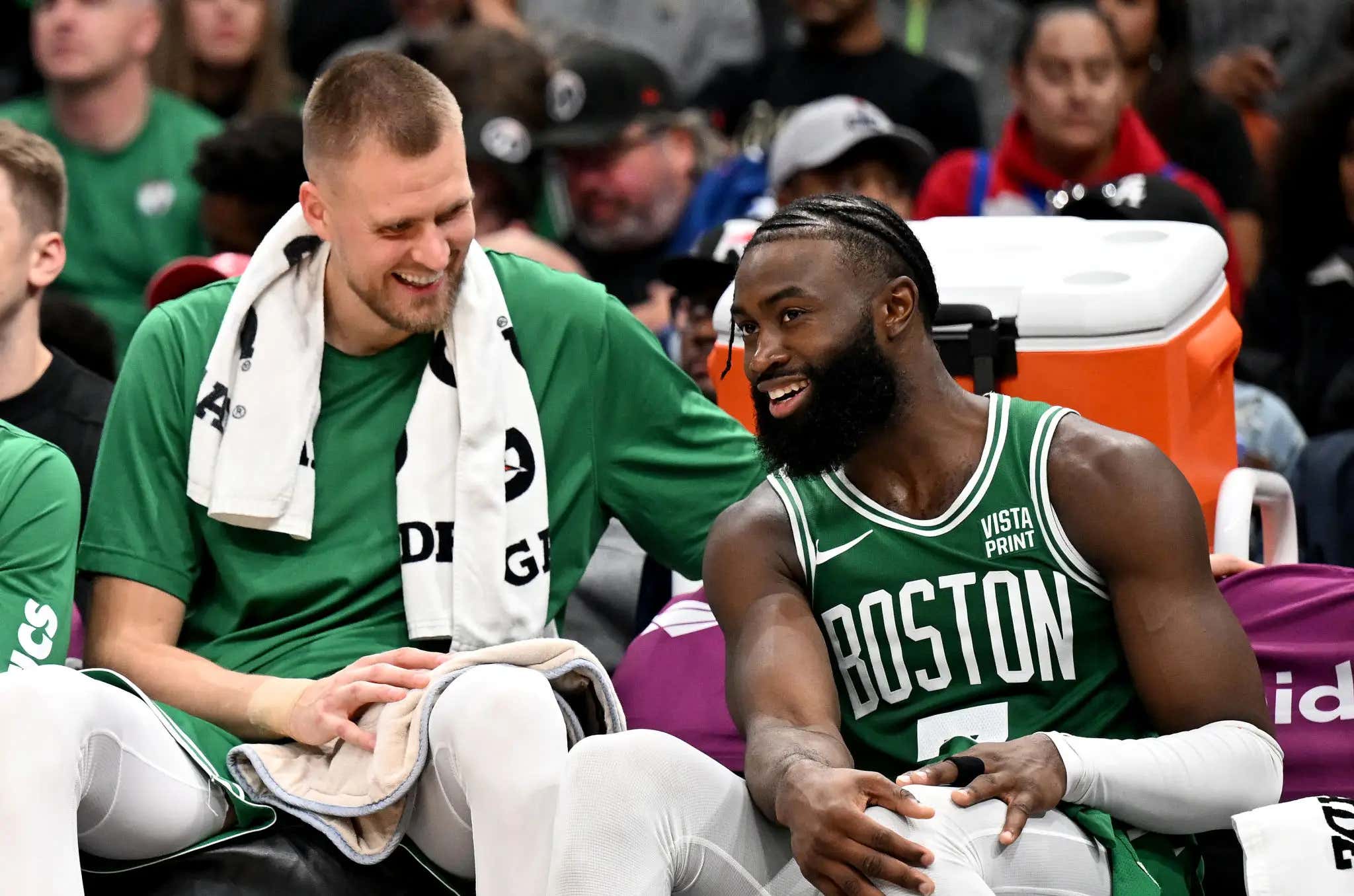 Greg Fiume. Getty Images.
My general rule when it comes to the Boston Celtics for the most part is that when Brad Stevens talks, you drop everything and you listen to what that man is saying. After two decades of having to decode what Danny Ainge said by reading between the lines to determine what he was really seeing or really felt, it's refreshing that Brad straight up tells us. 
I say this because given how the Celts have started their season (3-0) my brain keeps going back to the very first interview we saw with Brad after he made the trade for Kristaps Porzingis. It's been a while, so let's relive that together
It didn't take long for us to see exactly what the hell Brad was talking about in that interview when it came to KP. That part about how he attacks switches and punishes the defender by shooting over him and then also killing you from 26 feet with a quick release? That was apparent right away and has unfolded exactly as Brad described
If you were curious about why Brad made this trade, those clips are a big reason why. The Celts simply did not have a player at that position who was capable of those things, and seeing as how switching defenses has ended their season in multiple playoff runs, being able to attack a switch like that is important. Brad talked specifically about the MIA defense in that interview, and we immediately saw the impact of KP's skillset in their game the other day. As you can imagine, it was more of the same against the Wizards as well.
To me, that is only part of the story when it comes to Porzingis. From the day Brad Stevens got this job, he's repeatedly stated one thing. Every move this franchise makes has one purpose in mind. It has to accentuate the two best players. Everything this team does is about maximizing those two guys. When we hear Brad talk about that, I think most of us fans take it as really meaning accentuating Jayson Tatum. He's the guy. He's the franchise player. When Brad made this KP trade, I think most of the takeaways were what this now meant for Jayson Tatum and how a Tatum/KP two man game was going to be the thing that got this team over the hump.
But what if we were looking at this all wrong? While it's undeniable that Tatum is going to benefit from playing with someone like Porzingis, I feel like he's so good that he can adapt his game to anyone. Things looked just fine with Al/Rob when they were involved with Tatum because he's just that good. 
What if this KP trade was sneaky more about unlocking Jaylen Brown? 
I say that only because of what we've seen to start the season. There is a very noticeable difference when it comes to Jaylen Brown's offensive approach, and the more we watch this team play the more I can't help but attribute that to Jaylen being paired with Porzingis. Watching him offensively now, Jaylen seems WAY more willing as a passer, because now he's able to look for this 7'3 basketball unicorn. The early season numbers almost make this undeniable.
Through 3 games, Jaylen Brown is tied with Derrick White with 22 potential assists. I'm sorry, but not a single one of us saw that coming. Of Jaylen's 83 passes to start the year, KP has been on the receiving end the most (23) and is shooting 44/50% on those passes. I'm simply asking you to think of a time you ever saw Jaylen Brown consistently make these type of reads/passes to a Celtics big
Are these complicated reads? Heavens no. It's Day 1 basketball level stuff. But….that's the point. How do you maximize Jaylen's playmaking ability? You give him a heavy dose of extremely easy reads to an elite offensive player. The defense is in a tough spot if they have to worry about someone like Jaylen coming off a screen given his ability to finish in the paint/at the rim, so now if the defense focuses too much on him, it's an easy kick out to KP either for a three or on the roll. If they focus too much on KP, it's a high percentage look for a 2nd Team All NBA player.
As fans, we all want to see better decision making from Jaylen right? Less driving into traffic without a plan and more smart, easy basketball decisions. Well, I'm not sure it gets easier than what we saw in those clips, and look at what a difference it's making for Jaylen already. Not everything has to be super complicated. I don't need Jaylen trying to make the same reads as a playmaker that we see Tatum make as an offensive initiator. They don't see the game the same way or process things at the same speed. Jaylen doesn't have to be Tatum as a passer, he just needs to be the best version of himself.
The clips above are just the assists we've seen so far to Porzingis, but even on the misses we're seeing similar reads from Jaylen
Again, these aren't complicated reads, but what stands out is the willingness of Jaylen to even make them. You get the sense that he's played with way less tunnel vision to start the year which is important considering this whole trade was about giving the Jays another option which in turn would hopefully cut down on their bad decisions/turnovers.
Well, guess what? Jaylen has trimmed his TOs per game by 1 to start the year (2.0) and his 8.8% TOV% is the lowest of his entire career. Based on the sample we have to work with, it sure does seem like this new KP/Brown two man game might be the thing that truly unlocks a version of Jaylen we haven't really seen yet. 
This is the part of the blog where I of course put out the disclaimer that we are VERY VERY VERY early in the NBA season. There's a lot of basketball to be played, mistakes will be made along the way, and all that. But it's simply undeniable that the addition of Porzingis is having a pretty big impact on what we're seeing from Jaylen, even more than what we're seeing with KP/Tatum.
Maybe that's the whole point. Brad saw what happened with Jaylen against the MIA defense and went out and found a solution to help him be the best version of himself. Adding in the Tatum part is the icing on the cake. Even on a night when Jaylen struggled offensively like in the opener, he still made an impact leading the team in assists. When did we EVER say that? Usually when Jaylen had an off-night shooting, that was it. There was no additional impact. 
Now? Now it seems like we're only scratching the surface of what's possible, and that my friends is very exciting.