Aaron Gordon Turned His Crazy Poster Dunk On Landry Shamet Into One Of The Best Chains You'll Ever See
Garrett Ellwood. Getty Images.
Last year during the Christmas Day slate, Aaron Gordon had himself quite the poster on Landry Shamet. It was arguably the dunk of the year if we're being honest
There must have been something in the air that day when it came to poster dunks considering this also happened earlier in the day
but even I can admit the Gordon dunk was simply a different level. I know the term "poster" gets thrown out a lot, but that play was what I consider the true definition of the phrase. Not only did Gordon catch a body and dunk it clean, but it actually made for one hell of a poster. Just look at the picture at the top of this blog, that shit rules.
While some may get this picture framed for their house, or maybe some have it commissioned as a painting or something, it's way cooler than someone went a completely different direction and turned this play into maybe the greatest chain I've ever seen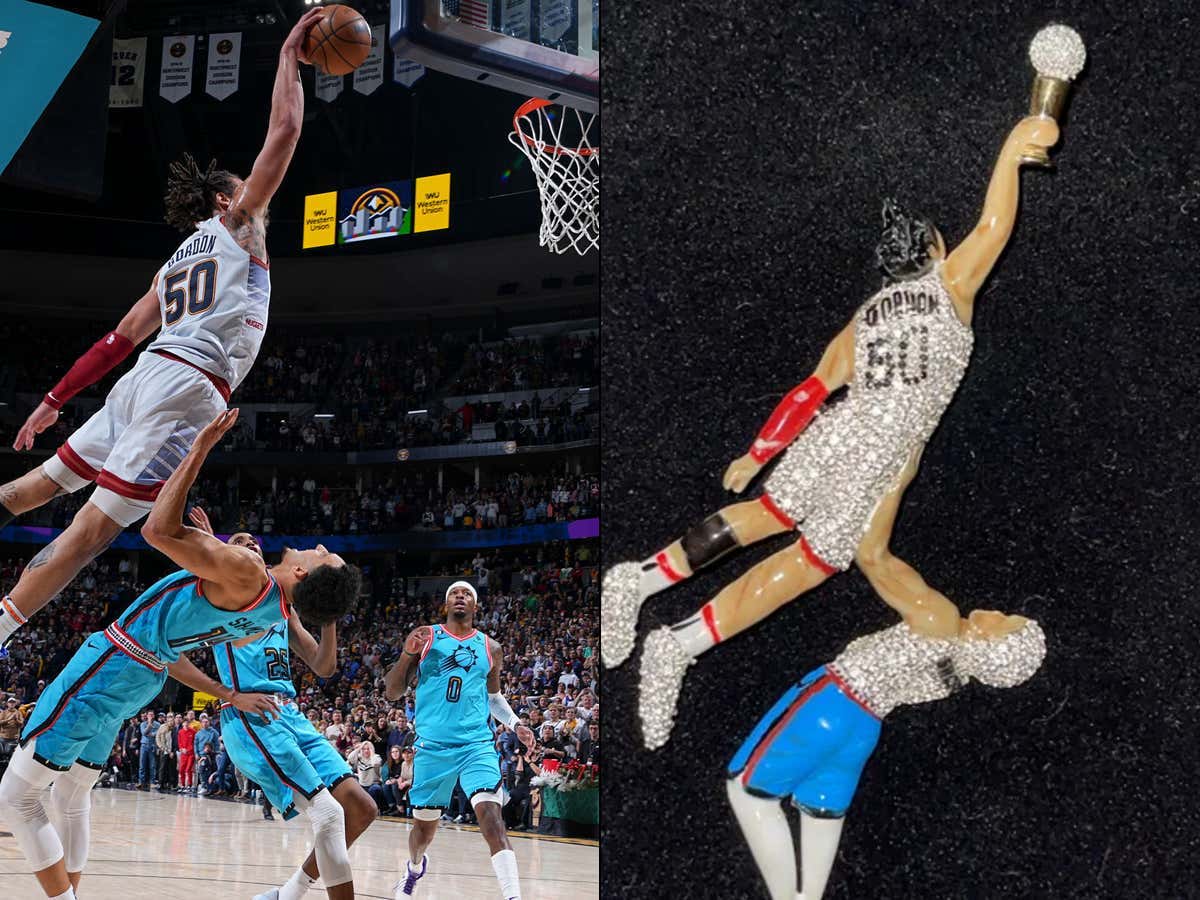 Holding the Larry O'Brien trophy at the top? 10/10, no notes. 
I'd definitely want a chain like this over a framed photo or something, even if I never wore it. It also wouldn't shock me if we saw other players find a way to do this themselves after an awesome play. Why not? The jeweler said this thing ran about $20K (but he gifted it to Gordon for free) which for people like us might seem like a rather outrageous purchase, but for NBA players is basically couch cushion money. 
It'd be cool one day if the NBA decided to gift stuff like this at the end of each year. Bring back the NBA Awards show and give out things like this for Dunk of the Year, Clutch Shot of the Year, things like that. A pendant like Gordon's for a moment like this would be incredible in my humble opinion
Jesse D. Garrabrant. Getty Images.
Poor Landry Shamet though. I'm sure he's tried to put that play behind him after all this time, and now that this is going viral again today he's sure to catch some strays. Guy just tried to make a play and instead was sent to the center of the Earth. Something tells me next time he finds himself on the break with Aaron Gordon, he'll be making a business decision.