The Saddest NFL Stats Of Week 2 You Didn't Know
Icon Sportswire. Getty Images.
I hate my team. I hate my FUCKING team. I hate that they haven't won shit ever my entire life. I hate that I get excited every year thinking things will change. I hate that "Bear Down" is the most precient team slogan of any pro team ever. That's all we've ever been. Down. I hate that we can't ever beat our division rival. That we've had more quarterbacks in the last three decades than I've had birthdays. That even when we start fresh and flush out all the decrepid and devoid of intelligence waste of skull real estate, we just hire a new generation of skull squating globs of puss. Gutless twats who think a wide receiver screen over and over again is a viable model to score a GODDAMN FUCKING POINT IN THE GODDMAN FUCKING NFL!
Does this sound relatable to you? Do you stupidly find yourself never learning to ditch your abusive team in a vicious circle that seems like will never end because it absolutely never will? If so, take a seat so you won't fall as hard when I pull you down in this hell hole misery with me.
Let's get to it. Here are your NFL Week 2 sad stats. 
Sad Stat #1: The Chicago Bears haven't won a game in 330 days
Yeah I'm not done with this sack of shit team yet. October 24th, 2022 was our last win. But shout out Cardinals who blew a 20-0 halftime lead to keep us company at the bottom of this graph as we close in on our L-shaped flight path around the sun. 
Watching Justin Fields is torture. I can almost hear the beeping of a Mack truck backing up when he seemingly trudges through molasses every three step drop that - let me remind you - always starts in the shotgun. With all the peripheral scanning capability of a grocery store UPC scanner, my brain plays the "no barcode found" DEET DEET DEEEEEEET sound in my head over and over as Fields stands in the pocket waiting for something to happen longer than Mitch McConnel at the podium of his own speech. 
Wanna talk playcalling? You've probably seen all the film bros have a Fields day with the Twitter break down posts so here's something you might not already know: The Bears have thrown short of a first down by at least FOUR yards on nine out of 21 third or fourth down passing plays. That's 43 percent of the time they chose to go full Playoffs Kirk Cousins when it matters most. At least when it matters most to us. Weeks 1 and 2. 
Here's another sad stat. They've needed 11 yards or more for a first down on 23 out of 114 total offensive plays from outside the opponent's 10-yardline. The only team worse is the Arizona Cardnals with 24/115 which is pretty much the same. Friendly reminder that only one of these teams is actively tanking. 
The worst part is despite all of these sad Bears stats my dumb brain is actually a little bit excited about the plausible and eternally embarrassing idea that the Chicago Bears might have the first AND second overall picks of the 2024 NFL draft. That's an actual possible thing that can happen as the Bears have the Panthers first as well as their own. That is Sad Level Midnight. 
Sad Stat #2: An estimated 76% of Cleveland Browns fans have never experienced their team being 2-0 
I'm extrapolating here from US age demographics I pulled from Statista in which it states that 76 percent of Americans are 29-years old or younger. Figure you don't remember watching your first game until at least five-years old or so and that percentage has to be easily in the 80s. 
Little cocktail math here. The Browns are now 146-278-1 since 1994 - the season after they last started 2-0. That's a 34.4% win clip which is sad. We can use this figure to deduce the odds they DO NOT win any two games in a row is about 88%. But for the Browns to repeat this 30 years in a row? You're looking at roughly a 2.2% chance. The only problem is this team is 100% the Cleveland Browns.  
This was a terrible loss too as the Browns had to give the game away both at the beginning and the end in order to figure out a way to lose. Just a gut wrenching blow to the fanbase. Out of decency I won't even bring up that the Browns were 1:55 away from going 2-0 last year when up 30-17 as Cade York stepped up to shank an extra point before the Browns got Flacco'd for two touchdowns to lose by one very sad Cade York shanked extra point. 
Alas, the Browns were not able to end the streak once and for all Monday night vs the Steelers. But hey. Sometimes you gotta tip your cap when outsmarted by a formidable opponent.
Sad Stat #3: Pittsburgh Steeler Gunner Olszewsky might be the dumbest football player in the history of the game
At first you might think this is the single dumbest play in the history of football (pro, college, high school, Thanksgiving family game with Aunt Ethel). 
Spin Zone (I'm going to try, here goes nothing). Why let the ball go out of bounds to give your team the ball at the 40-yard line when you can show coach your mad toe-tap catching skills? Chess not checkers. Remember, special teams guys have to make a name for themselves to get more involved in the game plan. No doubt Gunner was gunning for some PT on offense with this stunt. And you know what? It worked!
Shit. I fogot. I need to make this a stat. 
NFL history Leaders in toe-tap sideline fair catch kickoffs of a ball headed violently out of bounds:
1. Gunner Olszewski
2. I'm sure somone will fill this spot eventually
Sad Stat #4: The San Fransisco 49ers streak of opponents losing the immediate week after playing the 49ers is dead
Just when Brown's fans thought "thank god, our section is finally over". The idea here is that the 49ers beat teams up so bad they're still sore the next week leading them to losing 16 straight. Nothing like playing some elves.
Sad Stat #5: The Rams made their Sad Field Goal HOF bid
All time brutal cover here with 49ers -7.5. Welcome to Club Sad. Just to fully appreciate how fucked you got here's a graph showing every field goal kicked in the final five seconds of a game since 1999 in chronilogical order from top to bottom. The blank spaces are kicks too, there's just no bar since the game was tied.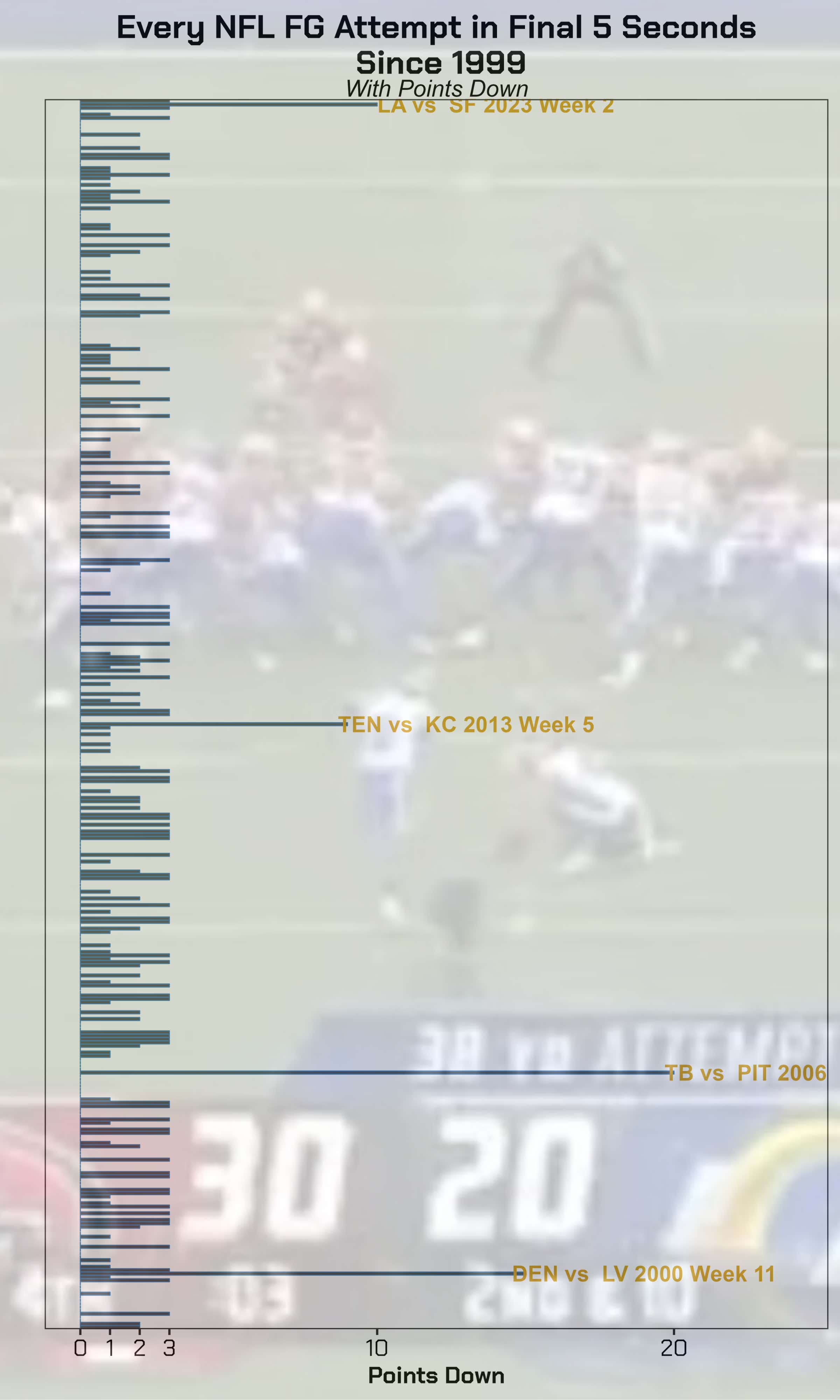 367 total qualifying kicks and only four "waive the white flag" sad kicks while down more than three. I think a future breakdown on the story behind all four is going on my future blogs list. Were they all to cover? Probably not Tampa Bay in 2006 when kicking a last second field goal down 20-0. 
Sad Stat #6: Justin Jefferson has the second most recieving yards in the first two weeks of a season without a touchdown
Hope you weren't laughing too hard Vikings fans because you're in this basement with us. Don't make me pull out last year's Vikings point differential fraud graphs to remind you who you are and always have been.  Anyway, only San Diego Charger Charlie Joiner travelled 357 yards in the first two weeks of 1981 without scoring. 
Sad Stat #7: The Miami Dolphins have five aborted snaps so far this year. 
The next most this season is the Giants at two. Something seems off with the echo communication between Center Connor Williams and Tua. Five aborted snaps matches the total for the Dolphins entire 2022 season. This got my dumb brain to actually wonder if this might be a repurcussion of poor Tua's concussion history. It takes the human brain .2 or so seconds to recieve stimuli from contact so it's not unfair to wonder. But he had four aborted back in 2021 before any of the major head issues started so who knows what the deal is. 
Let's wrap this up. Week 2 was yet another supremely sad week for the sad teams and their sad fans. Why do we do this to ourselves? Sports are so dumb. I mean, we can literally do anything else on a Sunday. Take up a new hobby. Learn to cook. Read a book. We have the power to end the misery once and for all. We can harness our interanl locus of control and decide for ourselves we deserve better. We don't have to keep giving and giving and giving without getting anything ever back in return. All it takes is a clean break to freedom. For a fresh start. For a new beginning. 
See you next week. 
- Jeffro
Got a sad stat tip? DM me @statholesports
Catch up on NFL Sad Stats Week 1.