Danica Patrick Is Criticizing Eulogies, Apparently
For non-NASCAR fans, there is a driver named Martin Truex Jr. who wheels the No. 19 Toyota Camry for Joe Gibbs Racing.
He's 43 years old and won the 2017 Monster Energy NASCAR Cup Series Champion in 2017.  More recently, he was the 2023 NASCAR Cup Series Regular Season Champion.  He struggled a bit in the first round of the playoffs but made it to the Round of 12 after last weekend's race in Bristol, and will be racing again this Sunday at Texas Motor Speedway.
In his personal life, Martin was dating a young woman Sherry Pollex… They were together from 2005–2023.   
(That's Pollex with Truex after MTJ won the championship in 2017.)
In 2007, they started the Martin Truex Jr. Foundation to support children with pediatric cancer, and in 2014, Pollex was unfortunately diagnosed with Stage III ovarian cancer. 
Earlier this year, Truex announced that he and Pollex had ended their relationship, but by all accounts, they continued to remain close friends post-breakup. 
And the most tragic part of this blog is Sherry died yesterday morning at the age of 44.
I have had the pleasure of spending a little time with Truex since Spider and I started covering the sport, and from my perspective, he's a gem.  Even though we are always looking for salacious sound bites from any driver we talk to, Truex never gets overly emotional about topics we have put in front of him, and he does not have much of a footprint on social media.  He just keeps to himself and does his job.
So when Sherry passed, I don't think it came as a surprise that Martin (and his team) had put out a statement that was very respectful but, honestly, not overly warm.  After all, this is a guy who likes to keep things close to the vest, and with his relationship ending earlier this year, perhaps people would be trying to read into any statement he may have made.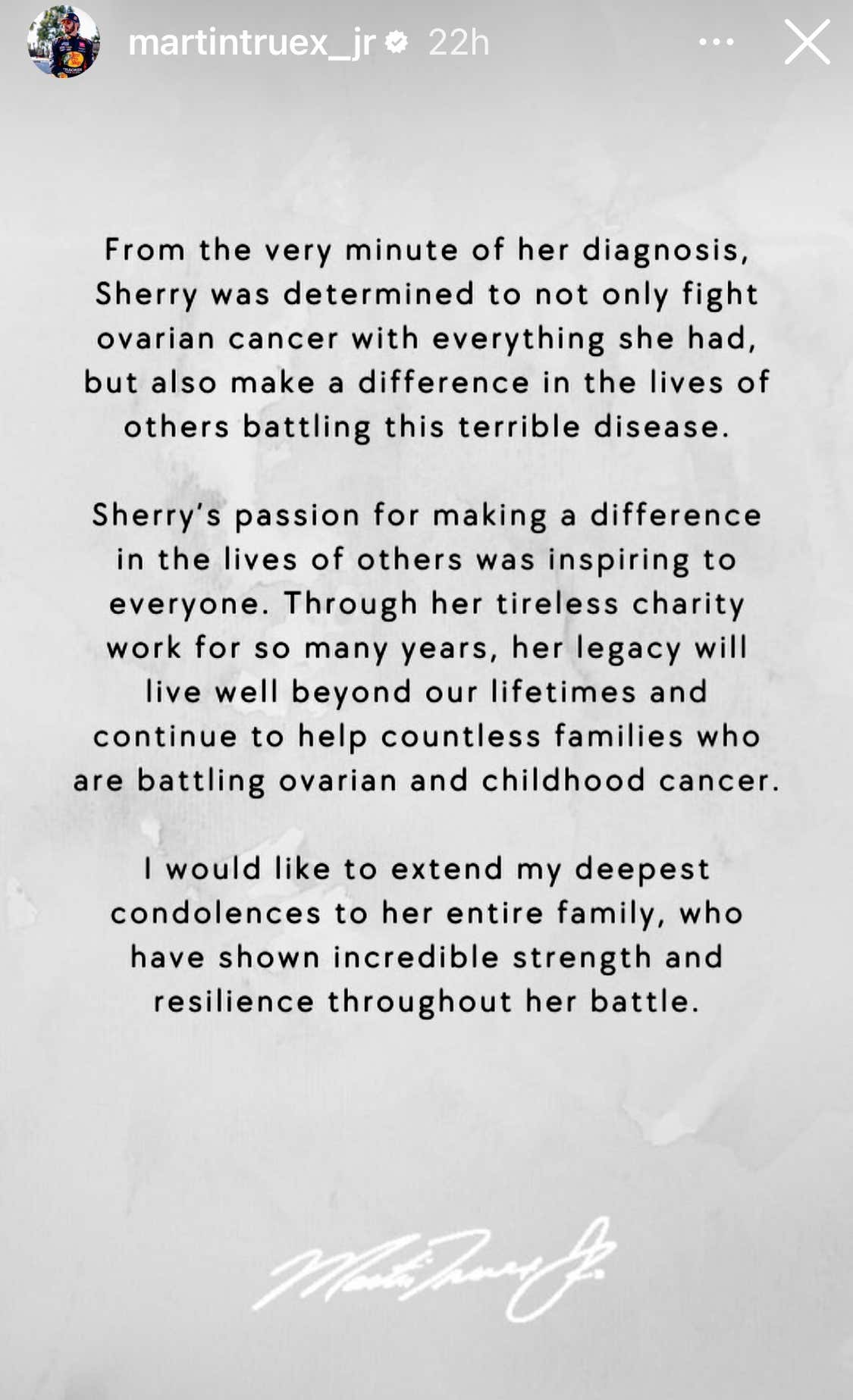 I see nothing wrong with this statement… Not everyone has the desire or skill set to craft weepy heartfelt odes to loved ones who pass away, so I don't see how anyone could've had a problem with Martin's sentiment in the wake of Sherry's death.
Then Danica Patrick inexplicably stepped in…
What the fuck is this, Danica?
In nearly the same breath DP states that she avoids "negativity on social at almost all costs", she decides to post an Insta story to her nearly 1 million followers shitting on a man's eulogy to his ex-girlfriend.
Now, as far as I know, there are no extenuating circumstances here that would garner such a tone-deaf moment of bitterness towards a guy that, according to her, "I have never liked." But I think even if there was some extenuating circumstance, Danica's timing here is still WAY off.  And to close with, "You're free from this now, Sherry" in the shadow of this woman dying seems utterly despicable.
I am going to dig a little deeper to see if there is more to this than meets the eye.  But if there is not, then I look forward to tearing into Danica Patrick on this week's Rubbin' Is Racing because she sounds like a fucking myopic idiot. 
Rest in peace, Sherry.
-Large