For the Second Straight Week, the Patriots Come Up Inches Short and Lose on a Booth Review
Week 1: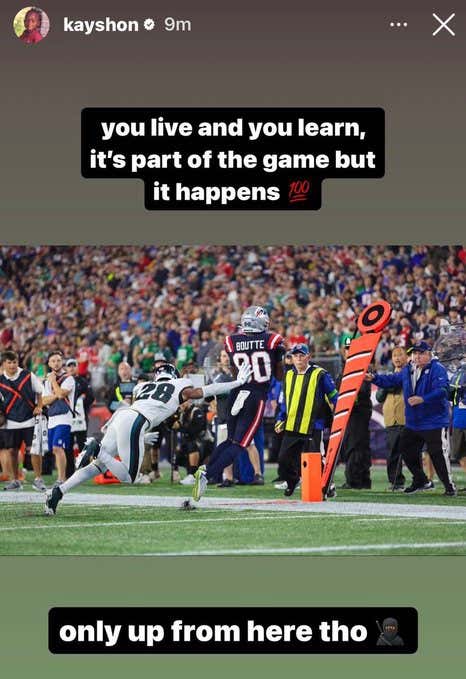 Week 2:
For 20-plus years, the mantra in New England has been situational football. Meaning, understanding what the moment requires, making the plays that need to be made, and above all, Do(ing). Your. Job. 
And yet, going back to last season, a pattern has been emerging. Situational unawareness. Misunderstanding what the moment requires. Not making the plays. Undoing your job. 
Two games in a row, the Patriots have had the ball, down by a score, with time on the clock, and found a way to do just enough not to win. Last week rookie wideout Kayshon Boutte took a pass from Mac Jones, and an officials review rules that it was just not quite in bounds enough for him to get both feet in bounds. And a dramatic loss was snatched from the jaws of dramatic victory. This week, Jones hits Mike Gesicki short of a 1st, he flips it to guard Cole Strange, and an officials review ruled he too was short of the line to gain. And once again, a dramatic loss was snatched from the jaws of dramatic victory.
Have it play out that way often enough, and it becomes a pattern. Then the pattern becomes habit. And eventually the habit becomes the culture of the team. Simply put, the way you do business. We're not there quite yet. But it's hard not to worry that we're kicking that door in. There was a time when you just expected that these weird, improbable, unorthodox plays would always go our way. A decade ago, that Week 1 pass could've gone to, say, Kenbrell Tompkins, and he would've found a way to get his toes down. At some point in our history, Christian Fauria would've lateraled that pass to Stephen Neal, and he would've picked up the first. Both plays would've won us games and left the whole world furious that this Patriots team found another way to win a game they had no right winning. It was everyone's reality.
The scary thing is it's now fair to at least start wondering if maybe, just maybe, we tempted fate for far too long. And now that bill is coming due. 
I have to get up in about 45 minutes to process all we just witnessed and write a 2,000 or so Knee Jerk Reaction about it. But for tonight, this fear is all I've got. I hope I don't die in my sleep. Not because because I fear death. But just because this is not how I want my journey to end. See you in the morning. Maybe.