Meek Phill May Have Tanked Dave Portnoy's Season In Just One Week
We're one week into the NFL season and Meek Phill has drawn the ire of Dave Portnoy. He was Dave's consultation for some of Dave's fantasy draft and when Dave was faced with the decision of picking either Tua Tagovailoa or Cole Kmet when he had Daniel Jones as his QB1, he made the wrong choice. 
There is a lesson here: DON'T EVER DRAFT A BACKUP TIGHT END!
At least he didn't face Tua Week 1. Oh no...
Napoli was wise to wait on QB but went QB/QB in back-to-back rounds with Kirk Cousins and Tua. Meanwhile, Cole Kmet had a respectable game with 9.4 points, but Daniel Jones went 15.54 points below his projection and Dave's team is in an early tailspin.
The trio of Joc Pedersen, Alex Wood, and Austin Barnes is in 1st place after a dominant performance from the Cowboys D/ST against Daniel Jones and the G-Men.
Stefon Diggs had a great day against likely the toughest Defense he'll face all year and he had Deshaun Watson on the bench! Eric Hosmer's squad, Team Blood Sweat and Beers is really solid all around and was the top scoring losing team of the week. In fact, Hosmer was the second highest point total of the week. Just a bad matchup here, but his team is stacked.
Manny Machado's squad but up a great score, but a lot of that seems hollow behind Tyreek Hill's monster day. Najee Harris looked slow and he'll need a bit more from Justin Fields to contend. Here is this week's Ass Whoopin' Of The Week:
Mike Moustaka's team only got a combined 7.18 points between Joe Burrow, Tee Higgins, and Daniel Carlson. This matchup was never in danger and Moose's team needs his bench to step up with Diontae Johnson's injury. Luckily he had plenty of production there so he should be ok in the longrun, but this was a beatdown.
The only 3-time former MVP of the group, Mike Trout suffered a horrific loss that left him questioning the scoring system after the game. Losing by 0.22 after your Kicker bangs a 50-yard FG to send the game to OT is less than ideal.
Trout had some bad luck not only with Field Goals being deprioritized as scoring options, but Ja'Marr Chase suffering from Joe Burrow's worst game of his career and DJ Moore's disappointing day and more. He only had three guys in double figures, so Jake Marisnick and Andrew Benintendi's team squad, despite a combined 0.40 points from Skyy Moore and Dallas Goedert. 
Alex Bregman came in last place in 2022. Just a year after winning the whole thing. This year, he brought on his buddy Brian McCann to help him out and the results are overwhelmingly good.
Despite starting Michael Thomas over Brandon Aiyuk (woof!), they still blew out defending champ, Wil Myers. Between Patrick Mahomes, Calvin Ridely, Aiyuk, Bijan Robinson, and others, Bregman and McCann may be the favorites to win it all this year. All this while Jonathan Taylor sits on IR. Wil didn't have a single player break 14 points which is a surefire way to not win a game. He only player he had that outscored his projection was K Jake Elliot.
The new guys, JT Realmuto and Kyle Schwarber were in a tough spot. They lost Cooper Kupp, their 1st round pick for the first four weeks at least. But they did not let that stop them with a season opening win over Shane Bieber and Austin Hedges. The former Guardians pair got big let downs from Lamar Jackson, Christian Kirk, and Evan McPherson and barely racked 75 points.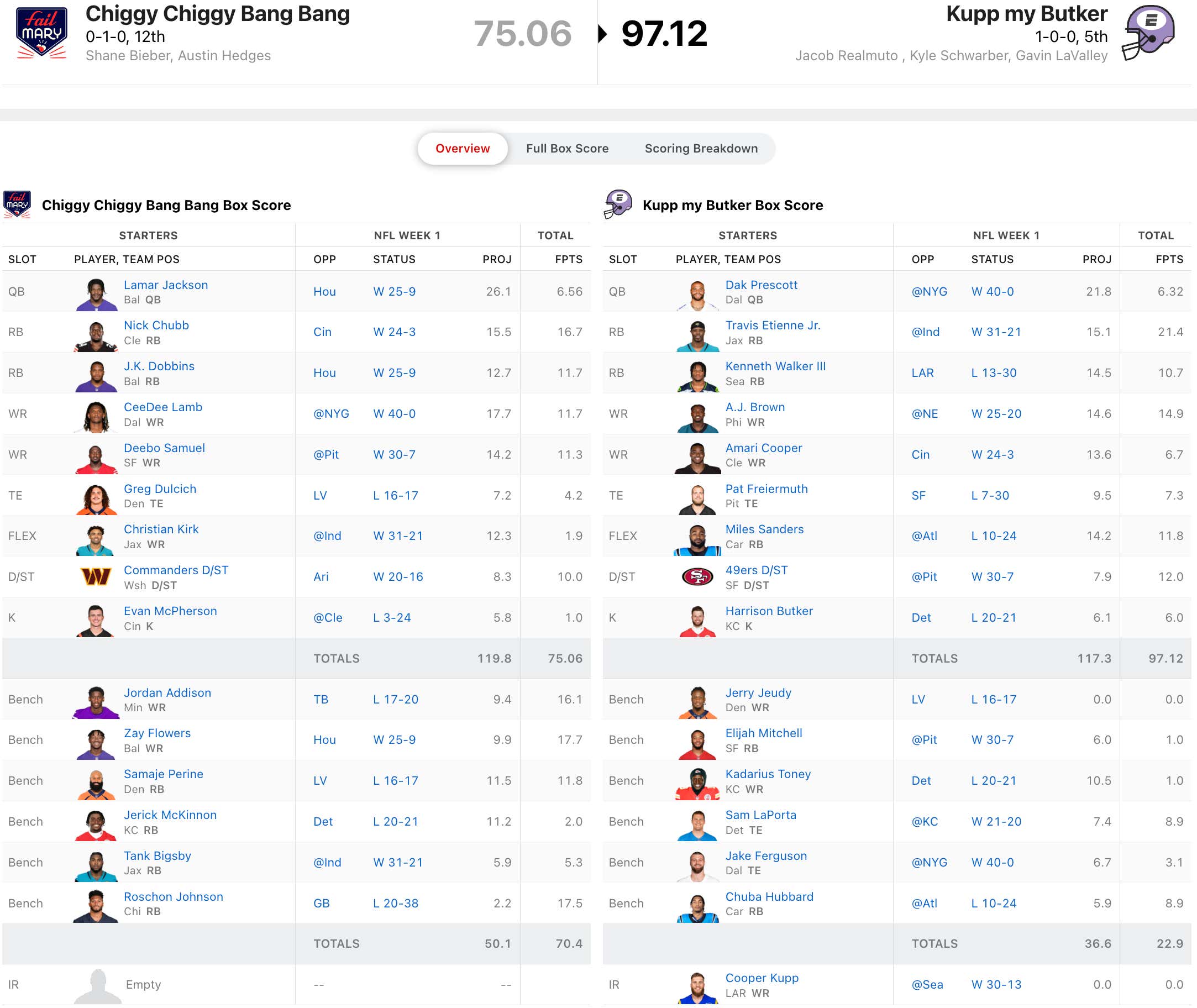 So here's where we stand after 60 minutes of action: