Top 5 Losers Of Week 1: The Pittsburgh Steelers Should Join The Tank For Caleb Williams
Justin K. Aller. Getty Images.
Week 1 of the NFL is in the books! If your team is 1-0, congratulations! If not, your team might be on my list….
Welcome to the biggest losers from Week 1:
5. Chicago Bears
Quinn Harris. Getty Images.
Let's kick things off in the Windy City. Growing up as a kid my parents were always on and off. Every time they would get back together, my sister and I swore that this time it would be different, but it never was, and that's exactly what the Chicago Bears are.
All off-season all you heard about was the Bears, and how this is their year… It was never their year. Maybe they thought it was their year to beat the Packers, but they couldn't even do that. Big bad Aaron Rodgers finally leaves Green Bay, and the Bears have the opportunity to beat the Packers for the first time in their last 8 meetings, and they let Jordan Love go into their house and smack em up 38-20. Just like my man Eddie said, the Bears threw their hands up and just handed the Packers their wallet. 
I wish there was something positive to say to Eddie, Chief, and Dave, but there's not. The offensive line still sucks, the defense is abysmal, and Justin Fields is still a question mark. Enjoy the next 17 weeks and don't fuck up next years draft.
4. Pittsburgh Steelers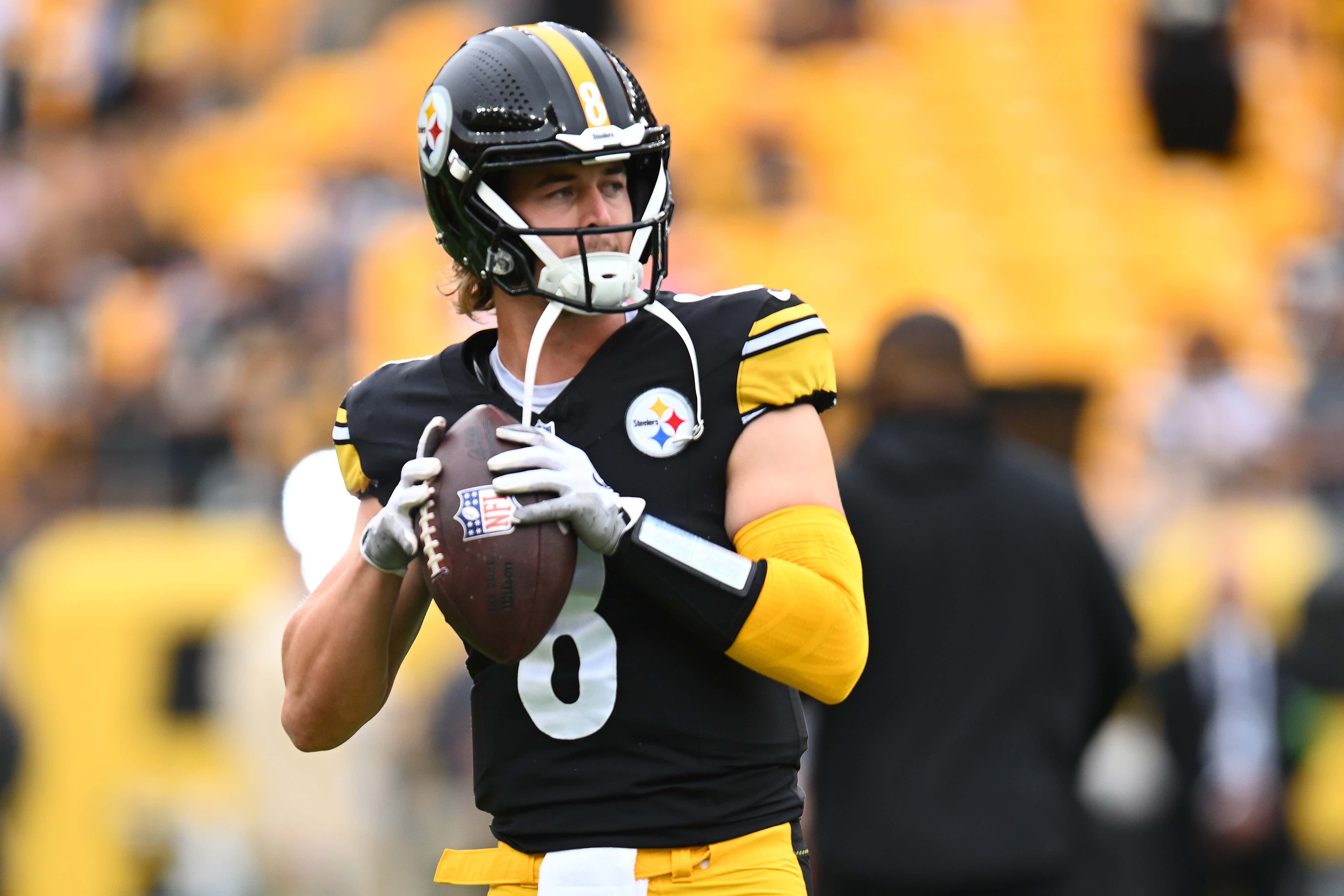 Joe Sargent. Getty Images.
30-7. How the fuck do you let someone come into your house and beat you 30-7. I'm sorry Jerry but that shit was pathetic. You might have shit yourself on a train, but at least you didn't shit yourself in front of 70,000 people like Steelers did. 
The 49ers went into Pittsburgh and blew their guts out out worse than 5 guys 1 girl video. Kenny Pickett you gotta be kidding me man. All this preseason hype for 2 INT's and a 23.8 QBR? That ain't it chief! 
I can't even put all the blame on Kenny though, the Steelers still can't run the football! I don't know if Najee is a bust or if the Steelers offensive line is still garbage, but rushing for 41 yards in a regular season game is pathetic. I know it's only been 1 game but if I'm a Steelers fan I want in on Caleb Williams.
This team isn't competing for a Super Bowl. Your QB throws with 2 gloves, no QB has every worn 2 gloves and won a Super Bowl. The odds are not in you favor. Trust me get in the Caleb Williams sweepstakes and if you win, the black and gold will be back at the winners table. 
3. New York Giants
Tim Nwachukwu. Getty Images.
To be honest the Giants were #1 on my list until last night. I just ripped the Steelers for losing 30-7 at home but at least they scored! I feel bad for any dad who brought their son to that game on Sunday night. I could only imagine how exciting it must be to introduce your son to his football team for the rest of his life and in the first game he goes to they lose 40-0 at home. I'm praying your wife isn't a Cowboys fan or you might have lost him already. 
The Cowboys defensive line manhandled the Giants from start to finish. Daniel Jones didn't know what the fuck was going it. I'm surprised he made it out alive. I'll end with this, Dak Presccott threw for 143 yards and won 40-0.
2. New York Jets
Michael Owens. Getty Images.
I know what you're thinking. How are the New York Jets #2 when they beat the Bills? They lost Aaron Rodgers. Which honestly is the biggest loss of the week. That Jets defense is real deal. If Rodgers didn't tear his Achilles before he even completed a pass, the Jets would be playing for a Super Bowl at the end of the year. That's how good this defense is and that's how big of a loss Aaron is. 
I know the Jets won but Zach Wilson still looked like a petrified puppet out there. The Jets will win games this year, but they'll never compete for a Super Bowl with that mental midget behind center. 
1. Buffalo Bills
Joshua Bessex. Getty Images.
LETS GO BUFFALO!!! Oh my God you want to talk about embarrassing!! I mean you guys have never won a Super Bowl, but this is right up there. The whole off-season everyone was writing you off, you were supposed to come out with a chip on your shoulder and what did you do week 1? Lose to Zach Wilson and the New York Jets HAHAHAHAHAH. You hate to see it, well actually, I love to see it. 
Bills mafia you deserve better. I'm being serious. I truly love your fan base, and love coming to Buffalo to see the Dolphins play but you guys need to stand up for yourself. How can you keep letting this team bully you like this. Trust me, the Dolphins have bullied me enough in my lifetime, but we never had a real chance at competing for a Super Bowl. You guys have been picked to win the AFC 3 years in a row and haven't even made it to an AFC Championship game. 
You guys need to do something because jumping through the tables isn't enough!!! Josh Allen having 4 turnovers in one game is the cherry on top for me. I bet those "Tua Turndaballova" jokes are so funny on this beautiful Tuesday morning ;)