NFC FULL CONFERENCE PREVIEW
I previewed the AFC, now it's the full NFC preview:
NFC EAST:
Cooper Neill. Getty Images.
1. Philadelphia Eagle 12-5
You know what they say: if it ain't broke, don't fix it. The Birds are flying high, and it looks like they'll be soaring their way back to another Super Bowl. The Eagles should erect a statue for Howie Roseman when he retires. What he's done for this organization is unprecedented. Howie brought the city of Philadelphia its first Super Bowl victory and has assembled a roster that resembles the Avengers. The only reason the Eagles couldn't get the job done is because they ran into Thanos. But just like in the movies, if you give the Avengers a second chance, they're going to emerge victorious. The Eagles boast the best offensive line in the NFL, one of the strongest front sevens in all of football, and an MVP-caliber QB. They check all the boxes; there's no reason to not consider them superheroes and bet against any other team to win this division, besides the Birds
Julio Aguilar. Getty Images.
2. Dallas Cowboys 10-7
New year, same Cowboys, same Dak. Look, I believe the Cowboys are a good football team. They'll win numerous regular season games, but when the going gets tough, the Cowboys don't get going. Eventually, you have to accept your true identity. For instance, every Monday morning I wake up and declare I'm done drinking, but when Friday arrives, I find myself sprinting to the nearest bar. Similarly, the Cowboys will start off hot, with media stations from all over the country talking about them. However, as the end of the year approaches, they tend to choke. Last year's playoff game against the 49ers was one of the most pathetic performances I've witnessed. Despite the 49ers' efforts to lose that game, Dallas still managed to find a way not to win. As for this season, the additions of Brandin Cooks and Stephon Gilmore will provide significant help, but it's still insufficient to snatch the division from the Birds.
Al Bello. Getty Images.
New York Giants 9-8
One of the biggest surprises last year was the New York Giants. If I recall correctly, the Giants reached their win total by week 12 or something equally astounding. I'm not entirely sold on Daniel Jones, but his teammates seem to adore him, and that's all that matters. Whether it's politics, work, or football, if everyone believes in the person at the top, the ship will sail smoothly. Just look at our country—no one has believed in our last two presidents, and we've struggled! However, I don't foresee that happening for the Giants. The addition of Parris Campbell and Jalin Hyatt will make their offense versatile. Instead of running Barkley into the ground, Daniel will have a plethora of weapons to choose from. The Giants will likely finish 3rd in the division and manage to secure another wild card game.
Michael Owens. Getty Images.
Washington Commanders 7-10
This one is tough. It's like when a parent has to accept the fact their kid is ugly. Nothing you can do about it, it's just the way it is. The Commanders are one of my favorite teams to bet on, especially at home. But unfortunately for the Commanders, wins and loses are determined by the point spread. I don't have an opinion on Sam Howell, I haven't seen him play enough to figure out what type of QB he can be in this league, which is a good thing. The less teams know about you, the better. The Commanders WR's are like bad bitches that are private on Instagram. They're lowkey, and hot as fuck. Outside of the Birds, you can make the argument that the Commanders have the best WR core in their division, Terry McLaurin, Jahan Dotson and Curtis Samuel are NO JOKE. I know I have them slotted at 7-10 but don't be surprised if they make some noise this year.
NFC North:
Scott Taetsch. Getty Images.
Green Bay Packers 10-7
This division is akin to a fresh piece of gum on the sidewalk—sticky. The Packers, Vikings, and Lions all have the potential to win this division, but my choice is the Packers. I'm not discounting Matt LaFleur during the regular season. Matt remains the best coach in this division. LaFleur is one of the sharpest minds in the game. He won't expect Jordan Love to replicate Aaron Rodgers. Anticipate him to rely on his 1-2 punch of Aaron Jones and AJ Dillon. The Packers rush defense was as loose as a strippers pussy last year, if they can tighten it up like a girl with 5-7 bodies they'll be just fine. Plus, they're +400 to win the division, you can't pass that up.
David Berding. Getty Images.
Minnesota Vikings 9-8
The Vikings caught lightning in a bottle last year and still couldn't win a playoff game. They finished the previous season with a 13-4 record, winning all 11 one-point games, all while maintaining a -3 point differential. Such a feat is unlikely to be repeated. The Vikings are indeed a good team, equipped with all the bells and whistles, but their defense remains a significant question mark. This offseason, the Vikings hired former Miami Dolphins Head Coach Brian Flores to serve as their defensive coordinator. As a Dolphins fan, I can assure you that their defense will be an improvement over the previous year. The reason I predict the Vikings to go 9-8 isn't because they aren't a strong football team; rather, it's due to the unlikelihood of winning 11 one-score games again. In the NFL, luck plays a part, and that's precisely what favored the Vikings before. I don't envision a repetition of this luck, leading to a considerable decline from the previous season.
Nic Antaya. Getty Images.
Detroit Lions 9-8
People tend to forget that the Lions started 1-6 last year. I understand that it's not only about how you start but also how you finish; however, I remain unconvinced. The current hype surrounding this team is excessive. While I appreciate their offensive line and skill players, my lack of trust lies in their defense and defensive coordinator, Aaron Glenn. Detroit concluded the previous season ranking dead last in total defense and 28th in points allowed. Despite the numerous additions the Lions have made this offseason, I'm reserving judgment until I witness it in action on the field. Until then, I'm not buying into it.
Michael Reaves. Getty Images.
Chicago Bears 8-9
Bears fans should not be displeased with this prediction. For a team that finished 3-14 last year, winning 8 games would signify a significant step in the right direction. Justin Fields appears to be a franchise QB, DJ Moore is a standout, and their offensive line is expected to perform better than it did last year. The Bears are positioned well for the next 2-3 years. It's important to take it one year at a time, and before you realize it, they'll be winning 11-13 games annually. This year is all about growth; next year will revolve around securing wins.
NFC South:
Jonathan Mailhes. Shutterstock Images.
New Orleans Saints 10-7
If the Saints don't win this division, their fans should burn the stadium to the ground. If you can't beat out Ridder, Young, and Mayfield you don't deserve to have a stadium. That's honestly all I got. 
Chris Graythen. Getty Images.
Atlanta Falcons 9-8
Watching the Falcons choke was like watching someone walk on egg shells, you just knew they were going to crack. It's almost as if this team is cursed. I've never witnessed a team excel at blowing leads quite like the Atlanta Falcons. It's become an integral part of their identity. Had they not been infamous for blowing leads, I might have considered picking them to win the division. but I know that they know that I know who they are. Therefore, they will continue to be mid.
Icon Sportswire. Getty Images.
Carolina Panthers 5-12
Pray for Bryce Young.
Dustin Satloff. Getty Images.
Tampa Bay Buccaneers 4-13
Lol. Two Word: Caleb Williams. I picked the Bucs to win 4 games but they should strive to win 0. Don't waste your time, Baker and Trask are not the answer.
NFC West:
Thearon W. Henderson. Getty Images.
San Francisco 49ers 12-5
If Purdy doesn't miss a game this team can win the Super Bowl. They have the best defense in the NFL, top 3 o-line, CMC, and elite group of WR's. There's not a single flaw on this team, they just need to stay healthy. 
Tom Pennington. Getty Images.
Seattle Seahawks 9-8
We wrote them off but I'm still going to write back. I'm not buying the hype. I'm glad Geno finally had 1 good year, but is it likely he does it again? History doesn't think so. Seattle will be competitive but they have no chance at winning this division or competing for a Super Bowl. If you're a Seahawks fan strap in enjoy the ride, and pray for a playoff win. No shame in that.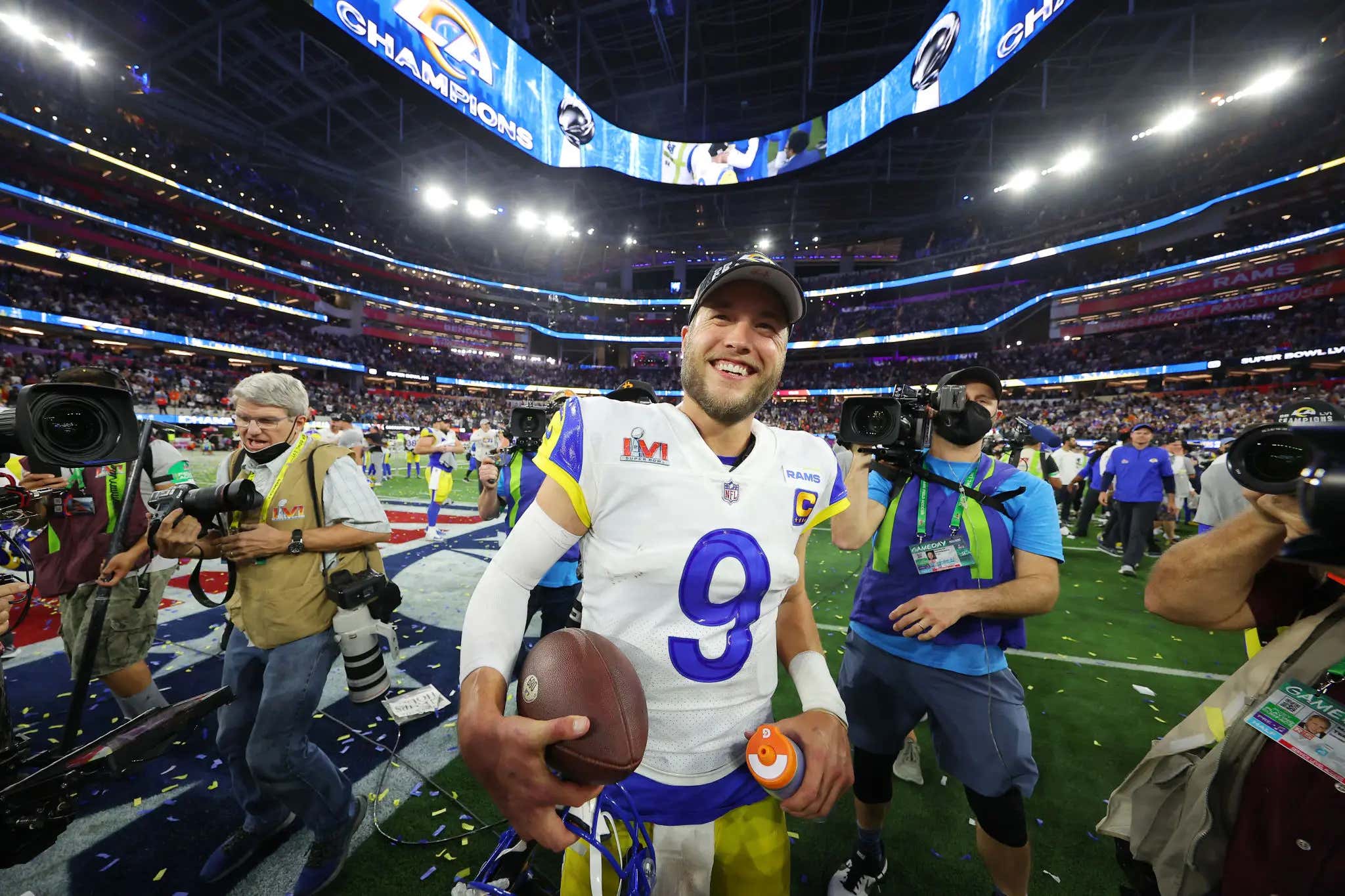 Kevin C. Cox. Getty Images.
LA Rams 8-9
Watch out for the Rams this year…. The LA Rams have a strong foundation and have a well-rounded roster. The team is still dynamic on offense, and last time I checked they're still coached by coach Sean McVay. Say what you want about McVay but he's consistently proven he's capable of exposing various defensive schemes. Also, don't forget about Aaron Donald and this Rams defense.The Rams have the potential to disrupt opponents' game plans and maintain a dominant presence on both sides of the ball.
Cooper Neill. Getty Images.
Arizona Cardinals 3-14
Lol. Two Words: Caleb Williams.