I Went Through Every MLB Trade Ever To Figure Out The Most Times A Team Traded For The Same Player And Walked Away With A Bunch Of Trade Deadline Fun Facts
I LOVE getting quirky stats questions like this from my holies. If you're ever in need of some relevant but meaningless, obscure, and at least potentially funny stat - you know who to @. (didn't mean for that to rhyme but I'm saving that line if I ever need to shoot a Better Call Saul style promo) 
After figuring out how to obtain every trade in MLB history on trade deadline Tuesday, I come prepared to answer Nate's question above and dive a little deeper into MLB trade history. The question didn't come out of thin air though. It passed the relevance test as journeyman reliever Kendall Graveman was traded on July 28th from the White Sox back to the Houston Astros. This is the second time the Astros traded for him after the Mariners sent him over at the trade deadline in 2021. To be honest, I can see this type of thing happening to relief pitchers - a breed that gets passed around quite often. It's entirely possible Houston forgot they ever traded for Graveman in the first place. For all Houston knows, Graveman is as new as the old toy in the back of the closet you come across and give to your golden retriever. 
But Graveman doesn't hold the record for most trades to the same team. Out of every trade in MLB history, I counted 12,884 times a team traded for a single player once in that player's career. Graveman is one of 147 to be traded to the same team twice. But just one man in the full history of major league baseball can claim to be traded to the same team thrice. 
That player was Jerry DaVanon. Eat your heart out Howie Schwab.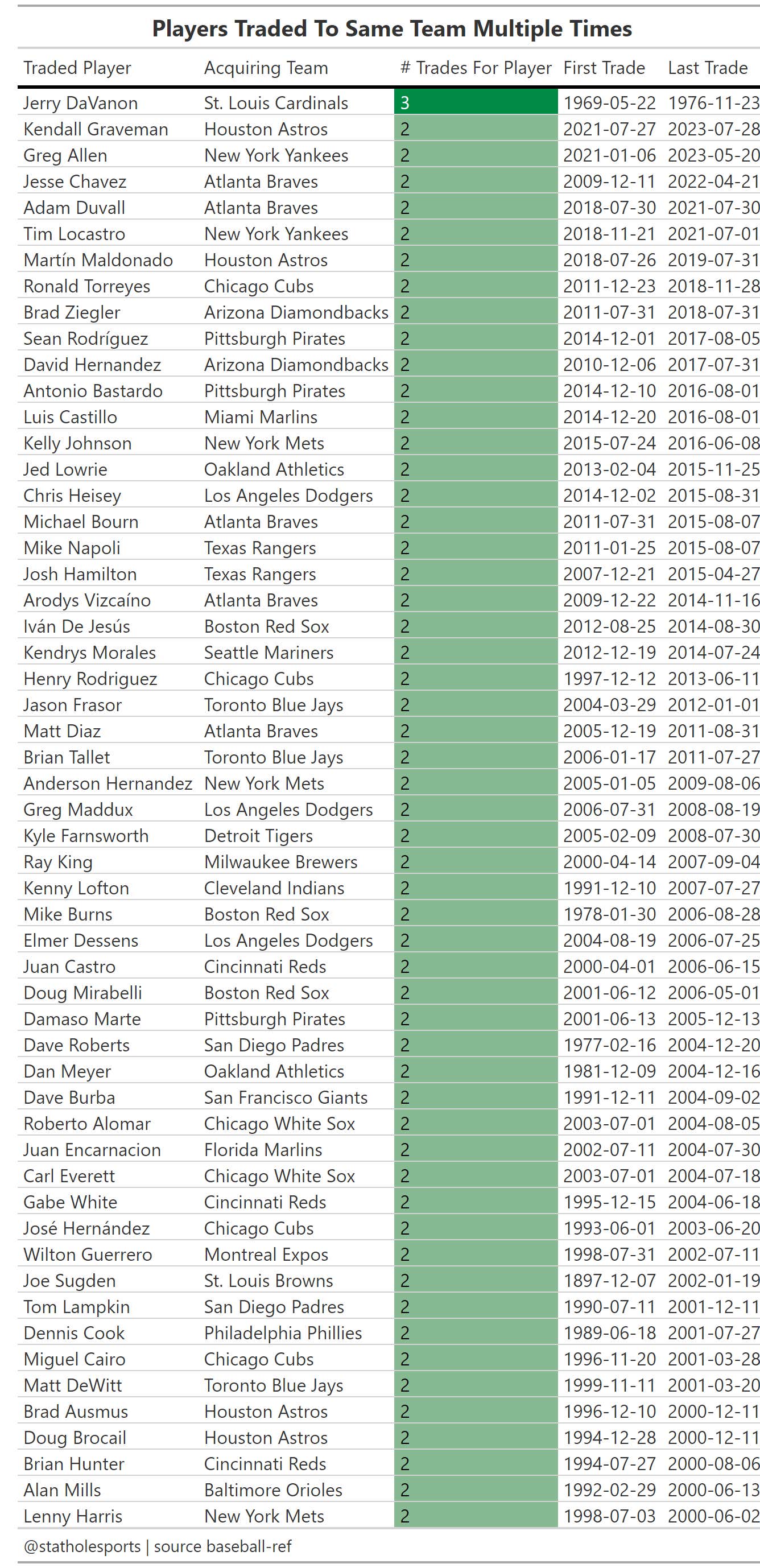 Sorted by most times traded to same team then the most recent "last trade" going back to 2000 

May 26, 1969. September 25, 1973. November 23, 1976. The St. Louis Cardinals just couldn't stop themselves from sending Jerry a "u up?" text. And wouldn't you know it - they remembered why they had dumped him twice already and broke up with him one final time six months later on May 11th 1977.
Some notable names on this list. Greg Maddux. Roberto Alomar. Luis Castillo. Even the best linebacker in Chicago Cubs history, Kyle Farnsworth.
Most Traded Player To Any Team
But what about which player's have been traded the most to any team? The guys that sound so good on paper but run their course quickly with a team. The team hoppers. Let's check out the leaderboard. 
Jesse Chavez - who also appears on the traded to same team twice list - is the winner here but I couldn't help from keeping the assortment of ambiguous generic "players" for further discussion. This means that baseball-reference has 228 trades in which "a player" is the name listed under one side of a trade. I'd hate to be the guy on the other side of that transaction. 
Some asshole: "Hey Jeff, who'd you get traded for?" 
Me: "Literally no one in particular - so long as they were at least a player"
Then we have 196 "a player to be named later". There we go. NOW we're getting specific! And then we have 28 "players". Plural. At least if you get traded for "players" you're by rule worth more than the worst player on another team. You're worth the TWO worst players on another team!
Anyway - the full transaction citations for Jesse Chavez on baseball-reference is easily longer than any Harvard dissertation ever piously penned and I'll remind you that Chavez is STILL playing, so this isn't isn't even his complete record yet…
Worst Buyer's Remorse Player's Ever
Ok one more. You've heard of players getting traded to the other dugout during a series, but what about player's that teams instantly regretted acquiring? Like fast food, these are the guys that sounded so good until you actually had to digest them. I found three that lasted just one day. 
A Gus, a Gail, and a Pokey walk into a ball park. They are immediately kicked out. 
There are only two ways getting traded the day after you were traded for can step it up to the next level:
Same day traded twice. And no - this doesn't count three-way trades - I mean a GM gets a guy and trades him before his plane lands in his new (but yet now also old) city. 
Trade same player back to the team that you just traded with to get after one day
So there you go. That's my report on the trade deadline. What other random MLB trade questions can I answer?
If it's a funny stat - you know who to @.