Showtime: Novak Djokovic Will Meet Carlos Alcaraz On Sunday In The Wimbledon Final With History And The World No. 1 Ranking At Stake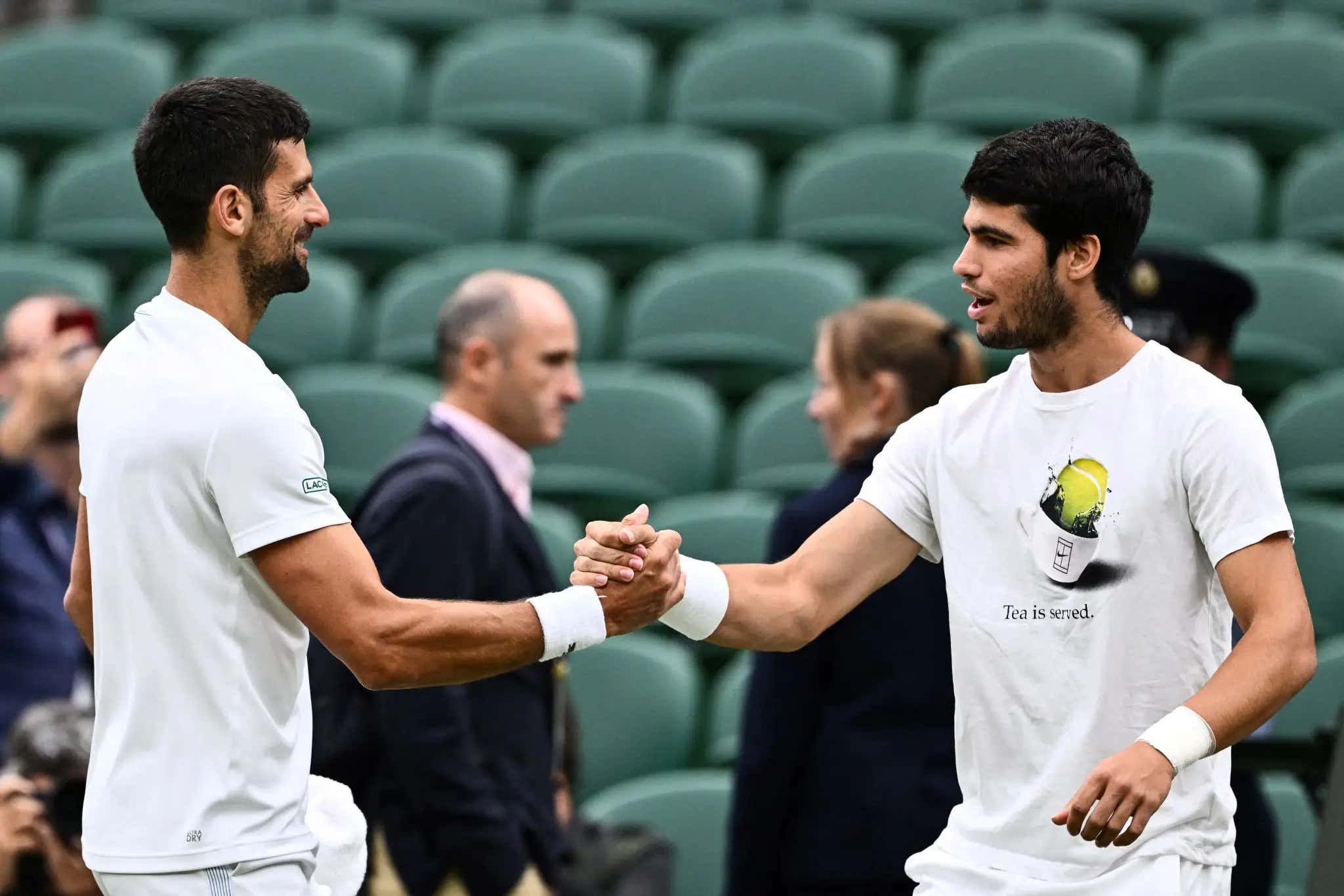 SEBASTIEN BOZON. Getty Images.
Since the first ball of Wimbledon was tossed in the air a few weeks ago, everyone wondered, hoped, and prayed that we'd see two names in the men's final come Sunday — Novak Djokovic and Carlos Alcaraz. At this point these are the only two names we need to see moving forward when it comes to deciding grand slams. They are the ATP Tour and on Sunday we all get what we want. 
Wimbledon is Novak Djokovic's domain as long as he's on the tour. He hasn't lost a completed match to anyone at this place since 2016 when American Sam Querrey got the upper hand. Since then he's either won the damn thing, had an injury stop him, or the whole tournament was canceled (fuck you covid). It takes so much to beat this monster on grass. As many have learned first hand, even a two sets to love lead means next to nothing with his elite ability to mentally flip the script. Some times I swear he toys with opponents and gives them a lead just to challenge himself. With that being said there's one man who has the ability to take this title from him and it's Carlos Alcaraz. Whether he's ready to do it or not is what we're about to find out. 
Both men were in action today. Novak took care of Italy's Jannik Sinner in easy straight sets fashion. After giving Djokovic hell in last year's tournament he was mediocre today, especially when it came to big points. What a disappointing effort from the youngster. Afterwards Carlos faced Russia's Daniil Medvedev. While grass isn't his best surface I thought maybe his tricky style could give Alcaraz some trouble. Still expected the W, but it wouldn't have shocked me if it went 4 or 5 sets. Well, instead of all that Carlos completely dismantled Medvedev. It was a clinic. His willingness and ability to come to the net along with his epic drop shot was a nightmare from start to finish for Medvedev. While there were a few breaks in the 3rd set on Carlos' serve, he just kept coming back with more on return until it was over. At no point did Daniil think about changing up his strategy and with that Carlos punished him. The final point was something else. 
So now the stage is set as we have these two going at it on Sunday with history and the number one world ranking on the line. The number one slot is just for show as these two constantly exchange it with every passing tournament depending on who is playing or taking the week off. The history is the important part. One more Wimbledon title and Novak will tie Roger Federer for the most ever with 8. 
Standing in his way is the kid, who is seeking his first Wimbledon title as well as slam against Novak. 
Now coming into this tournament it was fairly unclear whether this would even be a fair fight. Carlos' lone slam title came on hard court in New York with his best surface being clay. Grass has been an evolving experiment for the Spaniard, but from what we've seen in these few weeks the time expected for him to master it has shrunk significantly. He's adapted and then some. What he's done to Berrettini, Rune, and Medvedev over the last three rounds has been astounding to witness. He's not just beaten them, he's taken them to the woodshed. Is Novak a different animal here? No doubt, but the signs are all encouraging coming from Carlos that this will be a match. 
Now the question remains, how differently is this going to unfold compared to last month's French Open? For two sets these guys went toe to toe and it looked like we were set for an epic finish. Instead Carlos' nerves got to him and his entire body cramped. It never went away and Novak pounced. The epic match we were certain we were witnessing vanished in thin air. While Carlos claims he's learned from this, it's a pretty quick turnaround to assume all is well and good on the mental side. That being said what better way to wipe that memory away than taking him down in the finals on Sunday? After today's match Carlos said he won't be afraid or scared of the moment. He's been transparent about what happened in Paris and I believe that's helped him get over it. At least I hope it has. 
Talent wise the kid has it. The question is whether he can be strong enough mentally to take down the beast when it matters most. So many young up and coming stars have tried and failed. Carlos feels different from them, but it's time to see if that's true. 
Djokovic has opened up as a -190 favorite over Carlos. I think that line shows a ton of respect to the kid, especially with how foreign this surface was to him just a year ago. As long as the cramps stay away I think we're in for a fuck ton of fun on Sunday. I strongly advise you tuning in at 9am. I'm taking the over and just gonna enjoy it all. 
P.S. Fully pulling for Ons Jabeur in the women's final tomorrow morning. No one deserves that moment more than her and she's beaten some insane talent to get there. Go Ons Go