For The First Time Maybe Ever, The Current Rumors Surrounding The Celtics Actually Don't Seem Insane
Boston Globe. Getty Images.
On June 1st, Brad Stevens pretty much told everyone what to expect when it came to the Celts summer. While there are some that scream they need to trade Jaylen Brown, others that scream they need to trade Marcus Smart, Brad could not have been clearer
That's why the nugget from Adam Himmelsbach from yesterday should have surprised exactly zero people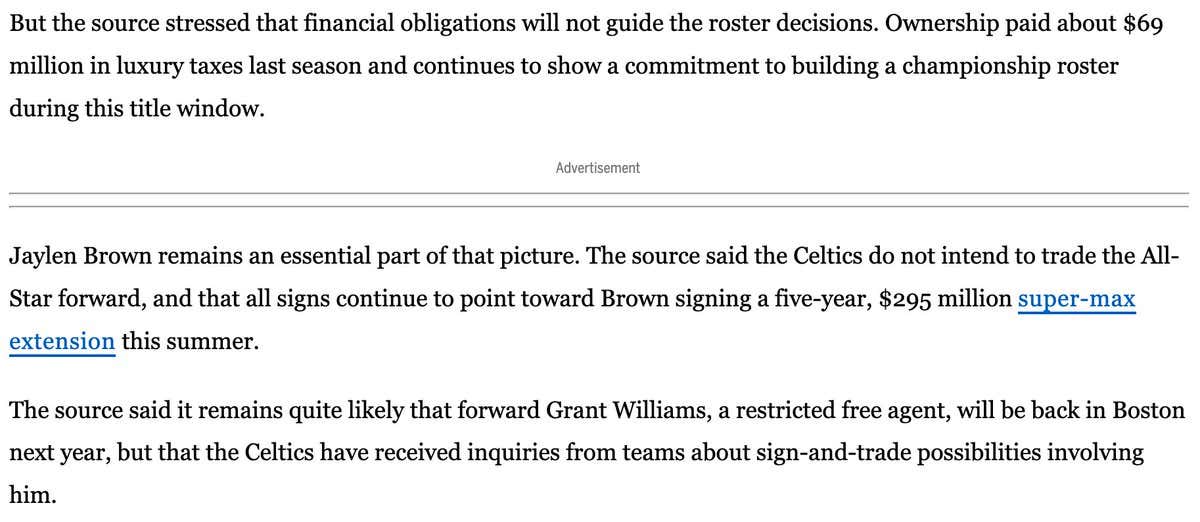 With so many "reports" and "rumors" that often have the Celtics included, I've found that at the end of the day, it's best to just wait for Adam. He's the guy with the link to the Celts brain trust. When there is news or anything of substance, the team goes through Himmelsbach.
Of those updates, I can't imagine anyone was shocked to learn that the team was willing and prepared to spend money to contend (what Wyc has always said), that they were planning to supermax Jaylen, and that barring a crazy offer sheet they were most likely going to retain Grant as well.
How you feel about those things is a topic for a different day. The purpose of this blog is to work through all the rumors currently flying around and trying to make sense of what seems possible/realistic. What I mean by that is given what Brad has said and then Himmelsbach reinforced, I am not talking about any sort of Dame trade involving Jaylen or anything like that. I'm thinking more along the lines of things that sound/feel more realistic.
Let's start with Grant
In terms of the team's mentioned, two of them don't really surprise me and that's ORL and IND. Why? Not only due to a position of need, but also the fact that they have money to burn this summer
The thing you have to remember with RFAs is a lot of the noise you hear from who is or isn't interested is often the work of the agent to try and create some leverage for his client. With this, I'm not sure that's the case, I think there is a real market for Grant. At what price is anyone's guess, and that's what brings me back to Himmelsbach's nugget about Grant. You'll see, the Mavs don't really have any cap space to straight up offer a big offer sheet for Grant, which means you're looking at a S&T. It would have to be a number that's higher than what the Celtics would want to pay, so looking at the Mavs cap sheet, what could that player be? Tim Hardaway Jr? I feel like the Celts match anything in the 10-12M range, so there aren't a ton of options
That's why the Magic and Pacers feel more real to me, because they can just take Grant into cap space. They don't need to rely on a S&T in order to pull it off, and someone like the Pacers does have a history of throwing out big offer sheets, just like we saw them do with Deandre Ayton when he was a RFA. 
So when it comes to Grant rumors, I'm buying anything that involves a team in that top 7 of cap space. The question then becomes what is the cutoff price that Brad and the team are willing to match up until? 
Now let's talk about something a little more juicy.
Malcolm Brogdon.
There were rumblings that the Suns were interested given their need at point guard, and then all the Bradley Beal shit happened. Some thought that maybe given his $34M price tag that maybe there was a scenario where Brogdon is still flipped to the Suns, only instead of CP3 money they'd use Ayton's money. That was quickly squashed
"The Celtics have no interest in an Ayton deal per a league source due to his pricy contract so any scenario that involves Brogdon going to Phoenix now is dead without a third team getting involved." 
OK, the deal might be deal in terms of a direct swap, but not dead if there's a 3rd team that might be the ones to take on Ayton's deal. I guess that makes some sense, which brings us to the latest smoke
I'm not really sure why the Hawks would be in on Ayton when they can just develop Onyeka Okongwu, but my guess is there's interest because Capela's extension runs through the 2024-25 season. Maybe they're looking to get ahead of that with a younger player? The point is, if sources are saying the only way Brogdon ends up in PHX is if there's a 3rd team involved, I can see something like this happening. 
The question then becomes, what is coming back to Boston? Remember, Brogdon makes $22.5M, so this could be something like a Collins/Bey (expiring) to BOS, Ayton and low salary (Pritchard?) back to ATL, and Brogdon/Muscala to PHX? 
In this three way, the Celts find a way to address two areas of need (big man depth + wing depth) by not removing pieces of your core as Brad has said, and instead move off a player they probably aren't re-signing once his deal is up (Brogdon) anyway, so in theory it makes sense. The Hawks finally unload Collins after trying to do so for 5,000 straight seasons, and the Suns get a starting caliber point guard and stretch depth big while also getting off the Ayton money which is now very important given what they just did with Beal. Obviously throw in whatever picks between the three that makes sense, but when you spell it out this is a rumor that I don't think you should completely ignore. It might be one of those rare situations where everyone gets something they want/need.
So while every summer feels like we have to deal with nonsense rumors that are just to drive engagement, I do not think that's the case here. It certainly doesn't guarantee any of it happens, but when you add everything up to try and read the tea leaves, this may be the most believable set of rumors we've had in the last few offseasons. 
There are also some rumors flying around that Brad is trying to get into the first round on Thursday and is dangling Pritchard + pick #35, and there's really only a few spots I could see that happening with. Maybe UTA at #28 (Ainge guy) or LAC at #30 (need a point guard). To me, this only happens if Pritchard's salary isn't needed as part of a larger trade, because remember his number goes from $2M to $4M if he gets moved after July 1st.