In A Surprise Twist, Kyrie Irving Has Reportedly Reached Out To LeBron James To See If He Would Be Interested In Joining The Mavericks
Kevork Djansezian. Getty Images.
There have always been rumors that ultimately the Lakers would find a way to reunite LeBron James and Kyrie Irving. Things got so outrageous that there were people out there that thought Kyrie would turn down $30M+ to go play for the Lakers on MLE money ($6M/year). That of course didn't happen, Kyrie didn't end up in LA and instead the Lakers went the DLo route. 
After that experiment failed and Kyrie's free agency this summer, the speculation of a reunion between the two started to pick up steam again. But as it terms out, could this happen in Dallas?!?
The Mavericks were preparing to make an offer for James last season when the Lakers were spiraling, sources say. But the Lakers made a string of trades near the deadline that changed the trajectory of their season.

But any chance of forming a James-Irving-Doncic Big 3 under the NBA's strict new Collective Bargaining Agreement will be difficult. The new CBA resembles a hard cap, making it very difficult to have three max players on a roster.

In order for Irving and James to partner with Doncic, the two would have to take a sizable pay cut.
OK, first we have to talk through the contract situations. This is what LeBron is currently working with
So right off the bat, there are a couple options. The Lakers could buy James out so he could be free to go wherever he wanted, but why would they do that? Even if he threatens to turn down that player option and leave for nothing, if the Lakers buy him out and get nothing in return, that's the same shit. I put that at a 0.0000000001% chance of happening. 
That means you're looking at some sort of trade. Here's the Mavs cap sheet. If they look to do something before July 1st, they can use 2022-23 money. Here are those numbers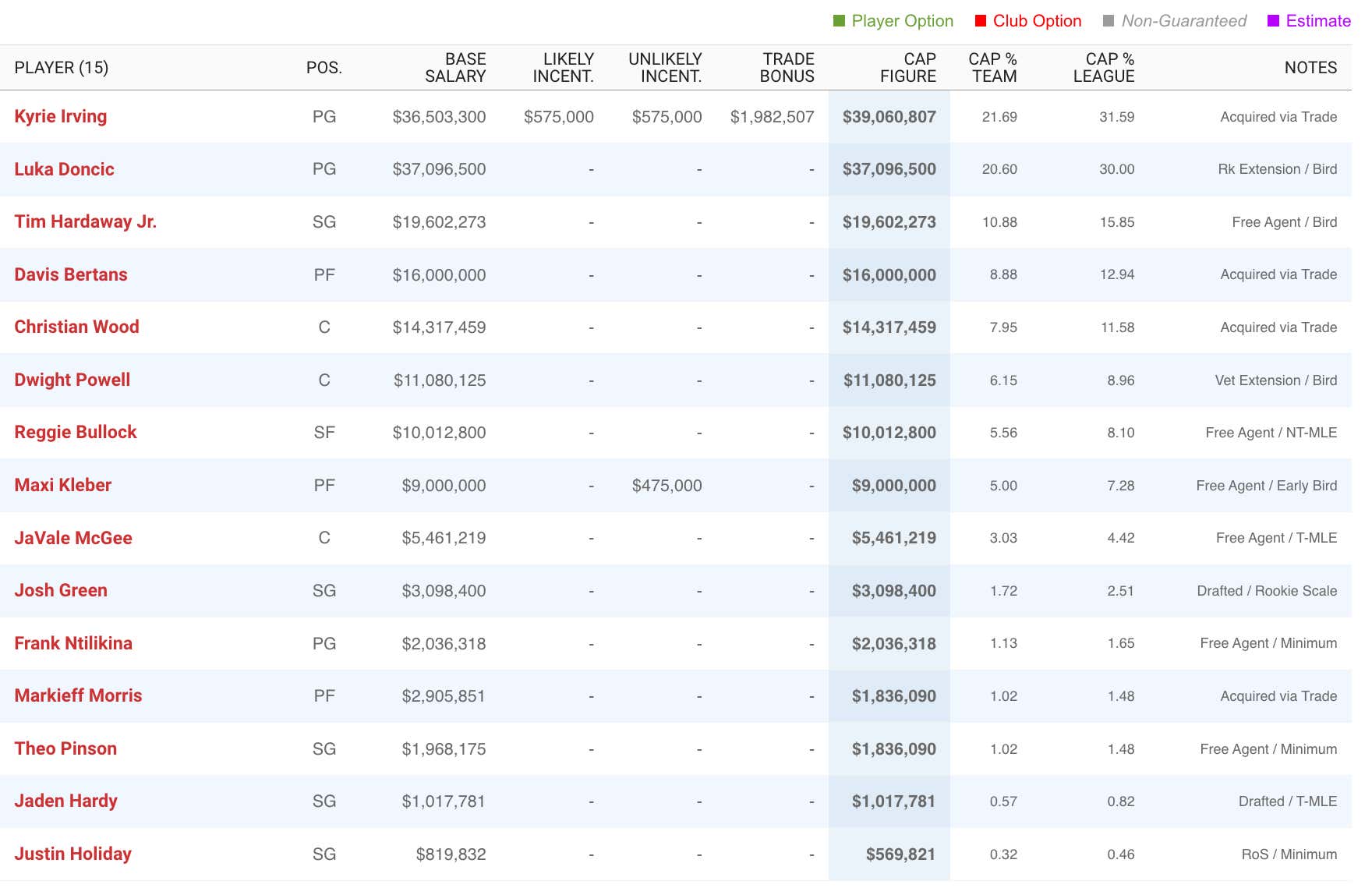 If they do it after July 1st the numbers change 
Does anything above look like something the Lakers would be willing to trade LeBron James for? I don't really think so. They don't need Tim Hardaway Jr or Davis Bertans' contract. Christian Wood is a UFA, so he's out. I'm just not sure there's even a path barring something crazy.
We also shouldn't forget that Kyrie is a free agent himself. Is this his way or telling the Mavs he'll only re-sign there if they bring in LeBron? The new CBA obviously makes having 3 max players virtually impossible, so are LeBron and Kyrie willing to take a massive pay cut? That also feels unlikely. 
This all makes me think could this be something that Kyrie's camp leaks, knowing the Mavs probably can't pull it off, so then he can then be justified for leaving later this summer? Did they learn that the Lakers were actually going to be smart and weren't willing to trade key pieces to get into the Kyrie Irving business, so this is the response? The basketball math alone makes it seem so strange. If they wanted to play together and it was going to require a pay cut, why wouldn't Kyrie just be the one to take the massive pay cut and go to LA? There has to be more to this story that we'll learn over the next few weeks. Right now it feels more like posturing through the media as we're about a month away from free agency.
From a basketball standpoint, I can't sit here and tell you a trio of Kyrie/LeBron/Luka wouldn't be fun as hell to watch. Defensively they would be a disaster, but Mavs fans already lived through that reality with Luka/Kyrie. There's also this to consider too. LeBron has that player option through the 2025 season right? Well, guess who has both their 1st and 2nd round picks in the summer of 2025? A year where maybe Bronny James enters the draft?
The Mavs.