Why A Large Group Of Philadelphians Have Extremely Sore Butts This Morning
This morning there's a large group of veterans & civilians in the Philadelphia with extremely sore butts. To stop your mind from wandering I'll tell you now that it's because they're just finishing up a full 24 HOURS on stationary bikes down at Citizens Bank Park and it was all in the name of connecting vets with highly trained service dogs with Team Foster. 
There's no government or VA program that supports veterans in need with access to service dogs, though the proof that this is life-changing and invaluable is undeniable, so groups like Team Foster are stepping in to pair with other orgs to fill that gap.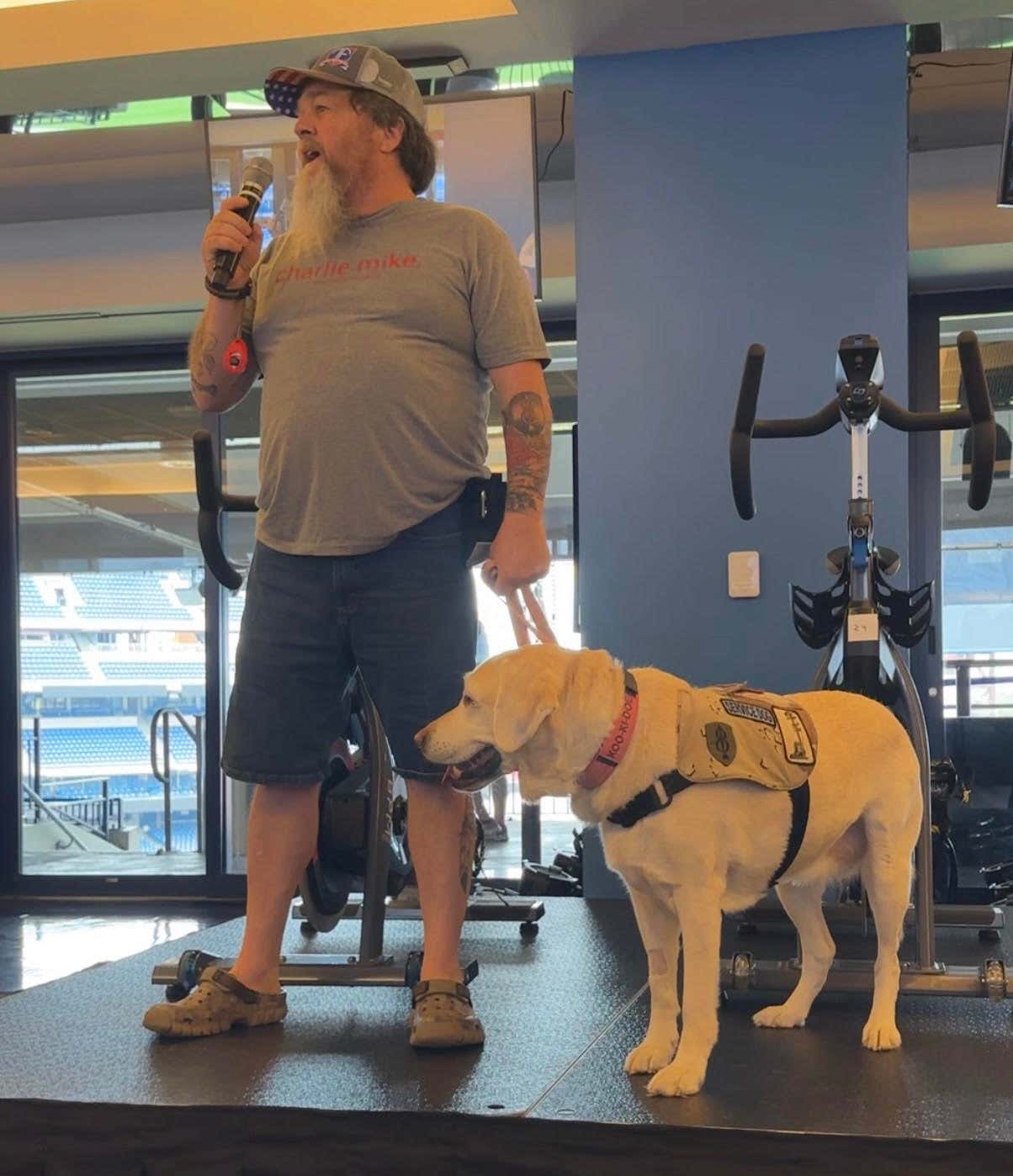 On my end, I signed up for this event a long time ago and totalllllly planned to stay and ride the whole time. I knew it was my birthday weekend (and at the time I wasn't pregnant), so I thought it would be a fun, extremely good-vibes way to ring in a new year. Fast forward to this week when it dawned on my I can't even speed-walk to catch the train these days, and I knew I wouldn't last long on the bike. Still, I wanted to be there to check out the scene (and kiss all the puppies). 
Hopefully this doesn't come out wrong, but sometimes I feel a little jaded by the veteran world. There can be so much negativity and hardoooo-ism and though most mean well, the amount of orgs can be overwhelming when you're trying to navigate to find the truly helpful ones. Well Team Foster is one of the truly helpful ones with some of the most wonderful vets on the planet at the helm, and stuff like this is a wake up call of how overwhelmingly amazing the community and its supporters are at large. Much love to everyone who organized this event & all who stayed the full 24 hours and raised funds to help those who could benefit from it most. 
Oh, and especially shoutout to these two. Recent Penn grad/soon to be Naval officer who did the entire 24 hours without leaving his bike all on his own, and former Navy SEAL John Sullivan who was raising funds going for the Burpees World Record. Better people than me, that's for damn sure:
If you have a chance, please check out Team Foster, give them a follow on social media and share their mission if you know someone who might be able to help or benefit. Happy Sunday! For those who participated, Godspeed on the butt recovery.