WATCH: The Chargers Made ANOTHER Hysterical Schedule Release Video
Because there are so many easter eggs, I'm just gonna break this down bit by bit. 
Right off the bat I appreciate the social team being deprecating. Before the Jaguars game, they released this stupid video showing all the "receipts" of sports world talking heads doubting the chargers. Such a horrid idea and it backfired in the most Chargers way possible. 
WEEK 1 - DOLPHINS 
A nice Hunter x Hunter reference with McDaniel rockin that dumbass slogan and ripping vapes. Easy start. 
WEEK 2 - TITANS 
Not much here but a nice little nod having the banana/mayo combo for their new QB Will Levis. 
WEEK 3 - VIKINGS 
WEEK 4 - RAIDERS 
This one was a little more basic but I love them showing all the actually good QBs that they pursued and struck out on. Also The Family Trust Respect in the corner aka FTR aka Fuck The Raiders.
WEEK 6 - COWBOYS 
This one is fantastic. ICYMI, the Cowboys social media team, as you can guess, threw Dak right under the bus with one of the most wildly passive aggressive post-game tweets I've ever seen. Also Stephen A yucking it up in the back is great. 
Week 7 - CHIEFS
The first of a couple shots taken at that felon bozo Chiefsaholic. 
Week 8 - BEARS 
This one has A couple nice nuggets. Rebuild-a-bear, the reference to Mitch kissin' titties, the little nod to "brick by brick" on the desk. I can't tell who the bear peeking in from the left is but maybe a bear fan can spot more here.
EDIT: That bear is spice adams. H/t Marco for the spot 
Week 9 - JETS 
#1. R. TheDarnold is a nice reference to one of the more psychotic reddits out there, r/thedarnold. 
#2. A nice reference to the big boy legend Rex and his post-film/game snacks. 
#3. Manish Mehta getting a shout is incredible. One of the worst NY media heads and the Ice Cream is a reference to him having stalked Joe Douglass's kid and sent him a report on what ice cream his kid was eating at a baseball game…
#4. Pizza rat is whatever but i like the Succession ATM shout.
#5. That Sam Darnold mono graphic the jets put out was so incredible. 
#6. This bizarre tiktok hopefully got someone in deep shit at their social team. 
#7. More of a straightforward Sack Exchange one but still good. 
#8. CPOY Geno Smith, just to remind them of what they lost. 
#9. Self Explanatory 
#10. A nice shout to the soon to depart BYU boy. 
WEEK 10 - LIONS 
I'm a sucker for Chainsaw Man and i like the subtle jabs in this. 
WEEK 11 - PACKERS 
#1. Just one of the many quotes about how XYZ year would be the season that Rodgers became the team leader. 
#2. All the things on the list are funny but "Another McAfee Intv" really got me. 
#3. The wish list that Rodgers claimed was fake and crucified a reporter over (that was also absolutely true) 
#4. A nice little flow chart of the GB -> NYJ/MIN pipeline. 
Also, the zoom out to show him in the hyperbolic time chamber, a place in dragon ball z where time moves incredibly slow, is great as well. 
WEEK 12 - RAVENS 
A nice, subtle nod to Lamar Jackson shitting his pants and Lamars fake agent Ken Francis on the contract. Love it. 
WEEK 13 - PATRIOTS 
Nothing crazy here which is good considering how historically the patriots have owned the Chargers. I do like the poopy pants Paul Pierce, though. 
Week 14 - BRONCOS 

A nice reference to the WOATED cook Russell Wilson and the fact that he got CLOWNED by Patrick Star during the Nickmas game. 
WEEK 15 -  RAIDERS 
This one is great for a few reasons. Ripping the overpay for Jimmy G and the "not redeemable for wedding invites" at the bottom (Apparently, McDaniels dumped Darren Waller because he didn't get an invite to his wedding). But, this is my favorite part:
WEEK 16 - BILLS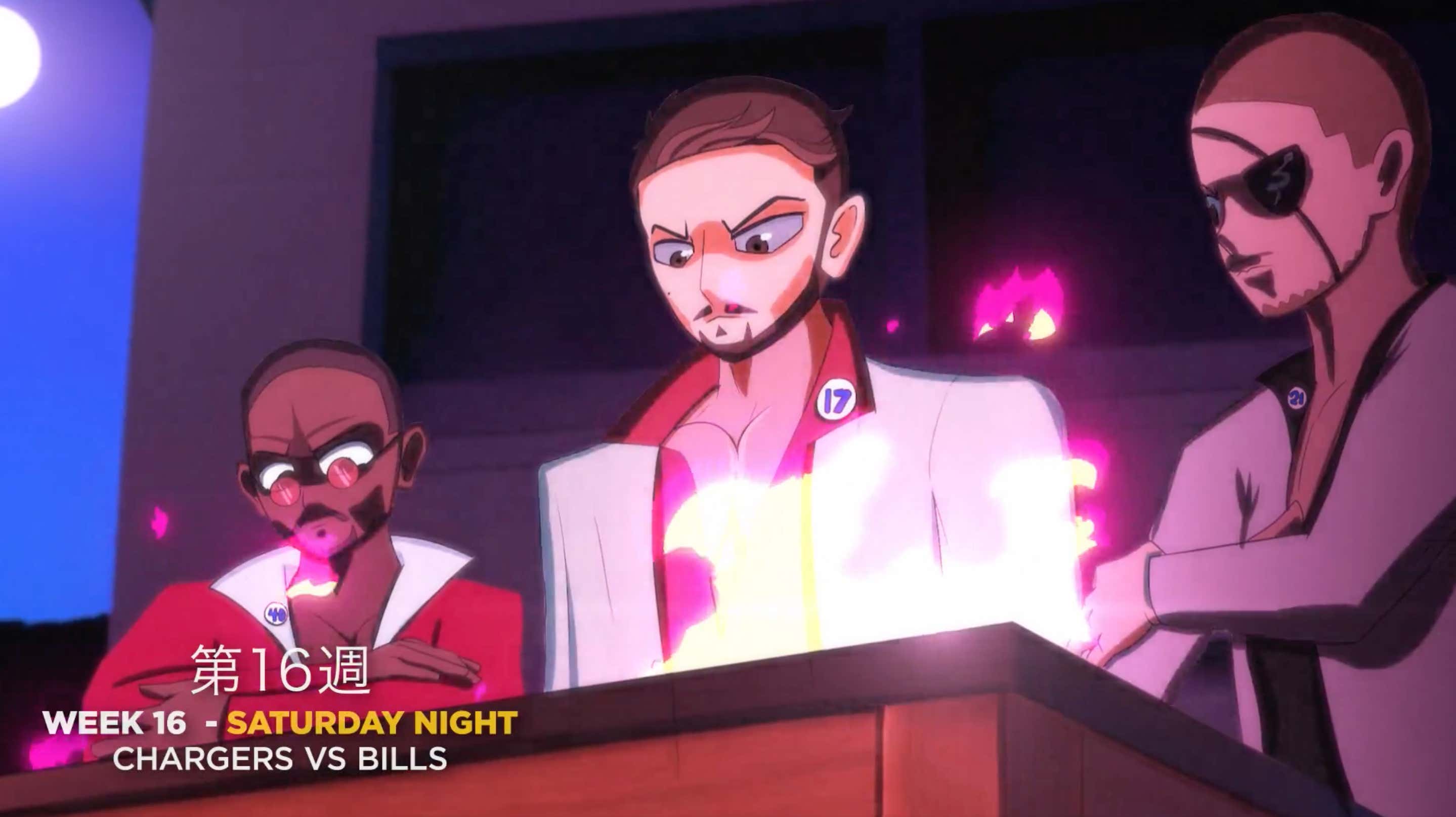 No bills fan needs an explanation for this…
 WEEK 17 - BRONCOS 
Rippin' Wilson's weird office thing is funny, but I love the little magazine in the corner that reads Modern Bathrooms Monthly. If you remember, a big point during last season was the fact that Russell Wilson had more bathrooms in his house than touchdowns during the season. 
WEEK 18 - CHIEFS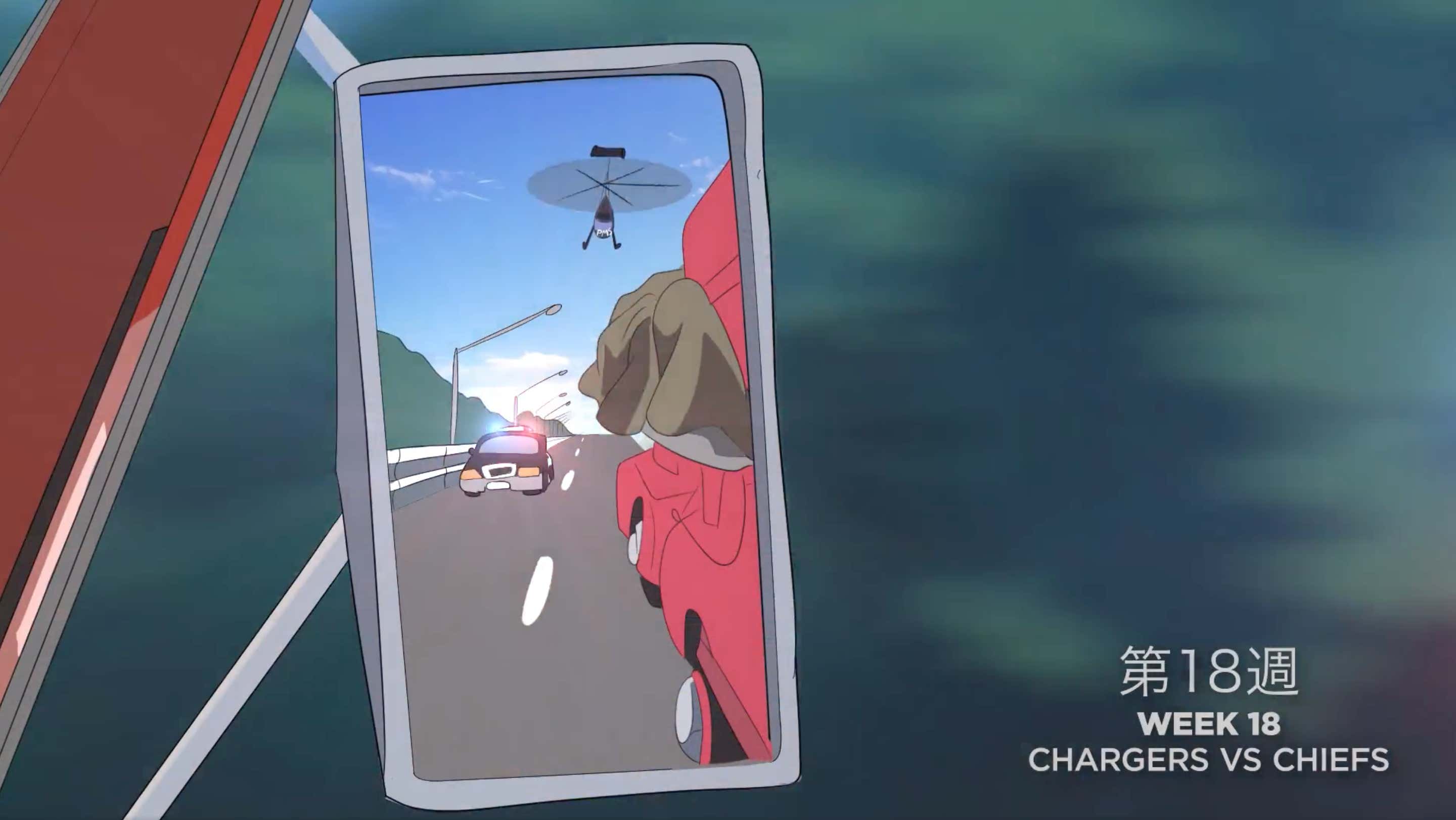 And a nice closing shot on bozo Chiefsaholic with Pat McAfee in the chopper trying to chase him down.