NBA Most Valuable Zero (MVZ) P.J. Tucker Put On An Absolute Legacy Playoff Performance Vs. The Boston Celtics
P.J. Tucker just painted his Mona Lisa last night with an MVZ performance for the ages. If you're a casual NBA fan that just dropped in for the playoffs, you might think the above ESPN stat was just a big fluke. Well, I got news for you. I've been chronicling this donut god for months now highlighting just how masterful he is at his craft of scoring zero points:
The 76ers are 17-6 in games P.J. Tucker does not score. Not in Tucker's career. Just this season. Let me remind you that this is a starting player we are talking about. Do the math and he's put up a goose egg in over a quarter of all games the 76ers have played. He's not a bench warmer. He's a court cooler. And just when I thought he put the cherry on top of his fabulous season with a 27-minute 0/0/0/0/0 stat line on March 27th, he goes and puts on for the playoffs with zero points in 37 minutes. All while the 76ers were without Embiid and needed other players to step up. Every other starter pretty much did and scored in double figures. This motherfucker didn't even take a shot. 
Still a +6 like an absolute boss. Let's look at some highlight stills. 
Here's P.J. (#17 far corner) trying to blend in with the Gatorade coolers on the Celtics bench to do a little recon while James Harden does all the work. 
Here's P.J. (near corner) in a full-on Jay Cutler "doooon't care" stance while James Harden does all the work. 
P.J. might not have scored, but he did at least get to second base.
While playing 37 minutes and attempting zero field goals or free throws hasn't happened in the playoffs until now, the last player to do this in the regular season was none other than Joel Anthony after playing a whopping 43 minutes on January 18, 2011. Unrelated but Yes, THAT Joel Anthony. The King of the 0/0/0/0/0 stat line: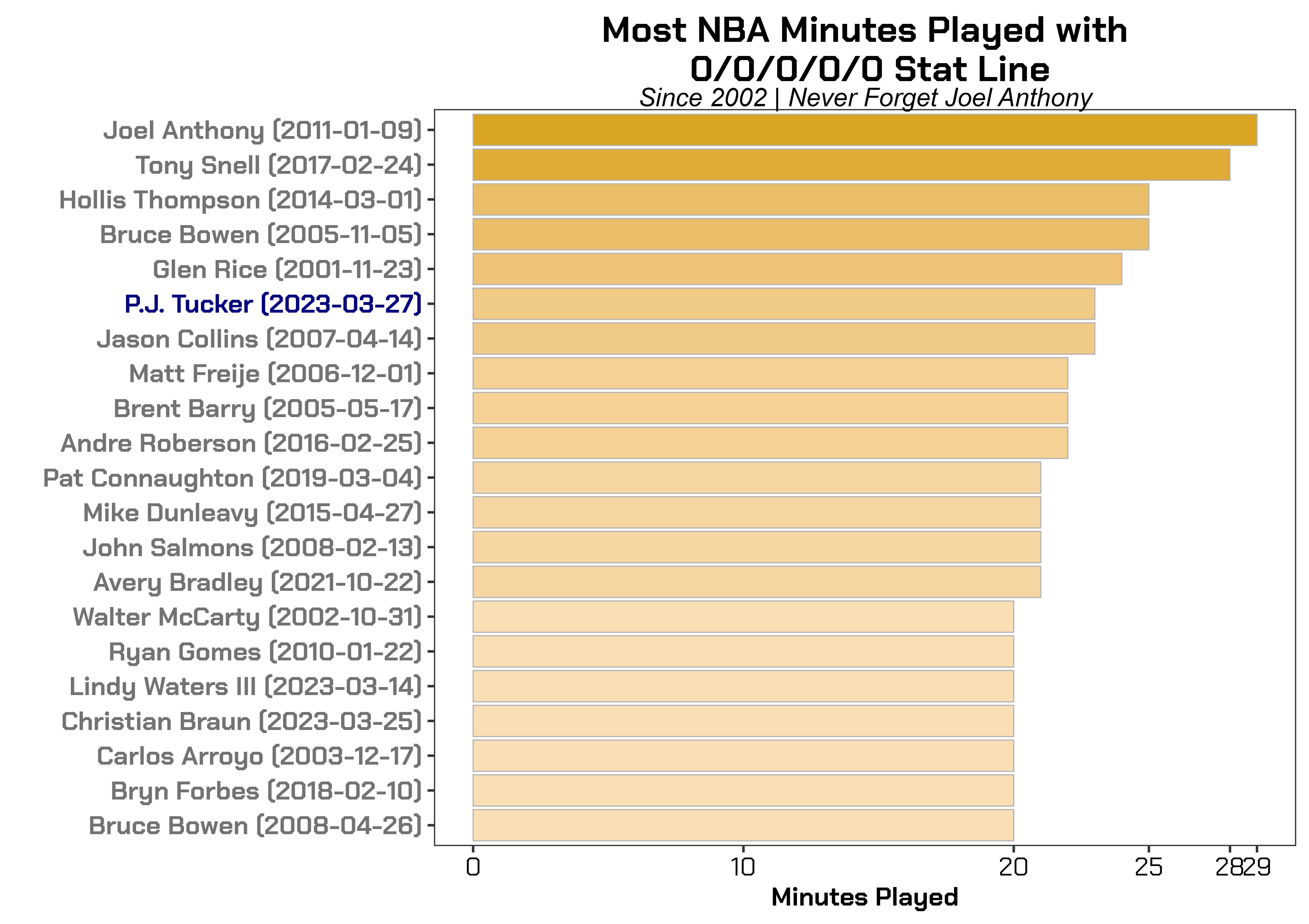 There's never been a player who played all 48 minutes of a game with zero points and zero shot attempts. Ben Wallace came very close with 48 minutes and 0 points, but went 2-4 from the line on March 31, 2007. Leave it to NBA's worst free throw shooter of all time to evade zero perfection from a couple free throws. Then there's the bizarre Wilt Chamberlain game on March 27th, 1973. 46 minutes and zero points on zero field goal attempts and free throws. Leave it to Wilt to want to have all the records, good and bad. 
I already can't wait for game 2.