Billy Football's 2023 QB Draft Class Rankings: I Take Into Account What The Mainstream Media Doesn't
HERE IT IS. 
The yearly quarterback bracket where I power rank the quarterbacks and put them head to head to see who will have the best career. Here's a look back at Kenny Pickett winning last year's draft. 
I rank these out of not who I think is going to go first in the NFL Draft, but by how good they are meaning they might end up in a shitty team with a high pick that tanks their career. 
11. Malik Cunningham, Louisville
Andy Lyons. Getty Images.
Quick take: Poor Man's Lamar Jackson
10. Jake Haener, Fresno State
MediaNews Group/Pasadena Star-News via Getty Images. Getty Images.
Quick Take: Poor Man's Derek Carr
Had insane performance taking down UCLA
9. Dorian Thompson-Robinson 
Ronald Martinez. Getty Images.
Shifty as hell, decent arm, extremely mobile
8. Clayton Tune, Houston 
Eric Christian Smith. Shutterstock Images.
Big arm, mobile and fast, reads well, I am side armist. I don't like side arm Qbs who don't ever throw overhand. Its ok to shoot from the hip sometime but not all the time. Gives off Baker vibes could make an awesome backup one day. 
7. Tanner Mckee, Stanford
Lachlan Cunningham. Getty Images.
Runs a prostyle offense, tall.
6. Stetson Bennett
Jay Biggerstaff. Getty Images.
Game Manager, scrambler, throws in chaws when benched
5. Anthony Richardson
James Gilbert. Getty Images.
4. CJ Stroud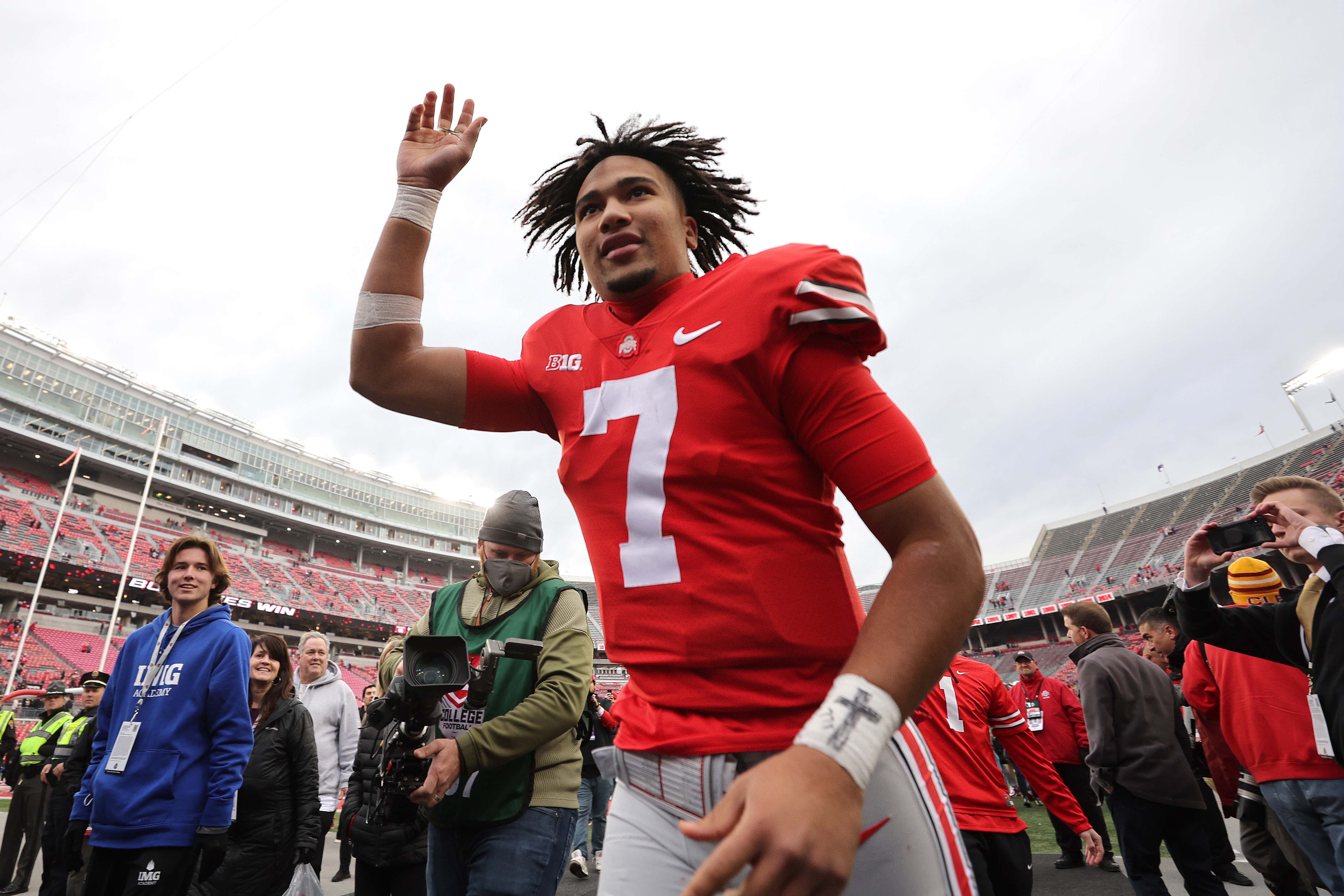 Gregory Shamus. Getty Images.
Typical Ohio State QB that puts up numbers big body and wins games. 
Competitive AF.
3. Hendon Hooker
Donald Page. Getty Images.
Less problematic Deshaun Watson
Macrodosian
2. Bryce Young
Sean Gardner. Getty Images.
Very Good decision maker and scrambler. Gives me less built Tua vibes tho. 
1. Will Levis 
Andy Lyons. Getty Images.
Notes:
My Wild Card Tebow/Johnny Manziel/Sam Ehlinger/Trace McSorely/Chad Kelly of the Draft Class:
Max Duggan
How can you not root for this guy?
So Now For the Bracket
Matchup #1
Clayton Tune Vs Tanner McKee
Clayton Tune is just more talented while Tanner McKee has been getting Big Boi Bias for running a Pro-style and going to Stanford. The thing with McKee is if your going to be a 6'6 240 big dude you better not be disappointing the ladies and have some big mits to back it up. 9-inch hands just aren't going to cut it in the NFL, it just makes you a big ass target for fumbles, and playing outside the PAC-12 means some cold games where you can't get a grip. You need some absolute meat paws. 
Clayton is going to win this QB battle off the handshake when he realizes he's 4 inches shorter but the big guy ain't gripping his hands better than he's gripping his. Clayton's prototype is also just becoming more accepted in the NFL. The Days of Big Ben immobile big dude are coming to an end. Clayton also just has a faster release and Gun Slinger attitude that Tanner tries to make up for by getting the ball out quickly in his reads but that offensive schematics to make up for a slow release isn't going to cut it.
Matchup #2
CJ Stroud Vs Malik Cunningham
This one isn't even close. Malik Cunningham will never get out of Lamar Jackson's shadow at Louisville so no matter what QB is coming out of that school just won't compare. Also, CJ Stroud is just such a beast on the national stage against much better competition.
Matchup #3 
Jake Haener Vs Anthony Richardson
AR-15, no first-round upsets. If you are also wondering why Richardson is ranked #6 it's because he has big "Goes to a shitty team and gets fucked" potential. He's a very physical player and a guy that size isn't going to be able to avoid physicality at the NFL level. If he has to scramble a lot he's going to get banged up and on a bad team that might be enough to destroy his career.
Matchup #4
Stetson Bennett Vs Dorian Thompson-Robinson 
DTR put up stats, but the thing is, Stetson Bennett played against better talent and, throughout the years, played in huge game scenarios. DTR did have the fastest throw at the combine, tying Josh Allen's 62mph, but his size and decision-making cannot compete with multiple national championships and major competition. Bennett has his issues but will advance. 
Matchup #5
Max Duggan Vs Clayton Tune
Clayton Tune got some props for being a Bailey Zappe type that could get in the right offense (Shanahan) and put up numbers, but I am extremely Biased to Max Duggan just being a competitor. Also who knew Max Duggan ran a 4.52?! Like that's a real athlete right there. Max has been considered not NFL level, but you can't deny his competitive nature. 
Matchup #6
CJ Stroud Vs Hendon Hooker
CJ Stroud is a very good QB. The thing is have we seen an Ohio State QB ever really pan out? Justin Fields is the best Ohio State QB of the 21st century and we still don't know if his career is going to survive the Bears. I mean I am just getting echoes of Dwayne Haskins (rip)(investigate his death lowkey), Cardale Jones, JT Barrett. I mean it's just facts the Ohio State plays inferior talent to SEC schools. 
That is why Hendon I feel will do better against NFL talent. ACLs are not a problem in the year 2023 if you think ACLs are a problem then you are probably homophobic and racist as well. Its just old fashioned. Hendon would have put up crazy numbers if he was in CJ Stroud's place at OSU. The guy is an unproblematic Deshaun Watson. His only bad games came against national champions Georgia who played Tennessee perfectly 
Matchup #7
Bryce Young Vs Anthony Richardson
I kinda get the Bryce Young hype… He is the reason Bama won a lot of games… I just cant get his national championship final interception out of my mind. Its just that if you are not a super athlete playing QB at bama I do not think you have any business playing in the NFL. Bryce Young processes the game well, adjusts to pressure, but his physicality is that of a high school kid. All the shorter QBs in the NFL are built. This guy is one Aaron Donald away from an injury. 
Anthony Richardson on the other hand can be utilized in a NFL system while developing the skills needed to become an Elite NFL QB. You can teach Anthony Richardson, you can't put 30+ lbs on Bryce Young when he has slim hips slim shoulders no frame to hang that muscle meat. This is the first upset of the bracket. 
Matchup #8
Stetson Bennett Vs. Will Levis
I am a sucker for Quarterback facing adversity. I believe a harder road makes you hone your craft better than a guy who gets constant success. See the thing is Stetson Bennett is a 2 time national champion and has only lost 1 game in his career. You learn more from losses, Will Levis has 7. Stetson Bennett has made more bad decision in an amazing situation whereas Will Levis has made tons of bad decisions in a bad situation. 
Will Levis sat himself for the bowl games and it did show just how bad the rest of the team was. If you had sat Stetson Bennett I do not think Georgia's record would be much different last season then it was. Also the only thing I am judging Stetson for in his arrest video is complaining about how tight his cuffs are. That is in the moment low pain tolerance while on an already numbing substance. 
Matchup #9
Max Duggan Vs Hendon Hooker
Unfortunately this is Max's end of the road, I will always route for him, but Hendon played better competition and is a better athlete. He also has a better arm. Max could end up being the next Ryan Fitzpatrick though. 
Matchup #10
Will Levis Vs Anthony Richardson
I think Will Levis's negative Publicity is going to cause him to drop far in the draft and put him in a better spot than Anthony Richardson. If you see Levis end up on the Patriots while Richardson is on the Texans you are going to see two vastly different career outcomes. Will Levis's weird shit and being way too jacked for a white QB is going to tank him into a better situation.
Another thing with Anthony Richardson is he is a follower. 
I want my QB to set the tone not follow. Anthony Richardson is already alpha'd by Will Levis for copying him. 
See the thing is there is nothing wrong with hitting the ceiling but the media crucified Will for it, putting air under the ball is extremely useful when throwing long because it gives the receiver time to run under it, plus fieldhouses are so much lower than any NFL dome. So Richardson instead of knowing this went and said he was copying Levis is so stupid. He didn't do it on purpose and it shouldn't matter if you hit the ceiling. 
Another thing is Levis has a certain touch on the ball that throws receivers open. He throws the receivers open and uses touch to his advantage when he knows only his guy can adjust when its underthrown. That's a second level understand of throwing the football most guys on this list do not have, and a lot of NFL guys do not even have. 
FINAL MATCHUP
Hendon Hooker Vs Will Levis 
Hendon wins because Will Levis brought a really bad question to 1 question with a quarterback on Pardon My Take. He could have came prepared with a better question but by asking "If one person had to get kicked off Pardon My Take who would it be?" was just a bad question. It wasn't because I was the answer. Very low hanging fruit and he had an opportunity for a touchdown in a crucial situation but instead he threw a check down for 2 yards on third down. He knew we were doing the segment and had plenty of time to prepare his one question. I also asked him what else he was doing in New York City while visiting and he said he was going to go to Carbone which is just the fine dining equivalent of Michael Scott thinking Sbarro is the best Pizza in NYC. 
I know these 2 things have absolutely nothing to do with football but they tell a lot about a man's judgement. Hendon Hooker being a multiple time Macro dosing guest has nothing to do with this decision either. I am totally unbiased. Also Hendon will probably drop to a better situation.