And Here... We... Go.... Bruins Panthers Round 1 Preview
Eliot J. Schechter. Getty Images.
AND HERE… WE… GO… The 2023 Stanley Cup Playoffs are FINALLY upon us and Boston opens up Game 1 on home ice against the Florida Panthers who went 6-1-1 in their last 8 to snag the final Wild Card spot. The Bruins had one hell of a regular season, finishing 65-12-5 and setting a new record for most wins in a single season in NHL history, most points in a single season in NHL history and so much more. But once puck drops at 7:30pm, all of that will be in the past. They'll need 16 wins if they want to lift Lord Stanley's Cup, will they be able to give their historic season a storybook ending? It all starts tonight.
There is a bug going around the room of the Boston Bruins and several players are questionable for Game 1. Here is what the roster would be presumed everyone is healthy.
FORWARDS:
Maddie Meyer. Getty Images.
Marchand - Bergeron - DeBrusk
Zacha - Krejci - Pastrnak
Hall - Coyle - Bertuzzi
Foligno/Frederic - Nosek - Hathaway
Odd man out: one of Foligno/Frederic, Greer, Lauko
Patrice Bergeron left the last game of the season in Montreal with an UBI that the Bruins called precautionary and Jim Montgomery called "nagging, but he's dealt with it before and he knows how to deal with it", he did not practice before tonight's game against Florida but before today, all signs pointed to him being in the lineup. A little cause for concern, Bergeron, who once played through a broken rib and punctured lung, wants to play, but if Boston can steal a game without him while he gets healthy, I'm all for it. He's currently dealing with both injury and sickness as a bug has run through the Bruins locker room. We saw his kids on the bench for warm ups his potential last home game, and family and friends were in the building in Montreal… I don't believe he's made a decision on his future but this very well could be the last time we see Patrice Bergeron play in a Bruins sweater (I am choosing not to believe this though)… If this really is it, there's no better way to send 37 out than with his 2nd Stanley Cup.
UPDATE PER JIM MONTGOMERY: Patrice Bergeron is a game-time decision tonight.
Brad Marchand's goal scoring dried up late in the year but he isn't worried. After snapping a 16 game goalless streak Marchand said he was laughing at the drought. Marchand is a guy I'm looking forward to raising his game in the postseason after a funky year coming off surgeries to both hips. They will need his leadership and experience if they want to make a run. Got the monkey off his back and we'll see if he can bring the offense.
Jake DeBrusk (27 goals, 23 assists for 50 points) gave Bergeron and Marchand allll the credit for helping revitalize his career after a trade request was made. I think Jim Montgomery and his coaching style has really helped DeBrusk grow this year and he'll bring the straight line speed to that line. In just 64 games played he tied Patrice Bergeron for 2nd on the Bruins in goals with 27 (in 14 fewer games). JD seems to thrive in big moments in the postseason as well. 
CZECH MATES!
David Krejci missed the last handful games of the season due to a nagging LBI but is 100% and ready to go for tonight. We all know Playoff Krech always arrises to the occasion. Pavel Zacha, acquired from New Jersey last summer, had himself a career year and showed he can not only play both wing and center but that he compliments David Pastrnak extremely well. 
David Pastrnak's career year saw him hit 61 goals, joining Phil Esposito as the only other Bruin to hit 60 goals in a single season in franchise history. And he looks healthy too. He played in every single game this year for the first time in his career. There's been a couple of postseasons where he's been banged up and quite frankly I'm excited to see the damage he can do against a less than stellar Florida defense. 
If the B's want to make a run, the 3rd line is going to be incredibly crucial. Charlie Coyle has had quite a year and has done everything the Bruins have asked of him and then some. He's a puck possession monster and now with Tyler Bertuzzi (4G, 12A for 16 points in 21 games with Boston) and Taylor Hall flanking him I think they'll be able to do some real damage against Florida. Bertuzzi has been an excellent pick up. His vision and IQ stood out to me in his 21 game stretch after being traded to Boston. He can muck it up for sure but he's a sick passer. Taylor Hall was a question mark heading into the postseason with a knee injury but he's gonna give it a go. Not 100% sure he's 100%, but he's looked really solid since his return. I like the 3rd line and their matchup and it starts with CC. You could see Bert move up and down the lineup and you could potentially see Trent Frederic on this line as well. I think they'll be the difference makers in this series.
Nick Foligno who also suffered a knee injury late in the year will make his return to the lineup. Sounds like Trent Frederic would be the odd man out, and I hate that for him. I think he deserves to be in this lineup but with this caliber of a roster someone is gonna have to sit. However, with this bug going around the room perhaps we see Freddy in Game 1 if someone can't go. Tomas Nosek has played really well down the stretch after a broken leg/foot sidelined him in the middle part of the year. He's a monster on the PK and for winning faceoffs and will be crucial this time of year. Garnet Hathaway, acquired from Washington has made a nice home at right wing on the 4th line. His style of play is a match made in heaven for the playoffs. He'll bring the snarl and is certainly not afraid to hit bang bodies.
DEFENSE:
Orlov - McAvoy
Lindholm - Carlo
Forbort - Clifton
Odd man out: Grzelcyk, Zboril
Trade Deadline Acquisition Dmitry Orlov has been a welcomed addition to the defense and he'll play alongside the Stallion Charlie McAvoy to kick off the playoffs. The Bruins split up their studs, allowing Hampus Lindholm to play alongside Brandon Carlo.
Lindholm, who I could not be more impressed with this year, seems more comfortable after a full season with the B's. After a concussion derailed his postseason last year vs. Carolina, I'm excited to see him break out against the Panthers. All eyes will be on McAvoy, and rightfully so, but I am looking at Lindholm to step up this series. What a year he's had, 10 goals, 43 assists for 53 points in 80 games. Erik Karlsson will win, but Lindholm should be in the contention for the Norris.
Based off practice on Sunday, looks like Matt Grzelcyk is the odd man out on D. Derek Forbort missed a good chunk of the end of the season due to a LBI but has been skating with the team. His ruggedness and PK prowess has been missed. That being said I think Grzelcyk (who has had a career year) deserved to get the start in Game 1. Think Forbort would've been a welcome addition after getting a few more practices under his belt. That being said, it doesn't matter cause Forbort is in tonight, likely paired with Connor Clifton. 
GOALIES: 
Steve Babineau. Getty Images.
Linus Ullmark, Jeremy Swayman
Boston has a two-headed monster in net but it'll be Vezina Favorite Linus Ullmark who gets the nod in Game 1. He's been outstanding all year long. 40 wins, .938 SV%, 1.89 GAA (led entire NHL in all 3 categories). His lack of postseason experience (only 2 games) is the only thing that worries me, but even then you have Jeremy Swayman who rebounded nicely after a shaky December. I don't think alternating in net is the way to go, and it'll be Ullmark's until he loses claim. 
Brandon Bussi has been recalled from Providence. Jeremy Swayman has been sick but did take part in an optional skate this morning. If he can't go, Bussi will back up.
On the flip side, here's how the Florida Panthers will presumably be lining up…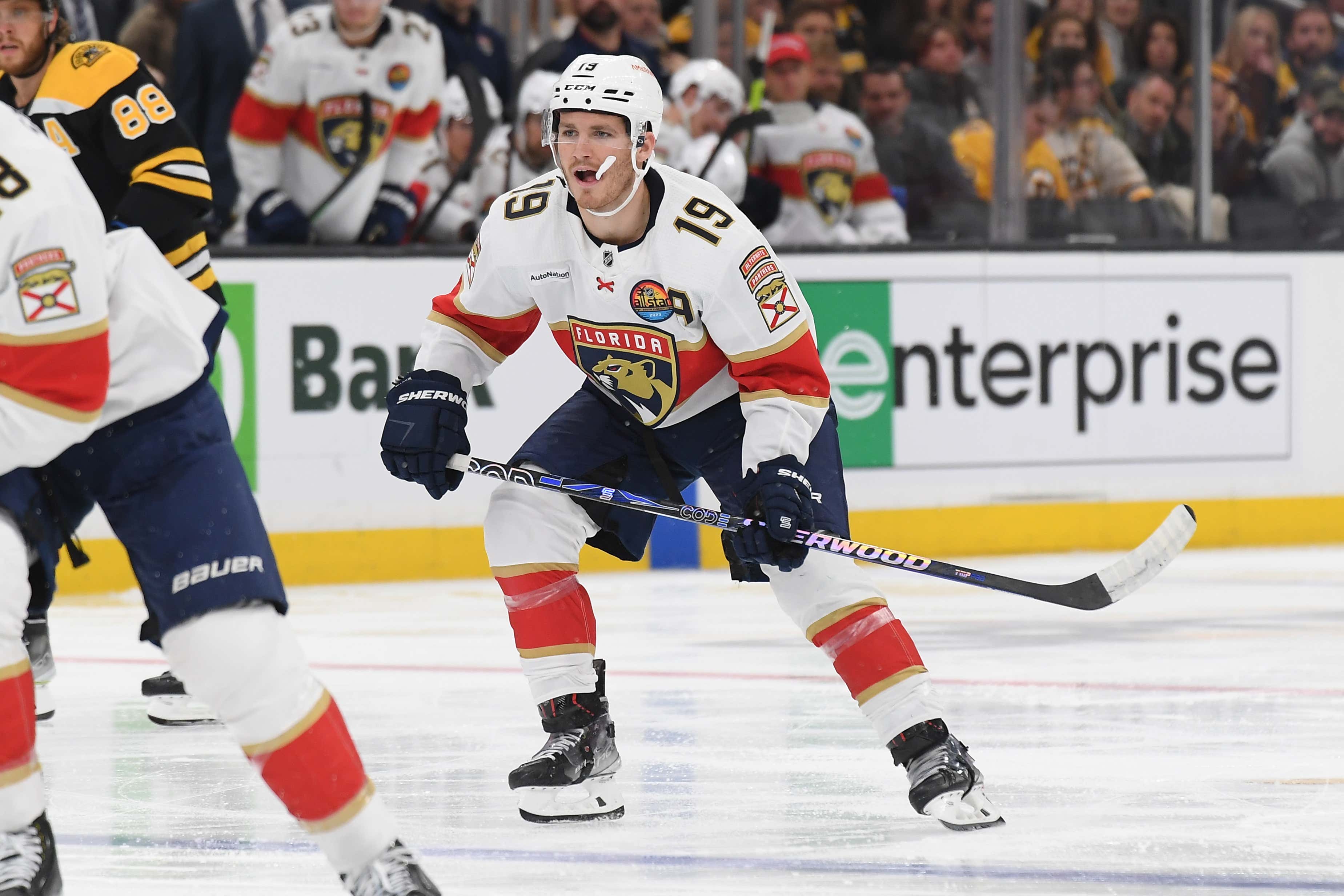 Steve Babineau. Getty Images.
FORWARDS:
Verhaeghe - Barkov - Reinhart
Luostarinen - Lundell - Tkachuk
Lomberg - Staal - Duclair
Smith - Cousins - White
The Panthers will be without Sam Bennett (sounds like he's close to return) and Patric Hornqvist.
Aleksander Barkov for the Panthers is what Patrice Bergeron is to the Bruins. Just an all around centerman who can do everything. Flanked by Carter Verhaeghe (42 goals, 31 assists for 73 points) and Sam Reinhart (31 goals, 36 assists for 67 points), this is a potent line offensively that Boston will look to shut down. That being said…
Jim Montgomery called Matthew Tkachuk their emotional leader… and he is. He is their Brad Marchand. He'll be stirring it up every chance he gets. Florida goes as far as he goes, B's will need to be aware of him every time he steps out onto the ice. Tkachuk finished the year with 109 points (40 goals, 69 assists). He, along with Sasha Barkov, are your players to watch.
Florida's depth has Eetu Luostrainen, who had a nice year (17 goals, 26 assists) for 43 points. Anthony Duclair (2 goals, 7 assists) missed the first 62 games of the year with an Achilles tendon injury but he's a guy who can finish. Bottom line is Florida's offense is for real and they're a hot team coming into the postseason, going 6-3-1 in their last 10 games to clinch a playoff spot. Can't take them lightly.
DEFENSE:
Forsling - Ekblad
Staal - Montour
Mahura - Gudas
Florida's biggest weakness is their defense, but Brandon Montour is having a career year with 16 goals and 57 assists for 73 points, smashing his previous high of 37 points. Gustav Forsling and Aaron Ekblad are their key cogs on the top pairing but Florida as a whole allowed 3.32 goals per game this year, the 21st most in the NHL. 
GOALIES: 
Sergei Bobrovsky is the highest paid goaltender in the NHL but Alex Lyon has been money as of late and helped Florida get into the postseason in the first place. Lyon, their third string goalie with Spencer Knight in the NHL/NHLPA assistance program, went 6-1-1 in the last 8 games of the regular season with a .943 SV% and a 1.88 GAA. In other words, he's hot. Florida will ride him until they feel they need to go to Bobrovsky. This will be his first postseason action.
SPECIAL TEAMS:
A month ago I would have called the Bruins power play (22.2%) absolute dog shit but they've been on an upwards trend the last 5 or 6 games of the season with 7 goals in their last 21 opportunities. B's should and need to make Florida pay on their man advantage if they want to make this a quick series as Florida has the 23rd worst ranked PK in the NHL (75.9%).
Florida's PP on the other hand clicks at 22.8%, good for 10th best in the league. Boston boasts the best PK in the league with Derek Forbort and company eating shots (87.3%).
Other news, notes and quotes:
- Like I said, Game 1 lineup for Boston will look different as guys are dealing with a bug in the locker room. 
- David Krejci and Derek Forbort are definitely in. 
- Sounds like Nick Foligno will make his return tonight as well.
- If Bergeron doesn't go, I believe it'll be Zacha centering Marchand and DeBrusk, with David Krejci flanked by Tyler Bertuzzi and David Pastrnak.
THE BOTTOM LINE:
Boston's offense (3.67 in goals per game, 2nd in the NHL) should be able to thrive against Florida who allows an average of 3.32 goals a game. The Bruins have said it a plenty - if they trust and stay true to their process they will be successful. Just have to take care of business. It's been a special regular season but the real season starts tonight. It's certainly not going to be a cake walk. 
Time to make a run because we may not see Bergeron or Krejci after it. Do it for them. 
Series Prediction: Bruins in 5.
SERIES ODDS:
Provided by the Barstool Sportsbook. Gambling Problem? Call 1-800-GAMBLER
SCHEDULE:
Game 1 - Monday 4/17 in Boston at 7:30 pm
Game 2 - Wednesday 4/19 in Boston at 7:30 pm
Game 3 - Friday 4/21 in Florida at 7:30 pm
Game 4 - Sunday 4/23 in Florida at 3:30 pm
Game 5,6,7 TBD
GEAR UP:
GET HYPED:
It's a great night to win a hockey game.