Steven Cheah's 2023 NFL Mock Draft 4.0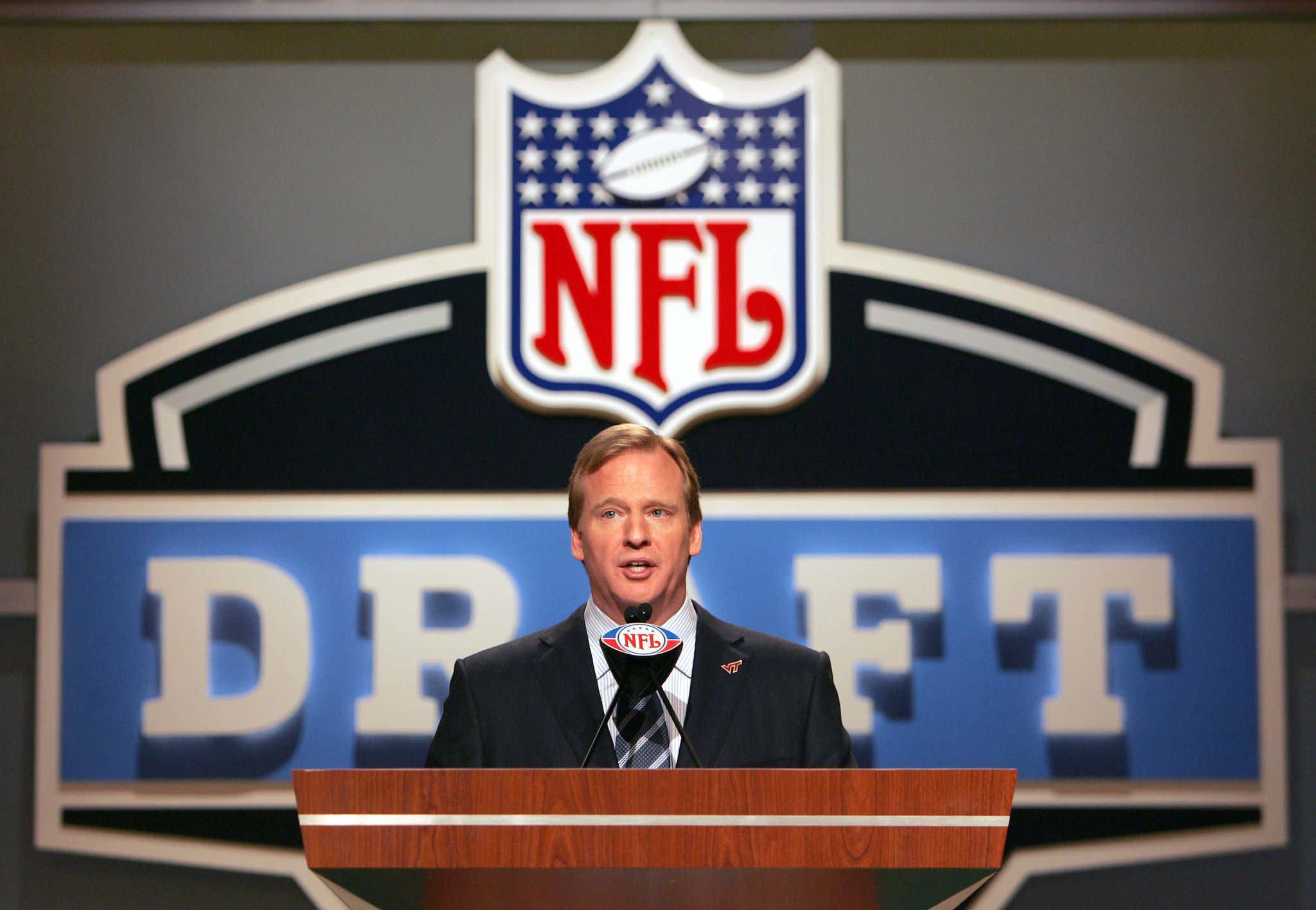 Richard Schultz. Getty Images.
We are only 2.5 weeks away from the actual NFL Draft and we're overdue for a new Mock. A lot to still be determined as we're still in the cycle, but here's where I see things shaking out right now:
1) Carolina Panthers (via Chicago Bears) - QB CJ Stroud (Ohio State)
CJ Stroud is really good, but I don't love the pick because if you look at recent drafts, the guy who is 'the most natural thrower' is never the best one.
2021: Zach Wilson/Mac Jones
2020: Tua Tagovailoa
2019: Dwayne Haskins (R.I.P. - no disrespect)
2018: Josh Rosen
Stroud had a terrific throwing session at the Combine and the Panthers must really be smitten as they gave up a pretty penny to get him. Unfortunately for Stroud, he walks into a team with these weapons to surround him:
RB: Miles Sanders, Chuba Hubbard
WR: Adam Thielen, Terrace Marshall Jr., D.J. Chark, Shi Smith, Laviska Shenault
TE: Hayden Hurst, Ian Thomas
Which may make it tough to find early success.
2) Houston Texans - QB Bryce Young (Alabama)
There is smoke that Carolina likes Young, but I'm also hearing that thing about Frank Reich really liking tall QBs is legit. I think Houston holds their waters and sticks at #2 to pick the guy they would have at #1. Young is a great talent, but 5'10 1/8" and 204 lbs. could make it tougher to find long term, sustained health in the league. He has drawn rave reviews for his team interviews though and fun fact: he was born at the same hospital as Kobe Bryant.
3) Arizona Cardinals - EDGE Will Anderson Jr. (Alabama)
Is this pick for sale? Seems like it.
But you need a dance partner and at the moment, I'm not seeing a team willing to move up for Anthony Richardson. Will Anderson Jr. was viewed as the #1 pick coming into the season and is worthy of that spot in my mind. He's a tad undersized at 6'4" 241 lbs., but he's got that twitchy athleticism and strength that teams crave. Who knows what the hell will be the Cardinals long term plan. Trading down if they can get a bevy of future assets makes sense, but they clearly need better pass rush now, so Anderson makes sense here too.
4) Indianapolis Colts - QB Anthony Richardson (Florida)
Colts GM Chris Ballard is a bet on traits guy and there are two QBs available here at #4 with very intriguing traits. Richardson fits the bill more so than Levis (or any QB for that matter) with insane measurables featuring a 4.44 40-yard dash and a 40.5" inch vertical leap. He also had a good throwing session and had some #1 pick buzz. His Pro Day showed some inaccuracies, but his ceiling is the highest in the draft. It's a risk though as his floor is mighty low for a #4 overall pick too.
5) Seattle Seahawks (via Denver Broncos) - EDGE Tyree Wilson (Texas Tech)
Tyree Wilson is a riser right now with his 6'6" frame clocking in at 271 lbs. with long 33 5/8" inch arms. Seattle needs more guys to get after the QB and Wilson put up 27.5 sacks the past two seasons for the Red Raiders. He seems to be most team's #2 EDGE guy at worst.
6) Detroit Lions (via Los Angeles Rams) - DT Jalen Carter (Georgia)
Carter's image definitely took a nosedive recently with the charges coming out but in reality I can't see him falling past #6. In fact, his agent, Drew Rosenhaus says they are only meeting with teams with Top 10 picks. He is one of the best players in the Draft and would immediately upgrade the interior of Detroit's line to help get after Justin Fields, Kirk Cousins, and whoever is playing QB for the Packers. 
7) Las Vegas Raiders - CB Christian Gonzalez
The Raiders have holes everywhere, but with Jimmy G signing with the Raiders, it removes the immediate need for a starting QB. Gonzalez is built like a create-a-player for a Corner at 6'1" 197 lbs. with 32" inch arms and ran a 4.38 40-yard dash. He also fits the new ideal for CBs which is having a WR background. Not only does that help him understand the position and route concepts, but he's got good enough hands to turn bad throws into turnovers.
8) Atlanta Falcons - EDGE Lukas Van Ness (Iowa)
The man they call "Hercules" is rising up Draft boards despite never starting at Iowa. But at 6'5" 274 lbs. with 34" inch arms running a 4.58 40-yard dash being able to make the Draft's Top Tackles look like High Schooler's makes me believe he'll go Top 10 and Atlanta is a logical landing spot as DT Grady Jarrett was the team's leading sacker with 6.0 last year.
9) Chicago Bears (via Carolina Panthers) - OT Peter Skonronski (Northwestern)
Despite the clip above, Skoronski is a very good Tackle. There are questions about if he'd be better inside at Guard, but the bottom line is the Bears need to protect Justin Fields at all costs and bringing in the local kid with the Polish last name at a position of need would go over really well on Draft night in Chicago.
10) Philadelphia Eagles (via New Orleans Saints) - CB Devon Witherspoon (Illinois)
All eyes were on the Eagles secondary last year. Darius Slay was still elite, but James Bradberry showed some warts, especially in the Super Bowl. DW is an aggressive, physical Cornerback who will fit right in to the Philly defense.
11) Tennessee Titans - OT Paris Johnson Jr. (Ohio State)
There is a lot of chatter about the Titans as a potential QB trade up team, but I don't see it. This team is not one QB away, not even close. So why waste the cheap years of a rookie QBs deal on a team that doesn't figure to compete for a title? Instead, I have them taking a Tackle out of the Big 10, which worked out for them in 2014 when they took Taylor Lewan, who was let go this off-season.
12) Houston Texans (via Cleveland Browns) - WR Zay Flowers (Boston College)
The Texans need a WR to pair with their new Franchise QB and Zay Flowers is the ticket in my mind. Much like his new QB in this scenario, he's not the biggest guy at 5'9" 182 lbs., but his agility and change of direction will always have him open.
13) New York Jets - EDGE Nolan Smith (Georgia)
Quinnen Williams was the Jets leading sacker last season and they desperately need more juice off the EDGE. Insert Smith who tore up the Combine with a 4.39 40-yard dash. He is a bit undersized at 6'2" 238 lbs., but clearly a freakshow athlete the Jets coaches can mold.
14) New England Patriots - WR Jaxon Smith-Njigba (Ohio State)
The Patriots have a bunch of needs, but none more so than WR where there guys haven't gotten it done recently. JSN can play outside, but at 6'1" 196 lbs. with short arms, he might be relegated to the slot early on. But what team has a history of outstanding play out of the slot? The New England Patriots. He would provide Mac Jones or Bailey Zappe a great outlet closer to the line of scrimmage.
15) Green Bay Packers - EDGE Myles Murphy (Clemson)
6'4" 268 lbs. running a 4.52 40-yard dash is outrageous, but Myles Murphy is that guy. There has been talk about a 'Big 4' at EDGE with Will Anderson, Tyree Wilson, Lukas Van Ness, and Nolan Smith being those guys, but don't be surprised if Murphy is the best one when all is said and done. Rashan Gary really started to come into his own last year, but Preston Smith is 30 years old and definitely on the down slope. Murphy makes sense to come in and groom while working in rotationally.
16) Washington Commanders - OT Darnell Wright (Tennessee)
The Commanders don't know who will be throwing the ball next year. But whether it's Sam Howell or someone else, they'll need to protect them and Wright has some intriguing tools to pass on at #16. He's had success against Will Anderson and other top pass rushers.
17) Pittsburgh Steelers - WR Jordan Addison (USC)
The Steelers pair Kenny Pickett with his old buddy Jordan Addison who caught 100 balls with 17 TDs from Pickett in 2021 before Addison transferred to USC. Addison is an undersized WR at 5'11" 173 lbs. and running a 4.49 40-yard dash, but the Steelers are the best franchise in the league at Drafting WRs and they get a good one here with a little input from their QB.
18) Detroit Lions - TE Dalton Kincaid (Utah)
The Lions dealt TJ Hockenson to the Vikings mid-season and the cupboard is kind of bare at the TE position. Jared Goff is an on-schedule guy and getting a guy with the versatility at #18 will be a big help to Goff. Kincaid isn't the best blocker, but he's a fluid athlete capable of both getting open and making spectacular contested catches.
19) Tampa Bay Buccaneers - QB Will Levis (Kentucky)
Yes, the Bucs drafted Kyle Trask two years ago in the 2nd Round. Yes, the Bucs signed Baker Mayfield this season. But none of those things in my mind eliminate a good QB prospect as a possibility if you're on the clock and he's staring you in the face. Levis is a terrific QB prospect, who I believe could play right away. He played in a Pro Style Offense at Kentucky where he threw for 5,232 yards 43 TDs and 23 INTs the past two seasons in Lexington, so should have a shorter ramp than some of the other 1st Round QBs. And if the Bucs make this pick, it'll just be a matter of time before he's carving up the NFC South.
20) Seattle Seahawks - DT Calijah Kancey (PIttsburgh)
The Seahawks like to draft elite size at the position in the trenches. Buuuuuut they're also in the NFC West and have seen Aaron Donald's entire career. And while Kancey isn't Donald, his alma mater and size/position have drawn those comparisons and I think John Schneider and Pete Carroll would take that.
21) Miami Dolphins - FORFEITED
Remember this? Oof!
22) Los Angeles Chargers - WR Jalin Hyatt (Los Angeles Chargers)
The Chargers have a QB with a certified rocket for an arm yet were 23rd in yards per pass attempt and 26th in yards per completion. Mike Williams is a good deep threat for 50/50 balls, but he lacks the top end speed to truly take the top off a defense. Enter Jalin Hyatt who blazed a 4.40 40-yard dash at the Combine and I could see the Chargers getting back closer to the top of the league in those categories.
23) Baltimore Ravens - CB Emmanuel Forbes (Mississippi State)
Both Marlon Humphrey and Marcus Peters have battled injuries in recent seasons and Forbes is a really interesting prospect. Forbes is a dynamic player on the outside and torn up Indy with a 4.35 40-yard dash. The concern is his weight, which clocked in at 166 lbs., but he's an ultra athlete.
24) Minnesota Vikings - EDGE Keion White (Georgia Tech)
Danielle Hunter had a nice bounceback season, but Za'Darius Smith is 30 years old and while D.J. Wonnum was good in limited duty, they've got to continue to cultivate a pass rush.
25) Jacksonville Jaguars - WR Quentin Johnston (TCU)
The Jags signed Christian Kirk to that huge contract last off-season and now they get Calvin Ridley, but they're still in need of a big bodied WR to make those contested catches and at 6'3" 208 lbs., he fits the bill.
26) New York Giants - CB Joey Porter Jr. (Penn State)
The Giants are lacking playmakers on the back end and Joey Porter Jr. can help with that. Although I'd like to see him finish more turnover worthy plays, he did get his hands on 11 passes last year in the form of pass breakups. 
27) Dallas Cowboys - RB Bijan Robinson (Texas)
Zeke Elliott is gone and it's the Tony Pollard show now in Big D, but Tony P has never carried the ball more than 200 times in a year and at #27 Bijan is a good value. Robinson may already be endearing himself to potential future new teammates as he was working out with Micah Parsons yesterday.
28) Buffalo Bils - DT Bryan Bresee (Clemson)
The Bills defense looked like a shell of themselves when Von Miller went down, so I think they need a bit of a youth movement. DT Jordan Phillips is 30 and DT Ed Oliver is on his 5th year option. Bresee is a great story, who has overcome so much in his life you cannot help to root for the kid.
29) Cincinnati Bengals - OT Broderick Jones (Georgia)
Yes, the Bengals did sign Orlando Brown Jr. this past off-season but La'el Collins is going to be 30 and wasn't the rock they thought he'd be in year 1 of their system. Existing LT Jonah Williams will kick inside to Guard, but with Joe Burrow under Center, you've got to ensure in September, in January, In February and everything in between that he is well protected. At 6'5" 311 lbs. with 34 3/4" inch arms running a 4.97 40-yard dash, Jones simply has too much upside to pass.
30) New Orleans Saints (via Denver Broncos) - EDGE Will McDonald IV (Iowa State)
Cam Jordan isn't getting any younger. He's 33 years old and even though they drafted Payton Turner early last year, they still need ton continue to overhaul their pass rush. 
31) Philadelphia Eagles - DT Mazi Smith (Michigan)
Mazi Smith is one of the strongest players in this draft having put up a staggering 34 reps of 25. That'll fit in nicely in Philly where Fletcher Cox is 32 years old and could use a rotational DT to give him a break once in awhile. 
32) Kansas City Chiefs - OT Anton Harrison (Oklahoma)
The Chiefs lost their starting LT in Orlando Brown Jr. They go right back to the well early trying to replace him with Anton Harrison who at 6'4" 315 lbs. having run a 4.98 40-yard dash. Those guys don't grow on trees, so Big Red and KC nab him up to conclude the 1st Round.
TLDR: