The Official Barstool 2023 Masters Tournament Betting Guide
Jamie Squire. Getty Images.
It's the best time of year baby. 
Welcome to the official 2023 Barstool Masters Tournament betting guide. Please take a moment and press play on the video below and enjoy the smooth, sultry sounds of Augusta while you read the finest piece of golf blogging this side of ever.
Hello friends. 
We're back at the crowned jewel of the golf world, Augusta National Golf Club. It really doesn't get any better than this. We spend weeks and months counting down the days for the Masters to arrive and it's finally here. And better yet, it comes at a time when the golf world may be fractured... but this week? Not so much. Whole gang is back together. And hell, we've got another year with the best to ever do it teeing it up, something that has looked like a longshot at times during his career. Always a blessing.
Last year Scottie Scheffler took home the green jacket in his first tournament as world #1. It capped off a torrid spring for Scottie, as it marked his 4th win in 6 tournaments, each of which were big time tournaments. The Waste Management was his first career PGA Tour W, he took Arnie's tournament and won the match play on his home turf, and then finished it off by winning golf's crowned jewel.
It was a Masters without a ton of drama, as Scottie sprinted out to a Masters-tying 5 stroke 36-hole lead, going 69-67 to do so. But it wasn't a total snoozefest, and there were certainly pivotal moments on the weekend. That 5-stroke margin was trimmed to 3 by perennial Augusta stud Cam Smith after Saturday, and could have been even tighter had Scottie not managed to salvage an incredible bogey after wisely taking an unplayable from the trees left on 18. His long iron from the pine straw from 237 that allowed him to get in the house without too much damage may have been the shot of the tournament.
With Scheffler and Cam paired together Sunday, that 3-shot lead was quickly threatened with Cam birdieing the first two holes to cut the lead to 1. Scheffler then flubbed a pitch on his 2nd near the short par 4 3rd green, and had the ball more or less run back to his feet. It certainly looked like game on at that point, but Scheffler quickly grabbed back momentum by pitching the subsequent chip right into the damn cup. 
Cam bogeyed, and the lead suddenly fell back to 3 and was never really threatened the rest of the way. Cam struggled and eventually carded a 73, including a disastrous triple at the vaunted 12th. He'd finish in a tie with Shane Lowry for 3rd.
It was actually Rory who backdoored a solo 2nd finish with a spectacular 64, capped off by the electric bunker hole-out on 18 to match his playing partner Collin Morikawa's chip-in.
Scheffler teed up at 18 holding a 5-stroke cushion over Rory's clubhouse -7 number, the type of scenario all us idiots on our couches wonder whether we could close out. Tee to green was business as usual, as Scottie hit the green in regulation. That's where things got hairy for a quick sec. Guy became the first player to ever 4-putt to close out a major tournament by missing a couple bunnies. Of course, the folks at @TheMasters are #allclass and would never put the spectacle on social media, but here is Scottie tapping it in to get the job done.
In case you want to read further on my coverage from last year, here's my Scheffler recap and my full recap.
Last year's leaderboard and recent winners of The Masters Tournament.
2022 Leaderboard
Recent Masters Champions
The Course
Come on y'all. We know what this course is all about. It's the only major that's played at the same course every single year. That's what makes this such a treat. It's a course that measures about 7,545 yards depending on the tee boxes on a given day, but can play a lot longer due to the massive elevation changes around the course. It's a course that rewards distance off the tee, but does not penalize accuracy as much as some others. There's no 2nd cut of rough anywhere on this course. You can find yourself in plenty of trouble in the trees, but a little creativity and patience can help you avoid a big number. Water is the one place where you can find yourself in trouble, and that exists over in Amen Corner and on the par 3 16th. We all saw what kind of role Rae's Creek can play a couple years ago when everybody but Tiger put one in the drink on 12, and then we saw it bite Tiger himself in the ass the next year when he made a 10.
The thing that makes Augusta National what it is is the undulating nature of the entire place. Without any gnarly rough, the bumps and slopes are one of the few ways this place protects itself, which it's done pretty well for itself going on 86 years now. The greens are traditionally some of the fastest and most challenging on Tour. And the hills aren't just obstacles around the greens. There's hardly an even lie on the entire course that isn't a teebox. So these guys are going to be dealing with all sorts of side lies, downhill lies, uphill lies, and everything in between. Ton of shelves on this golf course so making sure you put the ball in the right spot is absolutely key here.
Most years there are a handful of tweaks to the course. This year there is just one, and it's a pretty big one no matter how simplistic their description is. Regarding the 13th hole: "2023 Masters tees moved back 35 yards."
It obviously changes the complexion of one of golf's greatest holes dramatically, and it'll be fascinating to see how guys try to tackle it. In recent years, so many were content to just take a 3-wood and hit a baby draw out there with little concern of trouble and a likely look at getting home in two. Those more daring would try to blast driver by cutting the corner to leave themselves a shorter number in. 
This change is likely going to put driver back in everyone's hands. Whether that's a good thing? I'm not convinced… yet. Even if the hole became a Par 4.5 of sorts in recent years and lost some of its original design purpose, it still made for thrilling golf. I'm sure it will still do the same, I just love watching guys go for 2 and that's sure to happen a lot less this year, much like it did at 15 last year when they lengthened that hole. Nobody tunes in to watch guys lay up. It'll certainly be something to keep an eye on this year.
For those who might be into hole-by-hole betting or just love them some good hard numbers, here's how the course played in 2022 by hole, courtesy of the Masters website:
And here are the figures all-time, which are obviously affected by changes year over year (so don't take it as gospel for gambling purposes)
The Format
88 golfers at this year's edition with a 36 hole cut for the Top 50 and ties. For a long time this Tournament had a rule where anyone outside the Top 50 that were within 10 strokes of the leader would also make the cut. They ditched it for the COVID-delayed Fall Masters a couple years ago (presumably due to daylight issues) and haven't brought it back since. Kinda a shame, sometimes it was fun to see how far out in front a leader could get on Friday and effectively boot guys out of the Tournament. Regardless, barring inclement weather, everybody goes off of 1 at Augusta National. No split tees. 
The Conditions
Weather forecast as of Tuesday at 11 AM does not look too promising for the week. Rain in the mix damn near every day. Fun fact, rain has been experienced during 47 of the 86 Masters Tournament. The Media Guide literally has a round by round detail of how weather has affected the Masters. Incredible.
Here's hoping we get it all in.
TV Coverage
Courtesy of the Masters website, here is your schedule for wall to wall coverage the Masters Tournament. 
The Field 
Thursday and Friday Tee Times
Fresh off the presses, here are your Thursday and Friday tee times:
I know this is where you'll jump first, so I'll just tell you. Tiger is off at 10:18 on Thursday with Schauffele and Hovland (and 1:24 PM  Friday)
The Board
Here is the full betting board at the Barstool Sportsbook as of 9 PM Monday:
I took the time to put together a little cheatsheet with the entire field's career results at ANGC. I haven't seen this type of thing anywhere on the internet (or at least not behind a paywall), so you're welcome. 
As is tradition I'm breaking down the full field. There's some overlap between this and D-Raps' beauty of a blog yesterday…
But you'll find that this has more of a gambling angle towards it. You and I both know you're throwing some beans down this weekend. Probably in a pool or two as well. This will help you win it.
The Past Champions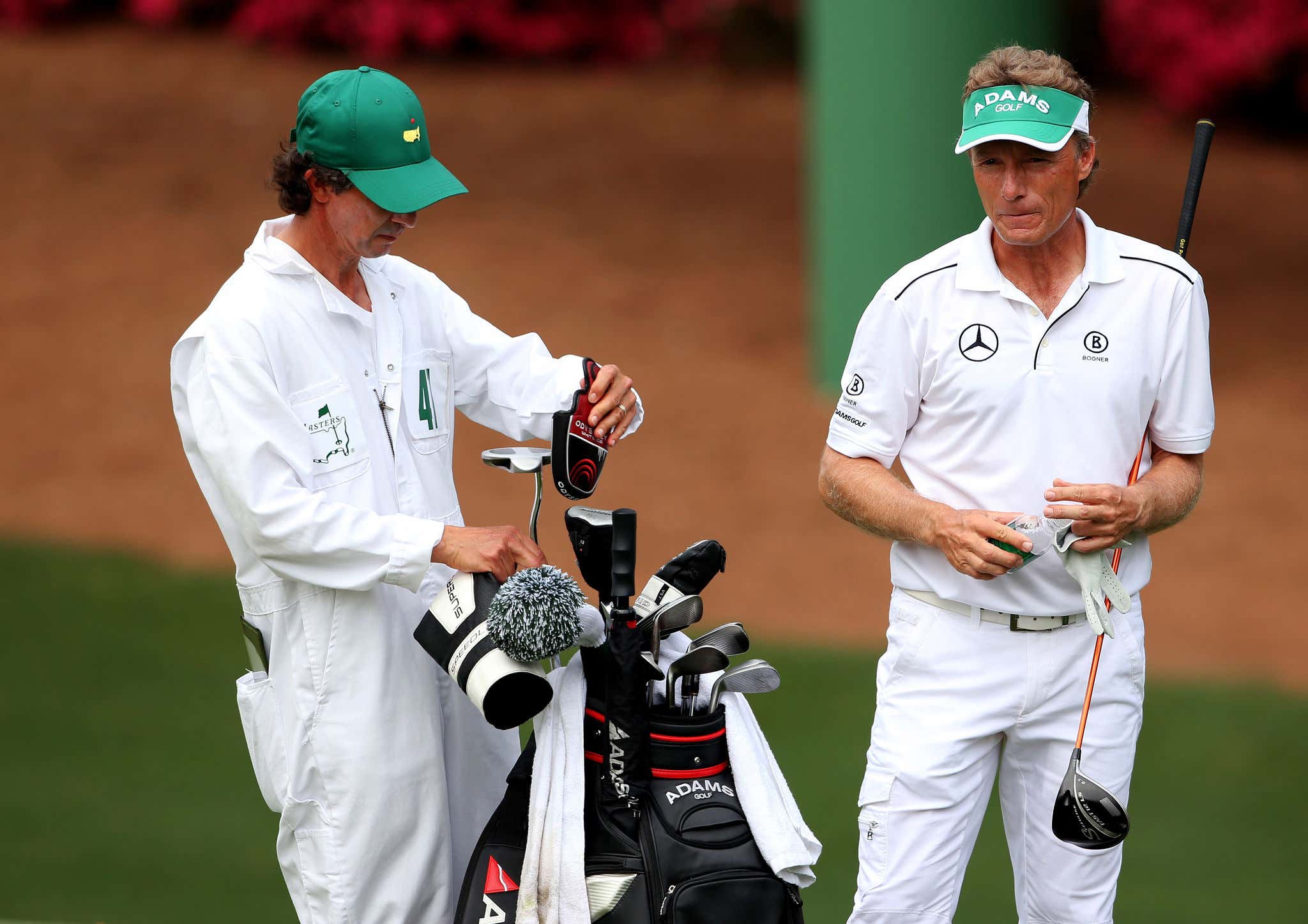 Andrew Redington. Getty Images.
These 8 guys have zero shot at winning and are simply cashing out their rightful prize of a lifetime spot in The Masters. Jack Nicklaus was the oldest Masters champion in 1986 at 46 years young. Most these guys are well past that age and these guys ain't Mr. Nicklaus. 
Larry Mize (1987 Champion)
Sandy Lyle (1988)
Mike Weir (2003)
Vijay Singh (2000)
Jose Maria Olazabal (1994, 1999)
Fred Couples (1992)
Bernhard Langer (1985, 1993)
Zach Johnson (2007)
As a sidenote, this is the final swan song for both Larry Mize and Sandy Lyle.
The Amateurs (pronounced "Am-a-toors") 
Harry How. Getty Images.
If you know anything about Augusta National Golf Club and its founder Bobby Jones, you know that amateur golf is an integral part of the The Masters Tournament. No amateur has ever won (Ken Venturi came closest, losing a 4 shot 54-hole lead by 1 after shooting an 80) and with the way these Tour pros are playing right now, that's not changing any time soon. Either way, any amateur who makes the cut will be competing for the Silver Cup, awarded to the Low Amateur at the Tournament. Jack, Tiger, and Phil are all guys who won it as amateurs, so it's nothing to shake a stick at. 
Harrison Crowe (Asia-Pacific Amateur Champion)
Sam Bennett (US Amateur Champion)
Aldrich Potgieter (British Amateur Champion)
Ben Carr (US Amateur Runner-up)
Mateo Fernandez de Oliviera (Latin America Amateur Champion)
Matthew McClean (US Mid-Amateur Champion)
Gordon Sargent (special invitation, likely due to being the NCAA Individual Champion)
Thanks For Coming Out 
Jamie Squire. Getty Images.
This is a pack of guys who are very likely not factors in this year's Masters. These guys qualified by one of these 4 ways:
1. Winning a PGA Tour event between last year's Masters and now 
2. Making the Tour Championship back in September 
3. Placing in the Top 12 at last year's Masters
4. Being in the World Top 50 at calendar year end 2022.
Some caught fire one week and were able to steal a PGA Tour win to get into this field. Some had a good 2022 and managed to maintain their spot in the OWGR at year-end. Other guys just found really great form in the early FedEx Cup playoff events and earned their way into the field at East Lake and subsequently Augusta. But that doesn't necessarily mean they're going to be factor on golf's biggest stage versus the world's very best. 
A few of these guys happen to be LIV guys, who are somewhat hard to project for obvious reasons. For the ones I'm stuck on what category to put them in, I close my eyes and think about whether I can envision them slipping on a green jacket. Sorry, but these guys aren't winning, period.
JT Poston
Taylor Moore
Mackenzie Hughes
Scott Stallings
Cameron Champ
Talor Gooch
Mito Pereira
Harold Varner
Jason Kokrak
The Little Known Internationals
Andrew Redington. Getty Images.
These guys are unknowns to general sports fans, but if you follow golf closely you've probably heard of them. Each of these guys have played enough golf on the world's biggest stages to not be phased by the bright lights of Augusta National. I would be shocked if one of these guys nabs a green jacket but hey, nobody saw Danny Willett coming either. He would have been firmly in this group had I been writing this blog in 2016. 
Sepp Straka
Seamus Power
Ryan Fox
Adam Svensson
Adrian Meronk
Kazuki Higa (who is actually here by special invitation for simply destroying the Japan Tour)
The Veterans
Andrew Redington. Getty Images.
These guys have been around the block before. Some are former major winners. Others are just Tour (or LIV) regulars whose games just aren't at the level it takes to win a green jacket. All have played the Masters and a few have even won it. But these guys aren't likely to win. A couple may contend, but this ain't their year. Sorry. 
Tom Hoge
Brian Harman
Chris Kirk
Russell Henley
Si Woo Kim
K.H. Lee
Alex Noren
Harris English
Kevin Kisner
Danny Willett
Abraham Ancer
Kevin Na
Billy Horschel
Keegan Bradley
Keith Mitchell
Francesco Molinari
Sergio Garcia
Charl Schwartzel
Bubba Watson
Veterans With A Chance
Andrew Redington. Getty Images.
Same as the section above, but these are guys I can actually see putting together 4 rounds and winning the 2022 Masters. From here on out, we've got guys worth talking about, so I'm going to do exactly that. 
Adam Scott - Former winner of course, and has made 19 of 21 cuts here… but really hasn't had a finish of note since his win. His only Top 10 since that win was a T-9 in 2017. Oddly enough, he's made 19 straight cuts worldwide but few high finishes. Not a lot indicating he'd peak with a win here, but can never count out a former winner.
Shane Lowry - Augusta and Lowry never seemed to jive (he was 3 for 6 on cuts) until last year when he quietly finished T-3. Recent form has also not been spectacular for the 2019 Open winner.
Tommy Fleetwood - Fleets is 5/6 for cuts made here but no Top 10's. He's had a couple down years but has started to trend back to his old self. His ball-striking always seemed like it could play well here, but if he wasn't finishing high when he was at his best, why would I buy in now?
Justin Rose - Rosie has a really really good track record at Augusta, including a loss in a playoff to Sergio and jumping out to a massive 1st round lead two years ago. Two missed cuts in recent years has me wary and so has his overall game the last few years, but he's shown some signs of life in 2023, including winning at Pebble. He's worth a look at a top finish, but it's tough to see him winning.
Phil Mickelson - There's no fucking way right? But there was no fucking way at Kiawah either soooo maybe??   ….no, no… there's no fucking way.
Gary Woodland - I originally had him as a guy with no chance but then I did a little bit of digging. Gary's actually been swinging it pretty good recently… he just doesn't have the leaderboard results to show for it. I was surprised to see him with these groups of names
With that said, has never played well here and it would still be shocking to see him make a run at it.
Corey Conners - Corey was firmly going to be a play going into the week for me… and then him winning at Valero two days ago sucked some value out of betting him. He's finished 10th, 8th, and then 6th the last 3 years so he's going to be trendy pick this week for a Top 10. I'll probably bite.
Thomas Pieters - Pieters has had some serious ups and downs in his career and was just about the only off-season defection to LIV that moved the needle. He finished 4th here in 2017, but has only qualified twice since and missed the cut both times. Like I said, hard to project but never know.
Bryson DeChambeau - Lmao I put him in this group solely for the purpose of getting to write that no, Mr. Par 67 has no chance of winning The Masters.
Patrick Reed - Can't rule out a former winner. Just finished T-3 at LIV Orlando and has had some high finishes there in their short history. He also finished 2nd at the Dubai Desert Classic on the DP World Tour in January, so it's clear he still has some game.
Louis Oosthuizen - Oosty was close to being classified as a veteran with no chance, but I know he always brings a little buzz at Augusta so I felt the need to discuss. That albatross in 2012 (and subsequent loss in a playoff to Bubba) is a major reason for the buzz. I get it, all-time golf shot. But his highest finish since was a 19th in 2015 and he missed the cut last year. He's not the Augusta horse people make him out to be. Do yourself a favor and let the squares ride Louis.
The Young Guns
Gregory Shamus. Getty Images.
This is a group of studs who may or may not find themselves in contention, but are ones to monitor for years to come.
Tom Kim - Toast of the President's Cup hasn't necessarily had a great 2023 so far, with a T-31 at the Match Play being his best result since the AmEx in January. I'm not overly optimistic he has a great week here.
Kurt Kitayama - Okay maybe he's not so young (he's 30) but he is a debutant here at Augusta and relatively new to the scene after having won at Bay Hill. So I'm throwing him in. He's mixed in a couple other good results over the past year including a quarterfinals appearance at the Match Play but nothing else really indicates he has a chance this week.
Joaquin Niemann - Tough to project as a LIV guy, but he's as talented as they come. Showed that in a big way when he boatraced the field at Riviera last year, which is a course where success is often correlated with success here.
Sahith Theegala - He's parlayed a strong rookie year (including a Tour Championship apperance) into more of the same, including 4 Top 10's… but he still hasn't cracked the seal with a W. It's hard to picture it happening here but he's got the length to give himself a chance.
Min Woo Lee - We saw how talented this kid is when he played his way into the final pairing at Sawgrass, but also saw how he handled the big moment carding a 76 while playing with Scottie Scheffler on Sunday. He did open some eyes here last year by going out in 30 on Sunday (but responded with 40 coming in).
The 2nd Tier
Jared C. Tilton. Getty Images.
Will Zalatoris - Will Z is going to be a trendy pick based on two strong performances here at Augusta. He could very well dig deep and repeat those kind of performances and get the job done this year. His near misses in other majors suggest he's a big game hunter too. I just don't know that I've seen enough since his back injury in last year's FedEx Cup playoffs to suggest his game is at the level it was for any of those performances. I think he'll be a super trendy pick in golf pools and calcuttas by those who become "golf guys" one week a year, and I'd be fine with letting them do that. I'm staying away.
Viktor Hovland - the Hov is a top 10 player by world golf ranking, and has the resume to support it. He just doesn't feel like a big game hunter. He's only got 1 major top 10 to his name in 12 tries, which was a T-4 at St. Andrews last year. Given that was the most recent major, maybe that suggests he's turning a corner? But I will say he came into last year's Masters in better form and only managed a T-27. His deficiencies around the greens have always been his bugaboo and while it has improved dramatically year over year, I just don't think Augusta is the place for his breakthrough. Good enough to be a major champion some day? Absolutely. A green jacket winner? I'd say probably not.
Sam Burns - Burnsy seemed to be a bit asleep at the wheel for a few months after a torrid couple of years. Guy didn't even win the Valspar this year. Wtf? But then he came out of nowhere and won the WGC Match Play two weeks ago, which took him off the fringe of being in this category to being firmly in it. So who the heck knows what kind of Sam Burns will show up this week. Somehow this is only his 2nd Masters, and he missed the cut last year in his first. I'm not bullish on him but never know.
Cameron Young - Speaking of guys who missed the cut in their debut this year…. meet the guy he beat in the Match Play final last year. Cam Young has a stupid amount of game. Absurdly long, strikes it pure… he has the type of potential to be a top 5, heck, maybe even #1 player in the world at some point in his career. I had him pegged as the guy who could pull off a Scheffler-esque run coming into the year as somebody who had yet to win on Tour… and he has yet to break through yet. Breaking through here always seems like a monumental task but if anyone is talented enough to do it, it's Cam Young.
Matt Fitzpatrick - Fitzy has a nice little 7 for 7 cuts made resume as a pro here, but hasn't fared better than 7th back in 2016. Of course, he's a far different and better player now and a newly branded major champion, but he hasn't quite parlayed that US Open win into greater success. A rash of missed cuts (4 out of his last 6 stroke play tournaments) and an early exit at the Match Play has me doubting his chances to contend this week.
Dustin Johnson - I mean… what the hell do we do here with Deej? Former green jacket winner, was a world-beater not too long ago… but hasn't exactly lit it up on the LIV circuit this year. All I know is that there's a beast lying in there somewhere, and things seem just a liiiittle too quiet on the DJ front. I think I'm sprinkling a little bit on him this week to carry the LIV load.
Tyrrell Hatton - It feels like every year Hatton runs through the Florida swing with great results and is peaking at the right time going into this week… and then he falls flat on his face. He's got 1 Top 25 in 6 tries at Augusta, and that was an 18th two years ago. He's also a big time psycho who will probably provide more salacious content that will have the green jackets shaking their heads…
Sungjae Im - What a mixed bag for Sungjae here. Balled out during the Fall Masters in 2020. His 273 (along with Cam Smith's) that year was good enough for the 8th best 72 hole score in Masters history… but no jacket. Missed the cut the next year which made that look like a fluke… and then answered with a Top 10 last year. He's definitely a pure striker who lingers on leaderboards… I don't like him to win but he's a candidate for a Top 10 at +335 for sure.
Hideki Matsuyama - Green jacket winner whose triumph may feel like a one-off, but he's actually remarkably consistent. He's made 8 straight cuts at ANGC, only missing the Top 25 once in those years. A 5th place finish at the Masters, a T-31 at the Match Play, and a T-15 last week at Valero is honestly a better lead-up than in '21 when he won, so don't be shy to throw some beans on Hideki.
Jason Day - I… and seemingly so many others now… are bullish on Jason Day this week. I doubt I was first on the train, but I've been holding a 40/1 ticket on him for a few weeks now
Why? Well… he's looking a lot closer to the guy who dominated in 2015-16 than the one who has struggled through injuries and the death of his mother the past few years. His worst finish in 2023 was a T-19 at THE PLAYERS, and his game (when it's on and he's healthy) has typically played well at Augusta. Don't let the MC's in '20 and '21 (and missing the tournament in '22 altogether) scare you off. He's still a great play at +2800.
Brooks Koepka - Brooksy launched himself up into this category from the "Veterans with a chance" category by winning last week in LIV Orlando. And while it seems like his stint with LIV has been a total joke (Netflix probably didn't help with that), he's actually the only guy on that Tour who has won 2 events. When he was on his shit a few years ago, his game showed well here too. It felt like he was tracking toward an eventual green jacket when he finished runner-up to Tiger in '18. He may have missed his last two cuts at Augusta, but one of those happened while he literally couldn't even bend over to read putts. One of the more curious guys to watch this week. I'm staying away at +3300, but you'd be a fool to be surprised if he's right there on Sunday.
Max Homa - Congrats to Max Homa on falling just short of the Heavyweights category. He's been playing like one damn near every week on Tour, I think I just gotta see it in a major before I throw him in with the next guys. 2022's majors were a big step forward for him, and so was making his first cut here. Let's see if he can build on it.
The Heavyweights
Kevin C. Cox. Getty Images.
Here come the big boys. Fun fact, the lowest ranked player in the past 12 years to win the Green Jacket was Hideki at #25 in 2021. Yes, even Danny Willett was sneaky 12th in the world going into that 2016 Masters. So you can feel pretty good that one of these guys is gonna walk away with it. All of them below fit that criteria and all of them are green jacket material, especially in 2023. Let's rock. 
Collin Morikawa - Collin hasn't really set the world on fire the past year or so, and he'd surely be in a lower category if he hadn't already shown that he can win a couple big ones. But he's also shown steady improvement (T-40, T-18, T-5) at this golf course, and I've always thought his game fit well. There's not all that much room to go further up than his 5th place finish last year. +2500 seems about right here.
Xander Schauffele - Xander has been so consistently good for years now and while I don't want to diminish an Olympic gold medal, it's damn near high time for him to win something big. Same went for last year and he weirdly missed the cut. He's constantly high in the datagolf metrics and constantly finds himself high on leaderboards, but a killer instinct seems to something he lacks. With that said, I think there's a little bit of value on him at +2200 and I like him to top 10 +225.
Patrick Cantlay - He's in a similar boat as Xander. He can roll it with the best of them, which is key here and anywhere. But both these guys are a year or two away from that dangerous "best player to never win a major" territory that has followed so many guys over the years. I think one of the two of them will do it this year, just a matter of who…. anyways. Cantlay's odds continue to shorten.. which I find interesting. He's played good golf this year but hasn't won. His reputation at Augusta is fine, but not exactly sparkling either. Yet he finds himself 4th on the betting board at +1400 outright as I type this. This is one I'll stay away from and if I can find some X v Cantlay action, I'm probably going to take the plus value on Schauffele.
Justin Thomas - I have made JT my official pick to win this damn tournament 3 years running. And every year I get burned. He's not totally bombing out every year, but he's yet to really be in the mix on the back 9 Sunday. It's a shame because I think his game suits Augusta super well. He's one of the best dart-throwers in the game, he's got adequate length, he loves to shot-shape, and most of all he is crrrrrrrrispy with a wedge in his hands around the greens. He's imaginative as hell but you get the sense that he wants it too damn badly. Luckily for me he hasn't played too well in 2023, which gives me reason enough to finally stay away. That also damn near guarantees that he'll win, so I'll be in a staring contest with that +2200 number until 7:30 AM Tuesday morning. I'll probably blink.
Tony Finau - Love me some Tony. That 10th place finish in 2018 on one ankle is something that will stick with me for a long time. But he's been in the mix another couple times too. He was one of many that got eaten up in 2019 by Rae's Creek. That green jacket was as much his to lose as Molinari or Koepka, and he's broken through with a few PGA Tour wins since as well. With his length, I think the changes to 13 benefit him as much as anybody, as does the lengthening to 15 last year. +2200 is right on the cusp of where I'd feel comfortable taking him and if he falls back just a smidge, he's probably on my board.
Jordan Spieth - Ahhhh. Mr Augusta himself. Crazy to think that this is his TENTH Masters. We all know the drill. 2nd, Win, 2nd in his first 3 years, and he mixed in a couple more Top 3's in years that followed. But he actually missed the cut for the first time last year. He's been around plenty of leads this spring which has helped move his number down to +1600. I actually got in at +2000 thanks to Tennesse whomping Duke a couple weeks ago
Do I feel good about getting in now at +1600? Probably not. Him contending at Valspar a couple weeks ago should probably be viewed as a positive, but he also completely melted down the stretch… which is something we're starting to see too much of from him. The scar tissue effect for him seems very real. But if that putter gets hot…
Cam Smith - Cam seems to be far and away LIV's best chance at winning this thing. But he also is lacking some confidence coming into the week. He admits freely that he's not in as good of form as he has been in years past when he ripped off 4 top 10's and 3 top 5's. He has the bad taste from Sunday last year and the vibes don't seem particularly great with him… which is rare. He's gone T-5, T-24 and most recently T-26 in his first season with LIV, which isn't impressing anybody all things considered. The result has been him tumbling down the board from the low teens all the way to +2500 when I write this. That's extremely tantalizing for somebody who pairs up well with the shaved green complexes of Augusta National. He's going to be a late add to my card.
Jon Rahm - Somehow Rahm went from clear cut favorite a few weeks ago with odds shortening by the day, to all the way back to +900. The disrespect! I'll cut to the chase. Rahm is my official pick this week at +900. Love that that number fell to where it is. Now don't get me wrong. Scheffler is an all-world player, and certainly deserving of his spot atop the world golf rankings. And I don't think the margin is much… but I still say Rahm is the best, most complete player in the world. What we've witnessed the last few weeks (a fall from the top of the leaderboard at Bay Hill, a WD at Sawgrass, a mediocre Match Play showing) has simply been a hiccup. A speed bump on the road to reach his eventual destiny as a Masters champion. And ya know what? He'll probably win more than just this one. Top guys have ebbs and flows, but there's not going to be many years over the next decade where you can get Rahm at this price. Take it.
The Co-Favorites
Cliff Hawkins. Getty Images.
These two fellas are currently +650 on the board. You know their names.
Rory McIlroy -  Is it Rory's time? I'd say no. Probably not. But MAYBE?!?! 
It's so easy to just write him off and say that it'll never happen because he's had so many chances and…he's fallen apart. 2011 will go down in infamy, but he had it right there in front of him in 2018 with an eagle putt to tie Reed on 2 on Sunday… and missed a 4-footer. It was still game on from there, and he didn't make a move.
There's just a laundry list of little opportunities for him to swing the narrative and he seemingly never does. It goes outside of Augusta National too. The Open last year at St. Andrews was supposed to be a coronation. The guy couldn't make a putt for his life. It's wild. I think the entire golf world wants it for Rory, and he's tried every which way to attack it. He's tried saying he doesn't care, he's trying accepting it'll never happen, he's tried playing the Valero the week before, he's seemingly tried everything… and nothing seems to stick. It certainly isn't from a lack of talent or effort, it just doesn't seem to be in the stars for him. If he does, it'll be the best story of the golf year, save for Tiger winning anything else. I'm rooting for him, but also cowering in fear for him.

Scottie Scheffler - Scottie's the defending champion and deserves his respect. He'll play well this week and he'll contend. It's hard to envision a scenario otherwise. He went on that heater last year and capped it off with the biggest win in golf, and he hasn't slowed down much. Easily could have taken the US Open last year, he took Phoenix yet again, added another major resume piece with a Gold Man at Sawgrass… and looked well on his way to winning in Austin yet again too. There's just nothing I could say with any sort of validity or credibility to knock this man down. He deserves to be a co-favorite, and my pick of Rahm is merely me looking at the value of one vs the other and closing my eyes and hoping Scheffler doesn't do it all over. Yet again. 
He's Tiger Woods.
Andrew Redington. Getty Images.
It's time to talk Tiger.
Every year he tees it up is a continual blessing. This year there's not the buzz and anticipation of "will he or won't he" like there was last year… but that hardly makes it any less fun. Freddie Couples is doing what Boom Boom does every year and is gassing his guy up.
Is it crazy to think he could contend? Absolutely. But is it? IS IT??? No, not at all. He's defied logic so many times over the years and even a glimmer of that old magic will make this tournament worth it. 
In all honesty, it's an uphill battle (no pun intended but totally intended) for him to play 72 holes on this mountain of a golf course and play them well. We'll probably see some of the good stuff the first two days much like we did last year, and he'll have a little more juice on the weekend than last year… but it'll eventually catch up to him. Here's hoping he makes the cut, gives us some good moments, and doesn't look totally gassed at the end of it all.
The Card
Outrights
Jon Rahm +900
Jordan Spieth +1600
Cameron Smith +2500
Jason Day +2800 (+4000 if you're lucky)
Dustin Johnson +2800
Joaquin Niemann +7000
Top Finishes
Jon Rahm Top 5 +200
Cameron Smith Top 5 +500/Top 10 +225
Justin Rose Top 5 +1000/Top 10 +500
Xander Schauffele Top 10 +225
Sungjae Im Top 10 +335
Corey Conners Top 10 +335
Joaquin Niemann Top 10 +550
Gary Woodland Top 20 +450
Props
Jordan Spieth Leader after Round 1 +2500
Tiger Woods To Make The Cut -225
Phil Mickelson To Miss The Cut +105
Sungjae Im Top Asian +210/Top Korean +125
Corey Conners Top Canadian -134
2 or more Holes-In-One in the Tournament +125
Playoff +400 (we're due!)
Plenty more to come along the way here…
Tournament Matchups
Corey Conners (-110) over Matt Fitzpatrick
Cameron Young (-150) over Sam Burns
Cameron Smith (-150) over Brooks Koepka
Tiger Woods (-143) over Bryson DeChambeau
As it relates to daily picks, plenty more to come from me @BarstoolBanks. Hope to do daily blogs too, as is tradition. 
Well over 6,300 words on The Masters. Let's have a week.
Enjoy The Masters Tournament.