The Celtics Fell Victim To The Trap And Picked A Terrible Time For One Of Their Worst All Around Performances Of The Season
Patrick Smith. Getty Images.
The Celtics had one job last night in Washington.
Avoid the trap.
With Beal/Kuzma not playing and the big showdown with the Bucks on Thursday, last night's game against the Wizards was the very definition of a trap game. Coming off 3 straight wins, all the Celts had to do was be focused, show up for this game, and avoid the trap. 
They did none of those things.
I know we've been throwing around "worse loss of the season" a lot in the last few weeks, but unfortunately whatever you think had the top spot prior to last night has now been dethroned. What we watched last night was not only the worst loss of the season given the context in which it happened, it was one of the worst all around performances we've seen to date. There was no focus, there was no showing up, and the Celts laid an egg.
I think that's the best way to describe it. It's one thing to lose a close hard fought game. You can live with those on some level. That is NOT what last night was. 
The frustrating part of last night is after a win where you're talking like this
you can't have that type of performance in your very next game. I don't know if this was a case of the team looking ahead to MIL or what, but they did not look like a team that wanted the #1 seed last night. It wasn't just one guy either, it was 6 of the 8 main rotation guys that played. I don't care who you are playing, it could be the best team in the league or the worst team in the league, when the majority of your roster doesn't show up, that's how these bad losses happen. 
Unless the Pacers somehow beat the Bucks again today (unlikely imo), the Celts now need 3 losses from this group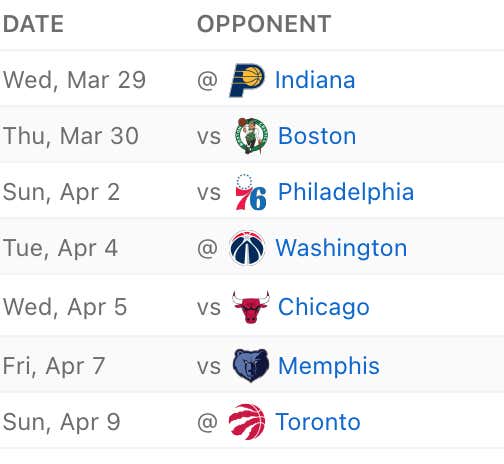 while winning all their remaining games if they want to finish with the top seed. That's a bit of an unrealistic ask, and frankly, the Celts have no one but themselves to blame for being in this spot. While both MIL and BOS are both 27-10 vs teams under .500, it doesn't help that 3 of those losses for the Celts have come in the last two weeks. Given the fact that the Celts most likely had to finish the season 10-0 in order to regain the top spot, their chances were rather slim to begin with, but that still doesn't excuse the joke of a performance we got last night. 
Let's dive in
The Good
- As I said, there were two players who showed up ready to play in this game for the Celts. The first was Jayson Tatum.
He gave you more than enough on both ends in his 31 minutes. This was one of the rare occurrences where Tatum set the tone early, and nobody else really followed. I'm not going to complain about 28/9/5 on 11-19 (2-7) shooting. The game started to get out of hand every time Tatum and Smart stepped off the floor, and defensively Tatum was one of the few that actually played with some fire. 
Heading into halftime when pretty much everyone was a double digit minus player, Tatum/Smart were just a -2. The inability to win the non-Tatum minutes was one of the biggest factors of this game. If you get this type of two way performance from your best player, that should be enough to win if everyone else just does their normal job,
- The other player that showed up was Marcus Smart. 
After not looking anything like his normal self after coming back from his injury, Smart has reverted back to his pre-injury version over the last handful of games. Over his last 6 (5-1 record), we're seeing Smart take under 10 FGA (9.3), his assists are getting back to that 5-8 range, his turnovers are low (2.0), and his shooting splits are 46/35% which is more than respectable.
In this game, it was Smart's shooting that helped keep the Celts close for long stretches. He finished 5-8 (4-7), had a couple of steals defensively and in terms of his individual matchups, he gave up a total of 11 points spread across 10 players defended. It's not exactly a hot take to suggest he was the best guard on the floor for the Celts, and it's been a while since we've been able to say that. 
So while the loss is disappointing, the big picture view is much better when it comes to what type of player the Celts are getting from Smart. He's back to his pass/defend first mentality and really the flip got switched after the CLE loss on 3/6 to make it 3 straight. Since that moment, Smart has been great (11/5 on 44/38% splits with 2.1 TOs on 8.8 FGA). It's no surprise the Celts are 7-2 in those 9 games since.
- That's it. We're moving on.
The Bad
- There is no denying that Jaylen Brown has put this team on his back since coming back with the mask. He's been incredible by pretty much every metric or eye test you want to use. 
Last night was not one of those nights.
It was a stinker. They happen to everyone. Unfortunately, we are not in the position to be having stinkers from the best players right now. A team worst -24 in his 26 minutes, Jaylen finished 9-19 (0-4) with 4 TOs. That's….not going to cut it.
The game first started to swing when Joe subbed out Tatum/Smart with a 13-10 lead at the 7:31 mark. Over the next 4 minutes, the Celtics would score just 2 points. The two lineups we saw in those 4 minutes
Brogdon/White/Jaylen/Al/Rob: 0 Ortg / 120 Drtg / -120 net rating
Brogdon/White/Jaylen/Grant/Rob: 50 Ortg / 140 Drtg / -90 net rating
were what dug the initial hole. Celts went from a 13-10 lead to a 15-23 hole by the time Joe had to put Smart/Tatum back in at 3:23. Over this span, Jaylen went 0-4 and the whole team went 1-9. That ended up being pretty costly.
Add in some careless turnovers late (4 total), and this was probably the worst Jaylen has played in months. Maybe he was due for a stinker given how consistently awesome he's been over his last 15 games, but this was a bad time to get it that's for sure.
- As important as the Jays are to the success of this team, guard play is right there. When this team gets good guard play, they go to another level.
When their guard play stinks? Nothing else really matters, even games where Tatum shows up.
Unfortunately, only one of the three guards showed up. Derrick had one of his worst games in a while with a -20 showing and not really making an impact on either end. Offensively, he only took 5 FGA and didn't really play with the same aggressive style we've seen as of late.
With Brogdon, he was a -14 in his minutes, and although he was 6-11 from the floor, defensively he was a disaster. He struggled big  time defending in P&R, and I wouldn't exactly say he provided any perimeter resistance. In fact, nobody really did outside of Tatum/Smart. That's an issue.
When the Celt struggle defensively, it starts at the point of attack. The perimeter players have to be able to prevent drives/paint points. When they don't, everything falls apart. Think of it like the head of the snake. For this team to be effective defensively, they need to limit dribble drives/plays at the rim. Let me ask you, does it look like they did that in this game? Time and time again we saw plays like this
What the hell is that? Pathetic defensive effort is what.
- I hate to say it, but this was a game where Al looked every bit the 36 year old he is. The shot was broken as hell with a tough 2-10 (1-7), only 4 rebounds and the defense was as bad as anyone else on the roster. I dunno if this was one of the "coasting" games from Al, but if so I don't love the timing. 
Was this the JJ Redick podcast curse we saw Derrick White go through? Perhaps. Either way we're going to need a much better Al moving forward. He just seemed slow in all facets.
- I suppose this is a good spot for the 11-44 shooting performance from deep (25%). When it comes to the Celts outside shooting, it's pretty simple. Just hit your average. You don't need to go crazy and make 20 3PM and shoot over 40%. Just be average. That's the bar.
Last night was the 5th time this season the Celtics have shot under 26% from three. They are 0-5 in those games. We hadn't seen a performance like that in over a month (vs NYK on 2/27), so while it doesn't happen often, there's no denying it played a role in this loss.
The worst part? Almost everything was a clean look. 
So just add it up. On a night where you can't buy a bucket on one end, and then can't prevent a bucket on the other, what do you think happens? You get you ass kicked.
- The Wizards played with pace. They were aggressive. How many times did we see the beat everyone down the floor even after makes? That's the inexcusable part of last night's defense. It wasn't like they were getting shredded in halfcourt sets. They couldn't stop anything in transition. Nobody stopped the ball, the Wizards got to the rim with ease and eventually that adds up over the course of 48 minutes. 
- Maybe I'm alone here, but I didn't exactly love this quote from Tatum after the game
This is sort of the issue. They need to come out with that pop, energy, and focus no matter who they play. Not just the Bucks. I agree, how they respond is important, but not having that mindset last night is an issue. I get maybe in the first quarter things are up in the air as the game settles. But things got progressively worse as the game went on. The Celts came out of halftime with zero fire/energy. They didn't look pissed about how the first half went, and the next thing you knew they were down 20+.
- I don't really have a problem with Joe leaving the starters on the bench in the 4th quarter. The bench is the one that injected some life for a moment, so they earned the minutes. It didn't work out, but that's life. Maybe Joe could have found some minutes here and there earlier for some energy (Payton) or some shooting (Hauser) considering those were two areas the Celts were lacking, but I don't really have a problem with the 4th quarter.
If the starters wanted to play, don't suck ass for 3 quarters.
- I'm not exactly sure what positives we got from Grant in his 25 minutes. He missed all his 3PA (0-4), and this turnover as the bench was trying to make a comeback is a play that simply cannot happen
with a chance to cut it to 10 and plenty of time left, what did Grant see here? What is the thought process to throw an extremely telegraphed one-armed pass over the middle fo the defense? Any one of us could have stolen that ball! Did he maybe not see that Deni Avdija is looking right at him because Muscala was in the way?
Even still, a terrible decision in a brutal spot.
- Here's something that I found interesting last night. The Celts are 7-11 when they allow 120+ points. That's to be expected. But did you know the Celts are now 18-21 on the season when they don't score at least 120? They're 34-3 when they do and 18-21 when they don't. On one hand, that tells you they score over 120 a ton, but on the other hand, it tells you that when things tighten up defensively in the playoffs, the Celts are going to have to find a way to be effective when not scoring 120. So far, that hasn't really happened.
The Ugly
- I mean, the defense. What else could there be for this section? When is say this was one of the worst defensive performances of the season, I am not being dramatic.
The Celts allowing 130 points is just the 2nd time all season we've seen this team give up that many points in regulation. The only game worse was the OKC loss when they gave up 150.
Last night was also the 4th highest scoring total of the Wizards' entire season. Call me crazy, but the Celtics should not be giving up the 4th highest scoring game to a team that is missing its two best players. Especially at full health. This wasn't a game where they were missing all their defenders or anything like that. Everyone played, but nobody defended.
I'm just not sure what they expect to happen when you give up 29, 35, and 31 point quarters. Sure Porzingis was making some tough shots, but that is not why the Celts got blown out. They got crushed because collectively they were asleep on defense. Given how good they've been on that end this season (4th) and since the All Star Break (3rd) and in the month of March (1st), I find this to be pretty inexcusable given what was on the line.
If the Celts don't defend, they die. There will be nights where their shots don't fall. You can still win those games as long as you show up defensively. When you do neither, last night happens.
So here we go. The game against MIL loses a little bit of drama unless they somehow lose today, but with 6 games left and a couple good tests remaining, the sky is not falling. If the Celts end up in the 2 seed, so be it. If they somehow get the 1, cool. What they can't do is no show like we saw last night. If they do that, they aren't going to like what happens.