Why Your Favorite Baseball Team Can And Cannot Be a Contender This Year: 2023 National League Edition
To the dismay of many I've regained movement in my fingers after writing yesterday's 4600+ word American League breakdown, which you can read here. Seriously there's something wrong with you if you read that entire thing. Might be time to look in the mirror and re-evaluate some life decisions. 
With that being said it's time for the National League edition. Unlike the AL, the NL is pretty deep with true contenders. There are six bonafide World Series contenders here whereas on the other side you're looking at three, maybe four? Let's cut the b.s. and dive in. 
Again, over/unders are provided to you via the Barstool Sportsbook
NL East
Atlanta Braves (o/u 95.5) 
The Braves boast one of the best lineups in the game. I said yesterday that the Blue Jays 1-9 is so unforgiving that it's tough to top and they still probably have Atlanta here, but man is this a consistent bunch. You don't have a fun time as a pitcher facing these men. 
I think something that got a little slept on last year was that Ronnie Acuna was below average by his standards. A .764 OPS for a guy like him? The Braves getting a vintage Acuna season would push their ceiling even higher. An issue for me here is their pitching. Right out of the gate you've got Soroka, Wright, and Iglesias on the IL. Name to look at? The organization's top prospect Jared Shuster who shoved during Spring. That performance earned him at least a start or two to begin the season. Who knows what that turns into if the good continues to show. 
Contend: The Braves offense is relentless all year long. Ronnie bounces back to top 10-15 MVP form and the pitching figures itself out once the injured return. Shuster really does look all the parts of an impact rookie so I'm sure they'll have a 10 year $56 million contract served up to him by May. They're a well oiled machine at this point and it's naive to expect anything less than 95+ wins. 
Fail: For me it all comes down to pitching. Right now there aren't a lot of assurances here after Fried and Strider. Morton is more like a 5 at this stage of his career so relying on him for too much isn't wise. Is Mike Soroka the most cursed man to ever live? If I'm him I worry about leaving my house to get the mail and coming back in one piece. This dude was so fucking good in 2019. but since then he can't make it onto the field. So far so good with him in Spring and he's expected to join the team later this month, but I worry about his well being when he tries to do sports. 
New York Mets (o/u 93.5) 
I can already hear Frank screaming. The day after the Diaz injury I was legitimately concerned with the noises that were coming out of that man in the office. Now that he's ruined Darin Ruf's life and caused him to lose his job, I don't know where he turns next. My money is on Eduardo Escobar, but no one is safe. 
The thing with the Mets is that they really didn't do a whole lot to improve an offense that left them in the dust against the Padres in the Wild Card series. You'd think with Cohen running the show they'd go nuts in the market and make sure that wouldn't happen again. To be fair, they did pry Carlos Correa away from the Giants. The only problem there was that they soon found out the cruel truth about the broken man themselves. The lineup is going to look exactly the same besides James McCann's departure. Their top prospects in Francisco Alvarez and Brett Baty begin the year in the minors, but you gotta believe that doesn't last long if the offense sputters early. 
The rotation should be more than fine as long as the olds don't actually act old. Senga is a question mark, but he's comfortably in that 3 spot to limit the pressure. If JV and Scherzer are themselves, that will do wonders for Senga easing in. The pen without Diaz might turn into a game of musical chairs if David Robertson can't get it done. 
Contend: You've got Max Scherzer and the reigning AL Cy Young winner going 1-2 in your starting rotation. Can't draw it up much better than that. For the Mets to be really good this year and win this division they're going to need Alvarez and Baty to be solid contributors in the lineup. No Diaz is going to hurt and that might force their hand at the deadline to seek out a closer on the market. Just imagine if Aroldis Chapman is having a great first half for the Royals? Speaking from experience that is a scenario that could potentially end the Tank. 
Fail: Scherzer and Verlander are 78 years old combined. At some point they have to pitch like their age. If 2023 is that year that'd be a real shame. Diaz was such a weapon and safety blanket at the end of games last year. While Robertson saved 20 games in 2022 between his stints with the Cubs and Phillies, those are some major shoes to fill for a soon-to-be 38 year old. Couldn't you see Frank calling Senga Kei Igawa by July? Offensively it's the same squad with the rookies likely contributing a bunch (similar to the Yankees). They won 101 games with that offense, but the Mets also got bounced by the Fathers early in October because of their struggles at the plate. Really feels like a missed chance to add this offseason in that area. There's always the deadline I suppose. 
Philadelphia Phillies (o/u 88.5) 
This was a really fun lineup to look at a week ago before Smitty proclaimed Rhys Hoskins was going to be an MVP candidate. A few hours later the Phils first baseman ruined his knee and left this offense looking a bit weak. At the moment it's extremely top heavy with Trea Turner, Kyle Schwarber, and J.T. Realmuto. Don't get me wrong, that's a very good group of hitters, but no Hoskins hurts. You're not getting Harper back until July and even then he's probably not going to play a lot in the field, which leaves you vulnerable defensively with Castellanos. Certainly helps when you've got Nola and Wheeler as your 1-2. If anything happens to them shit gets thin quick. I absolutely love what they did with their bullpen, which had been a disaster unit in the recent past. Gregory Soto, Andrew Bellatti, Craig Kimbrel, Jose Alvarado, and Seranthony Dominguez is really fucking good. That's a pen that can solve a whole lot of issues and win you plenty of games. 
Contend: The big three I mentioned before hold down the fort until Bryce returns on a mission. From that point on it's go time and the Phillies ride the momentum of last October into the postseason. I keep looking at those names in the bullpen and drooling. It's full win-now mode in Philadelphia and that's super exciting for their fans. Good news is that Dombrowski has never met a prospect he didn't want to trade. If he feels like they need another impact bat in July he'll go get one. 
Fail: I worry about these names. Can three of these guys step up and produce all year long to help make up for Hoskins absence as well as Harper's until he comes back? 
If one of Wheeler or Nola don't pull their end or get hurt that rotation makes me worried. 
Miami Marlins (o/u 75.5) 
The Marlins remain in purgatory. They've got youth to show off, but none of it is enough to make me think they can fuck around and sneak into the playoffs. Sandy Alcantara is a cheat code, but after him it gets very bland pitching wise at the moment. 
Contend: The Marlins invest heavily into cloning, making five more Sandys (one to close). The offense would just need to scrape across a few runs a game at that point. I'd like their chances to win the division if Kim Ng could cook this up. 
 Fail: This team is realistically a few years away from making noise. Eury Pérez will be extremely good when he's ready, but it's not time. I didn't hate the Pablo Lopez-Luis Arraez trade for them. In fact that's the kind of move they need to replicate with the plethora of young pitching they have in the farm. Add to your offense that way and things might happen down the road. Do not trade Sandy.
Washington Nationals (o/u 59.5) 
A really fun game to play is "name players currently  on the Washington Nationals." It's incredibly difficult. Listen, they won their World Series and then blew it up from there. It is what it is. The front office and ownership have a leash with the fanbase because of that title. It's not a good lineup and it's for sure not a good starting rotation. A handful of the people in their pen could be made up.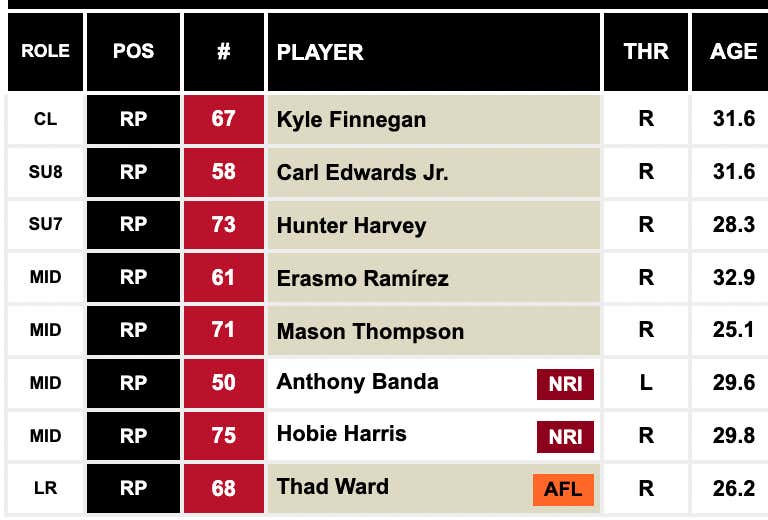 Finnegan, Carl Edwards Jr. Ramirez, and Banda. That's all I got. Everyone else certainly could be a create-a-player and I wouldn't question it. 
Contend: The Mets falter and Frank the Tank devotes all of his attention to dark magic and vengeance, as he begins to curse every team in the NL East. Tragedy meets every single team he can get his hands on. Just as the Tank rolls into DC he spots a hot dog stand he must try. The cops spot him in the wild and apprehend the mad man before he can get to the stadium. The Nationals then go on to win the NL East. A storybook season. 
Fail: There's no team that has any chance of winning games with Patrick Corbin as their ace. Is Stephen Strasburg an alive human being? As far as I'm concerned Jacoby Ellsbury and Strasburg are one in the same, and by that I mean fictitious characters.  
NL Central
St. Louis Cardinals (o/u 89.5) 
The Red Birds are an interesting bunch. They're the clear-cut favorite to win the division. A lot would have to go wrong for someone else to take that title from them. With that being said I don't think they're a World Series caliber team. Nothing about Mikolas, Flaherty, Montgomery, Jake Woodford, Steven Matz, and eventually Adam Wainwright scares me in the postseason. Pretty much every playoff game they're in they won't have the better starting pitcher. The offense is great, but that's not a championship winning rotation. 
Contend: The St. Louis Cardinals are going to contend and more than likely win the NL Central. Goldy, Nolan, Wilson Contreras, international icon Lars Nootbaar, Gorman, and top prospect Jordan Walker combine for a deadly offense. Runs will not be an issue for this team. They're better than everyone else in the Central. 
Fail: The rotation is even worse than I imagined to the point where the offense can't carry them. That's all I got. This division is theirs once again. 
Milwaukee Brewers (o/u 84.5) 
Why do the Brewers do this? Why don't they care more? Yes they added William Contreras, but that's it? That offense needs so much more. The rotation needs better depth than what they're getting from their 3-4-5. The pen is thin after Devin Williams. They have several nice pieces, but refuse to go the extra mile to put them in arms length of the Cardinals. 
Contend: This is a purgatory team to me, but they shouldn't be. How do they contend? Christian Yelich's back gets magically fixed and he stops pounding every single ball into the Earth's crust. The fact that he went from back to back 1.000+ OPS seasons to now three consecutive sub .800 OPS years is insane. Such a cool dude off the field, but his career went down a sad path. Lucky for him he still has lots of money to fall back on. 
Fail: Lackluster offense, average pitching, and a so-so pen. They should have never changed the name of Miller Park. I'm guessing Corbin Burnes gets traded mid-season. 
Chicago Cubs (o/u 78.5) 
I'm not entirely sure the direction the Cubs are going in. We knew the core from the World Series team wasn't going to be kept together and had to be moved on from for prospects. After this offseason you're looking at a mish-mosh group of vets. 
That's a lineup alright. Is it any good? For sure not, but at least fans buy tickets to the games and now who is at the plate. Hosmer, Bellinger, Mancini, Happ, Swanson are all guys casual fans are going to recognize and maybe pay to see. Can't imagine there was any other plan here other than that. I could definitely see that lineup tricking my brain a few times into betting them on a Friday afternoon when they're home and nothing else is going on. Dammit. 
Contend: I'll say this. If Cody Bellinger becomes an MVP again then I'll start paying attention to the Cubs. Dansby Swanson is a prime regression candidate here off of that contract year, but maybe he's just keeps it going feeling the need to be the face of a franchise. I actually don't hate the rotation aside from Stroman who is the biggest asshole in the league. It's gonna hurt to see Yankees pitching prospect Hayden Wesneski do his thing all year while Scott Effross recovers from TJ surgery for New York. He'll be very fun to watch pitch. 
Fail: The Cubs lineup of washed vets doesn't translate into magic. Their bullpen constantly blows any sort of lead they accidentally manufacture and Stroman turns the entire fanbase against him.  
Cincinatti Reds (o/u 67.5) 
How are there so many bad teams in the NL Central? Like, what's happening here? The Reds don't have a serious starting lineup, starting rotation or bullpen. Hunter Greene's stuff is electric to watch at least. Without him there would zero reason to pay money to attend a game at Great American Ball Park this year. 
Contend: Manfred changes the rules so that every run the Reds score counts double. I'm still not sure that gets them to where they need to be, but it's a start. 
Fail: They're not contending. Bob Castellini needs to sell this team and do something else with his money. 
Pittsburgh Pirates (o/u 67.5) 
Seriously, what the fuck is wrong with this division? You have to try to construct teams this poorly. Similar to Hunter Greene for the Reds, at least the Pirates have Oneil Cruz to put asses in the seats. I could watch that dude simply throw a ball from shortstop and be plenty amazed for hours. It's fun McCutchen is back where it all began, but not so fun when he's the team's 3 hitter. Good lord this team sucks. Mitch Keller is their Opening Day starter followed by 43 year old Rich Hill. If you're a Pirates fan, I'm sorry you deserve better with that beautiful park you have
Contend: I think the Pirates' officials are rooting for natural disasters at this point. Their front office has discussions about when the big one is coming in California or when Yellowstone's supervolcano is going to erupt. That's when it's their time. Start the league over, unplug the game console, and maybe they can figure something out. 
Fail: In what reality does this team win 75 games? Our next President needs to fix the NL Central. 
NL West
Los Angeles Dodgers (o/u 95.5) 
For the first time in a while the Dodgers come into this season not exactly tagged as world beaters. Yes their win total o/u is still very high, but there's not exactly fear when you look at this lineup, is there? Maybe I'm wrong. 
Pretty tough to have a better 1-2 punch at the top than Betts and Freeman, but other than that it's pretty whatever. The Dodgers stayed fairly quiet this offseason which many believe is a sign they're ready to go all-in on an Ohtani trade/signing. That very well could be the case, but for now the Dodgers of 2023 don't scare me like they have in the recent past. 
With Walker Buehler rehabbing his TJ surgery and Gonsolin missing time with an ankle sprain their opening day rotation looks like this: Julio Urias, Dustin May, Kershaw, Syndergaard, prospect Ryan Peplot. Buehler looks like a late season addition while Gonsolin shouldn't be too long. That said, I'm not blown away by those names. 
Contend: Despite being down on the Dodgers, they're still a contender obviously. They will add at the deadline and if they can get a serviceable Walker Buehler back in August that's gonna be big time. Could also see the LA witch doctors turning back the clock and making Noah Syndergaard a weapon again. It should be fun to see Dustin May pitch for a full season finally. We should be seeing the MLB debut of top 25 prospect Bobby Miller this year. Their system is loaded, allowing them to promote from within or trade for a big player. They can become super dangerous at just the press of a button. 
Fail: The Dodgers' quiet offseason comes back to hurt as their lineup fails to produce enough runs on a daily basis. The rotation produces average results and a lack of a true closer kills them even if that part of the game is getting phased out. If either Betts or Freeman don't play to their potential it really puts a lot on the rest of the guys in that order to step up and I'm not they're capable of doing so. The Padres only got better and have all the confidence in the world after knocking out their rivals in October last year. It's very possible this is a wild card team in 2023. 
San Diego Padres (o/u 93.5) 
Xander. Soto. Machado. Tatis Jr. My god is that a foursome. I'm not sure there's a more interesting player in all of baseball this year than Fernando. Clearly he's out of the infield plans with Xander being brought in and Manny's extension, so how does he adapt to not only being the cancer that he was last year, but also being a full-time OF. Not sure there needs to be worry about his arm…
Routes to balls and his overall feel out there will be the concern. 
There's no doubting the man's ability to hit as well. In 273 games so far in the big leagues you're looking at a .965 OPS. The question is can he get his head on straight? If he can you're looking at a lethal offense with good secondary guys like Crone Zone,  Carpenter, and even Nellie Cruz. For the first time in forever the Padres seem neck and neck from the jump with the Dodgers. I'm stoked to watch that battle play out all season long. 
Contend: Tatis plays ball and lights the world on fire. The Padres quickly forget about all the bullshit in 2022 and embrace the shit out of him as he soars near the top of outfield assists in the whole league. In Juan Soto's 52 regular season games with San Diego he was pretty below average by his standards. Still a 130 OPS+, but we know what he's capable of. I'm expecting a MONSTER 2023 from Soto, especially with how he looked during the WBC. Always gotta give a new guy to an org a full offseason there to settle in. You're getting MVP Soto in 2023 and it's gonna make the Padres so fucking good. 
Fail: Tatis Jr. does not mature and instead gets Soto and Xander to join his motorcycle gang. Things proceed to go off the rails from there. The starting pitching proves to not be good enough while Josh Hader reverts back to not knowing how to get guys out. All the expectations coming off last year's NLCS appearance prove too much to handle and they crumble. 
San Francisco Giants (o/u 80.5) 
Big offseason for the Giants. Not only did they land Aaron Judge, but they also signed Carlos Correa. It's go time in San Francisco. Oh wait, they only got Michael Conforto? Jon Heyman belongs in prison for what he put multiple fanbases through this winter. Hey maybe Conforto wins comeback player of the year! They don't have a terrible rotation, with Logan Webb leading the charge, but the lineup is going to struggle for runs. Turns out Joey Bart is not in fact Buster Posey. 
Someone explain to me how the San Francisco Giants won 107 games a couple years ago. We just got that Netflix doc on the missing Malaysian Flight. How about one of that team? Two years later and they're looking at an 80.5 o/u.
Contend: Whatever they did in 2021, happens again. I don't know if it was a sneaky cheating system, a savant of a coach being able to read every pitcher's tendencies, or undetected steroids. Whatever it is, do that again and I like their chances. 
Fail: Corforto is not Aaron Judge or Carlos Correa. 
Arizona Diamondbacks (o/u 75.5) 
It still bother me that Merrill Kelly started for Team USA in the WBC. We couldn't do any better than that? Well, the D-Backs aren't any good. They do have fun guys to watch like Zac Gallen, ROY candidate Corbin Carroll, and Ketel Marte. After that you're just watching bad baseball for the most part at a pretty terrible stadium. 
Contend: Corbin Carroll is Mike Trout, Gallen repeats his 2022, and Bumgarner thinks it's 2014 again. 
Fail: This isn't a good team, but in the mean time go check out the Barstool Scottsdale bar. 
Colorado Rockies (o/u 66.5) 
I don't know what the Rockies are doing and I don't think the Rockies know what they're doing. This team makes no sense. Why did they pay for Arenado to go to St. Louis, get back shitty prospects, and then turnaround to give Kris Bryant the bag? Regardless of their record at least their home games are fun to bet the over on. 
Contend: Open, blatant cheating. Steroids, spy cameras, buzzers, spidertack, different baseballs. They need it all. 
Fail: Dick Monfort is a scumbag
Admittedly this one wasn't as good as the American League breakdown. I got fatigue, but hopefully you enjoyed yourself. I need an ice bath. Not sure I've written that many words in one sitting since college as I used every piece of fluff to meet the word requirement. 
Anyways, here's to a great season folks. If you read any part of these two blogs I commend you. Here's Jessica Biel to send us out