The Venezuela Clubhouse Looked Like The Party Of The Century Last Night After They Took Down The Dominican Republic in The World Baseball Classic
Who was having more fun that Team Venezuela last night? Not the Dominican Republic, that's for sure. After Venezuela knocked off the tournament favorite they decided to celebrate their faces off in the clubhouse. Doing his best Antonio Brown impression, Ronald Acuña Jr hopped right on IG Live to bring us a great POV of their celebration. 
Them celebrating like this really shows you how much this means to them, representing their country and beating a gigantic favorite, these guys were pumped and you can't blame them. Acuña was definitely the ring leader but I also saw Gleyber Torres in there partying it up with Robinson Chirinos along with a few other MLBers. Just by watching the video it's tough to tell if they just won the whole thing or if it was just a pool play game, but I don't care. I love the enthusiasm from them, they just knocked off the favorite, I want them to be partying it up. 
But my favorite part of the celebration was Gleyber going around the clubhouse and Miguel Cabrera was standing alone eating a plate of food. Couldn't wait till the game was over to munch. Looks like me with my leftover Panda Express at 2 AM standing alone in the kitchen.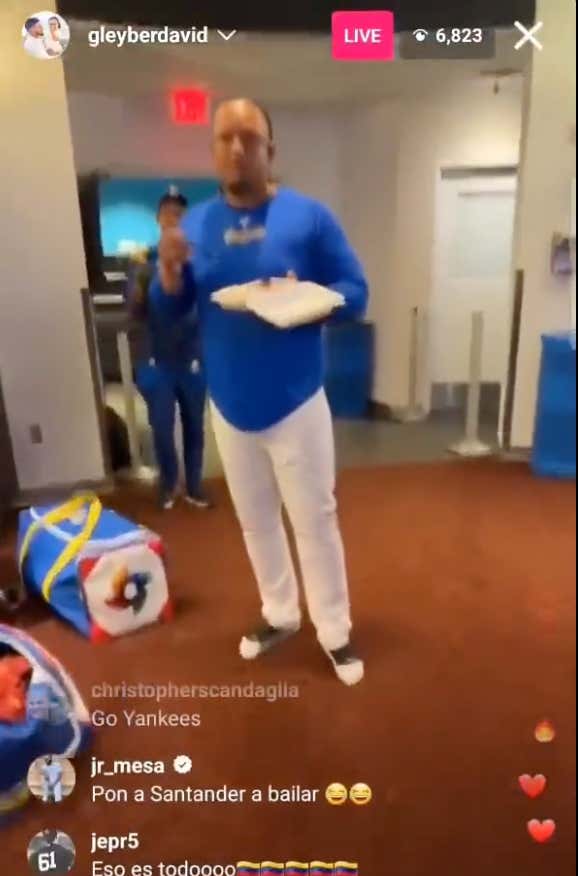 This is a guy who didn't want to dance, he just wanted to eat. Miggy looks legit upset that they found him, just leave the guy alone and let him eat! He is a dad so he has perfected the standing while eating, probably the only time he could get a snack in. Laugh out loud funny though, love his facial expression. 
They can celebrate this win but can't overlook Puerto Rico coming up later today. Love a good celebration from the boys though, I'm sure they were dancing and singing until the early morning. And Miggy was probably still just eating in the corner alone.