Steven Cheah's 2023 NFL Mock Draft 3.0 - Post-Panthers Trade Edition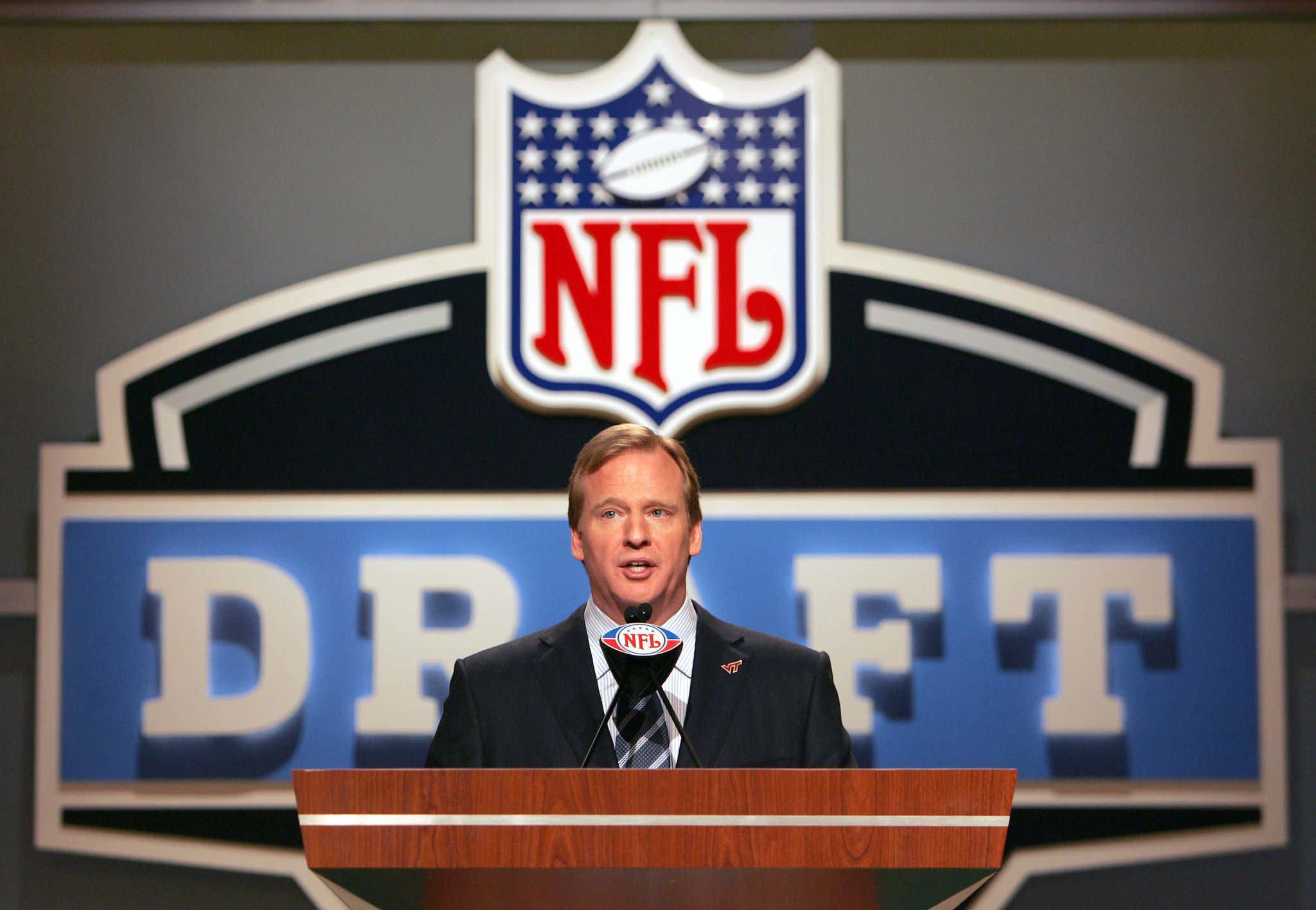 Richard Schultz. Getty Images.
It was a nice Friday and all of a sudden the NFL Draft world got shaken up with the Panthers trading up to the #1 spot via the Bears. We've got a new odds on favorite for the #1 pick, so I figured the people need a new mock draft.
For reference, here is Mock Draft 1.0, 2.0
1) Carolina Panthers (via Chicago Bears) - QB CJ Stroud (Ohio State)
The Panthers make the move up to get their guy. Bold to say the least. Especially considering they included DJ Moore in the deal and now have an immediate need at WR. Stroud was the overwhelming favorite in the Barstool Sportsbook to go #1 now after a curious leap in the standings on Thursday. 
Stroud had a terrific throwing session at the Combine and the Panthers must really be smitten as they gave up a pretty penny to get him. Unfortunately for Stroud, he walks into a team with these weapons to surround him:
RB: D'Onta Foreman, Chuba Hubbard
WR: Terrace Marshall Jr., Shi Smith, Laviska Shenault
TE: Ian Thomas
Which may make it tough to find early success.
2) Houston Texans - QB Bryce Young (Alabama)
The word on the street is that Young has been the Texans guy all along. There are thoughts to potentially trading up to #1 to get him as the Panthers have put the word out that they're still open to moving down. I'm not buying it though. The Texans get to sit tight at #2 and pick the guy they would have at #1. Young is a great talent, but 5'10 1/8" and 204 lbs. could make it tougher to find long term, sustained health in the league.
3) Arizona Cardinals (via Indianapolis Colts) - EDGE Will Anderson Jr. (Alabama)
Will Anderson Jr. was viewed as the #1 pick coming into the season and still could end up there. He's a tad undersized at 6'4" 241 lbs., but he's got that twitchy athleticism and strength that teams crave. Who knows what the hell will be the Cardinals long term plan. But they clearly need better pass rush, so Anderson makes sense here.
4) Indianapolis Colts - QB Anthony Richardson (Florida)
Colts GM Chris Ballard is a bet on traits guy and there are two QBs available here at #4 with very intriguing traits. Richardson fits the bill moreso than Levis (or any QB for that matter) with insane measurables featuring a 4.44 40-yard dash and a 40.5" inch vertical leap. He also had a good throwing session and had some #1 pick buzz. His ceiling is the highest in the draft but his floor is mighty low too. Looking at his size compared to other top NFL guys is nuts too. He is a Quarterback!
5) Seattle Seahawks (via Denver Broncos) - EDGE Tyree Wilson (Texas Tech)
Tyree Wilson is a riser right now with his 6'6" frame clocking in at 271 lbs. with long 33 5/8" inch arms. Seattle needs more guys to get after the QB and Wilson put up 27.5 sacks the past two seasons for the Red Raiders.
6) Detroit Lions (via Los Angeles Rams) - DT Jalen Carter (Georgia)
Carter's image definitely took a nosedive recently with the charges coming out but in reality I can't see him falling past #6. He is one of the top players in the Draft and would immediately upgrade the interior of Detroit's line to help get after Justin Fields, Kirk Cousins, and whoever is playing QB for the Packers. 
7) Las Vegas Raiders - QB Will Levis (Kentucky)
Nobody knows what Las Vegas will do and their need for a QB is glaring after releasing Derek Carr. Levis is the type of QB that McDaniels has liked in the past and it's hard not to like Levis with his traits. But his production in college left you wanting more. Let's see if he can achieve that with Davante Adams, Hunter Renfrow, and Darren Waller to throw to.
8) Atlanta Falcons - EDGE Myles Murphy (Clemson)
The Falcons love drafting Clemson Defensive Players and have actually had pretty good success with it (A.J. Terrell, Grady Jarrett, Vic Beasley (at least for a year or two). Murphy, who at 6'5" 268 lbs. can help them add to that lineage. He plays with a great motor. He had 18.5 sacks and 36.0 TFLs in three years at Clemson. Check out this bend!
9) Chicago Bears (via Carolina Panthers) - CB Christian Gonzalez (Oregon)
The Bears trade down but still land a blue chip prospect in Oregon's Christian Gonzalez, who may have solidified his standing as the top CB after he blazed a 4.38 40-yard dash at 6'1" 197 lbs. with 32" inch arms. A former Receiver, he has great ball skills and is almost like a create a player for what the modern day Cornerback looks like.
10) Philadelphia Eagles (via New Orleans Saints) - CB Devon Witherspoon (Illinois)
James Bradberry had the critical penalty in the big game and is an expensive veteran. Darius Slay is also getting older so I can see Howie Roseman looking to find a cheaper alternative in Witherspoon. DW is an aggressive, physical Cornerback who will fit right in to the Philly defense.
11) Tennessee Titans - OT Paris Johnson Jr. (Ohio State)
The Titans have a lot of needs as their Championship window seems to be firmly closed at this point. I'm not sure Ryan Tannehill or Josh Dobbs or Malik Willis is the answer at this point, but why not give them the most protection possible and find out?
12) Houston Texans (via Cleveland Browns) - TE Dalton Kincaid (Utah)
Tight Ends are a young QB's best friend and Kincaid headlines a legendary TE class. He's not the greatest blocker, but he's a fluid route runner with athleticism to burn. He should be a superstar at the position within a few years.
13) New York Jets - LB Drew Sanders (Arkansas)
The Jets could use some help at LB and Sanders is an interesting player who can play both Inside Linebacker or EDGE rusher. After transferring from Alabama, he put up 103 tackles, 13.5 TFLs, 9.5 sacks, 3 FFs, 5 PBUs in 2022 for the Razorbacks.
14) New England Patriots - WR Quinton Johnston (TCU)
The Patriots have a bunch of needs, but none moreso than WR where there guys haven't gotten it done recently. At 6'3" 208 lbs. with a 40 1/2" inch vertical, Johnston is a big bodied target and can give Mac Jones some more ammo on the outside.
15) Green Bay Packers - OT Peter Skoronski (Northwestern)
The Packers continue to get younger across the OL and Skoronoski just sounds like a Packer pick. At 32 1/4" inch arms, he may have to kick inside to Guard where he should dominate.
16) Washington Commanders - OT Darnell Wright (Tennessee)
The Commanders don't know who will be throwing the ball next year. But whether it's Sam Howell or someone else, they'll need to protect them and Wright has some intriguing tools to pass on at #16.
17) Pittsburgh Steelers - CB Joey Porter Jr. (Penn State)
This is a great story. Steelers legend Joey Porter's son is on the board and the black and yellow trade up to go get a guy who could help their secondary a ton. The bloodlines run deep and Porter is a physical, hit you on the mouth CB that would fit in great in the city his dad made the name famous.
18) Detroit Lions - RB Bijan Robinson (Texas)
Jamaal Williams is a free agent and D'Andre Swift can't stay healthy. The Lions go with Robinson here and nab two of the top players in the draft with Robinson and Jalen Carter. Robinson ran for 3,410 yards in his college career and should be an elite NFL Runningback right away.
19) Tampa Bay Buccaneers - EDGE Lukas Van Ness (Iowa)
The Bucs have a lot of holes to fill as Tom Brady ain't walking through that door, but they've called Kyle Trask the best QB in the division and they've got more positions of need than just QB. Tampa had success drafting out of Iowa with Tristan Wirfs so I'm sure he'd endorse the man they call Hercules at #19. The major issue that comes up with him is that he never started for Iowa, but they do start the older players and bring in guys rotationally, so no issue on my end. Van Ness is a bigger bodied EDGE that could eventually kick down to a 5-technique.
20) Seattle Seahawks - DT Bryan Bresee (Clemson)
The Seahawks love big bodied Defensive Lineman and at 6'5" 307 lbs., Bresee fits that bill. He's battled a ton of family adversity and is a great story you really want to root for. But in addition to that, he can really get after the Quarterback from the interior which makes him a good fit for Seattle at #20.
21) Miami Dolphins - FORFEITED
Remember this? Oof!
22) Los Angeles Chargers - WR Jalin Hyatt (Los Angeles Chargers)
The Chargers have a QB with a certified rocket for an arm yet were 23rd in yards per pass attempt and 26th in yards per completion. Mike Williams is a good deep threat for 50/50 balls, but he lacks the top end speed to truly take the top off a defense. Enter Jalin Hyatt who blazed a 4.40 40-yard dash at the Combine and I could see the Chargers getting back closer to the top of the league in those categories.
23) Baltimore Ravens - CB Emmanuel Forbes (Mississippi State)
Both Marlon Humphrey and Marcus Peters have battled injuries in recent seasons and Forbes is a really interesting prospect. Forbes is a dynamic player on the outside and torn up Indy with a 4.35 40-yard dash. The concern is his weight, which clocked in at 166 lbs. which is over 100 lbs. less than former Mississippi State personality Brandon Walker. Unlike BWalk who is a plug and play guy for Barstool, Forbes may be a bit of a project, but his upside is tremendous.
24) Minnesota Vikings - LB Trenton Simpson (Clemson)
The Vikings released longtime LB Eric Kendricks and could use a younger, faster replacement. Simpson blazed a 4.43 40-yard dash at 6'3" 235 lbs. and can help shore up the Vikings LB corps.
25) Jacksonville Jaguars - DT Calijah Kancey (Pitt)
Kancey is an interesting one as he's similar sized than Jags fan, Duggs, but bigger than Jags fan, Chaps. At (6'1" 281 lbs.) he similarly profiles to Aaron Donald coming out and obviously from the same school. But 14.5 TFLs and 7.5 sacks from the interior in one season is hard to ignore. 
26) New York Giants - WR Jaxon Smith-Njigba (Ohio State)
Daniel Jones needs some more weapons to grow with. Enter JSN who had an injury plagued 2022 but burned up 2021 with 95 catches for 1,606 yards and 9 TDs. He's still yet to run a 40 and that could move him up or down on the board greatly as there are questions about his speed, but his size (6'1" 196 lbs.) was good.
27) Dallas Cowboys - CB DJ Turner (Michigan)
Turner was a guy I had heard could be on the 1st round map and his performance in Indy solidified those thoughts with a 4.26 40-yard dash. Putting him opposite Trevon Diggs would give the Cowboys a dynamite pairing in their secondary.
28) Buffalo Bils - EDGE Keion White (Georgia Tech)
Once Von Miller went out, Buffalo's defense became a lot more vulnerable. They drafted Gregory Rosseau and Boogie Basham but they could still use more help and Keion White who is a freak athlete on the outside. A jumbo sized EDGE at 6'5" 285 lbs., he could bolster their rotation to get after the Quarterback.
29) Cincinnati Bengals - OT Broderick Jones (Georgia)
Speaking of guys going down, the Bengals were playing with scraps like Jersey Jerry after a 1pm slate he put it all on a Diontae Johnson TD. Their Offensive Line was just decimated and Jones gives another healthy, talented body who could challenge Jonah Williams for the starting LT gig Day 1.
30) New Orleans Saints (via Denver Broncos) - TE Darnell Washington (Georgia)
The Saints have gone all in on Derek Carr and oh yeah, his Receivers are trash. Michael Thomas is just a name. He doens't actually play games. Washington is a massive Tight End at 6'7" 285 lbs. and he can not only help set an edge in the run game, but he's got the size and hands to make big catches in the passing game.
31) Philadelphia Eagles - EDGE/LB Nolan Smith (Georgia)
The Super Bowl runner up gets a big lift to their defense with Devon Witherspoon at #10 and now Nolan Smith at #31. At 6'2" 238 lbs., this EDGE rusher from Georgia blazed a 4.39 40-yard dash. The knock is that he doesn't have a true position as he's not a dynamic pass rusher. But what he is is a freakshow athlete and a good Defensive Coordinator will find a way to utilize his natural athletic gifts. 
32) Kansas City Chiefs - WR Jordan Addison (USC)
The Chiefs won the Super Bowl, but their receiving corps struggled overall. Outside of Travis Kelce, they don't have nearly enough weapons. Add in Addison and now we're cooking with gas. He doesn't have ideal size at 5'11" 173 lbs. and didn't blaze a crazy 40 (4.49), but he does have a natural feel for route running and how to get open.
Thanks for reading! Stay tuned for the next version 4.0 in a couple of weeks.