It's Pretty Clear That Draymond Green Still Hates Jordan Poole With A Passion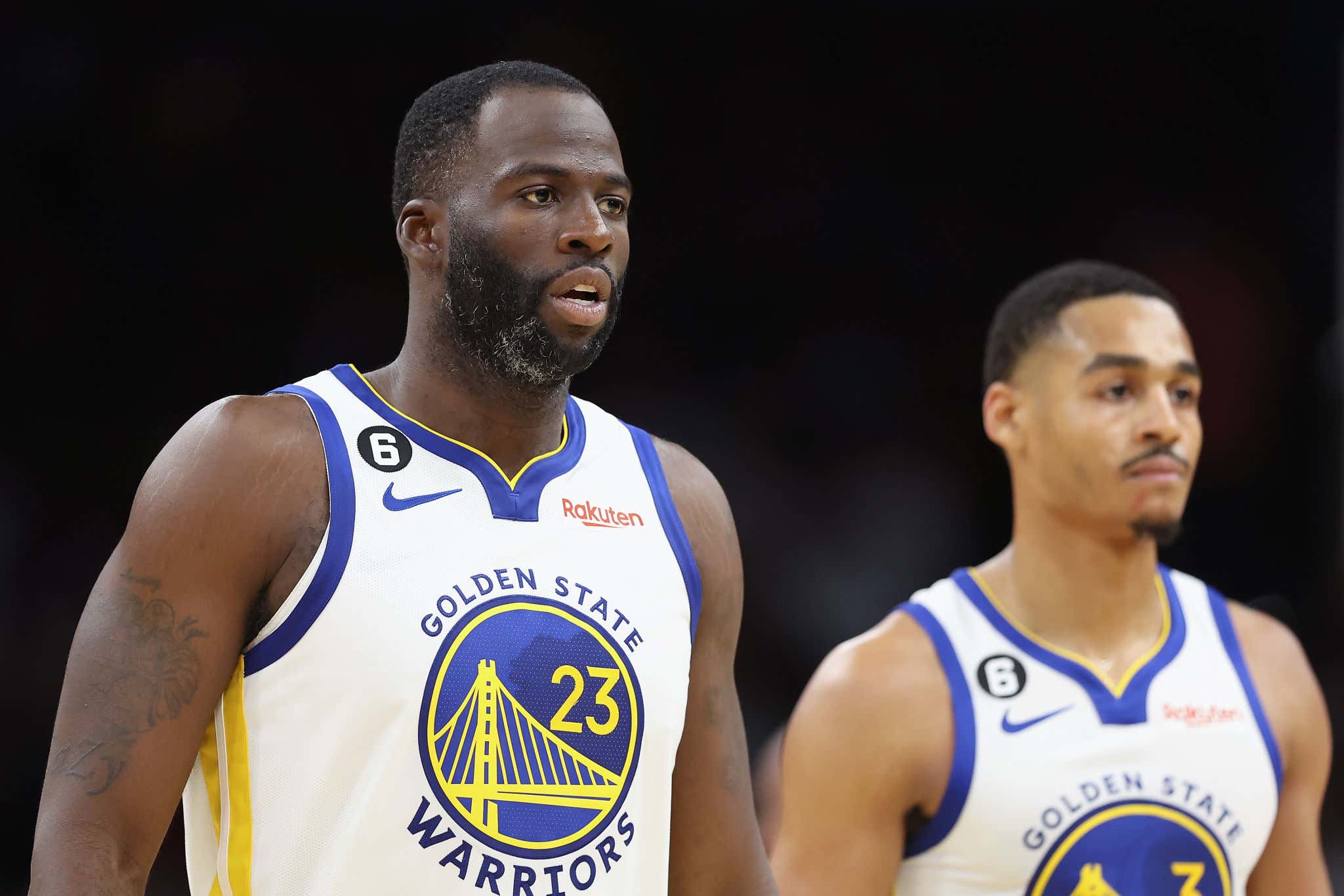 Christian Petersen. Getty Images.
Steph Curry may have returned to the Warriors lineup a few days ago, but unfortunately for GS their problems still remain. After losing on the road to the Lakers on 3/5, the Warriors followed that up with a brutal 137-128 loss on the road to OKC (I know how that feels), which brings their road record on the season to an inexplicable 7-25. For perspective, the 15-51 Pistons are 7-26 on the road.
The good news is despite this little mini slide, the Warriors did wake up this morning with a 0.5 game lead over MIN for a top 6 seed. Of their final 16 games, 7 are at home where the Warriors are 27-7, but those games consist of matchups against MIL/PHX/PHI, so it's not as if those are going to be easy. 
But after last night, I'm not sure the Warriors road record is their biggest issue at the moment. Here we are in almost mid March, and it's pretty obvious that there's still something going on between Draymond and Poole. All you had to do was see this play at the end of the first half from last night
Is it crazy to suggest that this team and these players in particular are still feeling the effects of the punch seen around the world? Perhaps. Things have felt off all year for this team, even when Steph Curry is in the lineup. Personally I think that has more to do with their roster construction, but you can probably lump it all in together if you'd like.
On this particular play though, I'm not really sure why Draymond is throwing a temper tantrum like this. Was he open? I guess? Josh Giddey was also RIGHT THERE and there's a good chance he steals that pass anyway. 
Quick side note, Josh Giddey is turning into a really fucking good player. His 3PT shooting is starting to come around and live in the mid 30's, and that is huge for his development
But back that Warriors play. Quitting like that and totally giving up on a play is a terrible look for Draymond considering Klay Thompson tried to pass him the ball just like he wanted, and as one of the leaders of the team that's not exactly the tone you want to set. The thing is, this might also be a Jordan Poole issue.
That Draymond frustration reminded me of another play about a month ago when another Warriors leader lost his shit playing next to Jordan Poole
With Poole, it's sort of a double edged sword. There are times he looks incredible, a true microwave scorer who has moments in the Warriors offensive system where he looks like the long lost Splash Brother. The issue there is he is not a Splash Brother, and when you're currently doing stuff like this
you can understand why some guys on the team might be frustrated with how he plays. 
That one sequence of not getting the ball was so insignificant in the bigger picture of the game, Draymond's reaction doesn't really make sense unless there's something personal there. I also wouldn't put it past Poole seeing Draymond open like that and deciding to intentionally not give him the ball. 
But how do you just straight up quit on a play like that in a close game? Coming off the previous game where you know a couple Klutch clients were probably scheming about the future
it's certainly not the best look. 
I was someone who thought that given the fact the Warriors just won the title (sigh) where Poole played an important role in it, that given the veteran leaders on the team and the Warriors culture, they would be able to get past that early season punch, but here we are 60+ games into the season and it doesn't seem like that's the case. 
Then again, Draymond told us back in October that he didn't really care about playing bad teams, so maybe this shouldn't be a surprise?
This is still a team that until someone beats in a playoff series I think you have to give them their respect and the benefit of the doubt, but it's important for them that they figure out these on the court issues with Poole. Maybe that's Draymond and Steph not acting like babies, maybe that's Jordan Poole playing with just an ounce of self awareness, but something has to be sorted out if the Warriors not only want to lock in a top 6 seed, but also make a run.