Power Ranking The Ten Greatest Toronto Blue Jays Ever
Frank's list of greatest Toronto Blue Jays caused instant debate in the office between all of the old guys. Brandon Walker wound up yelling things at me that no one could understand as Frank laughed at us. If this created debate at the office (even if it was among the oldest people here), it was probably a blog worthy topic.
The reason the debate exists with the Blue Jays is they've had many very good players but the great ones don't stay very long. This isn't the Orioles with Cal Ripken Jr. or the Padres with Tony Gwynn where it's clear who the greatest player is. Like Frank says, there is no Mr. Blue Jay.
Because of this, the honorable mention list is very long. Frank has Joe Carter number 2 on his list. He doesn't even make my Top 10. His home run to end the 1993 World Series was one of the greatest moments in World Series history. But I wouldn't have David Freese anywhere near my top 10 Cardinals over the past 30 years, much less in franchise history. If you factor in WAR, Carter isn't even a Top 24 Blue Jay.
Fred McGriff is tough to leave off the list because he's one of my favorite players ever. But he didn't play in Toronto long enough. I also don't have any of the 1980's outfielders Lloyd Moseby, George Bell or Jesse Barfield. They each had a couple years of greatness but none of them could sustain it for long enough. I don't have Pat Hentgen, Shawn Green or Vernon Wells either.
I think you could ask 100 baseball fans for a Top 10 Blue Jays list and get 100 different lists. But here's my Top 10 Toronto Blue Jays of All-Time:
10. Roger Clemens (1997-98)
Beth Keiser. Shutterstock Images.
Clemens only spent two years in Toronto so I can understand people would be annoyed I have him over Joe Carter. But Carter had an OBP of .307 with the Blue Jays and while he was a great power hitter, that's literally all he could do. Clemens won the Triple Crown of pitching BOTH years he was in Toronto.
1997: 21-7, 2.05, 292 K's, Cy Young Award
1998: 20-6, 2.65, 272 K's, Cy Young Award
Those are the greatest and second greatest year by any Blue Jay in team history. Clemens may have been a mercenary and I'm sure steroids played a major role in both of those seasons (he was 34 when he came to Toronto), but he still needs to be on this list.
9. Edwin Encarnacion (2009-16)
It's easy to look past the Blue Jay teams from 2015-16 but they each made the ALCS and were among the three greatest runs in team history. I feel bad leaving Josh Donaldson off this list. While Encarnacion wasn't as great as Donaldson for those two seasons, his entire body of work in Toronto gets him on this list. EE is 3rd all-time in Blue Jay home runs and had one of the biggest ones in team history. This GIF shows him hitting a walk-off homer off the Orioles to win the Wild Card and send Toronto to the ALDS.
8. John Olerud (1989-1996)
Lynne Sladky. Shutterstock Images.
Olerud was drafted by the Blue Jays and didn't spend a single second in the minor leagues. He was a great college player and immediately went to the majors. Fans became annoyed he wasn't instantly great. He was just…good. Until he had an amazing 1993 season where he flirted with .400 into August. 
He was always underrated. The Blue Jays traded him to the Mets for Robert Person. He went on to be the all-time OBP leader in Mets history. He moved on to Seattle and was a major part of the 2001 Mariners who won 116 games. Olerud is a borderline HOFer for me. When he was on the ballot, he got a grand total of 4 votes. That's as many as Marquis Grissom got that year.
Also, I love how the video guy in this picture is wearing Reebok Pumps.
7. Jimmy Key (1984-92)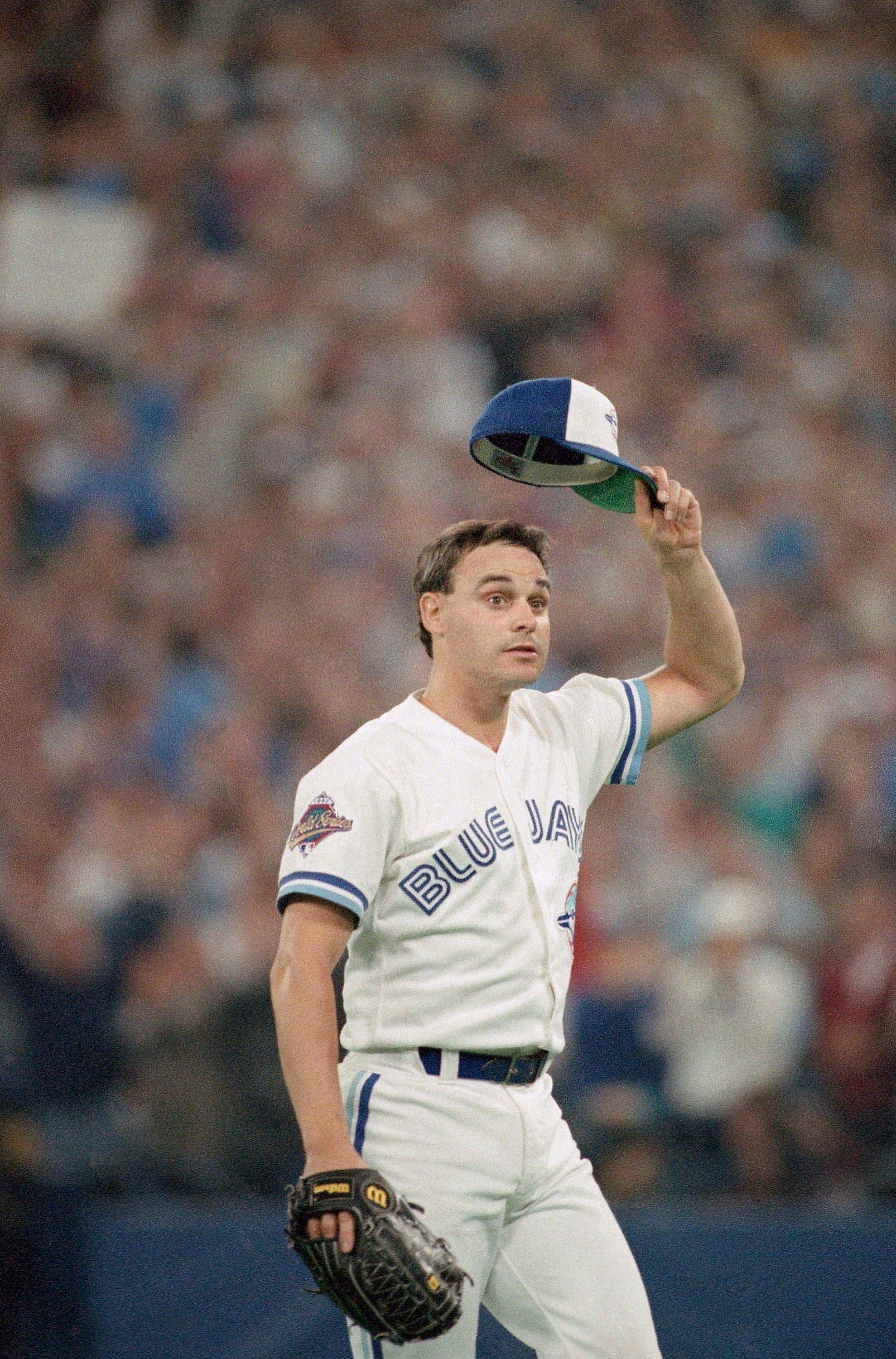 Mark Duncan. Shutterstock Images.
Jimmy Key is one of those guys that has been forgotten. The older I get, the more I see it happen with very good but not great players. It's not like Key doesn't have some major career highlights. He led the league in ERA in 1987…but lost the Cy Young to Roger Clemens. He led the league in wins in 1994 with the Yankees…but it was the strike season. He did win a World Series with the Blue Jays in 1992…but was gone by the 1993 season.
It's easy to look past unassuming guys like him but he was a such a steady pitcher for Toronto for almost a decade. He's fourth all-time in wins and third in ERA (tied for first among exclusively starting pitchers). He even had a 0.75 ERA in 12 post-season innings for the 1992 Blue Jays in the playoffs. There needs to be a place on a list like this for a guy that was always good.
6. Tony Fernandez (1983-90, 93, 98-99, 2001)
Ray Stubblebine. Shutterstock Images.
Tony Fernandez was there for all of it. He was on the first playoff team in team history, in the dugout when Carter hit the home run to win Game 6 and was teammates with Roger Clemens and even Roy Halladay. He's the all-time leader in games played and hits. He also was a really good player. From 1986-89, Fernandez was the best defensive shortstop in the American League. 
Finally, he was part of the biggest trade in team history. After the 1990 season, the Blue Jays traded Fernandez and Fred McGriff (who was only 26) to the Padres for Joe Carter and Roberto Alomar. It was a monster deal for both teams but it made a good Blue Jays team great. I'll talk about Alomar later but the most amazing thing about the trade was the Blue Jays were able to get Fernandez back for the 1993 playoffs.
5. Jose Bautista (2008-17)
If the Blue Jays had just made one World Series appearance in the 2010's, guys like Bautista, Encarncion and Josh Donaldson would be so much better remembered. Instead, it feels like those teams are just an afterthought. Soon they will join Jimmy Key in the forgotten bin.
That's not fair for such a great slugger as Bautista was. He's on the ballot for the first time next year but he'll never make the Hall of Fame. He only has 344 career home runs. But 288 came as a Blue Jay (2nd most in team history). He hit 40 or more three different times. It was a pretty short peak but Bautista spent a few years being one of the most feared power hitters in the game.
4. Carlos Delgado (1993-2004)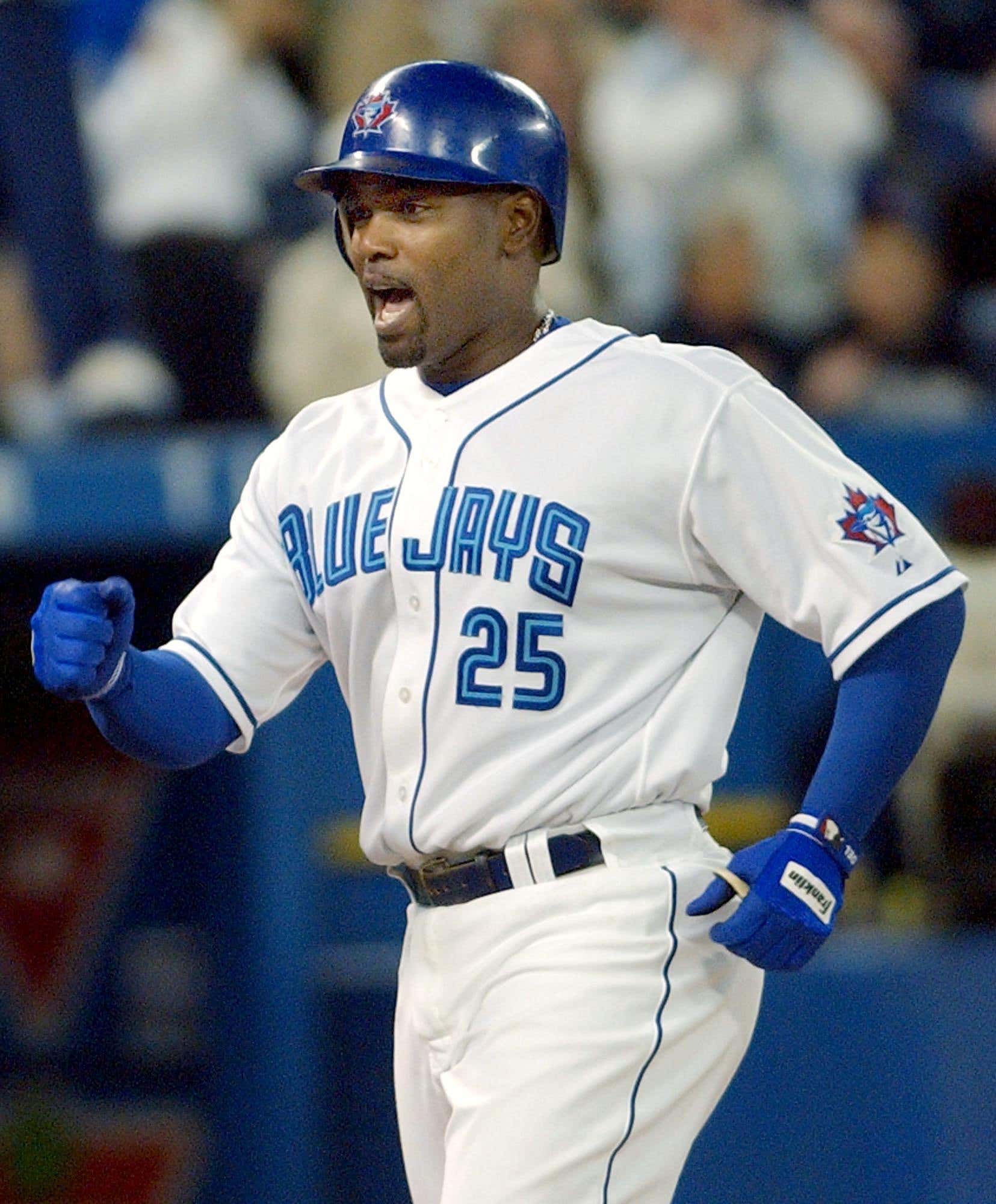 J P Moczulski. Shutterstock Images.
It's very odd to think that Delgado came up to the majors as a catcher initially. He was the victim of bad timing as he just got to the majors at the very end of the 1993 season and the end of the Blue Jays being competitive. Delgado instead spent his prime seasons on Blue Jays that were either average or just bad. He's the all-time leader in Blue Jay home runs and RBI's.
He had 30 or more home runs every year from 1997-06 (although he was traded from Toronto after the 2004 season). He finally got to the playoffs as a Met in 2006 but that team just missed making it to the World Series. Delgado last played in the majors at 37 due to hip issues. He was only 27 home runs away from 500. 
3. Dave Stieb (1979-92, 98)
Tony Dejak. Shutterstock Images.
Dave Stieb isn't the best pitcher in team history but he is the all-time leader in ERA, wins and strikeouts. He made it to seven All-Star Games but shoulder and back injuries effectively ended his career early at 33. He made a number of comebacks but had he never gotten hurt, it's not impossible that he would have been a Hall Of Famer.
The most amazing thing about Stieb is he made it to the ninth inning with a no-hitter five different times. Each time the no-hitter was broken up…until the fifth and final time. He finally got his no-hitter.
2. Roberto Alomar (1991-95)
John Swart. Shutterstock Images.
Roberto Alomar is the most important player in Blue Jays history. He was only a Blue Jay for five seasons but he's the primary reason they were repeat World Series champions. If you look at Alomar's stats, they aren't as impressive as maybe they should be. He didn't play a very long career (17 years) so it's not like he complied a ton of stats. When he was at his peak with Toronto, it was right before the hitting boom of the mid/late 1990's. He was a player that was very good at everything. Whether it be Gold Glove defense, clutch hitting the playoffs, amazing base running and a slash line of .307/.382/.451 with Toronto.
He went into the Hall of Fame with a Toronto logo on his plaque and I think would have been that Mr. Blue Jay I wrote about earlier. He's since been sued by a few women for giving them HIV and his ex-wife accused him of domestic assault. The Blue Jays have removed his retired number banner. Instead of being the face of the Blue Jays, he's been excommunicated.
1. Roy Halladay (1998-09)
Duane Burleson. Shutterstock Images.
The Blue Jays were created the same year as the Seattle Mariners. Someone with Roy Halladay's resume wouldn't be in the top three of all-time players on the Mariners. Having said that, Halladay being maybe the last true workhorse in baseball mixed with a Cy Young Award and impeccable control puts him at the top of this list. His Blue Jays career numbers of 148-76 (for teams that were especially good) with an ERA of 3.43 during a hitter's era gives him the best ERA+ (133) among Blue Jays starting pitchers.
Halladay's Hall of Fame plaque has no logo on it. I understand with Halladay's passing, no one wanted to disrespect Phillies fans but that's a cop out. Halladay was only in Philly for four seasons and two of those seasons were not good. It's very sad that with Alomar now unwelcome that Halladay would have a been a great franchise player to rally around. Instead, the Jays are still left looking for who that next great player could be.
If you do this same list 10-15 years from now, it will look very different. Vladimir Guerrero, Jr. and Bo Bichette could be 1-2 if they both stick in Toronto for the majority of their careers. If he stays healthy, you could see Alex Manoah on here as well. They are coming off a 92 win season and I think they will make the playoffs again in 2023. But for right now, I am confident saying Frank and Brandon Walker are very wrong and Roy Halladay and Roberto Alomar are the greatest players in Toronto Blue Jays history.