KNOCKOUTS Are Coming Next Friday Night So Here's A RNR20 Title Fight Preview
RNR20 invades Charleston, WV next Friday night and it's a vintage kind of card with the matchups we have coming. Me & Large gave a quick preview of the main events coming in our 1st episode of REF N' ROBBIE (new shows every Thursday night until March 3rd) and I'm gonna do a sneak peek here before the full fight card gets released on Friday. 
First up is our last fight of the night with Vicky D vs Cherry Bomb in what should be a guaranteed slobberknocker for the Women's Title. It's been tough finding an opponent for Cherry Bomb that can deliver the same amount of nonstop haymakers as Hot Wheelz did in their 2 matchups, but can't ask for a more badass chick to pick up that mantle than Vicky D. She looked great at RNR19 and despite being lighter, I like her chances in this fight. But don't expect me to pick against the country girl from West Virginia. 
Our 2nd to last fight of the night is a CHAMPION vs CHAMPION showdown with Lights Out Laing taking on Make It Happen Brown in our 1st ever Light Heavyweight fight. Laing is coming off a convincing win against Pacman Jones at RNR19 and although he's 15-20 lbs lighter than usual, it's hard to pick against a 9-0 brawler. But this will be his toughest test yet, don't let the 2-0 record fool you Make It Happen is the real deal. He's had plenty more fights outside the ring and in prison so that's gotta count for something right? Honestly wondering if we will indeed see the upset here.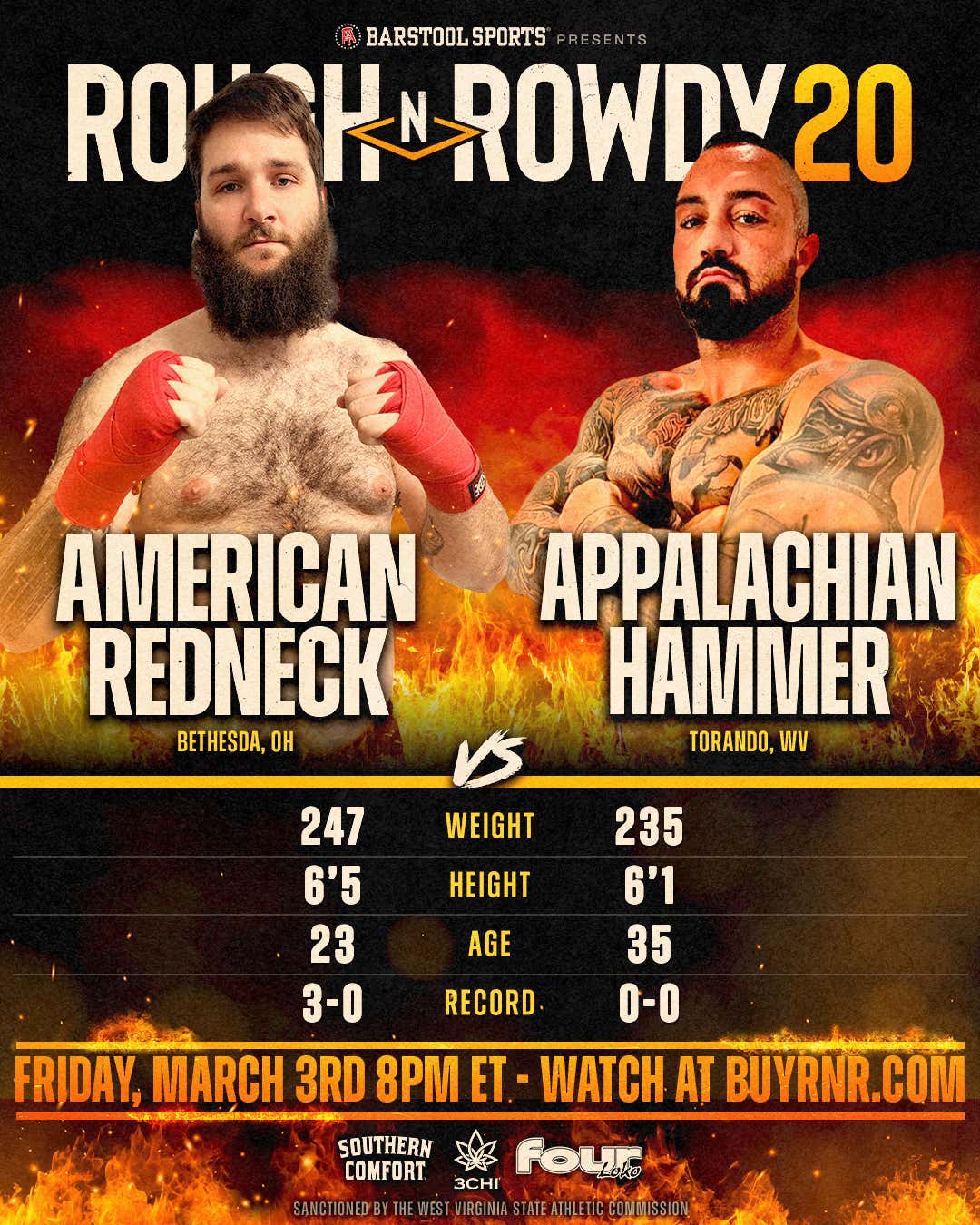 SUPER HEAVYWEIGHT TITLE ALERT… This very well could end up as the Fight Of The Night on March 3rd. This guy the Appalachian Hammer Assassin was supposed to fight Travis Turman a few shows back until Mr. Jeans got "food poisoning" the night before. Probably because he saw the Assassin's record in RNR before Barstool bought it.. 12 wins + 11 KO's, just an absolute monster. That was at a lower weight class though and we've seen American Redneck absorb haymakers like few others in our history so can't wait to see how this one turns out. 
That's a look at the TITLE FIGHTS we have coming on March 3rd but there are 20 other amateur matchups coming that can't be missed too. We have notable returning fighters like The Abel Brothers, Hot Wheelz, Diamond Hands, The Rapper, Irish Dave Portnoy… Pieces of human shit like Big Dick Booty Daddy back… and the rest of the card is (0-0) locals from West Virginia. 
There will be more predictions coming in REF N' ROBBIE every Thursday until fight night so check back there or @RoughNRowdy on all socials for more RNR20 previews. 
​