Steven Cheah's 2023 NFL Mock Draft 1.0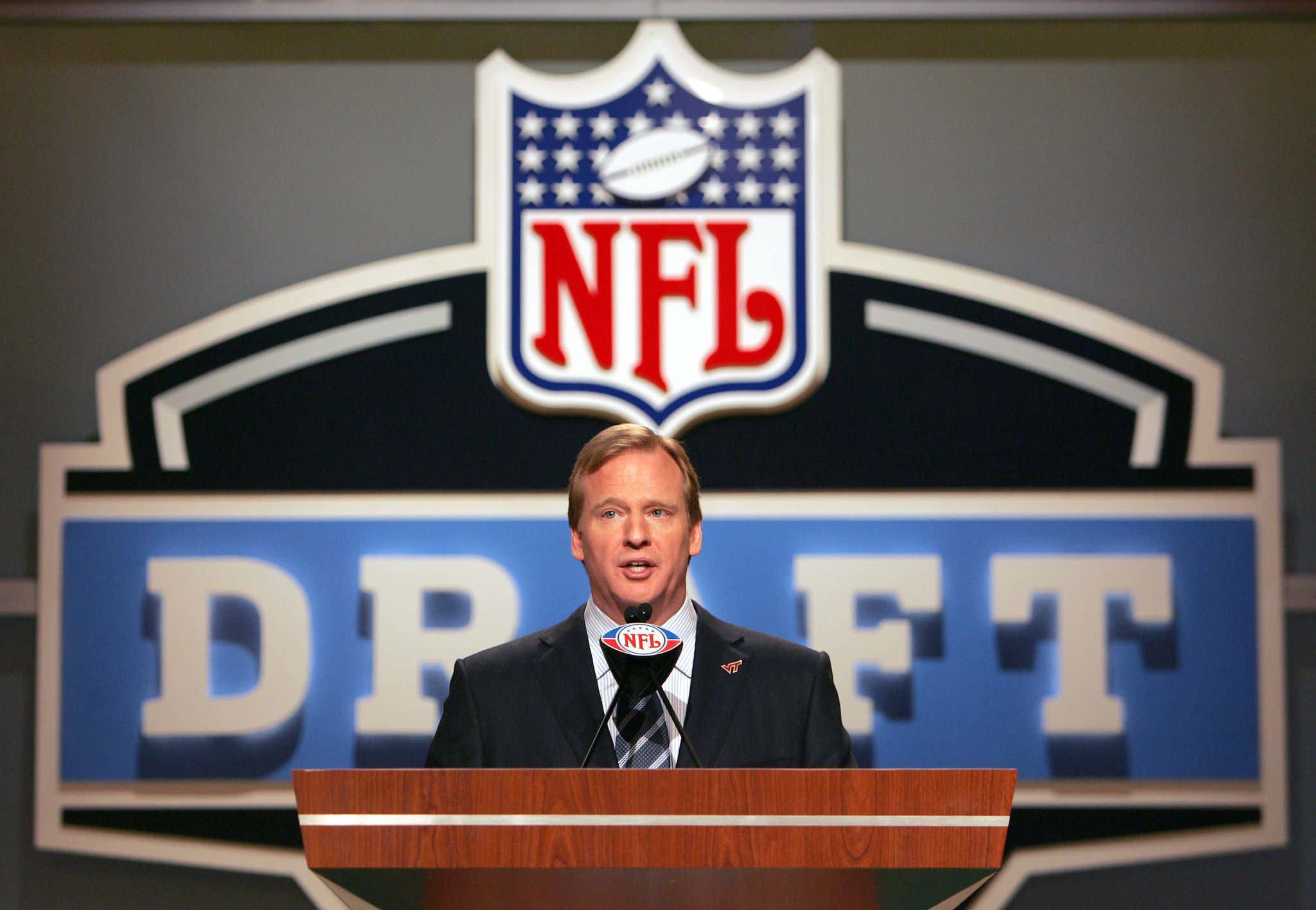 Richard Schultz. Getty Images.
Hello there - It's me, Steven Cheah, the most accurate mock drafter in the world checking in because as soon as the refs handed Patrick Mahomes and the Chiefs that Super Bowl win, it immediately became Draft season.
We're already into the off-season circuit with all the all-star games being over. We've got the Combine and Pro Days coming up, but here's where I see things shaking out at the current moment.
1) *TRADE Houston Texans (via Chicago Bears) - QB Bryce Young (Alabama)
Trade Details: Chicago trades the #1 overall pick to Houston for the #2 overall pick and the Texans 2nd round pick (#33 overall)

The Bears move down and get back the pick after the one they dealt to the Steelers for Chase Claypool. As for the Texans, I'm hearing that Houston was telling their coaching candidates that they would be drafting a QB with their first pick. Young is accurate and mobile. But his lack of a huge arm and size (listed as 6'0" 194 lbs., but I'm hearing he'll be shorter and a few pounds lighter) is lacking for a top pick in my mind. And while I realize Kyler Murray was sub-6 feet and a top pick, he was a world class athlete and also thicker. Being 185-190 lbs. and having 300 lbs. guys hit you/fall on you is an occupational hazard so I'm interested to see if a team disregards that. As of right now I have him as the likely #1 guy, but that may change.
2) *TRADE Indianapolis Colts (via Chicago Bears via Houston Texans) - QB Will Levis (Kentucky)
Trade Details: Chicago sends the #2 overall pick to Indianapolis for the #4 overall pick, their 2nd round pick (#35 overall), their 4th round pick (#105 overall), and a 2024 2nd round pick.
The Bears are in accumulation mode. Having Just1n gives them a lot of flexibility  while the Colts have a new Head Coach in soon to be former Eagles Offensive Coordinator Shane Steichen. We also know that Colts GM Chris Ballard is all about traits and nobody has better traits than Kentucky QB Will Levis. At 6'3" 231 lbs. with a lighting quick delivery and a cannon for an arm, Levis will be moving up Draft Boards once he shows off his stuff at the Combine. The Colts have seen enough of band-aid and re-tread QBs like Philip Rivers, Carson Wentz, Matt Ryan, and Nick Foles. It's time for them to go get their guy. 
3) Arizona Cardinals - EDGE Will Anderson Jr. (Alabama)
Will Anderson Jr. was viewed as the #1 pick coming into the season and still could end up there. He's a tad undersized at 6'4" 241 lbs., but he's got that twitchy athleticism and strength that teams crave. Who knows what the hell is going on in Arizona as they have no GM or HC at the moment. But they clearly need better pass rush, so Anderson makes sense here.
4) *TRADE Chicago Bears (via Indianapolis Colts) - DT Jalen Carter (Georgia)
Matt Eberflus craves a dominant force in the middle of his defense. If you'll remember, the Colts traded a 1st Round pick for DeForest Buckner in Indianapolis. I could see him looking to build his Defense in Chicago around Carter. And #88 is one of the best Defensive Tackles to come out in several years and both stops the run and can win early with a pass rush. He is a beast.
This dude in the middle of a Defensive Line is a tempting proposition.
5) *TRADE Carolina Panthers (via Seattle Seahawks via Denver Broncos) - QB C.J. Stroud (Ohio State)
Trade Details: Seattle sends the #5 overall pick and their 4th round pick (#121 overall) to Carolina for the #9 overall pick, Carolina's 2nd rounder (#39 overall) and their 5th round pick (#135 overall)
Seattle feels good with Comeback Player of the Year Geno Smith at QB and love to maximize their draft capital. Carolina has been hungry for a QB and here is where they make their move to go get their guy. C.J. Stroud is a fantastic talent with a huge arm and big time pocket poise. Look at this ball placement!
6) Detroit Lions (via Los Angeles Rams) - DT Bryan Bresee (Clemson)
Bresee can help solidify the interior of this Defensive Line that had it's moments, but got gashed by the Panthers to the tune of 320 yards on the ground. Bresee could slide in somewhere in between Aidan Hutchinson and James Houston IV and shore that line up. 
7) Las Vegas Raiders - CB Kelee Ringo (Georgia)
Who knows what's going on here. Derek Carr visited the Saints but now he's not accepting a trade. So he'll likely be released and get to pick his destination, but I don't see Josh McDaniels wanting Anthony Richardson as his QB, so I'll give them a Cornerback at #7. Ringo had a has outstanding measurables and is a back-to-back National Champion.
He's a bigger Corner at 6'2" 205 lbs. and could matchup against bigger division foes like Mike Williams and Courtland Sutton. 
8) Atlanta Falcons - EDGE Tyree Wilson (Texas Tech)
The Falcons just don't have juice off the edge to heat up the Quarterback. Haven't in several years. Wilson, who at 6'6" 275 lbs., has put up 27.5 sacks the past two seasons for the Red Raiders.
9) *TRADE Seattle Seahawks (via Carolina Panthers) - EDGE Myles Murphy (Clemson)
Seattle's pass rush is severely lacking and that could change with Murphy is 6'5" 276 lbs. and plays with a great motor. He had 18.5 sacks and 36.0 TFLs in three years at Clemson.
10) Philadelphia Eagles (via New Orleans Saints) - CB Devon Witherspoon (Illinois)
James Bradberry had the critical penalty but could prove to be too costly for the Birds to keep next year. Darius Slay is also getting older so I can see Howie Roseman looking to find a cheaper alternative in Witherspoon. DW is an aggressive, physical Cornerback who will fit right in to the Philly defense.
 11) Tennessee Titans - OT Paris Johnson (Ohio State)
The Titans have a lot of needs as their Championship window seems to be firmly closed at this point. I'm not sure Ryan Tannehill or Josh Dobbs is the answer at this point, but why not give them the most protection possible and find out?
12) Houston Texans (via Cleveland Browns) - WR Quinton Johnston (TCU)
Johnston was a complete no show in the National Championship game with 1 catch for 3 yards on 3 targets. But he's got the size/speed/strength combo to dominate at the next level. At 6'4" 216 lbs. with 4.4 speed, he'll give Bryce Young a great young weapon to grow with.
13) New York Jets - LB Trenton Simpson (Clemson)
Do the Jets bail on Zach Wilson and take a QB here? I'm not buying the Anthony Richardson top 10-15 buzz…yet. The Jets defense is outstanding, but getting a younger future replacement to C.J. Mosley will do them good down the road.
14) New England Patriots - EDGE Lukas Van Ness (Iowa)
Matt Judon is spectacular, but they need more pressure off the edge and Lukas Van Johnson fits the bill. He's a bit of a projection, but the kid has got dynamite in his hands.
15) Green Bay Packers - OT Peter Skoronski (Northwestern)
The Packers continue to get younger across the OL and Skoronoski just sounds like a Packer pick. His arm measurements will be big as he may need to kick inside to Guard if they don't measure out.
16) Washington Commanders - OT Darnell Wright (Tennessee)
The Commanders don't know who will be throwing the ball next year. But whether it's Taylor Heinicke, Carson Wentz, Sam Howell or someone else, they'll need to protect them and Wright has some intriguing tools to pass on at #16.
17) Pittsburgh Steelers - CB Joey Porter Jr. (Penn State)
The Steelers have a need and Porter's dad is a legend for the franchise. This is probably too low for him, but this pick just fits.
18) Detroit Lions - CB/S Brian Branch (Alabama)
Branch has a ton of versatility and obviously got elite coaching at Alabama. He would fit in nicely in Detroit who could use more playmakers on the back end.
19) Tampa Bay Buccaneers - QB Anthony Richardson (Florida)
The Buccaneers have only one Quarterback under contract and that is 3rd year man Kyle Trask. He hasn't played much behind Tom Brady, but he'll get his shot this off-season. Only issue is the Offensive Coordinator is gone and they'll likely change their Offensive Philosophy. Enter Richardson, who is built like a Cyborg. Richardson can be in a good spot to learn the offense (again) behind Trask, who was his teammate as a Freshman in Gainesville. 
20) Seattle Seahawks - G O'Cyrus Torrence (Florida)
Torrence is a massive prospect at 6'5" 346 lbs. The Seahawks need to better protect Geno Smith and Torrence can help afford him some more time to get the ball down the field to those big play Receivers.
21) Miami Dolphins - FOREFEITED
Remember this? Oof!
22) Los Angeles Chargers - CB Christian Gonzalez (Oregon)
JC Jackson was a big signing last season, but he never really worked out and then got seriously injured. While Michael Davis played well last season in relief, I don't think it'd be wise to count on him much longer. Gonzalez is viewed by some as the top CB in this year's class. He's got great size at 6'2" 201 lbs., is instinctive and a good tackler. 
23) Baltimore Ravens - CB Emmanuel Forbes (Mississippi State)
Baltimore likes guys that take chances and make plays on the ball in the Secondary. Enter CB Emmanuel Forbes who had a record SIX pick sixes in college and I see a good match.
24) Minnesota Vikings - EDGE Nolan Smith (Georgie)
The Vikings are in need of some more youth in their pass rush and Nolan Smith is the perfect player to fall into their lap. At 6'3" 235 lbs., he should put on some weight, but the kid has game.
25) Jacksonville Jaguars - TE Dalton Kincaid (Utah)
Evan Engram is a Free Agent and may prove too costly to retain. Kincaid is an electric talent in a loaded class and it seems like he already has better hands than Engram!
26) New York Giants - WR Jordan Addison (USC)
Daniel Jones, who I assume will be back with Big Blue needs some more weapons to grow with. Enter Addison who really took off at USC after transferring from Pitt. He's an outstanding route runner who can really create separation. I only wish he was a little bigger (6'0" 175 lbs.)
27) Dallas Cowboys - WR Jalin Hyatt (Tennessee)
Hyatt is a speed merchant capable of opening up an Offense. And that is something that this Cowboys offense dearly needs after Dak Prescott struggled to fit balls into tight coverage and ended up leading the NFL in interceptions in 2022.
28) Buffalo Bils - EDGE Derick Hall (Auburn)
Once Von Miller went out, Buffalo's defense became a lot more vulnerable. They drafted Gregory Rosseau and Boogie Basham but they could still use more help and Derick Hall looks like a natural born killer.
29) Cincinnati Bengals - OT Broderick Jones (Georgia)
Speaking of guys going down, the Bengals were playing with scraps like Jersey Jerry after a 1pm slate he put it all on a Diontae Johnson TD. Their Offensive Line was just decimated and Jones gives another healthy, talented body who could challenge Jonah Williams for the starting LT gig Day 1.
30) New Orleans Saints (via Denver Broncos) - RB Bijan Robinson (Texas)
The Saints seemingly have no plan. They brought back Dennis Allen and may try to make a run with this older roster of players past their primes. We have no idea who will be playing Quarterback, but we do know that Alvin Kamara may be subject to a suspension, dating back to his charges last summer. Even if he returns, he's an old age for a top NFL RB. Bijan Robinson is a natural, gifted runner who is capable of carrying the mail.
31) Philadelphia Eagles - LB Drew Sanders (Arkansas)
The Eagles LBs got gashed in the Super Bowl and they could use a serious upgrade at that position. Sanders is very versatile but also, a run and chase athlete. He can challenge for a starting gig right away.
32) Kansas City Chiefs - WR Jaxon Smith-Njigba (Ohio State)
The Chiefs won the Super Bowl, but their receiving corps struggled overall. Outside of Travis Kelce, they don't have nearly enough weapons. Add in JSN and now we're cooking with gas.
Thanks for reading! Stay tuned for the next version (2.0) after the Combine.