Arnold Schwarzenegger Allegedly Struck A Cyclist With His Car
Page Six - Arnold Schwarzenegger was reportedly involved in a car accident Sunday morning that resulted in a bicyclist being rushed to the emergency room.

The former California governor, 75, allegedly hit a woman who was riding a bike and swerved onto his lane in West Los Angeles, sources told TMZ.

The woman who was allegedly run over was taken to the hospital with minor injuries but is in stable condition and seems she will be fine, according to the report 
I feel like it's important for me to stress that the pedestrian the Terminator struck with his car yesterday suffered only minor injuries, and is in stable condition. The former Governor of California and star of Hercules in New York was driving slow at the time of the accident. The pedestrian was reportedly unavoidable, and Schwarzenegger was not at fault.
However, Schwarzenegger is now the 3rd member on my list of "famous people who I know have hit pedestrians with their vehicle". To be fair to Mr. Universe, this accident is not comparable to the Tony Stewart situation. It's more similar to a Greg Schiano situation. If you recall, Greg Schiano walloped a student cyclist with his vehicle while coaching under Urban Meyer at Ohio State. However, the accident that the star of Kindergarten Cop was involved in appears to be much less serious. 
Connor McGregor was hit by a car while on a bike last month. Reese Witherspoon was once hit by a car while jogging. A car exploded next to Jay Leno while he was working on it in his garage. Tiger Woods is a walking car crash. But I can't find any other celebrities who have hit pedestrians or cyclists with their cars. If you know of any please let me know so I can add them to my list. I'm probably missing an obvious one.
Hitting a pedestrian with my vehicle is one of my greatest fears. Especially in a city like New York. There's more people walking than there is road. I don't have a car here, but I imagine if I did I would hit an average of 1 pedestrian per week. On the other hand, being hit by a vehicle is something I dream of. Preferably a city vehicle, but a celebrity would do as well. I don't want to take money from somebody who doesn't have a lot of it. I have a heart.
Law Offices of Jared Spingarn - Bus accident settlements can range from as low as $3,000 to as high as $75,000. In some cases, the settlement amount can reach six digits. It would be difficult to determine what defines a fair settlement. In most bus accident lawsuits, the defendant's legal team will do their best to argue for a low settlement amount. 
The problem is, if you want to get paid out, you're going to have to withstand potentially major injuries. Ex-Barstool Sports personality Liz Gonzales was once flattened by a bus in New York City. I believe she got paid, but I also believe she was in bad shape for a while. I don't mind being in bad shape for a little bit. Especially if I have a bag on the way. But getting hit by a bus is risky business. I would like to see a graph that depicts just how fucked up you have to be in order to get a certain amount of money. It would probably loosely look something like this.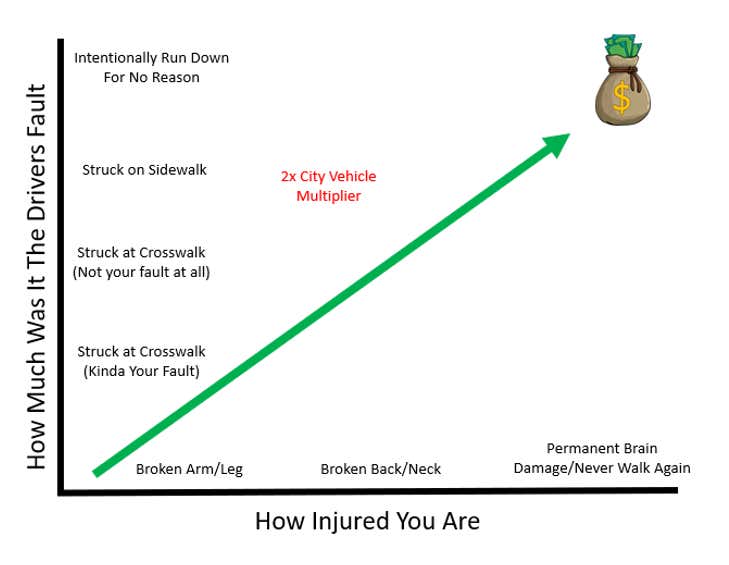 Unfortunately, if I'm ever so lucky to be hit by a bus and/or rich celebrity, I imagine this graph is not going to help my case in court.