Exploring The Initial Teams That Are Being Linked As Possible Kyrie Irving Destinations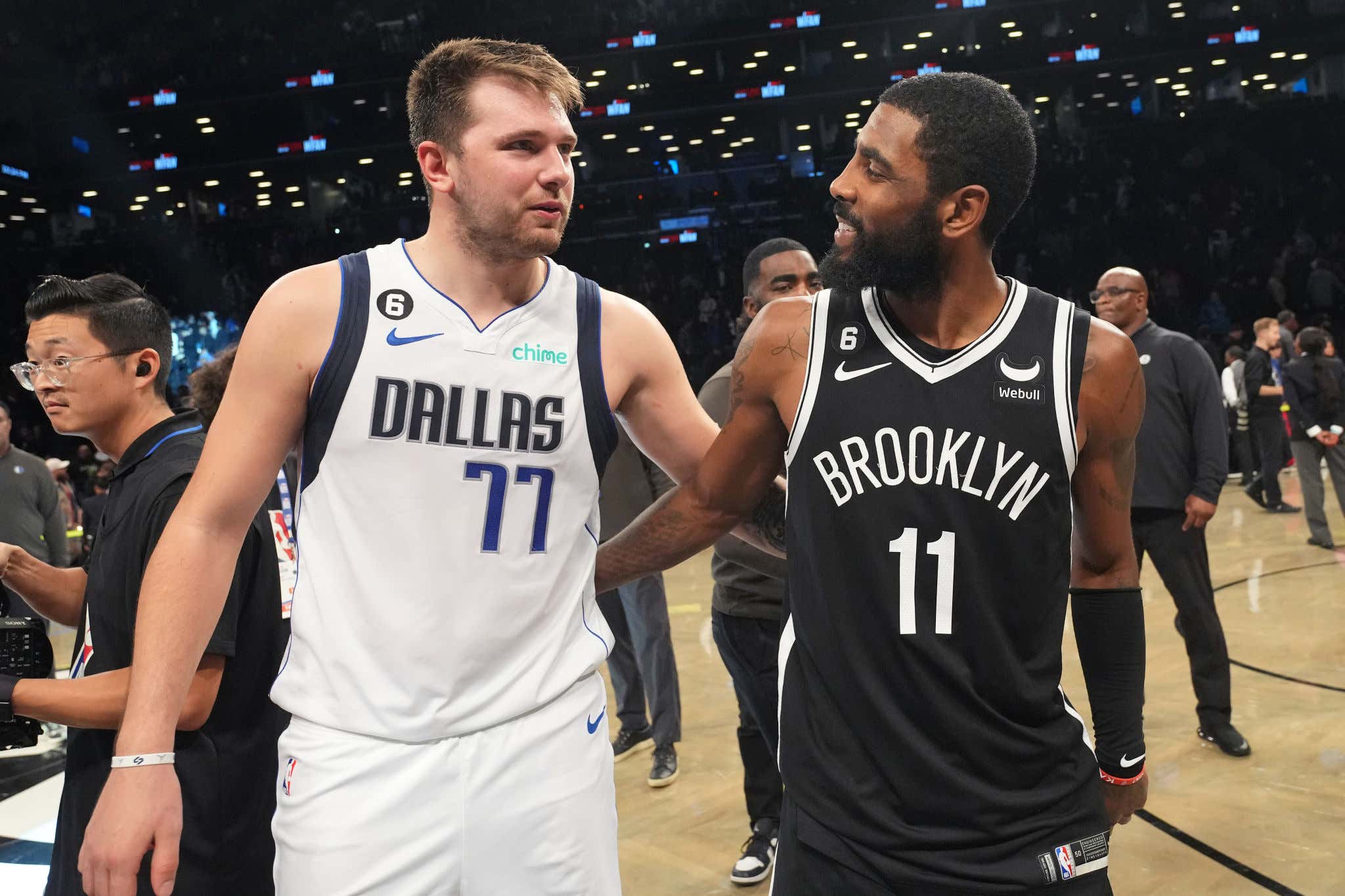 Jesse D. Garrabrant. Getty Images.
It was only a matter of time after the Kyrie news dropped that we would start to hear reports of some preliminary destinations that might be interested in pulling off this blockbuster. Everyone on earth knew the Lakers would be mentioned, but we're starting to get some names of teams that are actually both a little surprising and pretty interesting.
With Kyrie able to walk after the season, it's also important to remember this little CBA nugget from Bobby Marks
I imagine that trade kicker is going to be part of whoever tries to negotiate with BKN, but now that the dust has started the settle let's have look at who is entertaining the idea of getting into the Kyrie Irving business
I don't think we need to break down the Lakers, by now everyone knows that trade is most likely going to have to center around Russell Westbrook and those unprotected 2027 and 2029 picks. We get it, LeBron probably wants him so the Lakers are in on it. Old news.
Instead, let's focus on the Mavs and Suns
Dallas Mavericks
Now, this is interesting because if you've ever watched the Mavs play, you know Luka's usage is flat out insane. All season their fans have been begging Mark Cuban to bring Luka more help, and from a basketball talent standpoint I suppose Kyrie fits that description. He makes $34M, so let's see what the Mavs have to work with
It's important to remember that the Mavs are in a similar spot with Christian Wood has the Nets are with Kyrie. Neither guy got an extension and both guys can leave their teams for nothing this summer. Considering you need to get to $34M, it wouldn't shock me if someone like Wood is included, even though the Nets have Nic Claxton on the roster.
From there, you need around $20M. Maybe Bertans and Josh Green? Just assume the picks included are whatever needs to be done to get this trade over the finish line, so in terms of salary options are the Mavs any better if they go this route? On paper I think they might be, especially if they get confirmation that Kyrie will stay in DAL and they figure out that trade kicker part. Ball handler has been a position of need all year for the Mavs, and we know Cuban has to keep Luka happy.
If Lulka is down, I could see it. If Luka says no, there's no chance the Mavs do anything close to upsetting him. This might not be the best talent package the Nets might be able to get, but they might just have to take what they can get.
Phoenix Suns
If it were me and I were running the Suns, I think I'd try and get KD over Kyrie. Why not? Maybe seeing the Suns was surprising to you given that Chris Paul exists, but remember…
Paul currently makes $28M and he has 1 more guaranteed year at $30M before a non-guaranteed $30M in 2024-25. If the Suns are already looking for ways to get out of that CP3 deal, you can understand why they might be in on Kyrie Irving. From the Nets side, pairing Paul and KD isn't the worst idea in the world
Ethan Miller. Getty Images.
so let's see what else the Suns have to work with
Paul/Crowder/whatever picks it takes could make some sense from the Nets side. It gives them some stability at the point guard spot in the short term, Crowder is an expiring so he's not taking up future money since he's already 32, and you throw in some picks and maybe the Nets bite. Let's not forget that the Nets GM did play 2 seasons for the Suns form 2006-08. 
Do the Nets even need someone like Crowder? Eh, depends on what you think about Royce O'Neale and TJ Warren. Considering the types of wings the Nets are most likely going to have to defend in a playoff series, a rested Crowder might make sense for them and obviously he and Paul line up money-wise.
You also can't rule out their new ownership. New owners LOVE to make a splash early in their tenure, we see it all the time. Now who knows if adding someone like Kyrie would have that reaction for Suns fans if it meant trading away CP3 who basically brought them back to contention, but if the team is going to move on anyway from Paul then maybe you just roll the dice and hope winning cures all.
It wouldn't surprise me if we also heard teams like MIA (Lowry's $30M), UTA (Conley's $22M), LAC (a bunch of mid sized contracts and PG need), MIN (hate DLO and he's a $31M expiring) over the next handful of days. 
But in terms of the teams being reported right this second, are we buying any of them, or are these just all leverage plays by BKN in order to convince the Lakers to put BOTH unprotected picks on the table? I guess time will tell.