His Work Blaming Dak Prescott for Dallas' Loss Done, Micah Parsons Turns His Attention to Dumping on a Victorious Deebo Samuel
Godofredo A Vásquez. Shutterstock Images.
Two years into his career, Micah Parsons has unquestionably lived up to the hype surrounding him when Dallas took him with the 12th overall pick in 2021. He's already established himself as arguably the best edge defender in the league. And, in so many ways, is establishing himself as the perfect Cowboys player for this era.
Take that anyway you like. But when we're talking about a franchise that hasn't been to the conference championship game since 1995, that's not necessarily a compliment. 
Parsons personifies the Cowboys of the 21st century because he's talented, charismatic, compelling, and now 1-2 in the postseason. But even more so because he's willing to talk way out of proportion to his actual on the field success. For example:
And if you want to go back to the Before Times, to the long, long ago of mid-December, there was this:
Which brings us back to the present day. Where they stadium crew in San Francisco had barely begun to sweep the beer cups before Parsons decided it was time to take to Deebo Samuel's Instagram and remind him what a hollow victory last night was for him: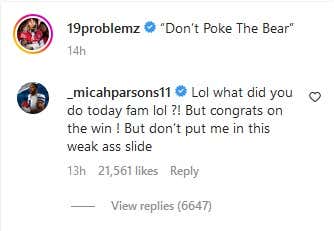 Look, I get that it's tough to not only lose a frustrating game, but get dunked on by an opposing player. But there are just so many cliches - all of them true - that apply here, it's hard to know where to begin. So choose your favorite:
"To the victors go the spoils." 
"History is written by the victors." - Winston Churchill
"A people should know when they are conquered." - Quintus, Gladiator
"Get the job done and then pop off!" - My school's basketball coach, while breaking a clipboard over his head (true story)
Make no mistake, I'd take Parsons on my team any day. But horseshit like this is a red flashing light and a blaring siren that his attitude needs, if not an adjustment, a tweaking. A re-calibration. Samuel gets to drop a deuce in your punch bowl because his team is moving on and yours isn't. That doesn't mean you have to drink from it. And it certainly doesn't mean you can get him to. You just have to accept it. For now at least. The time for revenge will be determined by the 2023 schedule. Immediately jumping on his Gram to tell him he didn't have a good individual game is pure loser behavior, even if it were true. 
Not that it matters, but according to Pro Football Focus, Parsons played five coverage snaps. Samuel was targeted five times, with five different Dallas defenders on him, none of them Parsons. He caught four of them for 45 yards, 11.3 YPC, 27 YAC, and his longest was 17 yards. Not a bad day. But even if he had negative yardage and a half dozen drops, he's still entitled to run his mouth. No one on the Cowboys is. And when a player is trying to differentiate which individuals deserve blame (Prescott) or credit (not Samuel), that does not bode well. 
I doubt Mike McCarthy is in any position to try and reign a face-of-the-franchise caliber superstar like Parsons. He simply doesn't have the resume or the clout with ownership for that, so I suspect this will be a weekly occurrence. As someone who pays his bills in part with material like this, I hope it does. When the league's best players lack the impulse control to stay out of flame wars with one another? Then we all win.