This Weekend's NFL Divisional Round Matchups Are A TV Network Executive's Dream
(graphic via CBS Sports)
Welcome to NFL Divisional Round Week. Eight teams are still alive in their quest towards Super Bowl LVII in Glendale, Arizona, and each of them are just a few days away from playing for a spot in their respective conference championship games. 
Personally, this is the most excited that I have been for a weekend of football in a long, long time. The four games all stick out for different reasons and millions of NFL fans around the world are going to be glued to their TV's all weekend long. 
The big winner from these glorious matchups? The Network Executives. CBS, FOX, and NBC are splitting the broadcast rights to this weekend's games, and the storylines in each one are nothing short of glorious.
Saturday, 1/21, 4:30 PM ET: (4) Jacksonville Jaguars vs. (1) Kansas City Chiefs
NBC - Mike Tirico, Cris Collinsworth
Barstool Sportsbook Odds: KC -9, O/U 52.5
The fact that the least exciting game on this weekend's schedule involves Patrick Mahomes tells you all that you need to know about the slate this weekend. We are lucky. We are blessed. The Chiefs are coming off their well-earned bye week as the AFC's No. 1 seed for the third time in the last five years, and most people are expecting the best QB in the NFL to take care of business at home on Saturday to head back to the AFC Championship Game. On the flip side, you have the Jacksonville Jaguars. Yes, the Jacksonville Jaguars. I don't think anybody expected them to still be playing at this point, and NOBODY expected them to still be playing this weekend when they were down 27-0 against the Chargers a week ago. Trevor Lawrence and company have nothing to lose here, which sets the stage for a fantastic underdog story heading to Arrowhead Stadium this weekend.
David Eulitt. Getty Images.
Saturday, 1/21, 8:00 PM ET: (6) New York Giants vs. (1) Philadelphia Eagles
FOX - Joe Davis, Daryl Johnston
Barstool Sportsbook Odds: PHI -7.5, O/U 48
In the northeast, it doesn't get any bigger than this. Divisional rivals who hate each other. Tons of history. A huge load of tension inside Barstool HQ all week. And it all leads up to Saturday night. The Eagles were the last undefeated team remaining in the NFL this season, and they looked like the favorites to win it all during a good chunk of the fall. But a few losses down the stretch plus an injury concern with Jalen Hurts has set up a playoff run for the Birds with some question marks. But they're the No. 1 seed for a reason and Philadelphia is well-rested. Coming to town? The New York Football Giants. Similar to the Jaguars, the G-Men didn't have expectations this high entering the season. But Daniel Jones has been tremendous this year. Saquon Barkley has stayed healthy. And their defense has a handful of studs. I am very, very excited for Saturday night, and in fact, I am putting MUST WATCH on the Barstool Sportsbook Stream LIVE from Hoboken. You won't want to miss it.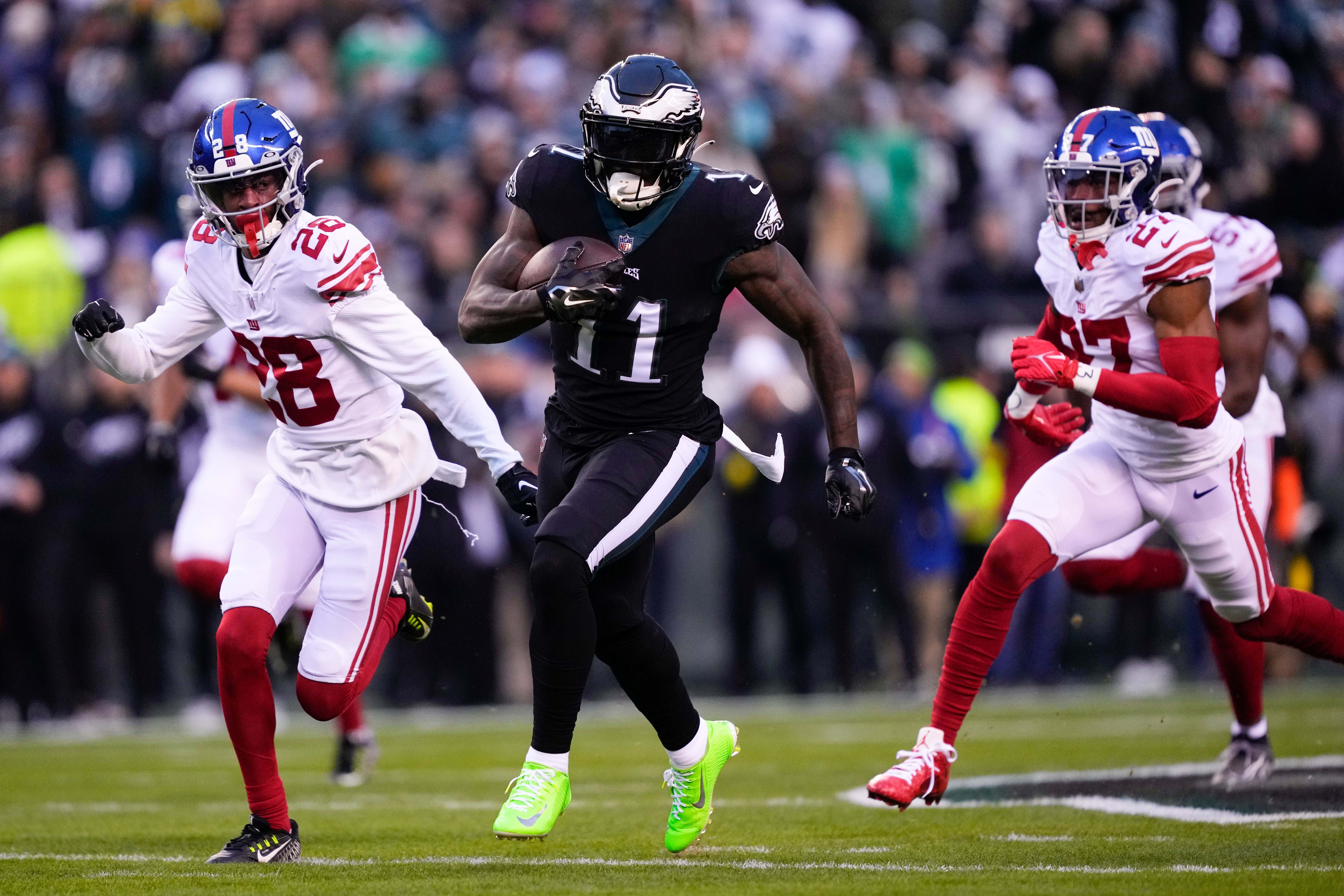 Matt Rourke. Shutterstock Images.
Sunday, 1/22, 3:00 PM ET: (3) Cincinnati Bengals vs. (2) Buffalo Bills
CBS - Jim Nantz, Tony Romo
Barstool Sportsbook Odds: BUF -5.5, O/U 48.5
We are all aware of what happened the last time the Bengals and Bills kicked off a game - it didn't finish. A scary incident involving Damar Hamlin stopped the game in the first quarter, and both Cincinnati and Buffalo ended up playing one less game than everyone else in the regular season. Fast forward to right now, and fortunately, Damar Hamlin appears to be okay. There are rumors that he will be in attendance on Sunday afternoon, which would be the leader in the clubhouse for "Sports Goosebumps Moment of the Year" if it were to happen. That Monday Night Football game was one of the most anticipated games in the NFL this season, but this weekend, the teams and us fans get another chance to enjoy it. Josh Allen. Joe Burrow. Two of the biggest stars in all of football going head-to-head with a trip to the AFC Title game on the line. The scene in Buffalo is going to be insane. Get your WingNutz ready!
Joshua A Bickel. Shutterstock Images.
Sunday, 1/22, 6:30 PM ET: (5) Dallas Cowboys vs. (2) San Francisco 49ers
FOX - Kevin Burkhardt, Greg Olsen
Barstool Sportsbook Odds: SF -4, O/U 46
Two of the most successful franchises in NFL history going head-to-head to close out the weekend? Yes, please. If there is one thing that I learned this season about football scheduling, it's that the Dallas Cowboys are a cheat code when it comes to ratings. FOX is absolutely loving this. Dak Prescott is coming off one of the most impressive performances of his career, while the 49ers are loaded with some of the most dynamic players in the league, yet San Francisco is led by a rookie quarterback who just so happens to be Mr. Irrelevant. Storylines galore! Throw in the fact that PFT has a 49ers future while Hank has one on the Cowboys? I smell tension! This is going to be fantastic.
Ron Jenkins. Shutterstock Images.