Ramblings From The Mind Of A Nervously Excited Giants Fan Starved For Playoff Football Before Today's Vikings Game
Jim McIsaac. Getty Images.
There is nothing about this picture that I don't love. The men, the unis, the logo. Everything about it is perfect
- First off, it's been wayyyyyy too fucking long since we got to enjoy the playoffs. Actually that's kind of a spoiled brat thing to say considering the Giants had much longer postseason droughts than five years. But I wouldn't wish the absolute horror that those five years did on our souls on anybody other than Cowboys and Eagles fans. 
I was going to list out all the hell that we went through, but that doesn't seem like a good thing to do for the juju right now. Instead this seems like a MUCH better idea.
- My first thought this week was just how unprepared for the playoffs I am. Don't get me wrong, I've watched a bunch of Giants playoff games and know the carnage that is about to be unleashed on my soul. But you can't truly prepare for the feeling of every play seeming like life or death until your favorite team is actually playing in the playoffs.
To simulate this, I watched and live tweeted some games from the last two Super Bowl runs and holy shit was there a lot of wild stuff I forgot about, which I covered a bit in this thread.
There were so many crazy game-changing moments I forgot about, which included a lot more fumbles than I remember along with plays like this.
- I didnt even bother live tweeting the 49ers NFC Championship Game because it would've been nothing but "Holy fuck I can't believe Eli Manning survived that hit". 
This is a subtle reminder that anybody that said Eli was carried by a defense and running game that struggled all season while he led the league in comebacks not only doesn't know what they are talking about but they are a fucking idiot lemming at best and a flat out bad person at worse.
- Alright you guys done reliving the glory days? Me either. But it's time we move on and love this team that has given us everything we could ask for considering 20% of the salary cap tied up in dead money (30% if you include Kenny Golladay), this franchise has been competing for the number 1 pick the last five years instead of a playoff spot, and they have a first year coach that is somehow on the hot seat according to Colin Cowherd.
- Not only do the Giants have good coaches that aren't fucking morons and players that are getting every ounce of talent in their body. But they have some GREAT juju behind them.
It would be criminal for a New York team's playoff run centered around Juicy to end in Minnesota after the Wild Card round.
- We also have a potential playoff anthem with great lyrics and sick beat that feels like it could gain some steam (even if I hate the Ray Handley line at the end, regardless of if it is tongue-in-cheek because that man made Pat Shurmur seem like a genius).
- The @Giants account is also pumping out some A+ hype videos of their own
Along with Power Rankings on par with the biggest Football Guy I know.
- I also have a Playoff Goatee that is active and ready to fuck in honor of Coach Daboll's goatee
- I clearly like the Giants today considering they were a 61-yard field goal at the buzzer away from sending the Vikings to overtime and have since gotten their number 1 cornerback as well as safety back, who should help at the very least slow down Justin Jefferson and TJ Hockenson from dog walking us again. Kirk Cousins also threw three picks in the last game that either got dropped or called back due to a penalty. So I am adding him to throw a pick on my Parlay+ on the Barstool Sportsbook, which I LOVE.
In fact, the thing I hate most about today's game is how much the media and fans of other teams like the Giants today. I want the underdog G-Men to move in silence like lasagna, no matter how many times I've heard Football Nerds tell me this Vikings team is the luckiest ever. In fact, if Big Blue wasn't facing the Vikes, I'd be rooting for them to hand those geeks another L like their Golden Child got last night.
- Actually let's stay as far away from the Chargers juju as possible, since I know a black cloud franchise when I see one since I'm a Mets/Giants gypsy fan. I also will not mention how the Vikings juju may be just as bad as the Chargers if not worse since it goes back even longer because I'm a good fan that believes in sportsmanship. Credit to me.
- Pick out your outfits and menu wisely today Giants fans because if Big Blue wins today, you will be wearing the same outfit and eating the same food every week until they don't win. Also make sure to stock up on your gear now at the Barstool NY Football Store before all the bandwagon hoppers get it.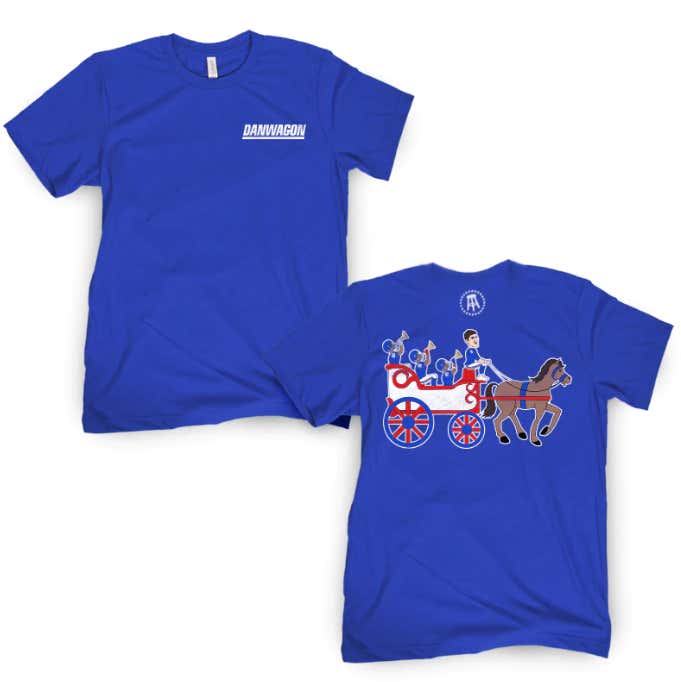 CLICK HERE TO BUY NY FOOTBALL MERCH
It hasn't been a long time since the Giants have been in the playoffs, but it's been too long for a franchise with the prestige around it as the New York Football Giants. And once you get in the playoffs, you can win it all. Don't listen to me, listen to a guy that said this a different year where the Super Bowl was in Arizona.