Housewife In Hot Water - Jen Shah Took Advantage Of Old People And Has To Pay The Piper To The Tune Of 6.5 Years In Jail
If this quote isn't as telling as it comes.
Let me start by saying I love the Housewives franchises. Some might balk at that but it is human nature to enjoy drama. Drama comes in many forms - sports, reality tv, Barstool Sports. I choose to consume all of those and my love for the Housewives runs deep. Overall here is my personal ranking of the cities:
Jersey
(more like 1a) NYC 
Beverly Hills 
In recent years, SLC has emerged as an entertaining franchise. I'm always weary of new franchises because they typically feel forced and less genuine. The women see what's worked in previous iterations and try to mimic that in many ways. Forced friendships and forced drama can always be sniffed out by OG housewife fans. You know what you can't force? FEDERAL CRIMES! 
Insert Jen Shah from Salt Lake City. 
Page Six- Shah, 49, pleaded guilty in July in connection with a telemarketing scheme, in which she allegedly scammed thousands of people out of money, mainly targeting the elderly.

Earlier on Friday morning, federal prosecutors requested 10 years in prison for the fallen reality star in their sentencing submission, noting, "Victims were defrauded over and over again until they had nothing left."

"[Shah] and her co-conspirators persisted in their conduct until the victims' bank accounts were empty, their credit cards were at their limits, and there was nothing more to take," they wrote.
Basically, she knowingly took advantage of old people to fund her lavish lifestyle. I think any time you have people who grew up with nothing who subsequently come into money and become obsessed with material possessions, you run the risk of ignoring your moral compass (or lack-thereof). 
"Real Housewives of Salt Lake City" star Jen Shah has been sentenced to 6.5 years in prison for wire fraud.

"Jen Shah's role on the 'Real Housewives of Salt Lake City,' which I guess is why the courtroom is so full today, is just that, a role," Judge Stein said in the courtroom on Friday, per the Inner City Press.

"People should not confuse the character she plays on an entertainment show to the person before me."

Judge Stein also noted several times that Shah was a "leader" of her conspiracy, which was likely a factor that was considered when deciding the length of her sentence.
If you mislead elderly folks and deplete them of their life savings, you have no moral compass. In fact, I'd go so far as to call you a deplorable person. Can you imagine living off your savings only to find out one day you have nothing left? Horrible. These crimes were perpetrated well before she even joined this show but I think the pressure of the public eye only made things worse. Unfortunately, one of the ways to gain notoriety on these shows is to cause drama and Shah did just that time and again. 
The moment on the show she realized her goose was cooked!
As for the sentencing - 6.5 years is a JOKE. Again, I go back to who the victims were. One of the most vulnerable parts of our population. You can't come after my nana and not expect me to be pissed. Not to mention, while committing these crimes she is on national TV flaunting the illegal fruits of her labor which is essentially spitting in her victims' faces. She should've got 10 or more years but what do I know I can only quote A Few Good Men word for word.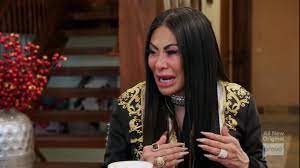 Spare me the crocodile tears and see if that orange jumpsuit comes in bedazzled. 
P.S. Her style was horrendous. Gaudy and gross at all times. To steal all that money only to look horrible is somewhat fitting I suppose
P.P.S. As far as Housewives crimes goes she comes in first with Erika and Teresa following in 2nd and 3rd, respectively. At least with those two the "I didn't know" card is more plausible. 
P.P.P.S I can't wait to hear what Andy has to say