2023 NFL Mock Draft For Teams Not In The Playoffs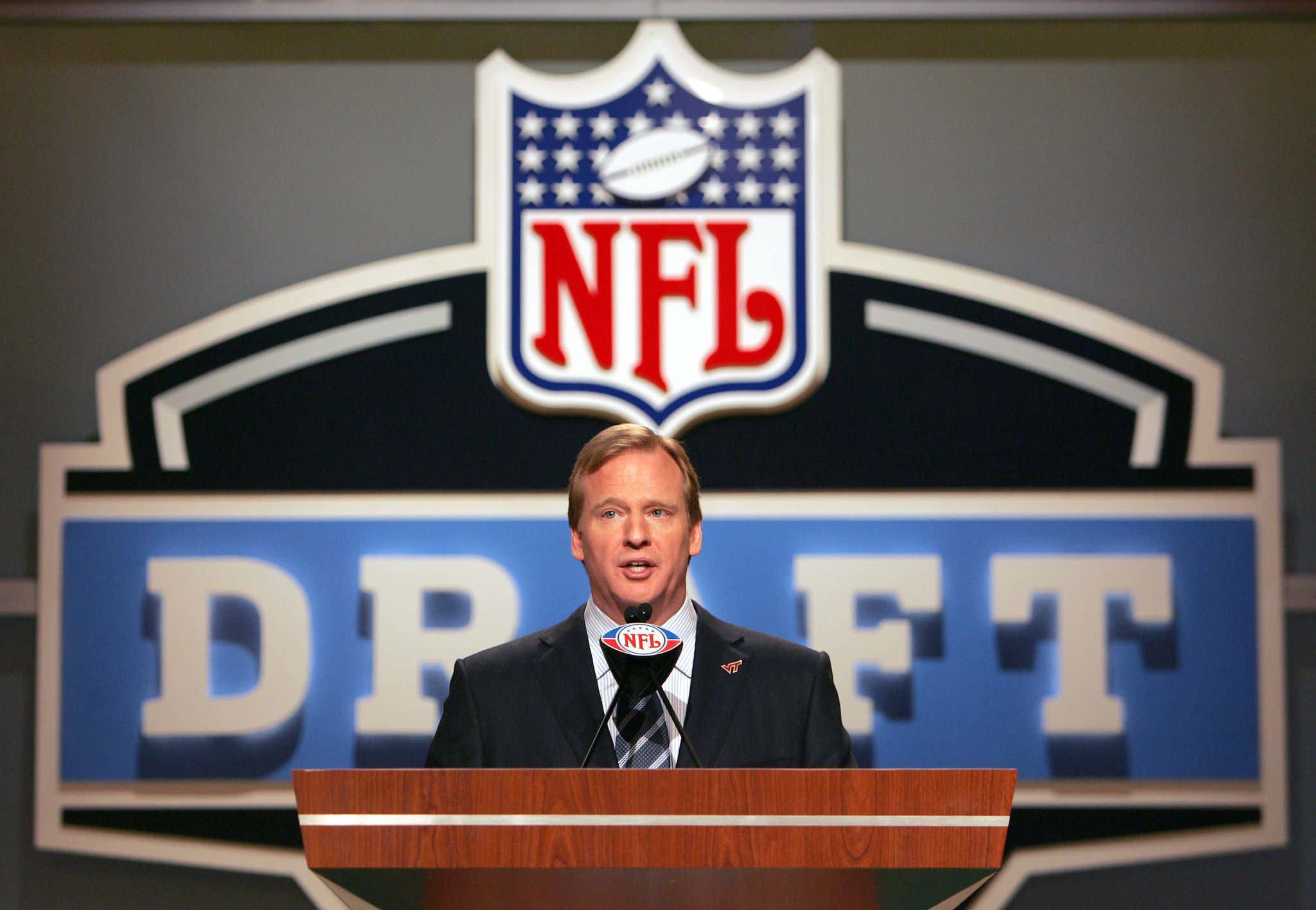 Richard Schultz. Getty Images.
With the NFL regular season coming to a close on Sunday and Georgia stomping the living daylights out of TCU last night, we have firmly moved into Draft season. I'll release my official Mock Draft 1.0 after the Super Bowl, but let's get a little taste for all those teams that don't have any more games.
The Bears will most likely deal this pick, but for this exercise, let's keep things chalk and trade-free (sorry Big Cat!). When we get into the full 32 team mock we'll get a little zany. 
1) Chicago Bears - DT Jalen Carter (Georgia)
Matt Eberflus craves a dominant force in the middle of his defense. If you'll remember, the Colts traded a 1st Round pick for DeForest Buckner in Indianapolis. I could see him looking to build his Defense in Chicago around Carter. And #88 is one of the best Defensive Tackles to come out in several years and both stops the run and can win early with a pass rush. He is a beast.
This dude in the middle of a Defensive Line is a tempting proposition.
2) Houston Texans - QB C.J. Stroud (Ohio State)
A lot of hype around Bryce Young as QB1 and that may very well be it in late April. But I'll go with C.J. Stroud who has better size and mobility. Plus did y'all see him against this Georgia defense? 348 yards passing 4 TDs 0 INTs - sheesh! Justin Fields shows that you can take a great athlete who is a good passer and bring them along slowly. I could see a similar plan with Stroud, whoever the Coach ends up being.
3) Arizona Cardinals - EDGE Will Anderson Jr. (Alabama)
Will Anderson Jr. was viewed as the #1 pick coming into the season and still could end up there. He's a tad undersized at 6'4" 241 lbs., but he's got that twitchy athleticism and strength that teams crave. Who knows what the hell is going on in Arizona as they have no GM or HC at the moment. But they clearly need better pass rush, so Anderson makes sense here.
4) Indianapolis Colts - QB Bryce Young (Alabama)
After watching Matt Ryan, Sam Ehlinger, and Nick Foles sling it around the yard this season, I think it's pretty clear the Colts need a new signal caller. Young is accurate and mobile. But his lack of a huge arm and size (6'0" 194 lbs.) is lacking for a top pick in my mind. And while I realize Kyler Murray was sub-6 feet and a top pick, he was a world class athlete and also thicker. 
5) Seattle Seahawks (via Denver Broncos) - EDGE Myles Murphy (Clemson)
The Seahawks are a playoff team, but have this pick via the Russell Wilson trade. They have a steady rotation of rushers with Uchenna Nwosu being their leading sacker. At 6'5" 276 lbs., Murphy would give them a guy off the edge who can be a mainstay.
6) Detroit Lions (via Los Angeles Rams) - DT Bryan Bresee (Clemson)
Bresee can help solidify the interior of this Defensive Line that had it's moments, but got gashed by the Panthers to the tune of 320 yards on the ground. Bresee could slide in somewhere in between Aidan Hutchinson and James Houston IV and shore that line up. 
7) Las Vegas Raiders - QB Will Levis (Kentucky)
The Raiders benched Derek Carr presumably to keep him healthy so they could deal him in the next few weeks before his contract becomes guaranteed for next season. Jarrett Stidham had his moments the last two weeks, but HC Josh McDaniels gets his chance to pick a young buck to groom as a Franchise QB. Levis is a big boy at 6'3" 232 lbs. and can really rip it (see tweet in video below). He's also got wheels and fits in the modern NFL. Great value at #7 for the Silver & Black.
8) Atlanta Falcons - EDGE Tyree Wilson (Texas Tech)
The Falcons just don't have juice off the edge to heat up the Quarterback. Haven't in several years. But that could change with Wilson, who at 6'6" 275 lbs., has put up 27.5 sacks the past two seasons for the Red Raiders.
9) Carolina Panthers - WR Quentin Johnston (TCU)
Johnston was a complete no show in the National Championship game with 1 catch for 3 yards on 3 targets. But he's got the size/speed/strength combo to dominate at the next level. At 6'4" 216 lbs. with 4.4 speed, he'll make Sam Darnold or whoever is slinging the rock next year in Carolina very happy.
10) Philadelphia Eagles (via New Orleans Saints) - CB Kelee Ringo (Georgia)
Ringo had a rough go against Ohio State, but Corners have to have a short memory. He's a bigger Corner at 6'2" 210 lbs., but the Eagles have historically liked those.
11) Tennessee Titans - OT Paris Johnson (Ohio State)
The Titans have a lot of needs as their Championship window seems to be firmly closed at this point. I'm not sure Ryan Tannehill or Josh Dobbs is the answer at this point, but why not give them the most protection possible and find out?
12) Houston Texans (via Cleveland Browns) - WR Jaxon Smith-Njigba (Ohio State)
That cockroach Nick Caserio survives only to reunite his new QB1 in C.J. Stroud with one of his favorite targets, JSN. Brandin Cooks ain't gonna cut it as WR1 in 2023, so this is a great fit on many levels.
13) New York Jets - LB Trenton Simpson (Clemson)
Do the Jets bail on Zach Wilson and take a QB here? I'm not buying the Anthony Richardson top 10-15 buzz…yet. The Jets defense is outstanding, but getting a younger future replacement to C.J. Mosley will do them good down the road.
14) New England Patriots - EDGE Lukas Van Ness (Iowa)
Matt Judon is spectacular, but they need more pressure off the edge and Lukas Van Johnson fits the bill. He's a bit of a projection, but the kid has got dynamite in his hands.
15) Green Bay Packers - OT Peter Skoronski (Northwestern)
The Packers continue to get younger across the OL and Skoronoski just sounds like a Packer pick. His arm measurements will be big as he may need to kick inside to Guard if they don't measure out.
16) Washington Commanders - OT Darnell Wright (Tennessee)
The Commnanders don't know who will be throwing the ball next year. But whether it's Taylor Heinicke, Carson Wentz, Sam Howell or someone else, they'll need to protect them and Wright has some intriguing tools to pass on at #16.
17) Pittsburgh Steelers - CB Joey Porter Jr. (Penn State)
The Steelers have a need and Porter's dad is a legend for the franchise. This is probably too low for him, but this pick just fits.
18) Detroit Lions - RB Bijan Robinson (Texas)
Jamaal Williams is 27 years old now and is a free agent. They may very well bring him back, but the Lions can be a Dan Campbell tough team with only D'Andre Swift, who can never seem to stay healthy at RB.
*All picks #19 - #32 may change based on Playoffs results