The NBA's Trade Season Is Officially Open So Here's What Brad Stevens Should Do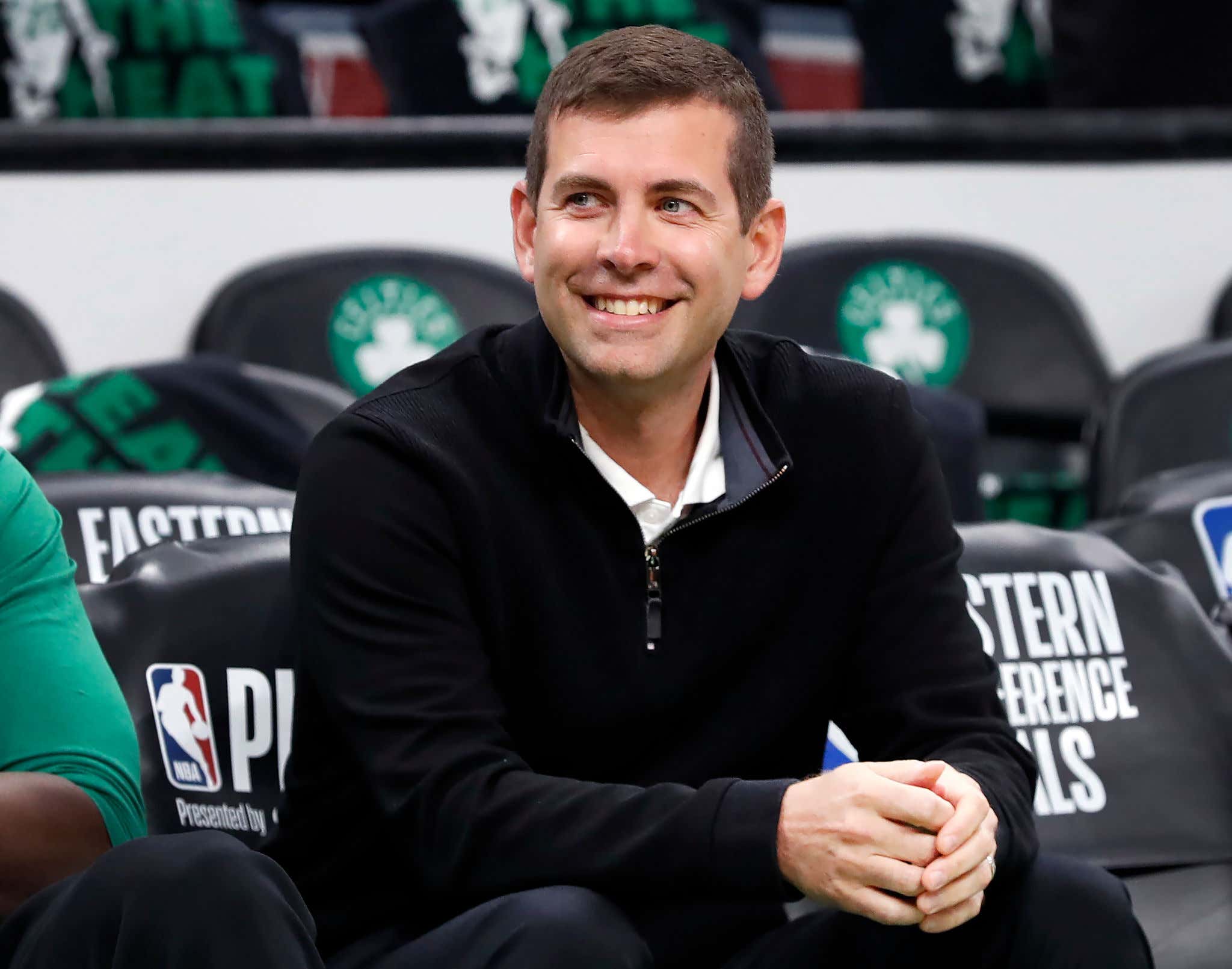 Boston Globe. Getty Images.
December 15th is a big day on the NBA calendar. Why is that you ask? Now that we've reached the 15th, a total of 88% of NBA players are now able to be traded. Prior to today, if you were someone who signed a deal this offseason, you couldn't be moved. But now? Now the floodgates are open. You're about to see your timeline be flooded with "sources" or "reports" from "league sources" that Team X is interested in Player Y. Most of its bullshit, especially the part where by law the Miami Heat have to be mentioned in EVERY possible player in the league
It's my favorite yearly tradition if we're being honest. I started tracking it as a joke about 2-3 years ago, but it really is funny how the Heat are the Interest Kings of the NBA despite ya know, never actually landing any of these players.
But this is not a blog about the 14-15 8th seeded Heat. This is a blog about the best team in the NBA and what I think Brad Stevens should do now that the pool of available players has expanded.
The short answer? Nothing.
Well, let me be more specific. Nothing major. 
He's of course going to call around and see what's a potential possibility, but I wouldn't exactly say the Celts roster is in a position of need right now. Even if you think they are a little thin in terms of frontcourt depth, you have to remember what position the Celts are in. 
Not only is Rob coming back in a matter of days, but it would also be stupid in my opinion to give up a top 10-11 player/asset for a 3rd-4th string center. Luke Kornet has been more than fine. In terms of TPE's, the Celts currently have the $6.9M one from Juancho and the $5.8M one from Schroder. Ideally, you would want to find a guy who fits into that salary who would only be available for a 2nd round pick or something. When you look at the list of names who play a frontcourt position and who also make that type of money, the names aren't exactly great.
Who do we think is even available from those lists? Maybe Alex Len? Maybe Jaxson Hayes? Maybe PJ Washington? So right off the bat, the TPE market for big men doesn't even look that great.
I'm also leaning toward the idea that the Celts may be better off holding onto whatever assets they would need to send in a TPE trade and simply wait for the buyout market. Remember, they were awarded $3.23M for the Gallo injury
So once we get to the deadline and guys start getting bought out, while other teams may only have the vet minimum to offer, the Celts can basically double it. That costs them zero assets in terms of picks if there's a player out there that they have an interest in. If it costs someone like Justin Jackson his roster spot, so what? We know the Celts are now a destination for free agents, so I feel confident in their ability to land a player if the opportunity presents itself.
You'll see names floated around like Jakob Poeltl, but I just can't understand that thought process. Not only does his salary not fit either TPE ($9M), but it's going to cost you 1st round picks and then the salary of players to match. One quick look at the Celts cap sheet should tell you a $9M player is 
You may think that Gallo's money works, but he's not allowed to be traded back to the Spurs (he went from ATL to SA before signing in BOS). So for someone like Poeltl, who would be your 3rd center, how are you getting to his salary? It just doesn't add up for me.
So while in previous years I think most Celts fans would get antsy for Ainge to do something at the deadline, times have changed. If something pops up that makes sense, cool. If not? Also cool. This roster is good enough to win a title as constructed, so for my money there's no need to overextend right now. Get a buyout guy to sure up your frontcourt if you want. See what roster needs you might need in a few months because of injury. I think at this point we all trust that Brad is going to do both the right and the smart thing when it comes to building this roster given how on the nose he's been so far.
For a lot of teams in the NBA right now, today's date is significant. For the Celts, it's basically just another day at the office. I have to admit, I like this life a whole lot better.