Nikola Jokic Received The First Ever The Michael Jordan MVP Trophy And It's Much Cooler Than I Originally Thought
Bart Young. Getty Images.
Today is a pretty big day for Nuggets fans and the fine people of the Mile High. You may have no idea what it is, but today is "Merry Jokmass". What is that you might ask? It's the anniversary of Michael Malone deciding to officially put Nikola Jokic into the starting lineup. Back on December 15, 2016 in a home game against the Blazers, Jokic started and played 19 minutes while throwing up 13/4/5 on 5-6 shooting and the future of the Nuggets franchise was forever changed. 
After their win last night against the Wizards, Malone talked about what a franchise altering decision that was
Safe to say things have worked out for Malone and the Nuggets over the last 6 years. If Malone is curious, the Nuggets are 289-186 since December 15th 2016. That's a 60% winning percentage for those not great at math, which is a 49 win pace. Not bad!
Last night, Jokic was back to doing MVP type things
which wasn't all that surprising. It's a bit of a shame that Jokic is going to suffer from voter fatigue this year in the MVP race despite the Nuggets sitting just 1 game back of the #1 seed in the West. Not only that, but his 24.6/10.3/9.0/1.4 averages on 63/30% shooting aren't too shabby either. Sadly, there's no way the voters give him 3 straight MVPs. We've seen the back to backs in recent NBA history with Duncan, Nash, LeBron, Steph, Giannis, and Jokic, but nobody has won 3 straight since Larry Bird did it in the mid 80s. That was nearly 40 years ago. 
So while Jokic most likely won't win his 3rd MVP this year, he is the official first recipient of the new Michael Jordan MVP trophy. I'll be honest, maybe I missed it when these things were announced, but I had no idea they were going to retroactively give it to last year's MVP. Maybe everyone knew that, but it surprised me. I thought it was for the 2022-23 MVP and beyond.
At first, I didn't really know how to feel about the MJ trophy. When I initially saw it, it reminded me of those "gold" soccer player trophies I got when I was a kid. The overall public consensus was that it was awesome though, so I was willing to concede that maybe my take was incorrect. 
Now after seeing it? It's much cooler than I originally thought. That thing is way bigger than it seemed in the photos. Jokic is a rather large human, and this thing takes up basically his entire midsection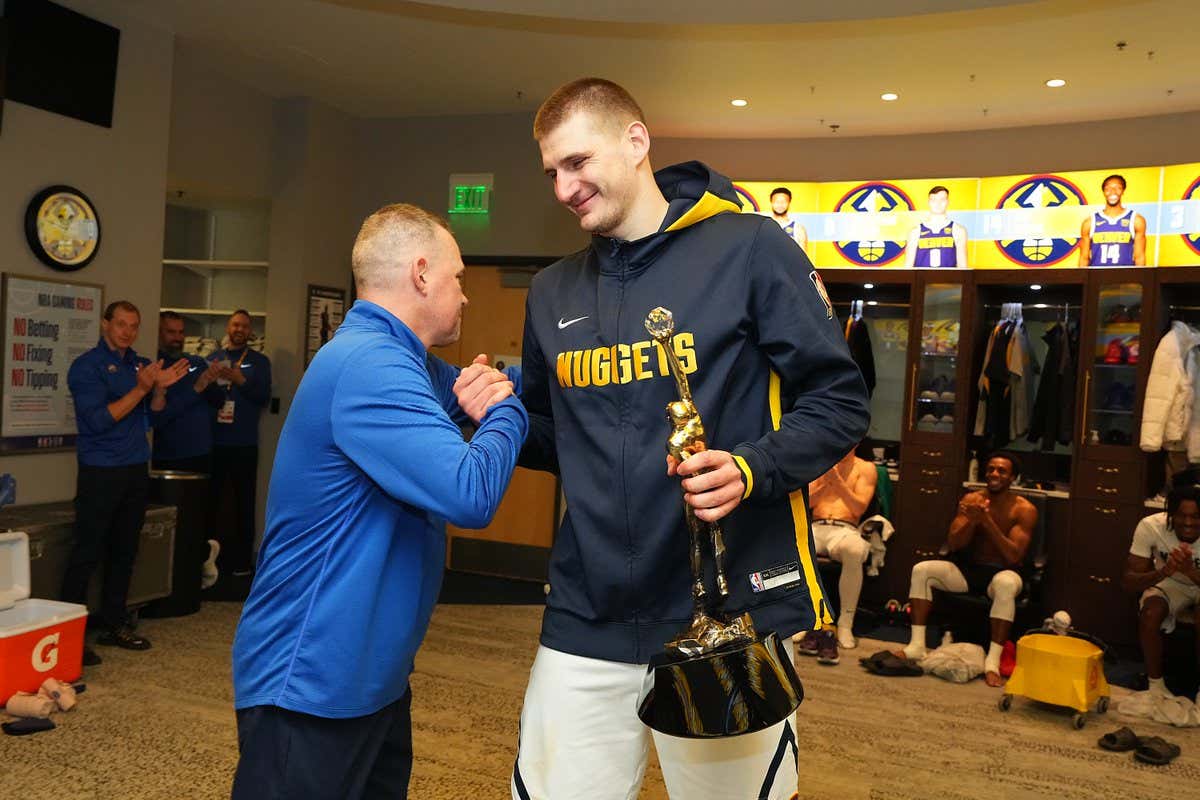 Now, whether you think this should actually be named after Kareem, ya know, the guy with the most MVPs in NBA history, is a topic for another day. My question to you is if you were like me and were maybe a little iffy on this new trophy idea, does finally seeing it in the wild change your opinion? 
I will say, Jokic's response to this whole thing might have been my favorite part. I cannot get enough of how much he simply does not care about any of this stuff
"Cannot answer that question"
"It's cool"
You don't often hear players of Jokic's caliber talking this way. It's basically him and Giannis, that's it. MVPs, All NBA, All Star, none of that shit matters in the slightest to Jokic. He cares about winning. 
Pretty fitting for the first ever MJ trophy recipient if you ask me.