The Pornhub 2022 Year In Review Is Here - USA Continues Their Dynasty, Reality Makes a Big Push To The Top, And Abella Danger Claims The Crown
Ethan Miller. Getty Images.
It's everyone's favorite time of the year. Christmas? No. Bowl season? Negative. Playoff push in the NFL? Sorry. Of course not silly, it's time for the Pornhub Year in Review where we get to see how weird everyone was in 2022. No one cares about your Spotify wrapped, but when we get to see state by state who was watching what the Hub that's where things get interesting. 
Let's start with the first order of business, the United States once again reigning supreme on every else as the porn kings of the world. The greatest dynasty known to man. The moment we get dethroned in this category is the true sign our country is failing and time to abandon ship. Good to see everyone doing their job here. Big year for Egypt getting in the mix. 
Top searches of the year? Some mainstays like hentai and group sex show up, but reality clearly had the biggest jump of all. From not even being on the top 5 list to numero uno. Is this everyone getting in the Only Fans mindset and not watching the well-produced stuff? Glenny Balls spearheading a goddamn movement across the globe. 
And for all your cartoon nuts out there here were the most searched characters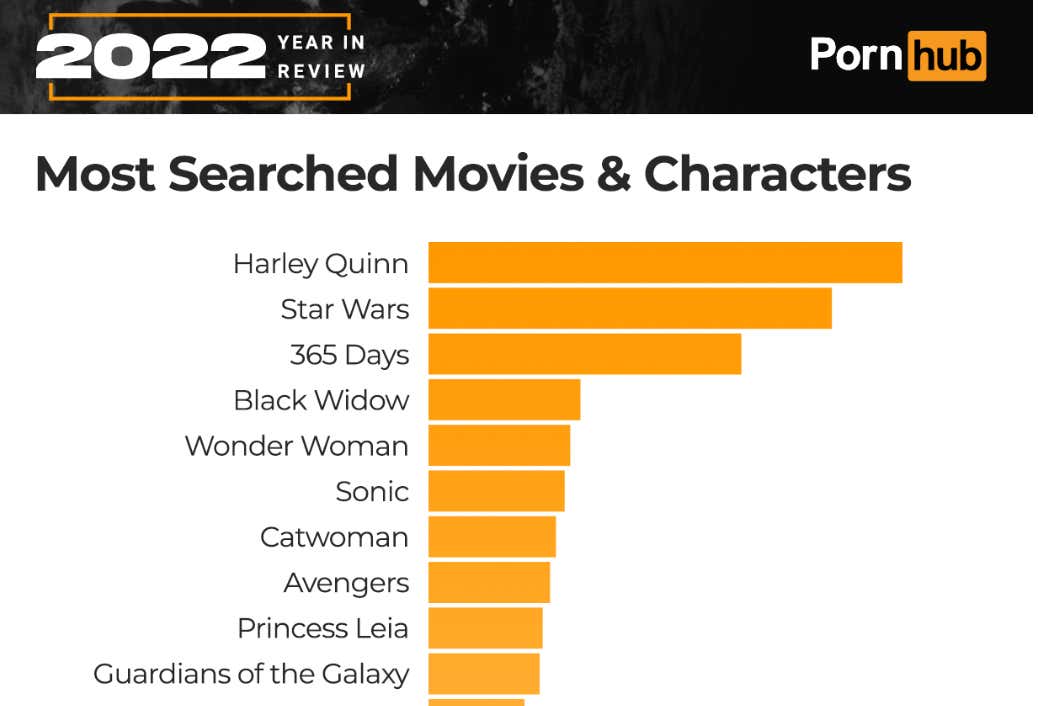 Harley Quinn, sure. Black Widow, yup makes sense. Wonder Woman, got it. SONIC??? People are trying to watch Sonic fuck? I'm calling the police.
Had to give you a few stats before we cut into the big tamale. Everyone loves this review each year so we can analyze the porn map across the United States. 
STUNNING that 'massage' went to Missouri and not Ohio. Furry once again popping up here and I still don't want to know what that is. Last year Mississippi was all about that, but now it's made its way to Indiana and Oregon. Is this actually from that one Entourage episode? 
There's some sick fucks in this world. 
Last year Alaska was messing around with morning sex. Feel like that's a perfectly normal thing to be about as far as I can see, almost too tame honestly. Now they're onto breast expansion. Talk about a leap into your imagination. I don't even want to know. 
Smoking being the fetish for Virginia is something. Does it translate if you're addicted to smoking you watch smoking porn? Are people smoking while they have sex or is it part of the story? Confusion has found me. 
And yes, I had to look at a map of the United States with the names to figure out some of these states. 
To round out the blog let's get to the top 5 performers in the world
1. Abella Danger back on top. Just an absolute problem 
2. Lana Rhoades knocked down a peg to runner-up. Could be wrong but I believe she retired from the game so that might be part of the reason. 
3. Angela White. Big year for Angela hopping into the top 5
4. Eva Elfie remained in your top searches
5. Riley Reid will never go away. 
Other notable big jumps, Emily Willis, Violet Myers, and Sky Bri. 
I'll just say this, it's a damn shame Layla London called it quits so early. Truly the Barry Sanders of the porn game. 
And that's a wrap from our good friends at the Hub, happy searching. Check out the full breakdown here