INVESTIGATION: Who Took A Shit On Barstool Chicago's Door?
Thursday morning, an unconscionable act of terrorism occurred at Barstool Chicago's HQ. It wasn't anthrax. It wasn't some weak little flu virus concocted by scientists in a Chinese lab. 
It was worse. 
Someone took a shit on our front door. 
And I'm not talking about just any shit. It wasn't a nice fiber-fueled "one wipe" log of shit, it was a liquid, 4am Mexican food induced shit.
Ummm wtf? 
Some people are saying it's a hate crime. Others are saying "when ya gotta go, ya gotta go." People in hushed circles are saying it was a terrorist act constructed by an anti-Barstool lib. An act of biological warfare, if you will and most importantly, some are saying it's an inside job.
Whoever it was, just know this: 
We must find the perpetrator. Thank god we have not only a collection of Mensa-like brains at Barstool Chicago, but a bunch of salty pricks that take pride in the ability to hold a grudge and be spiteful.
So let's take a look at the potential suspects:
Carl: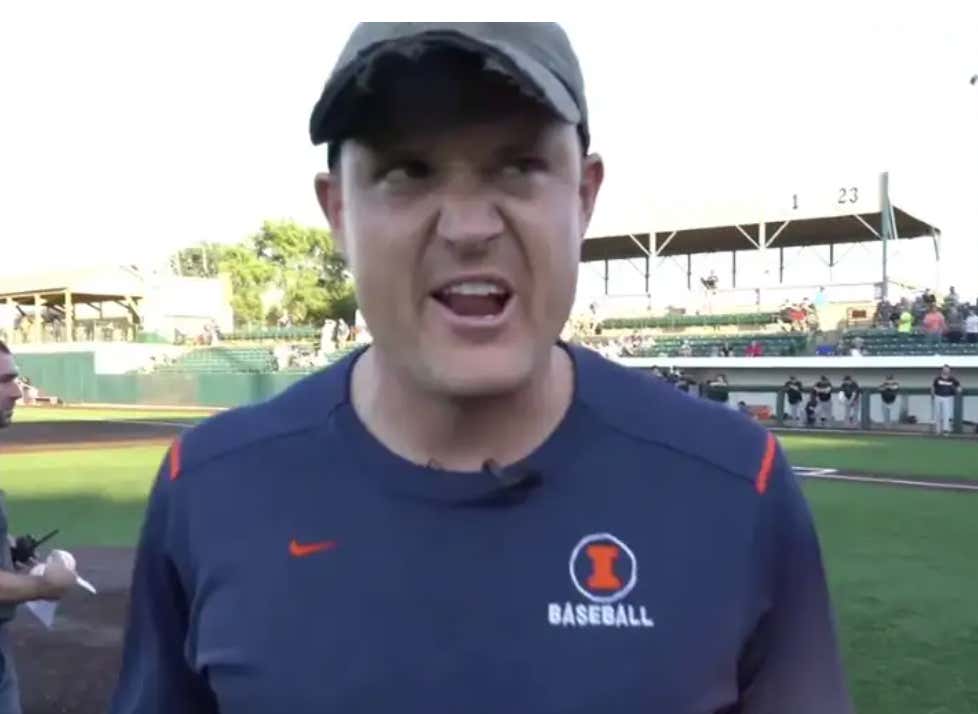 If anyone at Barstool Chicago has a knack for staying out of trouble in the public eye, it's Carl. Guy is cunning, yet reckless. Now, after measuring out the height of the shit's splatter, he deduced that it came from a man that was at or near 6'2" in height. How tall is Carl? 
Around 6'2"
Giphy Images.
He also drinks the most out of all of us. More drinking = more late night food = more emergency, liquid bowel movements. 
ODDS CARL IS THE UNIPOOPER: +300
Ed:
Eddie is short in stature, but not short in poop. Dude takes a mean dump.
He's also very on record as having committed a terrorist act using poop as the vehicle to drop a dirty bomb on foreign territory before, as he dropped a dukie in the urinal of his HS.
That said, he's short. Like… a hair-taller-than-me short. If he did this without the help of a step stool, the splatter wouldn't be as high up on the door. 
On the flip side, Ed's cunning like a fox. He's a prank master. If anyone could successfully pull off a frame job in this office, it's Ed, and I wouldn't put it past him.
ODDS ED IS THE UNIPOOPER: +180 
Chief:
Chief tries to come off as this hoytie toytie choir boy priss. He's not. I know where ALL of his bodies are buried. Guy is a complete scumbag when you boil it down to brass tacks. He's also like 6'1-2" tall. 
Perfect unipooper height. 
Giphy Images.
He's also in a very public open relationship with Ozzie Guillen. Ozzie Guillen is Latin American. I know my way around late night LatAm food, and have personally walked into a bathroom after Ozzie Guillen just dropped a rat in it. The smell was FOUL, to say the least.
Did Ozzie whip up Chief some Venezuelan food after a night at Big City Tap? 
Maybe. 
ODDS CHIEF IS THE UNIPOOPER: +180 
Me: 
I know, I know. I get it. I'm the easy target, and perhaps I'm an easy target because of self-inflicted wounds due to my motor mouth.
But I'm also the cleanest cut, trimmest, most athletic and best looking of the group. I run marathons, for instance. You think I'd put anything that could cause this sorta bowel movement into my body?
For sure not. 
ODDS I AM THE UNIPOOPER: +10,000
Homeless guy:
Giphy Images.
Barstool Chicago's headquartered on a stretch of street that is littered with vile creatures. We're also down the street from am el stop. LOTS of hipsters, freaks, dead beats, drug addicts and yes…. homeless people.

Idk if you know this about homeless people, but they don't have homes. If one doesn't have a home, one doesn't have a place to shit. They shit outside. Perhaps this wasn't a 4am Mexican food induced shit, but a heroin induced shit? 
CHANCES IT WAS A HOMELESS GUY (or girl, it's 2022): -120
Dante:
Dante is never in Chicago. 90% of the time I text him, he's on a plane. I texted him last night and he was on his way to Mexico for a wedding. That said, he's a broken brain. Politics have eaten him alive. Maybe this was an act of aggression perpetrated by someone who left earth 3-4 years ago?
Maybe… not probable though.
ODDS THE UNIPOOPER IS DANTE: +1000
Henry Blodgett:
James Leynse. Getty Images.
Dude's as shady as it gets. What's a better way to get back at Portnoy for calling him on all his bullshit?
Drop a duke on the front door of one of his satellite offices. 
ODDS IT WAS BLODGETT: +120
Weather Girl Hannah:
This girl fucking hates me for no reason at all other than I exist. I've been told broads like her don't take shits, but if they do, she'd bend over and shit all over our door to prove some point to me. Probably. Just not sure she does. Gotta find that out first before she's a prime suspect. 
ODDS IT WAS HANNAH: +500
Jersey Jerry:
Jerry likes to shit in places that aren't a toilet. That's just a fact, as referenced by him shitting on his own person and in his own trousers a few months back. He's also a bit of a loose cannon and is VERY on record as not liking Chicago, myself, Chief, or our QB Justin Fields.
Add all of that up and guess what? We got our guy… I think.
I do have a call into both Kathleen Zellner and the Hardly Boys AS WE SPEAK to get to the bottom of this (literal) mess. In the meantime, we ironically had Jerry on the newest snake draft, which will air Monday where we're drafting "worst smells". Did Jerry decide to leave his mark on us and our abode? I'm a gambling man, so I'd say yes.
TUNE INTO BARSTOOL CHICAGO ON YOUTUBE AND WATCH OUR NEWEST EPISODE OF STOOL SCENES!!!