With The Royal Family In Attendance, Jayson Tatum Showed Prince William What A True King Looks Like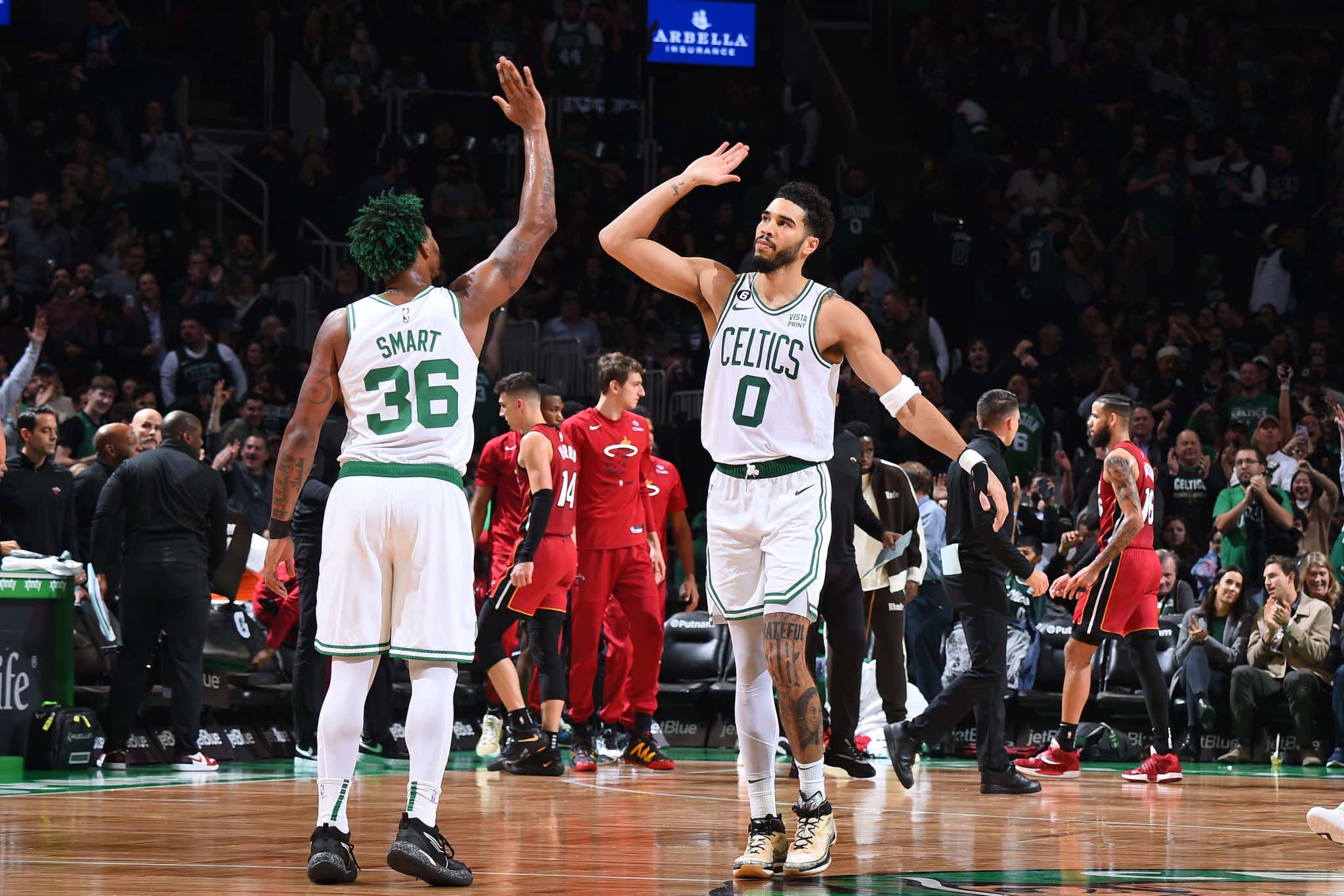 Brian Babineau. Getty Images.
I would like to begin this blog with a thank you. 
If you were someone who made sure to read those game blog screen recordings I would tweet out or were someone who continued to read the screenshots of the blog notes despite that font being tiny as shit, I'm sorry you had to do that but you'll never truly know how thankful I am. Thankfully, those days are over and we're back, which felt fantastic to type. For those who have been here since the beginning, you know we don't miss a game. That's our thing. For 7 years, this team plays a game and then we talk about it.
Which means I should probably address something else. You might have noticed there's a big giant green GREENIE at the top of this website now. You were probably like what the fuck is that? Here's a secret, so was I. Never in a billion years would I ever think I'm important or good enough to have an entire hub named after me. As soon as I learned about it, the first thing I said was that thing needs a different name. It made me wildly uncomfortable to be honest. So what is it?
Essentially, as it's been explained to me, this is essentially a local-type hub. As someone who broke into this life being a local team sports blogger, the powers at be have created a local sports hub for blogs just like this. Do you love sports and want to read sports blogs? That's what this hub is for. Not just for me, but for all the other local sports bloggers too. It can be a place where you come to read about your favorite team, get introduced to new bloggers, etc. I'm actually pretty excited about it once I learned it was actually becoming a thing and I hope you all enjoy it as well. 
So now that we're back, boy do we have a lottttttt to get to. I dunno if you've heard, but the Boston Celtics are the best basketball team on the planet. That is fact, not opinion. 
Another night of dominance, this time against the Heat with the Royal family in attendance. Let's dive in.
The Good
- Before the game, everyone was making a big deal because a certain couple was at the Garden
Personally, I'm someone who doesn't really give a shit about the Royal Family. It's cool if you do, I would never tell someone what they should or shouldn't care about, but for me, it comes down to this. Why should I give a shit about a Prince and a Princess when I am currently in the presence of a true King. That's right. With Prince William in attendance, Jayson Tatum gave him an up close and personal show of what a true King looks like
What we witnessed from Jayson Tatum is the very definition of a masterclass performance. Many are calling it God-like and I find it hard to disagree. Not only was it the 49/11/3, it was how he did it. It was making NBA history for the youngest player ever to make 900 3PM along the way. It was his elite defense. A missed jumper away from 50, when Tatum enters this zone there is literally not a thing an opposing defense can do but pray. That's really all that's left right now when you are attempting to stop Jayson Tatum. All you can do is pray he misses, and the bad news is the fact that Tatum has basically never been more efficient from the field in his career. He's not missing.
After his 8-12 performance from deep last night, it sure looks like his 3 point shooting is now starting to come around as well. That's right, Tatum was the MVP leader even without his 3 point shot. Now he has it back and what happens? He basically drops 50. After every game it feels like we keep saying this is the best version of Tatum we've ever seen, but that's because this is the best version of Tatum I have ever seen. This is Playoff Tatum in the Fall. It's what we prayed for and to see it actually happen is legitimately insane. It's better than I hoped.
You pretty much knew right away that we were in store for one of these Tatum nights. When he comes out and is pure in his first 2-3 3PA, you can just tell he has entered that 50 ball zone. It didn't matter what the Heat tried defensively, there is no answer for this man right now.
- Which brings me to easily the best part of this Celtics team. As fun as Tatum's night was, you know what made last night even better? That not only can you witness that masterclass, but you're #2 in Jaylen Brown is also going to give you 26/7/5
This was another example of the idea that as long as Jaylen finds a way to hold onto the basketball, he is virtually unstoppable. When we say this is the best duo in the NBA, it is not hyperbole. It's not homerism. It's reality. This time they combined for 74 goddamn points. 74!! And they did it on 25-43 (9-18) shooting. Jaylen did his shit in under 30 minutes considering he spent the entire 3rd quarter on the bench with foul trouble. I dunno, that feels pretty good and something that people should appreciate considering not every team in the NBA is blessed with this type of combo.
When Jaylen is able to get out in transition, he's too big, too strong, too athletic for opposing defenders to deal with. It all comes back to his ability to just hold onto that ball. There were issues with that tonight which we'll get to, but overall? Jaylen gave this team exactly what they needed.
- I'm just going to admit something. I cannot explain Malcolm Brogdon's three point shooting, and frankly, I'm not sure I want to. Just enjoy the ride because things are straight up ridiculous right now
Since coming back from his injury on 11/18, this is how Brogdon is currently doing
15.4/4.4/3.9 on 53/63% splits with 3.0 3PM
Please read that shit again, specifically the shooting splits. 63% from three on good volume (4.7). What the hell even is that? Even if you accept that Brogdon was always a good catch and shoot guy from deep, 63% is simply insane. That's all I can really call it. I know it'll come back down to earth and be something like 40%, but right now? He's not even touching the rim. He's on his Sam Hauser bullshit or something and it's been incredible to watch.
But aside from his shooting splits, we're seeing what happens when opposing teams have to try and deal with Brogdon by using their 8th or 9th guy to defend him. That's a matchup Brogdon is going to win every single time, and honestly why Brad is such a goddamn genius. The talent is too deep for teams to handle. Once their starters come out, the Celts just put in starter caliber reserves. Who else in the league is doing that right now?
- Let us all take a second and tell Al how much we love him
We have reached the point where Brad is physically incapable of missing. He doesn't know how to do it. If we're being honest 2 years isn't anywhere close to long enough for my liking, but I'll take it. What a great deal for a guy who is proving to be one of the best Celtics of this era. To have at least 2 more years of Al in my life (and for that price), was the perfect way to wake up today. 
Love you Al, mean it.
- So, I think we can all agree that Derrick White has fixed his jumper correct? Another 15/1/5 for DWhite in his 25 minutes while shooting 6-10 (3-7) from the floor, his start to the season has been nothing short of spectacular. Whether it's a spot start or coming off the bench, it hasn't really mattered.
His change comes down to 2 things for me.
1. He fixed his mechanics. His jumper is way more straight, there's no leaning on his form anymore of any of that. You get that by putting in hours and hours in the gym to the point where you aren't even thinking about it, you're just shooting.
2. His confidence. At no point are we seeing Derrick be hesitant with the ball. You can tell he's WAY more comfortable in the system and with this group, and now when he has even the slightest of open looks he's letting it fly. You combine improved mechanics with a confident approach and this is what you get. Easily one of the best seasons of his career.
- Mazzulla Ball is legit changing not just ours lives, but the NBA as we know it. There's no point in denying it anymore. When you throw up another 130+ on 55/49/87% splits with 35 assists and 24 3PM, how else can you describe it?
This isn't a one time thing either. This is an every time the Celtics play thing. 
All of us right now:
Jared C. Tilton. Getty Images.
I keep hearing about "regression" and that "the Celts won't always shoot like this"
OK, cool. They'll go from being the best offense in the history of the NBA to the best offense in the NBA this season. The horror!!
- Credit to me for allowing others to shine in this blog, but let's not ignore another stellar game from Marcus Smart. He only took 7 FGA, he finished with 10/5/9, and his defense was as solid as it always is. After his 2-3 from deep last night Smart is well over 40% from three for the month of November, and it's basically time to just accept that he's now an above average three point shooter.
I know this will be tough for his haters to accept, but that's the reality. Not just because of his November splits, but he's now shooting 36% from three on the SEASON. The tears remain extremely delicious.
- While some may be annoyed the Celts didn't blow this team out, I don't mind the fact that they were tested throughout. That's fine by me, this team needs to be exposed to every type of situation, There's nothing wrong with having to go out and continuously execute in order to pull off a win. It's not always going to be easy, teams are going to punch back, so it becomes how will this team respond to those punches?
Last night, they took it on the chin and then gave them a right hook of their own. The Heat probably had the best offensive game of their season……and they lost by double digits. That tells you pretty much all you need to know.
- As a reminder, this team won 9 in a row, had an "off" shooting night vs CHI and lost, and then immediately ran off 5 straight wins. Talk about resiliency. To me, that's how you know that 9 gamer was real. You win 14 of your last 15, that's not an accident.
The Bad
- I think we can all agree that giving up 121 points to a team without Jimmy Butler that shot 52/45% with 18 3PM was nowhere close to an acceptable collective defensive showing. While the Heat may have been shooting the lights out, that's still not the reason why they were effective.
The Celts had all sorts of problems with the Bam high screen, whether it was Herro coming off the P&R into a floater/layup or Strus coming off the screen for a pullup three. Sure Bam might be moving on those screens, but there really was no counter by Joe to figure that shit out. Remember, the NBA is a copycat league, and until the Celts figure out their P&R coverage teams are going to continue to attack it. It's the same shit CHI did with DeRozan. 
- When it comes to Max Strus, I've just accepted that he's locked in as a top 5 Celts killer and he's maybe the only one that it doesn't bother me with because it's rooted in payback. The Celts could have kept Strus but they chose Javonte. I have no problem with Strus dedicating his life to making the Celts pay for that decision. I respect it.
He was still out of bounds in Game 7 last year, but he's turned himself into one hell of a shooter.
- Every single person with a brain knows that when the Celts play MIA, they cannot turn the ball over. So what do the Celts do? They teleport back to the ECF and do nothing but turn the ball over. A total of 17 last night, Jaylen had 6 by himself, I cannot explain to you how bad my PTSD was from the ECF with this shit. 
For whatever reason when the Celts play this team they somehow lose their brains. They can't dribble, they can't take care of the ball, it's so bizarre. Even Brogdon had late game turnover issues and he wasn't even on the team last year! Starting the 4th quarter with 3 straight TOs was beyond pathetic and it's no surprise that the Celts were never able to get that separation because they kept giving the ball to the other team. It didn't cost them the win, but fuck man clean it up.
- Al had all sorts of trouble with Bam's pull up in this game. It was like Theis vs Bam in the bubble if we're being honest. For a guy with a limited offensive game, he pretty much dominated that matchup which is pretty rare to see from Al. 
- Sam Hauser went 0-2 from three. Didn't know that was possible.
- Tony Brothers. That's all that needs to be said with that. What a dickhead. 
The Ugly
- Shit, by now you should know the rule. This team wins 5 in a row, we skip this section until they lose. I look forward to never having to write this section again. Feels great.
If the Celts pull out a win on Friday, they'll win the H2H matchup against MIA. Who know if they'll need it, but it'll be nice to have just in case. They have a chance to cap off a perfect homestand before heading out for a brutal road trip and given the way they're playing it's hard to not think this train will keep on rolling. 
This is the best team in the NBA, and it's not even fucking close.