The Greatest Baseball Players Who Spent Their Entire Career With Only One National League Team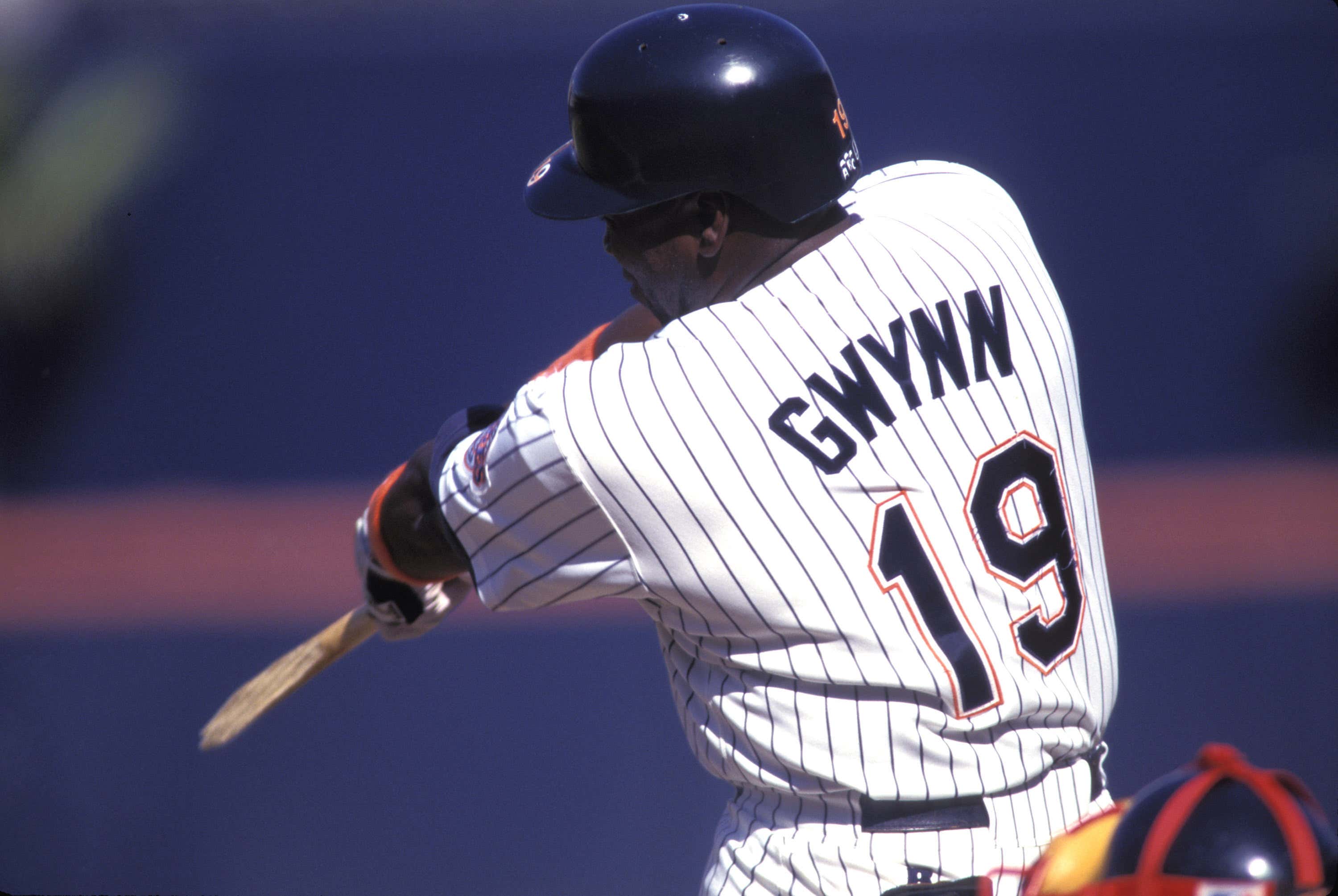 Mitch Haddad. Getty Images.
Earlier this week, I did this blog which tackled the best players who only played with one American League team his entire career.
It might be a sad truth about myself but I had a lot of fun putting that list together. So here is the National League list of best players to spend their entire career with one team:
NL East
Atlanta Braves: Chipper Jones
If John Smoltz hadn't had that weird final season with the Red Sox and Cardinals, this would be a much tougher call. Obviously Hank Aaron would be the pick if he hadn't spent his last two seasons the the Brewers. I don't think I give Chipper Jones enough respect. He really is right there with Mike Schmidt and George Brett as the best third basemen of all-time and he's the only one of that trio with a career OBP over .400. Schmidt's defense gives him the edge for me but Chipper sometimes gets a unnecessary back seat when the Braves great run gets mentioned because of Maddux/Glavine/Smoltz. How that team only won a single World Series is astonishing.
Miami Marlins: Jose Fernandez
Man, was he great. He would have given Jacob deGrom a run for his money in the Cy Young race over the past few years. Had he lived, would he have been on this list though? I'm guessing he'd have been traded. The Marlins are like the A's in that they build up great teams only to tear them down immediately. That 2016 Marlins had the makings of something special with Fernandez, Giancarlo Stanton, Marcell Ozuna, Christian Yelich and JT Realmuto. Since their inception, the Marlins have won two titles which is more than 23 other teams yet they feel like a failed franchise.
New York Mets: Jacob deGrom
Jim McIsaac. Getty Images.
This is toughest decision to make in this exercise. WAR gives a slight edge to David Wright. I asked Frank who he would pick and he was torn. I can't ignore deGrom's greatness though. He has two Cy Youngs and is 2nd in ERA among all active pitchers with 1000 or more innings pitched behind only Clayton Kershaw. David Wright was so good and one of my favorites but if I had start a team tomorrow and could only pick one player, I'd go with deGrom.
Philadelphia Phillies: Mike Schmidt
Jonathan Daniel. Getty Images.
Just as easy as George Brett for the Royals or Edgar Martinez on the Mariners. The crazy thing is those teams don't have the long 140 year history the Phillies do. The Phillies problem is they were terrible for so long. They have a franchise winning percentage of .473 despite having over 10,000 wins. That's hard to do. Those things tend to even out. This isn't even modern bias but 2nd place might be Ryan Howard or Aaron Nola. That's how bad the history of the Phillies is.
Washington Nationals: Ryan Zimmerman
Greg Fiume. Getty Images.
This is tougher than you may think. Stephen Strasberg is right there with Zimmerman and remember I am also counting the Montreal Expos so Steve Rogers is in the mix. If you are too young to have heard of Rogers, he was a very good starting pitcher for 13 years and even led the league in ERA one season. If you go strictly by WAR, it's Rogers. But one caveat I am including is not just greatness but importance (this will come into play later with another team as well) and Zimmerman and Strasberg both led the Nats to a title. I put them both ahead of Rogers who is unfairly mostly forgotten.
That leaves Strasberg and Zimmerman and to make myself a hypocrite from my Mets stance, I'll lean more on Zimmerman's longevity and impact with the team than Strasburg's shorter run. The difference for me between choosing deGrom and not taking Strasburg is deGrom's dominance. In Stephen Strasburg's entire career, he's never received a first place for the Cy Young award.
NL Central
Chicago Cubs: Ernie Banks
Bettmann. Getty Images.
Who else could it be? He'd be the pick anyway but even the other options aren't valid. Ryne Sandberg started his career with the Phillies. Ron Santo (White Sox) and Billy Williams (A's) ended theirs with other teams. Sammy Sosa played for four other teams. Ernie Banks is right there with Ken Griffey Jr, Rod Carew and Frank Thomas as the greatest players to never play in a World Series.
Cincinnati Reds: Johnny Bench
Louis Requena. Getty Images.
I am having a harder time doing this with the National League than the AL. I was pretty torn between Bench and Barry Larkin. Bench defenders are right that he played on more great teams but Bench only has one more World Series ring than Larkin. Larkin was also an MVP…but Bench was twice. Bench retired at the young age of 35 so I figured that he played way less games than Larkin (who played until he was 40). I was shocked to see that Larkin only played 22 more games than Bench in his entire career. I forgot how often Larkin got hurt.
Milwaukee Brewers: Robin Yount
Focus On Sport. Getty Images.
The second easiest pick in this entire blog. I guess the next pick for the Brewers would be Ryan Braun? Yount won two MVPs, had over 3000 hits and led the Brewers to their only World Series appearance. When I did this blog about Aaron Judge's great season, I was shocked to see Yount's 1982 season stack up with the best over the past 50 years.
And yes, I know Robin Yount played his career in the American League. I had to split these blogs up somehow because they are so long so I thought the best way to go was with the current league placements. I hate that they had the Astros and Brewers switch leagues. I also hate that the DH is in both leagues. I'm not going to win either battle.
Pittsburgh Pirates: Roberto Clemente
Bettmann. Getty Images.
MLB did the right thing retiring Jackie Robinson's number across all of baseball. They should do the same for Clemente. A part of two World Series championships, he had 3000 hits, four batting titles and died in a plane crash when he was only 38 trying to bring supplies to Nicaragua who just suffered an earthquake. He's an actual hero.
The Pirates had a few other options including Willie Stargell, Bob Mazeroski and Bob Friend. They were also teammates of Clemente and I imagine would make the same call I did.
St. Louis Cardinals: Stan Musial
Getty Images.
It speaks volumes about Musial that even though the Cardinals are the most successful team in NL history, he's such an obvious choice. It's not like the Cardinals haven't had great players stay there. Bob Gibson, Yadi Molina and Adam Wainwright. Musial won 3 World Series rings, had a career .331 batting average and 3,630 hits…and still missed a season fighting in WWII. He was also a 24 time All-Star. That's not a typo.
NL West
Arizona Diamondbacks: Brandon Webb
Webb has a higher WAR for the Diamondbacks than Curt Schilling, Luis Gonzales or anyone not named Randy Johnson or Paul Goldschmidt. He won the 2006 Cy Young award (he was also runner-up twice) and because his career ended so abruptly due to shoulder issues, I think people forget how great he was. If Webb wasn't an option, I think I would have had to go with Nick Ahmed.
Colorado Rockies: Todd Helton
I don't think it'll happen this year but I bet Helton gets into the Hall Of Fame soon. His first year on the ballot, he only got 16% but last year he was all the way up to 52%. With such a weak ballot this year, he could get be inducted this summer. I'm torn on him. I lean towards no because it's so hard to evaluate these Coors Field hitters. If you only look at his road splits, that's not enough to earn election but is it fair to only look how a guy does playing on the road?
Los Angeles Dodgers: Jackie Robinson
Hear me out. Sandy Koufax was a better player. So is Clayton Kershaw. However no Dodger was more important than Jackie Robinson. The Dodgers have a bevy of choices beyond the ones I've already named: Roy Campanella, Pee Wee Reese, Jim Gilliam and Don Drysdale among them. Jackie Robinson does stand apart. He only played 10 MLB seasons and the Dodgers won six NL pennants in that stretch. I think he'd respect this exercise too. When the Dodgers traded him to the New York Giants after the 1956 season, he promptly retired.
San Diego Padres: Tony Gwynn
I was at the game in that GIF. It was in Montreal when Gwynn got his 3000th hit in 1999. My friend and I had nothing to do that weekend and when Gwynn got 2,999 the day before, we made the trip up from New Hampshire. We were hoping he'd get it sometime that weekend but it was that Friday night in his very first at bat of the weekend series and he actually had four hits in that game. It's one of my favorite sports memories. Gwynn is such an obvious choice, I don't even know who second would be. Maybe Fernando Tatis, Jr.?
San Francisco Giants: Mel Ott
If Christy Mathewson hadn't made the last start of his career with the Cincinnati Reds while serving as a player-manager, I would have gone with him. But I am happy giving Mel Ott some credit. He's probably the most forgotten member of the 500 home run club. He had a wild career which began when he made the major leagues at the age of 17 in 1926. He won six home run titles and brought the Giants to three World Series; winning in 1933. He finished his career with 511 home runs and a career .304 batting average. He's one of only 6 players with 500 or more home runs, a .300+ average, .400+ on-base percentage and .500+ slugging percentage.
Obviously he played a very long time ago but why is he SO forgotten? He died early the age of 49 after a car accident and a lot of these guys that played before TV and for organizations that moved get swept away. If you die so young and the fans that rooted for you have a team taken from them, your legacy has such a short shelf life. But Ott is in the Hall of Fame and is absolutely one of the greatest hitters ever.
I know this one was long but thanks for hanging in and reading this one. I hope you all have a great Thanksgiving. Even if you think I should have taken Stephen Strasburg over Ryan Zimmerman.