The Absolute Saddest Stats From Week 11 of The NFL
New York Daily News. Getty Images.
Welcome to this week's edition of NFL sad stats. Every week we run through some random stats you probably would never have known. The idea is that when things are sad, the best thing to do is have fun with it. And since you're probably traveling for Thanksgiving and loathing the small talk about corn prices or some shit with Uncle Dick that's coming your way, it's always fun to peer into the misery of other teams if for just a few moments. Week 11 delivered for us after a bit of tough Week 10. It seems like just about every week a particular team takes the brunt of the sadness and this is no exception. So keep that brown paper bag covering your eyes for this one Jets fans. Off we go. 
Sad Stat #1: Zach Wilson has two of the worst four Net YPA in games with 20+ mph winds (out of the last 149 qualifying games)
The wind might have been cold in Gillette Stadium last Sunday where Zach Wilson threw for 44 total net yards, but it was quite hot in his presser right afterwards:
He went on the explain "it was windy as hell out there" to side step any hint of responsibility for playing like absolute trash. The question is - was this a pathetic excuse or a legitimate reason? Is Wilson really that bad in the wind? To find out, I crunched the numbers on all games in the past couple of decades in which the data listed a wind speed of 20 mph or more. Keep in mind this doesn't account for gusts which, of course, all high wind games have. All in all there were 149 quarterbacks with at least ten passes in such windy games and listed below are the 50 worst performances by net yards per attempt (passing yards - sack yards):
The good news is that Zach Wilson's performance last Sunday wasn't dead last. So there's that. The bad news is his only two games in 20 mph winds make a Harrington-Boller sandwich at the very bottom of this list of those at the very bottom of this stat. Maybe that's what Wilson meant when he said he didn't let the defense down. He was in fact better than his first game in windy conditions so he might low-key have a point here. 
Sad Stat #2: If you combined Zach and Russell Wilson into one Wilson, that Not So Super Wilson would rank 20th in touchdown passes this year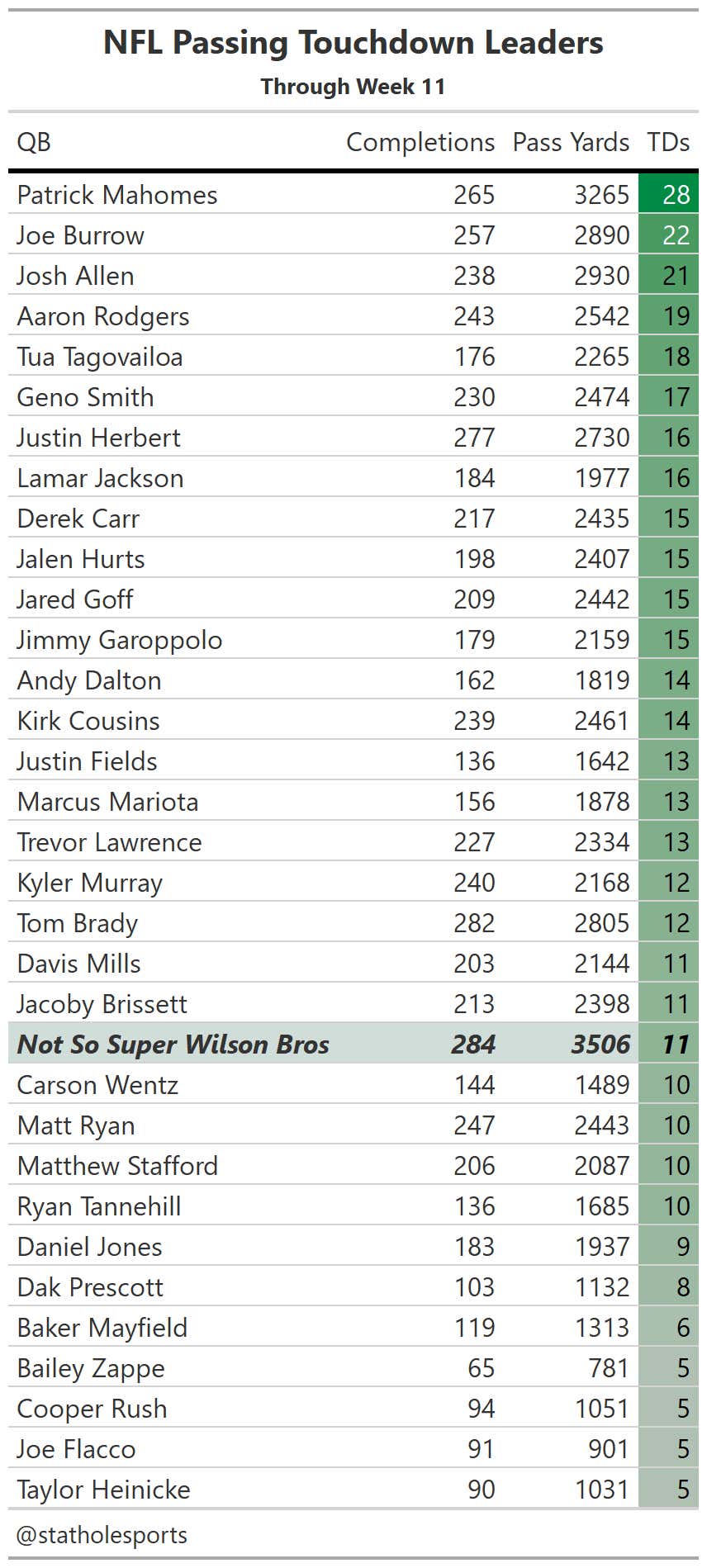 This is a stat sad enough to make any Mr. Wilson hide half his face beneath a fence. This puts the downtrodden duo in a three-way tie with Jacoby Brissett and Davis Mills. But to be fair let's give the Wilsons some credit for completing two more passes than Tom Brady and 19 more than Patrick Mahomes on the year. I know we're digging real deep here, but this could at least be something for them to build from together.  
OK, I know I've been giving Zach Wilson a hard time here so I'm going to lay off the direct shots aimed his way and also confirm with my mom that she doesn't know his mom.
Sad Stat #3: Denzel Mims is the most blue-balled active wide receiver in the NFL
Denzel Mims led the Jets in receiving Sunday with 35 yards increasing his career total to 617 all without finding the endzone. While this level of blue stands out from the rest of the choir boys on this list, it pales in comparison to Jakobi Meyers' over 1,500 built up frustrated yards that he was finally able to burst last year. It is a shame Mims wasn't able to do more with these 35 yards though. Hopefully he apologized to Zach Wilson after the game for letting him down. 
Sad Stat #4: The Minnesota Vikings are 8-2 and have the only negative point differential for any 8-2 team since at least the 1970 merger
I know I already used this graph in a blog earlier this week but it warrants the extra appreciation. The Vikings finally found the end of their luck and hit reality last Sunday. I get it wasn't even really on Kirk Cousins - he didn't stand a chance. But because of the dominance of the Cowboy's defense, Cousins' streak of 39 straight games with a touchdown ended which is kind of an insane stat for Kirk Cousins. For reference, 39 straight games with a passing touchdown tops Tom Brady's best streak of 35 and Patrick Mahomes' 30. Drew Brees led all that I could find with 60.
Sad Stat #5 - Tyreek Hill, Justin Jefferson, and Stefon Diggs each have more receiving yards than all Baltimore Raven's wide receivers combined
First of all, how on earth is there a team with fewer receiving yards from wide receivers than the Chicago Bears? Well, the Ravens wide outs have mustered just 976 yards this season which trails Hill (1,148), Jefferson (1,093), and Diggs (1,033). Thank god Demarcus Robinson went over 100 yards last Sunday because this situation was a lot worse a week ago:
That's a wrap for Week 11. We'll be back for Week 12 after Thanksgiving. Until then, enjoy Turkey Day football and maybe save some of these random ass sad stats for emergency use at your family gathering in the event someone mentions corn futures in Uncle Dick's vicinity. 
- Jeffro