The Absolute Saddest Stats For Week 10 Of The NFL
MediaNews Group/Contra Costa Times via Getty Images. Getty Images.
Week 10 was a fantastic week of NFL football. So much so it tested me a little bit in finding a few solid sad stats to make this weekly eulogy. For the first time this season, every team scored at least one touchdown and that's even with Matt Ryan returning from the dead to start for the Colts. Speaking of which, Matty "Ice Skates" will make another appearance in this blog later - but not at his expense. 
There was so much positivity this week. The Lions finally won a road game. The Bears lost, but solidified confidence in a franchise caliber quarterback, The Commanders put themselves in the playoff hunt despite being last in what turns out to be the best division ever, and Aaron Rodgers might have finally found his future go-to wide receiver.  I mean, come on! What could there possibly be to gripe about this week? 
Thank God for the Raiders. 
Sad Stat #1: Josh McDaniels coaching win/loss record is the overdue roulette board that never ends up due-ing
When you're at the casino and you walk by a roulette table with the results board looking like this it's literally impossible to not stop and start betting on the "due" black that hits 100 percent of time almost 50 percent of the time. I wrote a while back on this and why Josh McDaniels is the perfect coach for Las Vegas due to his wild series of streaks (five losing streaks vs 1 winning streak while cheating). The man just doesn't seem to know how to coach and the fact that Mark Davis is digging his heels into supporting him tells me he's probably got a roulette board of their wins and losses too and just knows a slew of black wins are about to run wild. 
Sad Stat #2: Josh Jacobs has never caught a touchdown pass, yet has double digit receiving yards in every game this year 
This is one of those oddball stats that you might not ever think of and doesn't really matter since Jacobs has had plenty of touchdown success on the ground. But the lead he is taking here compared to all other active players is impressive considering how involved in the passing game he is. He's still got a long way to go to catch the end zone virgin GOAT (Jakobi Meyers with over 1,500 before finding the end zone last year), but this is still something to monitor.
Through Week 10 Jacobs has 31 catches for 200 yards and has double digit receiving yards in every game. The only thing really hindering him is that he plays for the Raiders. Despite the team being totally due for a winning streak, it might be a while before he breaks out of this chart. 
Quick note: shout out to KhaDarel Hodge for graduating from this list on Thursday night! He was right up there with Denzel Mims and Kevin White before finally finding paydirt. Since Denzel and Kevin are literally paid to receive the ball I guess that's the real sad part of this sad stat. 
Sad Stat #3 Justin Fields is one of the few to score over 39 fantasy points and lose the game. This happened in Week 9 and again in Week 10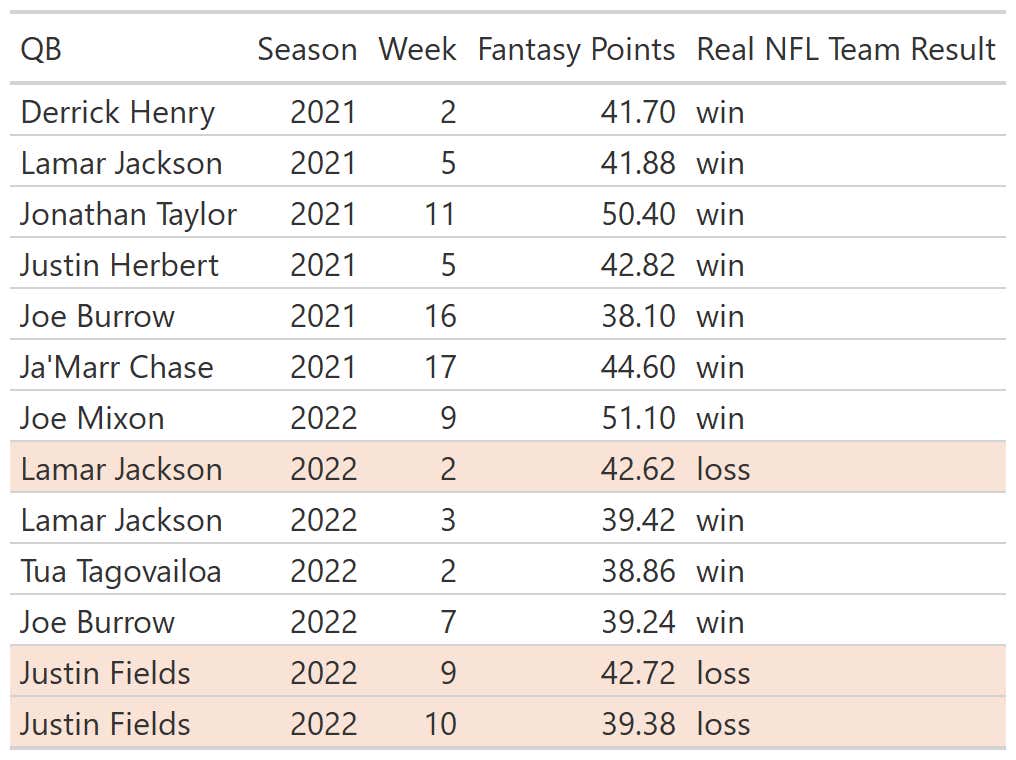 This list shows everyone who scored at least 39 fantasy points in weeks 1-17 from the past two years. Lamar got snake bit by Tua in Week 2 but Fields has been doing it all the past couple weeks and still came up just a bit short. As a Bears fan, this is actually not nearly that sad since we see the growth of our quarterback play out while also securing a better draft spot, but you gotta feel for Justin here going all Atlas Shrugged and trying to hold the team on his shoulders. 
Sad Stat #4: The Eagles got commanded by the Commanders
This might be one of the only weeks I get a chance to drag the Eagles a little so here's just some quick notes that will probably have Jordan Davis' agent seeing major dollar signs as they await his return from injury:
- Dan Snyder has never lost a game while in the process of being indicted by a DC Attorney General (1-0)
- The Eagles allowed four drives with 12 plays or more to the Commanders - all of which make the top-16 out of the 118 total Commander drives this season
- The Eagles allowed first downs on 13 third down plays which is the second most for any game of any team this year. Only the Broncos gave up more (14) vs the Chargers in Week 6
- The Commanders are one of only five teams to hold a time of possession over 40 minutes in a game this season
Sad Stat #5: The Raiders Allowed a 37-year old quarterback to run for 39 yards on a single play
Since 1999
Sorry Raiders fans. I actually thought we were done but this is inexcusably sad. 37-years old is five years older than the next oldest rush by a quarterback on this list. And if we're being honest Matt Ryan is the oldest looking 37-year old on the planet. I'm old enough to remember just a few weeks ago when the entire nation laughed at Matt Ryan move at the speed of mummy trying to get rid of the ball as soon as his decrepit bones would allow him. He was finally put down like Old Yeller and has now come back from the dead to drop a 39-yard rush on your worthless (but totally due for a winning streak) team. I didn't see the play live because I didn't have 45 free minutes to spare so I can't even imagine how this was even possible. Congrats - you just turned Matty "Ice" into Matty "Ice Skates". 
That's it for Week 10. Looking forward to Week 11 already. I'll be looking out to see if the Ravens can continue trailing in games for the least amount when they lose, opponents of the Panthers and 49ers to continue their 0-15 streak in the games immediately after playing them, and - of course - the start of a long Las Vegas Raiders winning streak.