Who Cares About A Ring? Every Astros Player Is Getting A Pair Of World Series Grillz From Famous Celebrity Jeweler Johnny Dang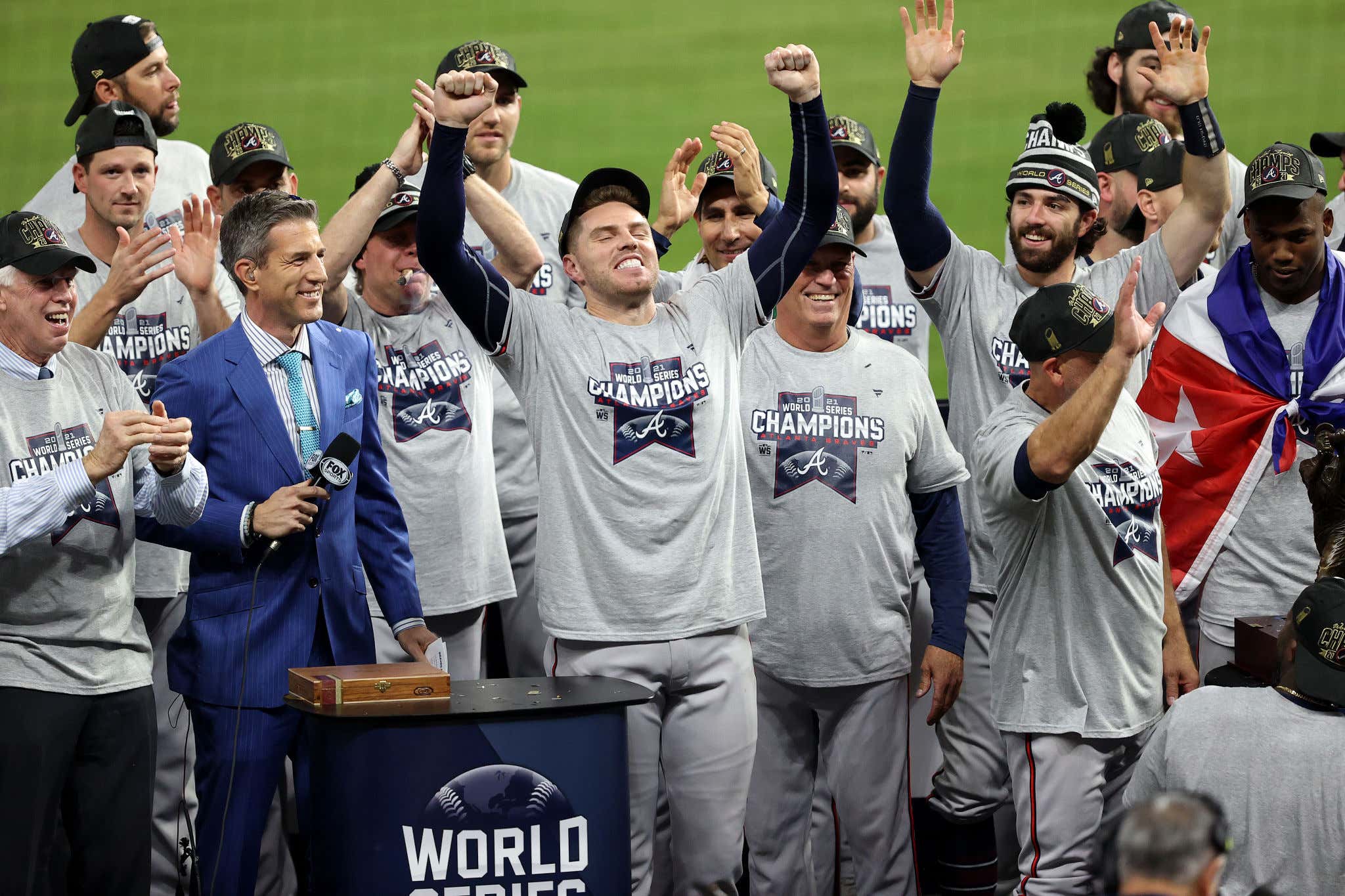 Bob Levey. Getty Images.
Tired: Winning a World Series ring and a piece of metal from Rob Manfred.
Wired: Being gifted a World Series grill. 
Johnny Dang is THE guy to go to for Grillz if you're a celeb. If you've seen a celebrity with a grill theres a 98% chance it came from Dang. As a big Astros fan, you know Dang had something special in store for the team if they won it all. Which is why he is gifting every member on the team a special pair of WS Grillz.
I'm sure some guys will pass on the gesture but it looks like World Series MVP Jeremy Peña already took advantage of the offer and went in to get his mouth fitted for the ice in his mouth. My man wasted no time, he wants that grill immediately.
Nothing like being extremely hungover from the parade yesterday only to get mold shoved in your mouth. But when you're riding high like Jeremy is you do what you want. I just don't know where he's going to put all this hardware. World Series MVP trophy, ALCS MVP trophy, World Series ring, and now grillz? He belongs in a Paul Wall music video. 
Speaking of Wall and Dang…
Of course they were on a float with Mattress Mack, Slim Thug, and Bun B, why wouldn't they be there? I just love the idea of some of these guys on the Astros getting grillz. 
Finallty to wrap things up, here is a quick top 5 funniest people on the Astros to get grillz. 
1. Justin Verlander - Imagine this goofy dad with Grillz. Just imagine. Butt chin and all with that grill sticking out. Love it.
John Minchillo. Shutterstock Images.
2. Dusty Baker - Give me Dusty in the black bbq gloves, wristbands for his mom, and some grillz. Great smile on old man Dusty, lets get some ice in there. 
Carmen Mandato. Getty Images.
3 - Trey Mancini - Trey could pull these off, he's got the IT factor. He rocks those pit viper type glasses, he can def pull off some grillz. The guy makes some great faces too, look up #FacesOfMancini on twitter for proof. Would be hilarious to see him in some grillz. 
Bob Levey. Getty Images.
4. Kyle Tucker - Imagine this skinny, lanky white boy roll up with grillz? Looks like Napolean Dynamite's brother Kip at the end of the movie. Looks like way too much of a pretty boy for grillz but I need to see it happen.
Daniel Shirey. Getty Images.
5. Chas McCormick - A white guy named Chas with grillz would be the funniest thing ever. That is all.
Tim Nwachukwu. Getty Images.