A Gambler's Dream: There Are Over 100 College Basketball Games Today
If you like college basketball make sure to check out the Roundball Podcast. It is myself, Jeff Nadu, Hunter Dickenson (The best player in the nation) and Jordan Bohannon brining you everything you need to know about college basketball. We have the inside information from the best big man in college basketball so why go anywhere else. 
Today is a beautiful day in sports. Basically every sport is being played, but with college hoops beginning I get to test out my theory that the first day of betting college basketball is the day to take every favorite that is laying 20 or more points. Yes the teams are really rusty. But a rusty good team can still put it together. A rusty bad team might not score 40 points. If you love college basketball, I know you miss the 24 hour marathon of games because that was the best thing ever. You would wake up at 6 am and Temple would be playing in the 2nd half of their game. That was a gambler's dream but today is as well. 
If you can take off of work and make sure you plan out your deliveries. Start off with a breakfast sandwich, make sure your lunch order comes at the end of halftime of the 2 o'clock games so you are ready to roll into the night games. It is very important to line all of this up or your bets won't hit. 
People always say how hard is it to gamble on a couch all day, which is truly the hardest thing ever. Your stress level never gets to come down because you are responsibly betting on every game. With that being said, you have to start the day off with Baylor who is -44.5 on the Barstool Sportsbook. That is an absurd bet and there is no other way I want to start off the season than with a -44.5 bet.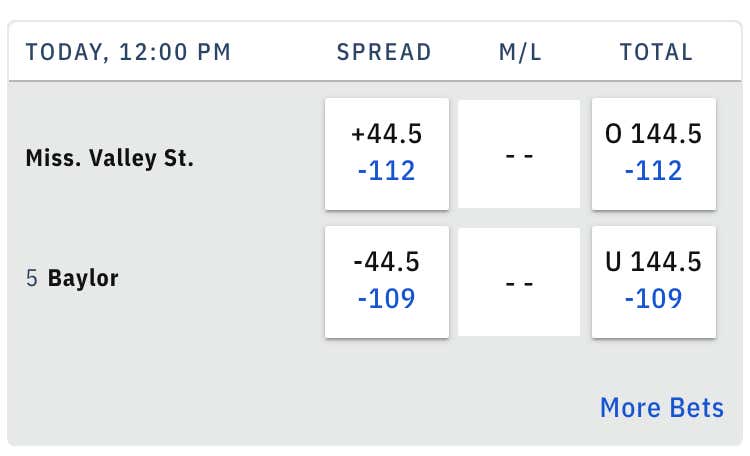 Good luck to you all on the Barstool Sportsbook and again listen to the Roundball Podcast for everything you need to know about CBB.