Happy Hot Stove Season! Power Ranking The Top Ten MLB Free Agents Who Will Break The Bank And Make The Most Money This Offseason
Mike Stobe. Getty Images.
The Hot Stove season has begun. 151 players have now officially became free agents since the World Series ended (but can only negotiate with their current teams until Thursday). There was even a major free agent taken off the board Sunday with the best closer in baseball Edwin Diaz staying with the Mets to the tune of 5 years/$102 million dollar. Diaz becomes the first reliever in baseball history to hit the $100 million dollar mark. In fact, he became the first reliever to even pass the $87 million dollar mark.
With that amount of money already being thrown around, you can't help but wonder which players are going to get the biggest paydays. Here are my picks for which free agents are going to land the biggest overall deals. 
10. Willson Contreras, Chicago Cubs
The next best free agent catcher after Contreras is Christian Vazquez and he only had nine home runs. Contreras has had over 20 home runs each of the past three full MLB seasons. After Vazquez, the pickings get much slimmer so Contreras is going to get paid. The downside is that he'll be 31 next year so maybe some teams will be scared away from giving him a long term deal but I'm guessing 4 years/$60 million is the least he'll get. A few teams need catchers so someone will spend big to get him.
John Minchillo. Shutterstock Images.
9. Justin Verlander, Houston Astros
Verlander is going to the the reigning Cy Young award winner but will any team give a guy turning 40 in February more than a couple years? Verlander's year really was incredible going 18-4 with a 1.75 ERA and then finally winning a World Series game en route to his 2nd ring. The Max Scherzer/Mets deal might be sort of a template for a prospective deal for Verlander. If that is the case, you could be looking at 2 years/$80 million.
8. Dansby Swanson, Atlanta Braves
A durable (only missed two games total the last two years combined) shortstop that can hit for power (52 home runs those same past two seasons) and has been a World Series winner? That's a pretty rare combination. The issue that Swanson might run into is he's the fourth best shortstop option out there. But he's still only going to be 29 next year and the bidding should start at 6 years/$90 million and will likely well exceed that. After all, Trevor Story and his lousy road splits got 6 years/$140 million.
Rich Schultz. Getty Images.
7. Brandon Nimmo, New York Mets
Unless you consider Aaron Judge a center fielder, Nimmo is the only free agent CF that you'd want starting for your team. He has had some injuries in the past but he played over 150 games last year with a WAR of 5.0 and he'll be 30 next year. Nimmo has always been able to get on base and has also turned himself into a good center fielder. I think he'll get at least 5 years and $100 million from someone. That someone will probably be the Mets. They said that Diaz and Nimmo were the main priorities coming into the off-season and now they locked up Diaz.
6. Carlos Rodon, San Francisco Giants
Teams looked at his strong year with the White Sox in 2021 as a risk so he only got that short-term deal from the Giants.  Now that he's proven himself with another great season, he's going to get paid. Both of his last two teams could really use someone like him but I could also see him end up on the Mets if Jacob deGrom, Chris Bassitt and Taijuan Walker all leave. I like his chances to get 5 years/$125 million. He's also only going to be 30 next year.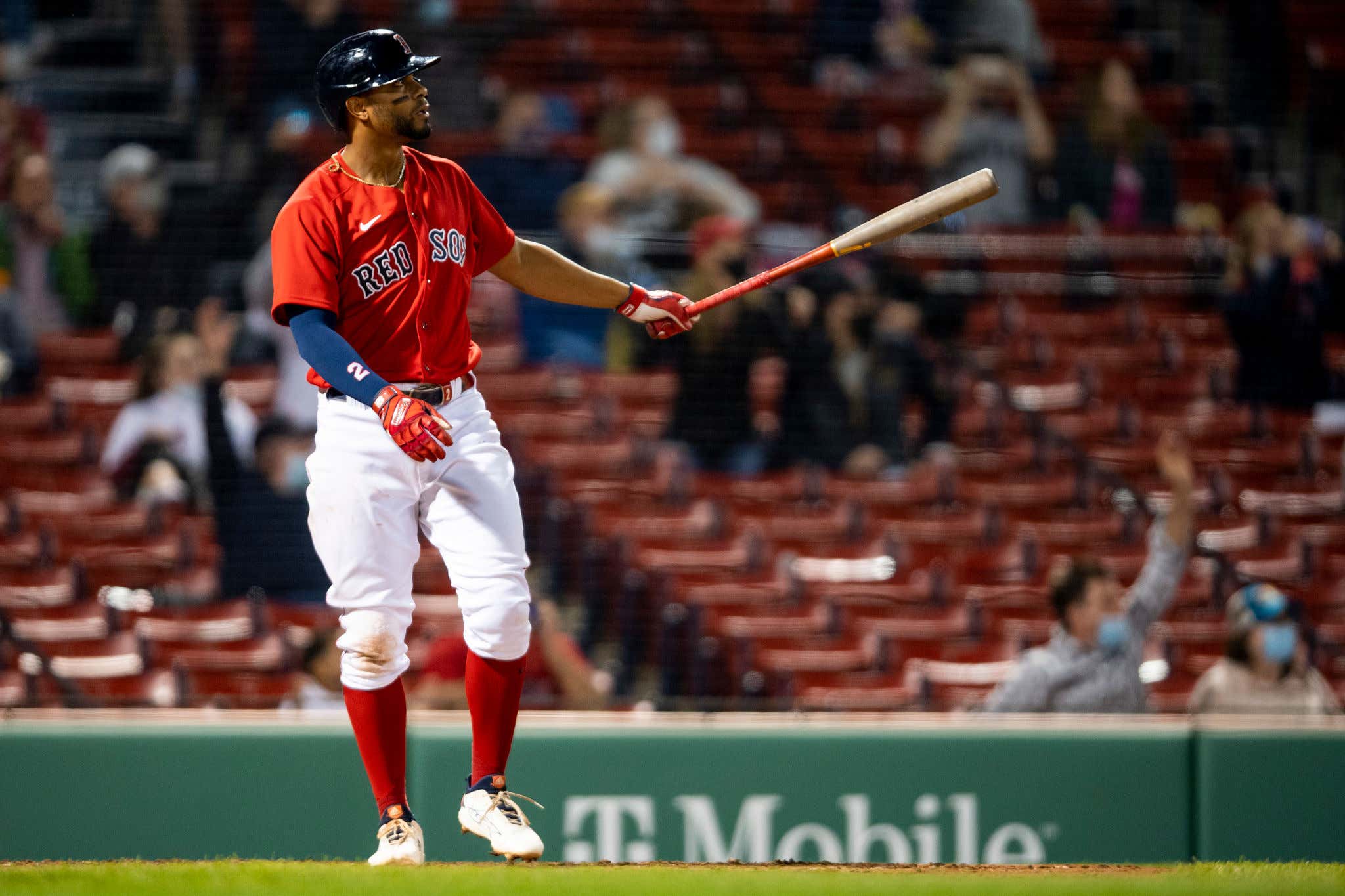 Billie Weiss/Boston Red Sox. Getty Images.
5. Xander Bogaerts, Boston Red Sox
Another great homegrown Red Sox player that might leave. For a long time, this was an organization that was so good at holding on to their best players. That changed when they dealt Mookie Betts away and remember that Rafael Devers is due to be a free agent next year. Did the Red Sox sign Trevor Story last year because they knew they would let the better Bogaerts walk? Just like a lot of guys in this group, Bogaerts will be 30 next season. I'll be shocked if he doesn't land $150 million from someone.
4. Jacob deGrom, New York Mets
He'll be 35 next year. He's made 26 starts the last two seasons combined. I still think he gets at least 4 years/$160 million. Could he $200 million? I think he would have if he pitched a full season this year and he's still got a better chance of getting a $200 million dollar deal than one under $120 million.
3. Carlos Correa, Minnesota Twins
It was weird when Correa went to the Twins and it remained weird all season long. The Twins wound up going 78-84 but Correa was his usual great self. I still don't understand why someone didn't break the bank for him last year. He was a 27 year old free agent shortstop coming off a great year. The lockout and rushed free agency obviously fucked everything up. He'll get $200 million from someone this year. He's still only 28 and now won't have any qualifying offer holding him back.
Michael Owens. Getty Images.
2. Trea Turner, Los Angeles Dodgers
If it was me, I'd give Correa more money than Turner. But how Correa was ignored last off-season has me slightly higher on Turner making more money. He's two years older than Correa and doesn't have his batting eye but he has been very durable and is a great contact hitter. He's also one of the more efficient base stealers in MLB history. Guessing he also makes the $200 million club. Would anyone be shocked to see the Dodgers spend huge to keep him?
1. Aaron Judge, New York Yankees
How did it get to this for the Yankees? Aaron Judge is the best homegrown hitter for the Yankees since…Mickey Mantle? In four days, he could go to any team he wants. I never thought I'd see a team owned by a Steinbrenner willing to let the best player in the league just walk away.
Aaron Judge should be the 2nd member of the $400 million club joining Mike Trout (who signed a $360 million extension when the Angels already owed him $66 million). He'll be 31 next year so I don't see the $500 million mark in play but would any number really surprise you? My prediction is 10 years/$450 million.